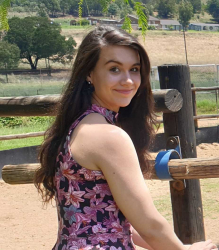 Latest posts by Christine Kent
(see all)
Are you bored with normal makeup and looking for crazy and exciting ideas? Yes? Then, you have come to the right place, hun! It is very trendy to experiment with makeup. Makeup holds confidence and power and is the best source of self-expression. People reveal their inner thoughts through makeup, consciously or unconsciously. So, we need to pay extra attention to it.
Today I will bring you makeup that is fun and nostalgic. Ladies, are you ready for the best SpongeBob makeup ideas? SpongeBob makeup offers a sense of enjoyment and brings back childhood memories. It also adds brightness to your look.
Like most children, SpongeBob was my favorite cartoon growing up, and it still is. I was thrilled when I discovered you can add SpongeBob as part of your makeup look or use it as inspiration. Since then, I have started experimenting with different colors and incorporating different SpongeBob characters. Today, I'm here to share my favorite SpongeBob makeup looks. So let us get started, ladies!
Bottom Line Up Front
Do you have a love for SpongeBob and makeup? If so, you have come to the right place. Today, I combine the two and share with you the best SpongeBob makeup ideas. I recommend you try the Yellow and Orange SpongeBob Makeup Look. It is bright and beautiful and will not be hard to create if you have intermediate makeup skills. Let us have a look at my other top picks. 
My Top Picks
Selection Criteria
I chose the SpongeBob makeup ideas mentioned in this article according to the following criteria.
Makeup ideas that are suited for experienced makeup artists.

Makeup ideas that can be created by beginners.

Makeup that is fun and creative.

Makeup that is bright and colorful. 

Makeup suited for the club, festivals, birthday parties, and beach parties. And even special events like Valentine's day. 

Makeup that brings positive vibes. 

Makeup in my favorite colors. 
SpongeBob Makeup Ideas 
Meow! This Gary, the snail rainbow makeup look is adorable! This makeup idea is super fun and creative. I love the colors that are used to form the rainbow eye look. To create this look, I would use my favorite makeup palette, the Morphe x James Charles Palette. It has all the colors you need to create the perfect rainbow eye.
The brows are on fleek! I love that it looks like Gary is behind the brow's tail. This makeup idea is more suited for experienced MUA. As the Gary detail might be challenging to create for a beginner. The flirty lashes and the golden shimmer on the cheeks finish the look perfectly. I would wear this makeup look to the club or a comic con event. Super cute!
This SpongeBob makeup look is bright and beautiful. It reminds me of the background of each SpongeBob episode. We always see the blue sea with different colored flowers in the background. I would use the Morphe x James Charles Palette to create this blue smokey eye look. You can use pink, purple, and green liquid eyeliner to achieve those SpongeBob flowers on the eyes.
The blue eyeshadow look will look great with any eye color and make your eyes pop. I love that the eyelashes have more of a natural look because the eyeshadow is already bold. The only thing I'm not a fan of is the matte pink liquid lip. I feel that the makeup is already bright and that a nude lip would have complemented the look more. 
This makeup look is suited for a club or a festival. I love that it is easy to achieve, even for beginners. 
How can I forget to mention the clever Plankton? OMW! Plankton is a clear example of how people find quick ways to succeed. They may succeed temporarily but never ever convert to a permanent position. 
Last week, my niece had a birthday party, so she convinced me to come in a cartoon character. I had a busy schedule, so I decided to go with this makeup look and wear a green bodycon dress. #smart move. She, a three-year-old cutie pie, was very happy as I came as her favorite cartoon character. I don't know if I have to be worried because she likes Plankton. But at least she had a blast. 
So ladies, if you want to create this look, you will need a palette with different shades of green. You will also need some liquid eyeliners to create those iconic SpongeBob flowers and the outline of Plankton. This look can be cute for a birthday party or a festival. You can also make it evil for Halloween. The choice is yours, girl!
Even though Plankton is my least favorite character, I enjoyed creating this makeup look. I found it really cute. The green shades also complimented my brown eyes perfectly. The most challenging part of the makeup look was creating Plankton. So if you are not that good at creating makeup art, you might want to ask for some help. 
Have you ever met someone who doesn't like chocolate or ice cream? Well, I'm sorry guys, we can't be friends if you don't like these two things. I have an extra sweet tooth, so chocolate and ice cream are 2 of my favorite things to eat. 
That is why when I saw this makeup look for the first time, I just had to recreate it. I created this look for a day at the beach. The beach is the best place to have chocolate and ice cream. Don't you agree? So I thought this was the perfect look to go for. 
The eye makeup represents ice cream. The purple eyeshadow and the lighter purple liner on the brow bone look like ice cream that's melting. The brown eyeshadow and the crisscross liner detail look like a cone. I just opted for a more natural eyelash set as it felt like I would fly away with these ones.
I love the SpongeBob and Patrick detail on the cheeks. But it was too difficult for me to create because it had so much detail. So I asked my sister to help me create it. We had such a great time creating this look. I felt it was the perfect look to make our beach day even more fun. I love that the brown lip and the natural-looking brows tones down the look a bit. This is definitely a look that I will create again with my sister. Maybe next time for a birthday party.
Innovative girls and future scientists, fasten your seat belts as this idea targets you. Yes, you heard that right. Sandy Cheeks in SpongeBob SquarePants plays the role of a scientist, explorer, and creative inventor. So girls, if you want to experiment and get creative, try out this makeup idea. 
Purple and pink are 2 of my favorite colors to add to my eyes, so I will definitely try out this makeup look. This makeup look also kind of gives me galaxy vibes. It is because of the purple color, and Sandy that looks like an astronaut. Morphe's Icy Fantasy Artistry palette and some multicolor liners will help create this look flawlessly. I love how the brows look with this makeup. 
This makeup look will be great for the club as it is bright and pretty and will make you stand out. It is also a great option for Valentine's day because the pink and purple will match the theme. It is quite challenging to create because of the winged eye look and the Sandy art. But if you are great at makeup art, I'm sure you can create this look flawlessly. 
Want to play cupid for next year's Valentine's day? Start practicing this rainbow cupid SpongeBob Makeup idea and spread some love. The makeup is bright and bold and will definitely get attention. I love how the glittery orange, green, and yellow blend with the blue and purple surrounding it. 
You will definitely need a bright palette to create this look. The Cupid SpongeBob that shoots the hearts in the same colors as the eyeshadow is fun and creative. I also like the idea of just adding some shiny lip gloss to the look instead of bright lipstick. This focuses the attention more on the eye makeup. 
I also love the added rosy highlighter on the nose. It just adds more cuteness to the look. I would wear this look for Valentine's event or a birthday party. This SpongeBob makeup look has a lot of detail. It is more suited for someone who has experience with makeup and makeup art. 
Girls! If you are a lover of yellow, then this SpongeBob makeup idea is for you! I'm not the biggest fan of yellow or orange. But when I saw this makeup idea, I thought it looked stunning! I love that it has that winged look, and the silver glitter liner just adds that classiness to it. 
I think the color combination of yellow and orange will look great with green, brown, or hazel eyes. You will need a palette that has some bright colors. The little SpongeBob created on the brow bone looks like it is eating the glitter liner. Who would have thought that you could combine classiness and cuteness in the same makeup look? 
This is a makeup look that I would wear to a festival, a club, or even a date night. Hey, you need to keep your partner on their toes and surprise them with your looks now and again. And this is the perfect way to do so. I think the eyelashes go great with this look. It adds to the classiness and also kind of has a princessy vibe to it. Compared to the other SpongeBob makeup ideas, this look is not that hard to create. It might take you a couple of tries if you are a beginner. But I know you will perfect it.
Who would have thought that Patrick's makeup could look cute and sexy at the same time? I love how the different shades of pink are blended together effortlessly. The highlight below the brow and the black liquid winged eyeliner make the makeup pop. 
The added Patrick and jellyfish detail just finishes off the look perfectly. I love how the white liner in the bubbles makes them glisten. This is a makeup look that I would love to create for my birthday. It will look so cute with the pink dress I have planned. It is challenging to create because of the detail of Patrick and the jellyfish. So I will need my creative and artistic sister's help on this one. 
Fun SpongeBob Makeup Products to Try
Girls, I have exciting news! There are SpongeBob makeup products that you can try out. Let us have a look.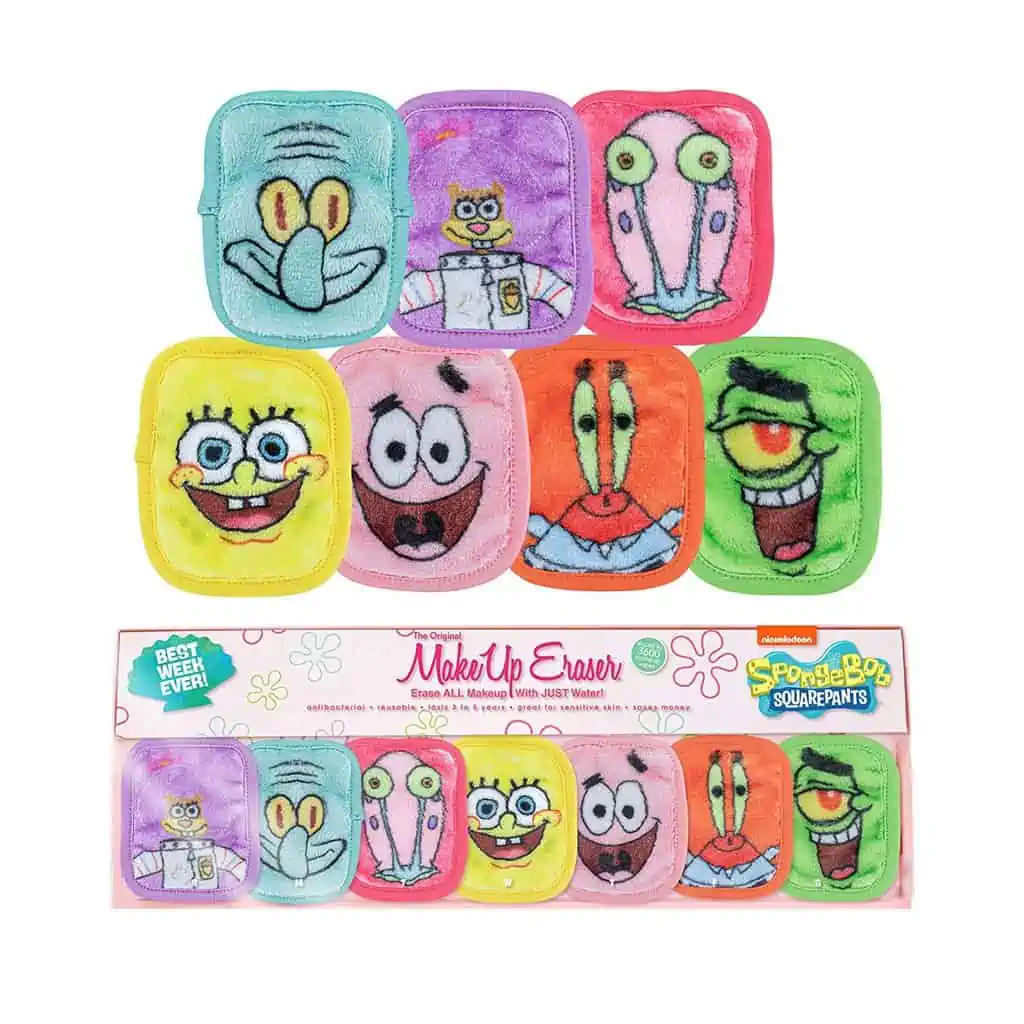 Erase your makeup and enjoy a clean face with this SpongeBob makeup eraser. A clean face is a happy face.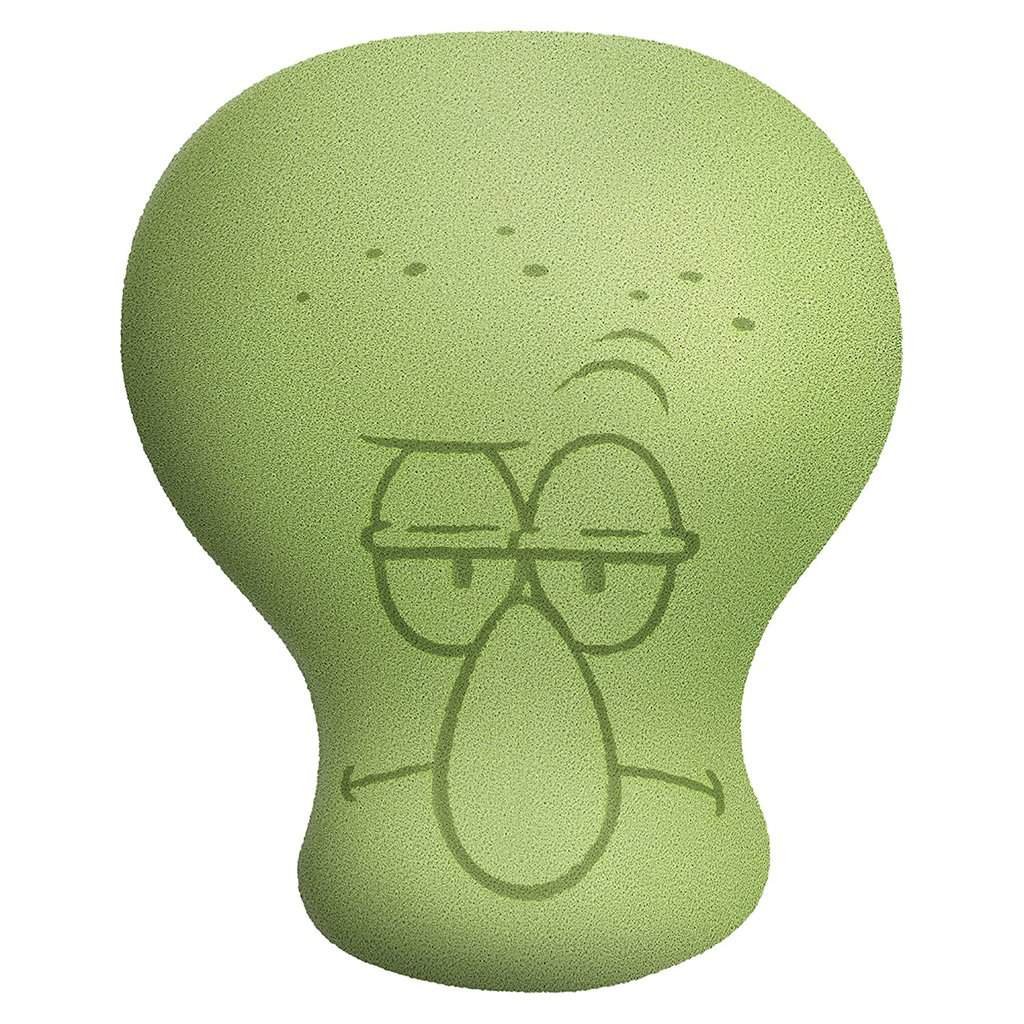 Apply your foundation flawlessly with this cute Squidward sponge.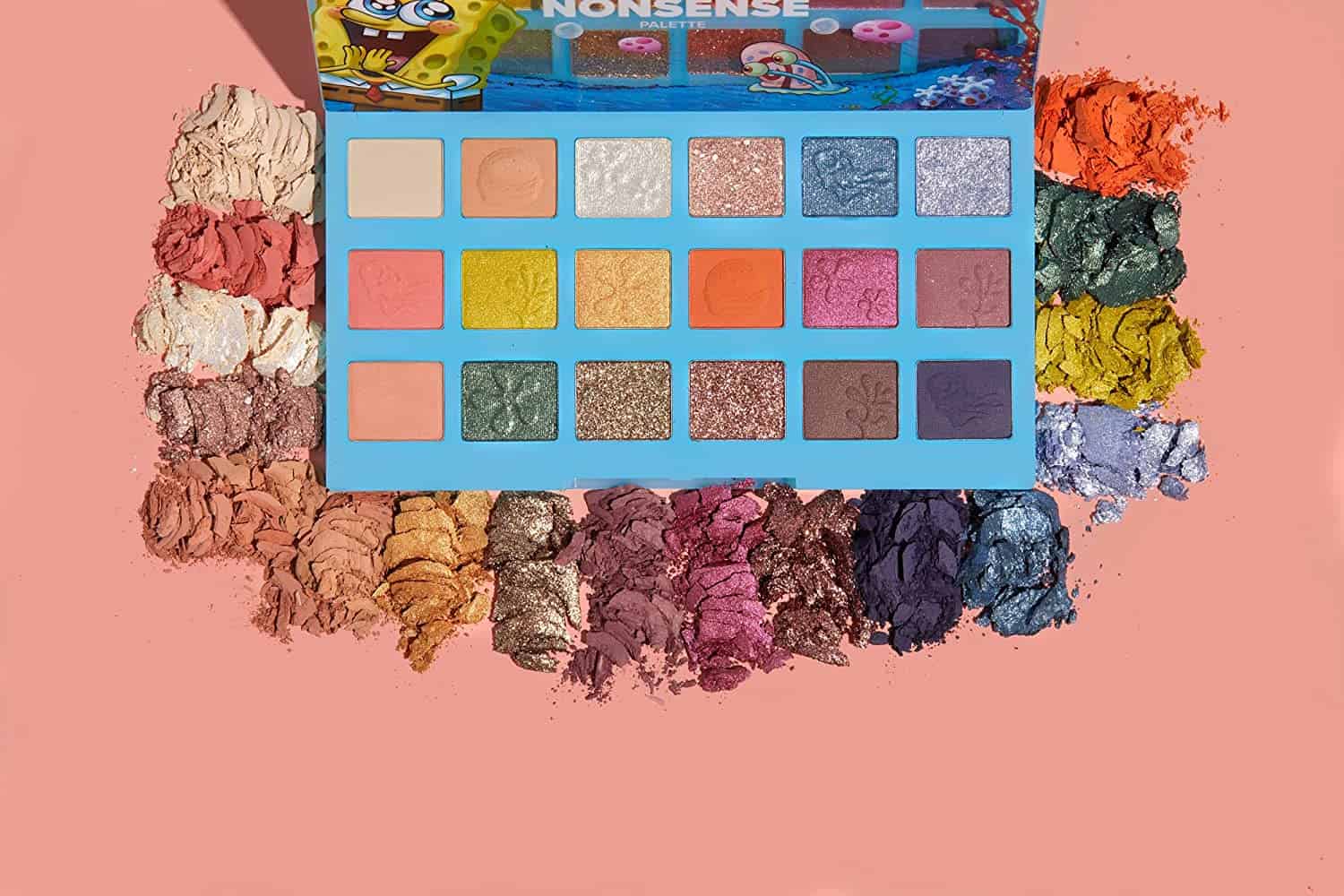 You can create some of these SpongeBob makeup ideas with SpongeBob's own makeup palette. How cool is that?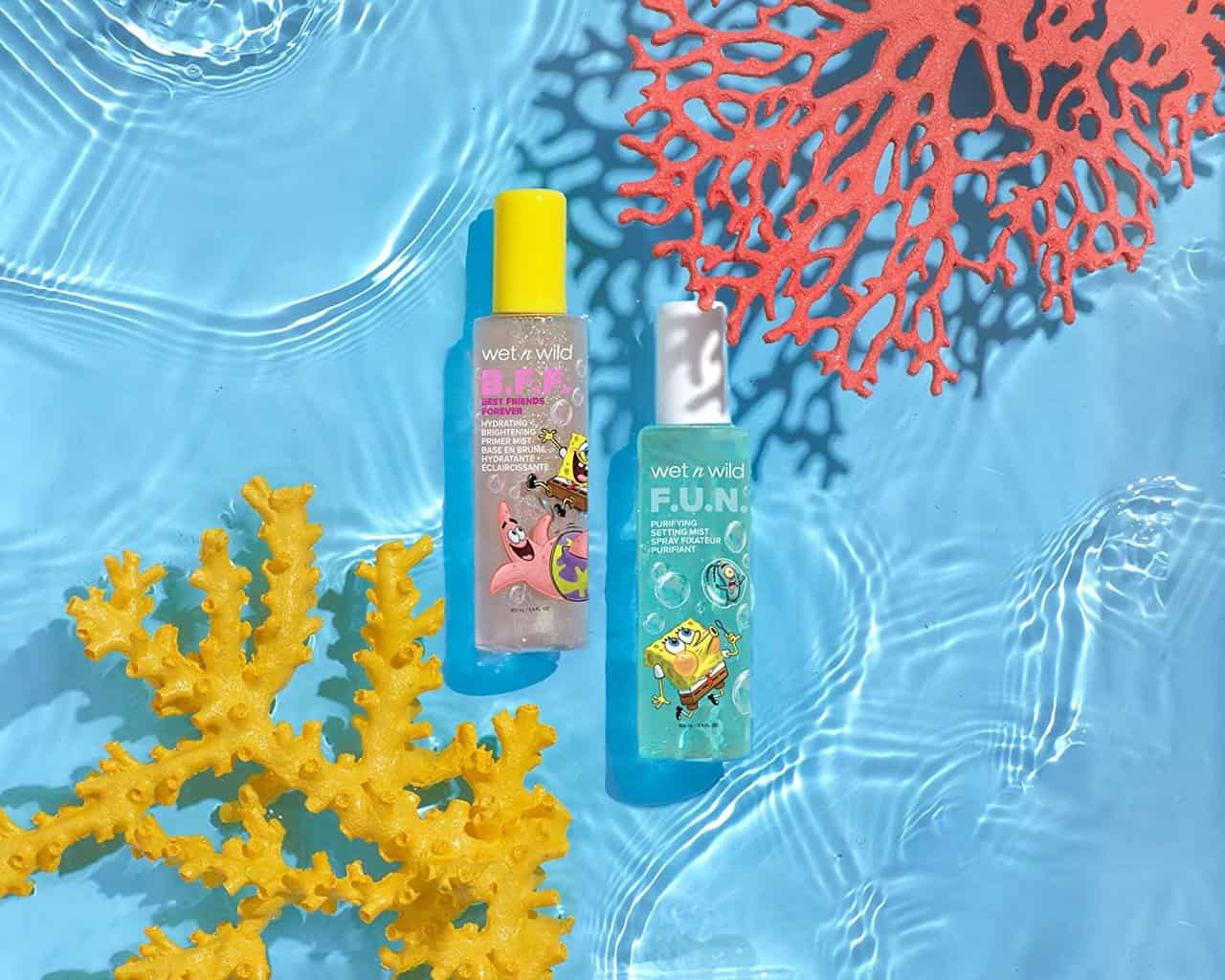 Now you can cleanse your face and set your makeup with this SpongeBob product. SpongeBob knows what is best for your pores.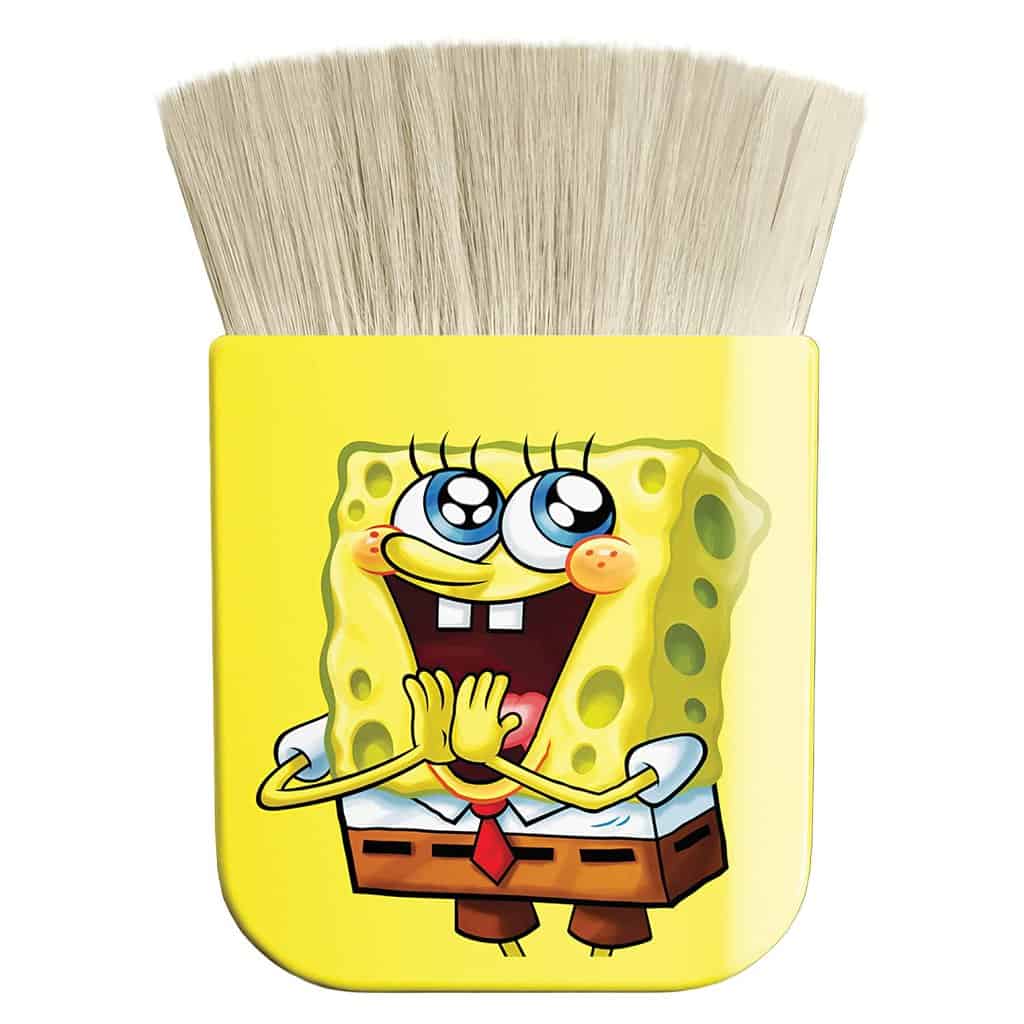 Apply your foundation and highlighter effortlessly with this SpongeBob makeup brush. And get that polished look that every girl dreams of.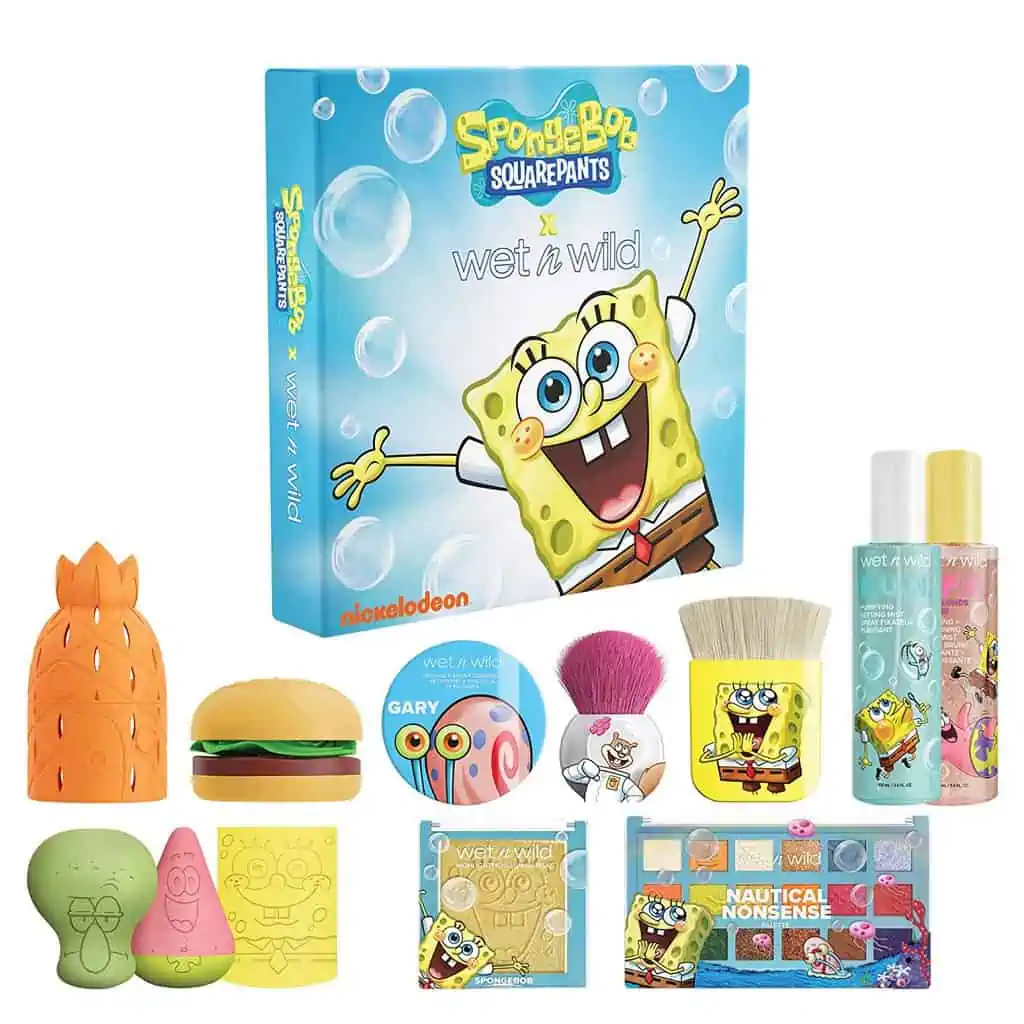 Whether you need to get ready for work, an important event, or you are going out with friends. SpongeBob's makeup collection includes everything that you will need to get a flawless makeup look. What are you waiting for, girls? Get this collection and have fun doing your makeup with SpongeBob and his friends.
Frequently Asked Questions
Question: Is SpongeBob makeup suited for any occasion?
Answer: It will all depend on the SpongeBob makeup look you are going for. If the look is bright and out there, it might not be suitable for the office or important meetings. Bright SpongeBob makeup looks will be suited for beach parties, birthday parties, festivals, comic cons, and other casual events. 
Question: Can anyone wear SpongeBob makeup?
Answer: Yes! Whether you are a young teenage girl who wants to experiment with new makeup looks. Or a mature lady who wants to test out her makeup skills. There is a SpongeBob makeup idea in this article suited for everyone. 
Conclusion
You have reached the end of the best SpongeBob makeup ideas. Trying out new makeup ideas and unleashing your inner artist is always fun. There is a SpongeBob makeup idea for everyone in this article. Whether you want something bright, but that is more on the subtle side. Or something extravagant and out there.
What was your favorite SpongeBob makeup idea mentioned in this article? Let me know in the comments below. I would recommend trying the Yellow and Orange SpongeBob Makeup Look. It is cute and classy and is not that hard to create. 
So girls, what are you waiting for? Bring back those nostalgic memories by adding your favorite SpongeBob characters to your makeup look. Get ready, get set, get creative. 
Looking for more interesting SpongeBob merch? Check out: