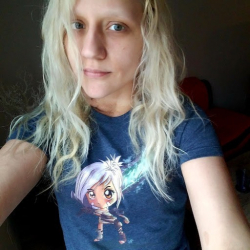 Latest posts by Emily Medlock
(see all)
A SpongeBob jellyfish guide is a handy tool for any SpongeBob fan. I love jellyfish in real life because they seem magical to me. Whenever I was a kid, and I saw the way they were depicted in the show, I fell in love with them again.
While they don't have the magical, whimsical aesthetic that I was accustomed to, their unique nature appealed to me. Jellyfish are the insects of Bikini Bottom, and I love seeing the many species throughout the series.
Jellyfish Overview on SpongeBob
First Appearance

 – S1, Ep1, "Tea at the Treedome"

Number of Episodes

 – over 100

Actor

 – Tom Kenny (voice of SpongeBob)

Appearance

 – Varies
Jellyfish in SpongeBob are similar to jellyfish in real life. This is a strange occurrence because the characters on the show are all real-life creatures (primarily sea creatures). The creatures often appeared early on in the series, but as the seasons go on, they have fewer feature episodes.
That's okay because more characters are introduced that need their time. But jellyfish will still be my favorite SpongeBob memorabilia subject. That's why I'm excited to share everything I can about them.
Jellyfish Appearances in SpongeBob
There are nearly 100 episodes with at least a jellyfish cameo. Because of this, I'm only going to list the episodes where the jellyfish play a major role. I love every one of the major appearances.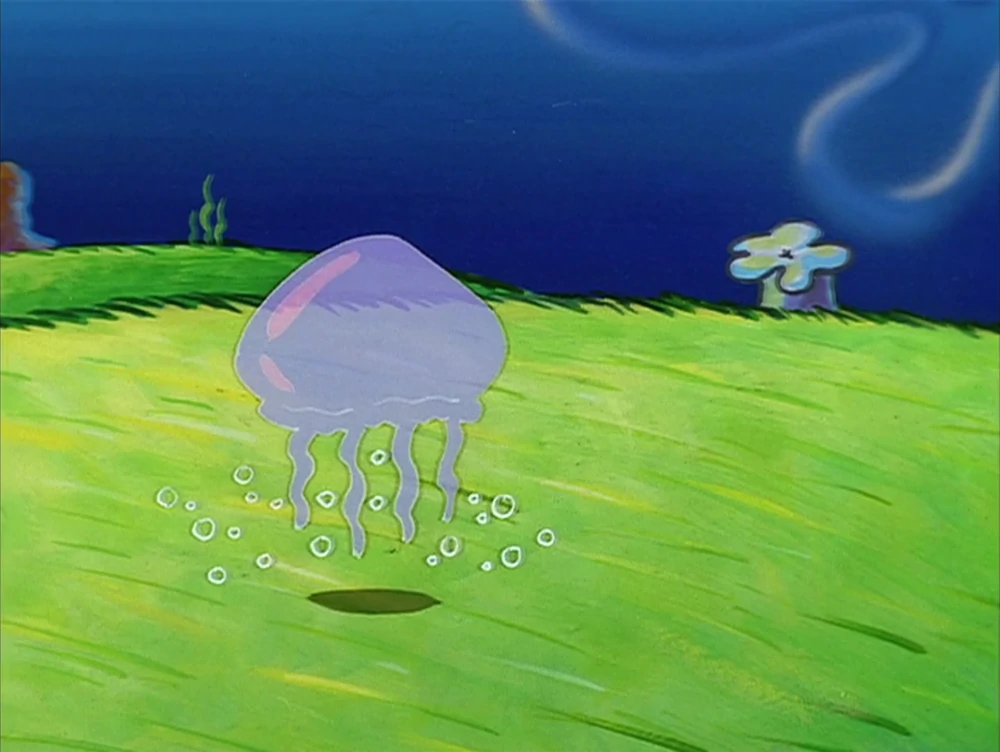 The episode begins with SpongeBob jellyfishing. This is the moment he sees Sandy for the first time as she fights a clam. The episode follows SpongeBob as he visits Sandy's tree dome and learns what air is the hard way.
So, while the episode doesn't follow the jellyfish, it is the first time we meet Sandy and the first time we see jellyfish. This first appearance must be recorded and remembered by fans everywhere.
Season 1, Episode 3 – "Jellyfishing"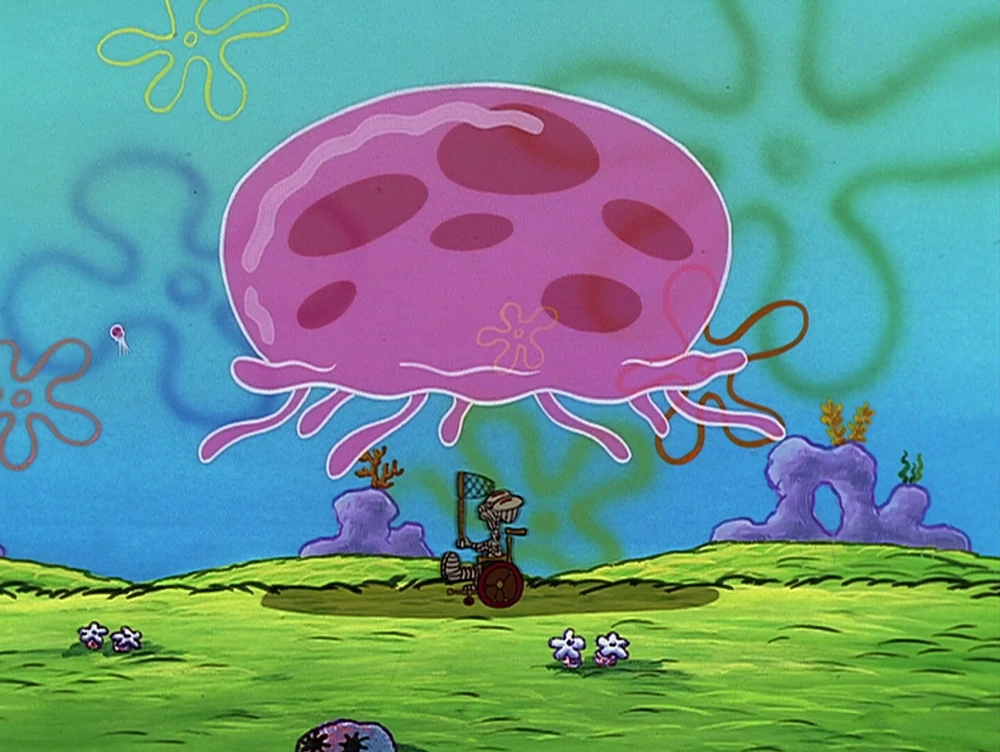 Just two episodes later, we get to see the first feature episode about jellyfish. In the episode, Spongebob and Patrick go "jellyfishing" with their nets. During their ventures, they meet Squidward multiple times.
Each time, they unknowingly harm him. The entire episode, SpongeBob and Patrick jellyfish, so we get to learn a lot about how jellyfish operate early on in the series.
Season 1, Episode 7 – "Jellyfish Jam"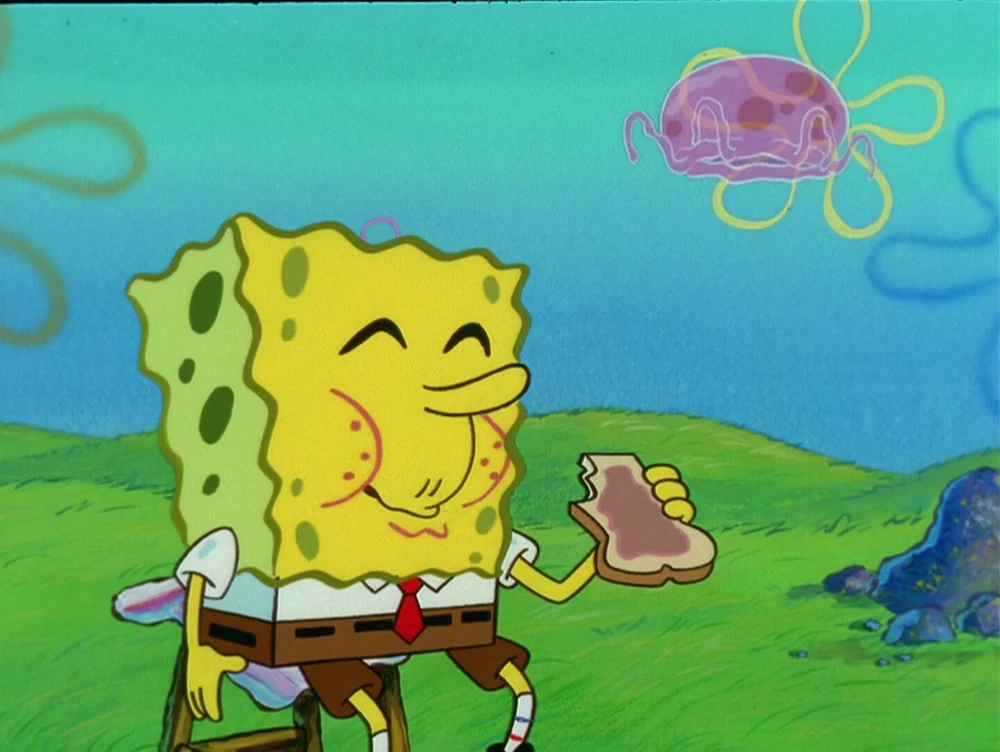 While getting ready to go home after jellyfishing, one jellyfish decided to follow SpongeBob home. The two-party for twelve hours straight before SpongeBob gets tired. He goes to bed, but the jellyfish isn't done.
He sneaks out, gets more jellyfish friends, and continues to party in SpongeBob's house. SpongeBob gets mad and eventually tries to ruin the party. After a long fight, he leads them to the fields where they can continue to party in the wild.
Season 1, Episode 9 – "Nature Pants"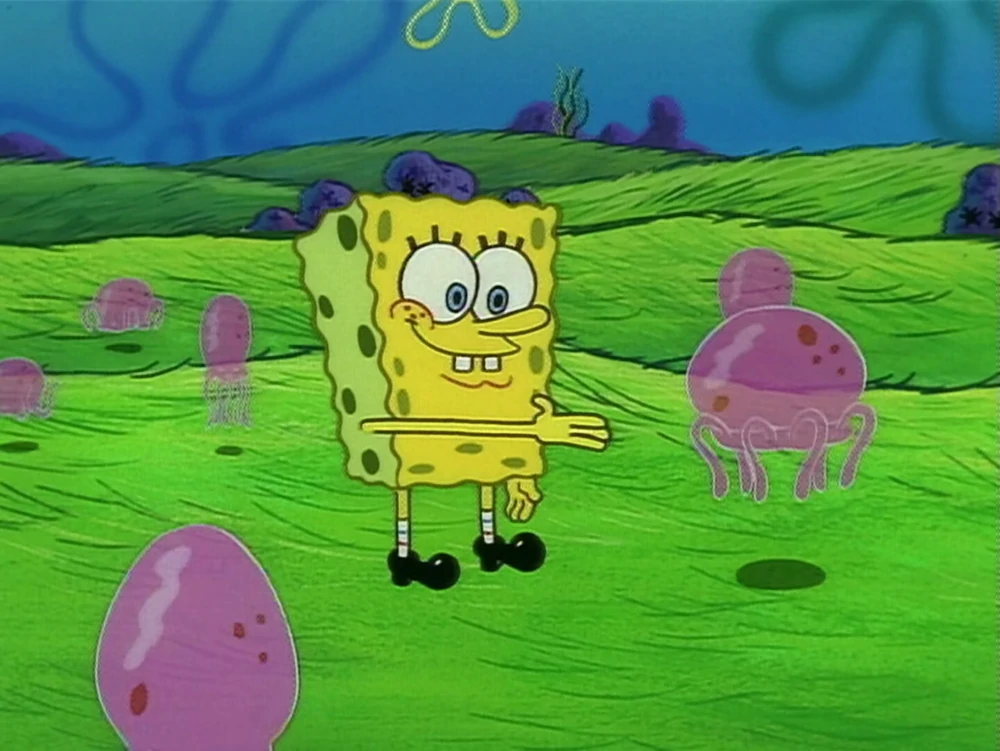 When Mr. Krabs tells SpongeBob that he wouldn't last a day in the wild, SpongeBob accepts the challenge. He spends the episode trying to live a natural life with the jellyfish in Jellyfish Fields.
Patrick, missing SpongeBob, chases him through the fields, attempting to catch him. Eventually, SpongeBob decides the wild is not for him and returns to Bikini Bottom. His friends are waiting for him with a surprise party.
Season 2, Episode 30 – "I'm Your Biggest Fanatic"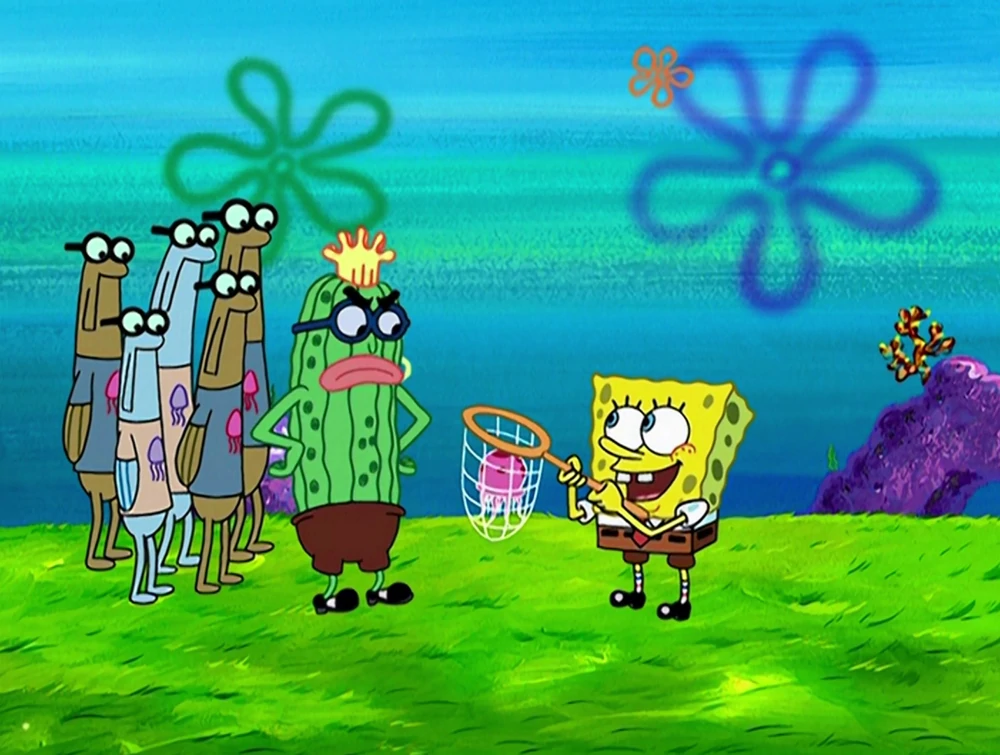 This episode features the debut of many famous jellyfish faces, along with Kevin the Sea Cucumber from the "Jellyspotters." SpongeBob asks to join the club, but Kevin says he must pass some tests first.
During the test, the two get caught in a chase with King Jellyfish. Eventually, Kevin learns that SpongeBob is a natural. The others crown SpongeBob their new leader, using Kevin's feeding tentacle.
Season 2, Episode 39 – "Jellyfish Hunter"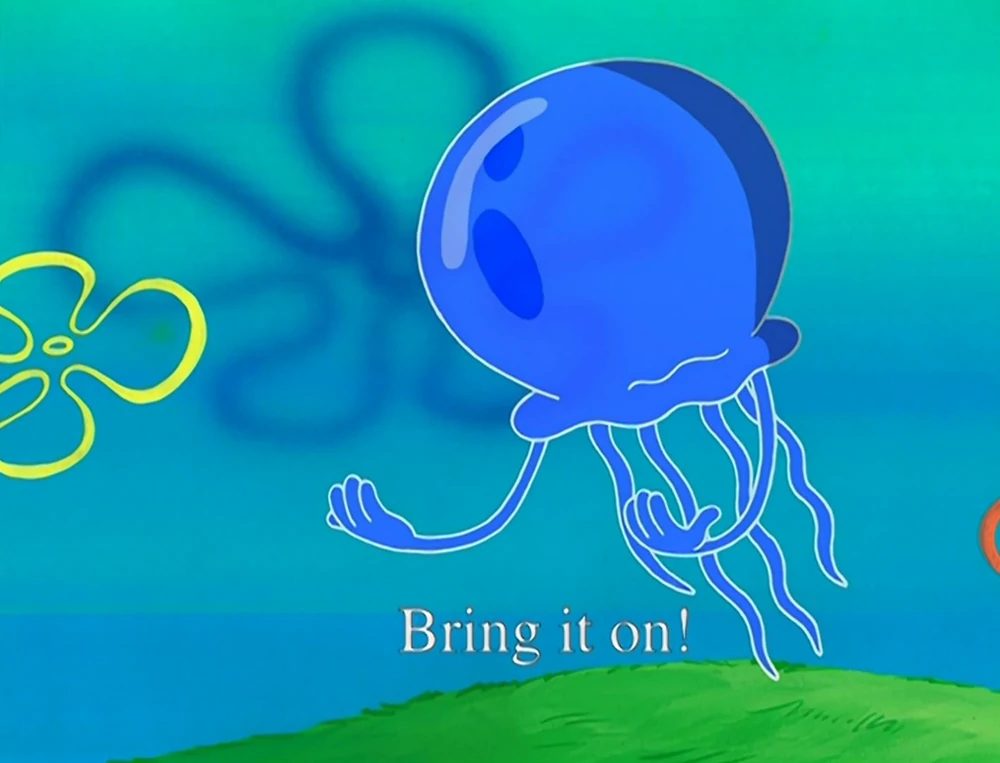 In this episode, we meet No-Name, who is eventually named Friend. He first appears early on when SpongeBob spots the rare blue jellyfish while in Jellyfish Fields. He tries to catch it but to no avail.
Back at the Krusty Krab, SpongeBob puts jellyfish jelly on the patties and the customers love it. So Mr. Krabs tells him to get more. When things go too far, SpongeBob and Friend put an end to the cruelty Mr. Krabs is putting the jellyfish through.
Season 3, Episode 59 – "The Sponge Who Could Fly"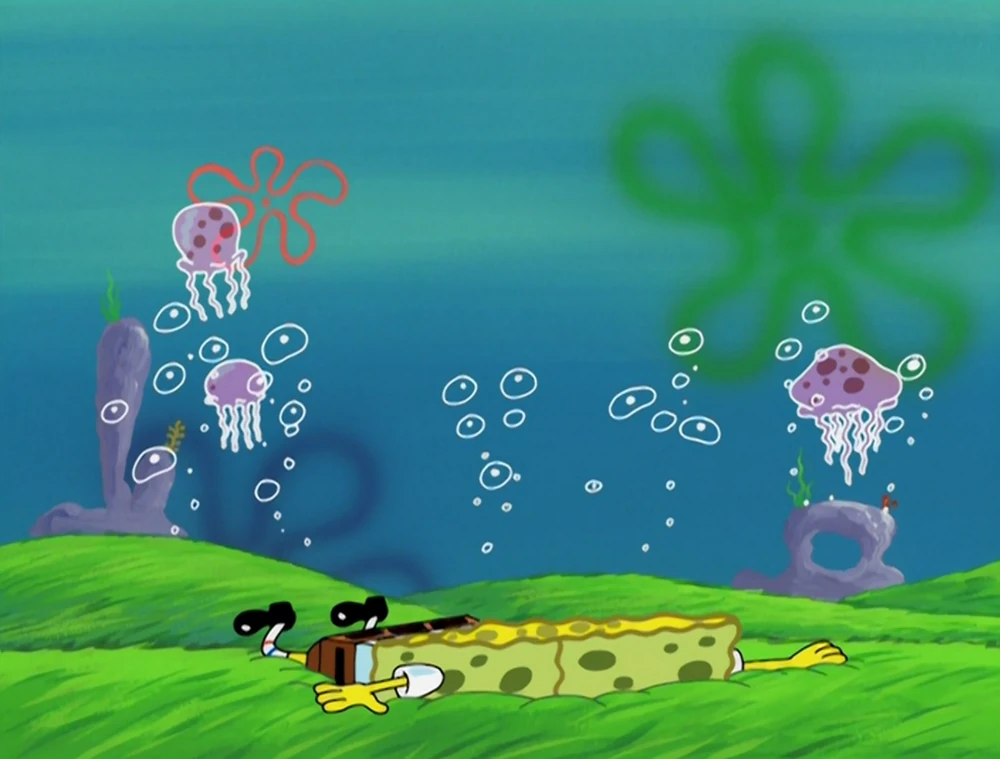 This long episode served as a special featuring Patchy the Pirate. In the episode, SpongeBob wishes he could fly like the jellyfish. He tries a few times and is called the "The Birdman of Bikini Bottom" by the townspeople, who form an angry mob against him.
Eventually, the jellyfish and some air-pants help him fly. The people eventually get over their anger, and everything is peaceful. As the episode ends, Patrick flies away without any obvious means.
Season 4, Episode 66 – "Dunces and Dragons"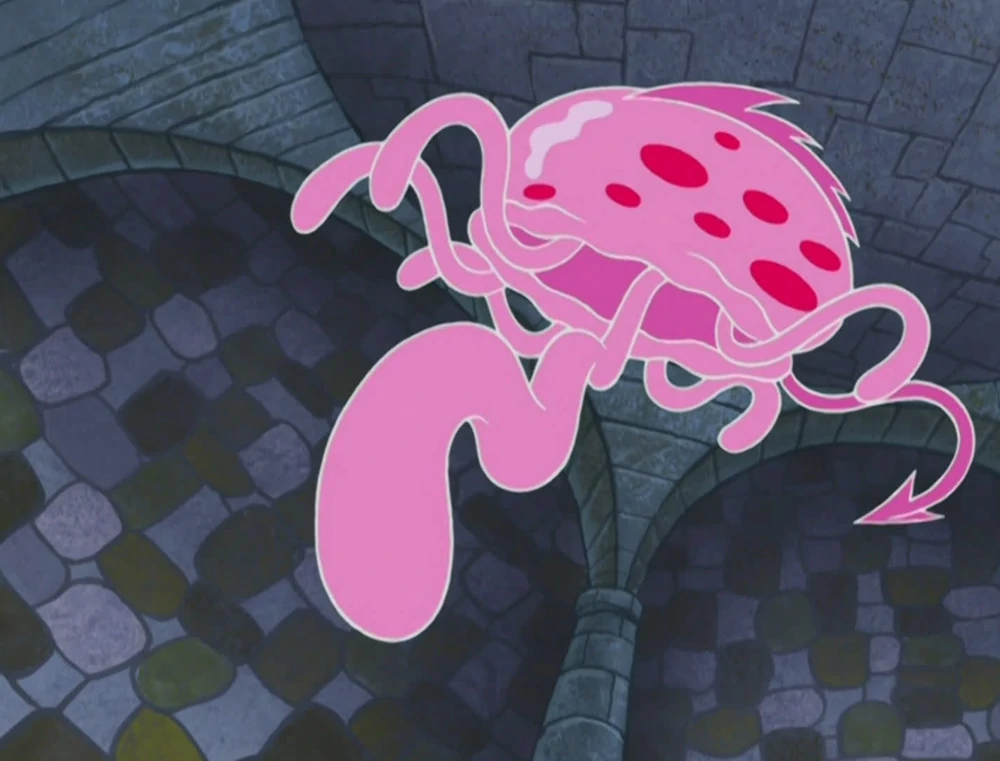 In this Dungeons & Dragons episode, Dragon Jellyfish appears as a villain in their medieval world. The gang is sent back in time, where they get to live out fantasies.
The episode is spent trying to protect the village from the dragon and ending his reign of terror. They eventually end his rampage by offering him Krabby Patties, which he becomes addicted to.
Season 4, Episode 79 – "The Pink Purloiner"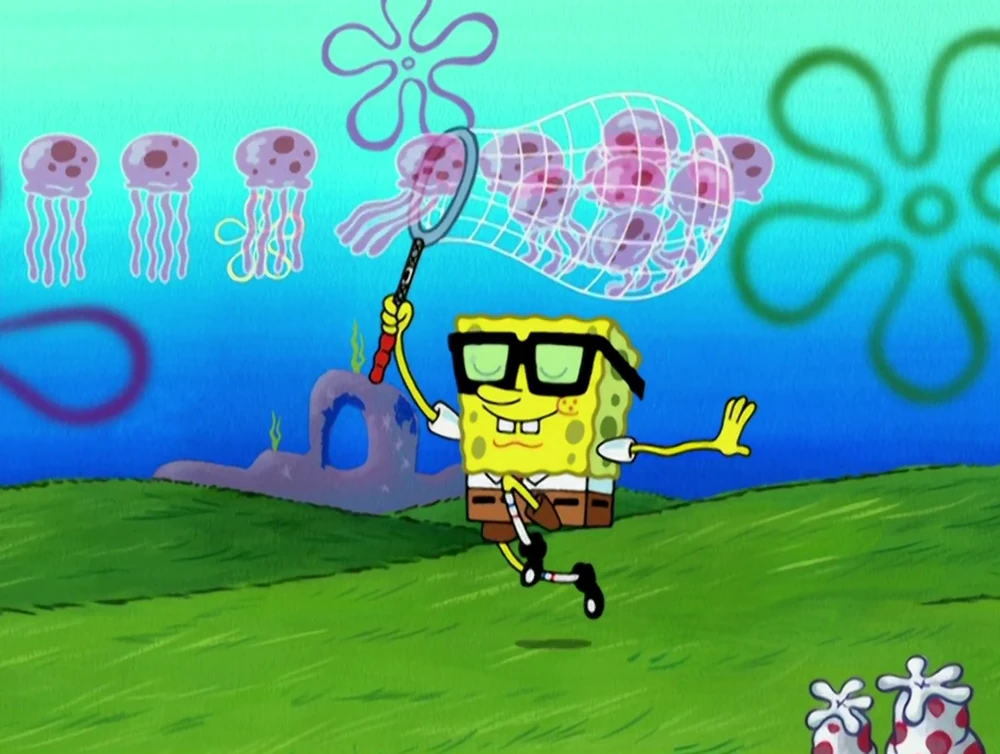 This important episode features the annual jellyfish migration. SpongeBob and Patrick go to Jellyfish Fields to watch where they see all the exotic jellyfish that are passing through.
During their day, SpongeBob loses Ol' Reliable, his net. SpongeBob gets suspicious that Patrick stole it, causing the two to argue. Patrick makes SpongeBob a new net just before they find out SpongeBob left his net on the bus…again.
Season 5, Episode 99 – "SpongeHenge"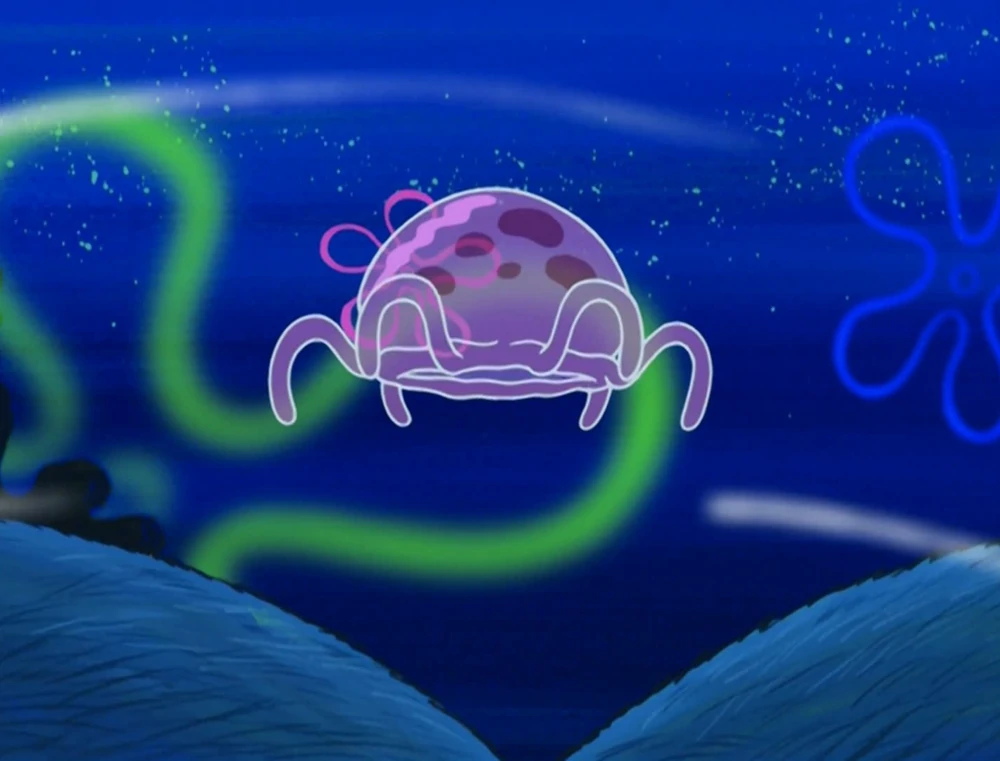 In this creepy episode of SpongeBob, a story is told about a storm in Bikini Bottom. The wind causes a whistling sound as it travels through SpongeBob's holes. This attracts jellyfish.
SpongeBob spends the episode trying to get away from the jellyfish. Eventually, he makes a replica of himself which he calls SpongeHenge. The landmark is seen 3000 years later, still standing. 
Season 7, Episode 134 – "SpongeBob's Last Stand"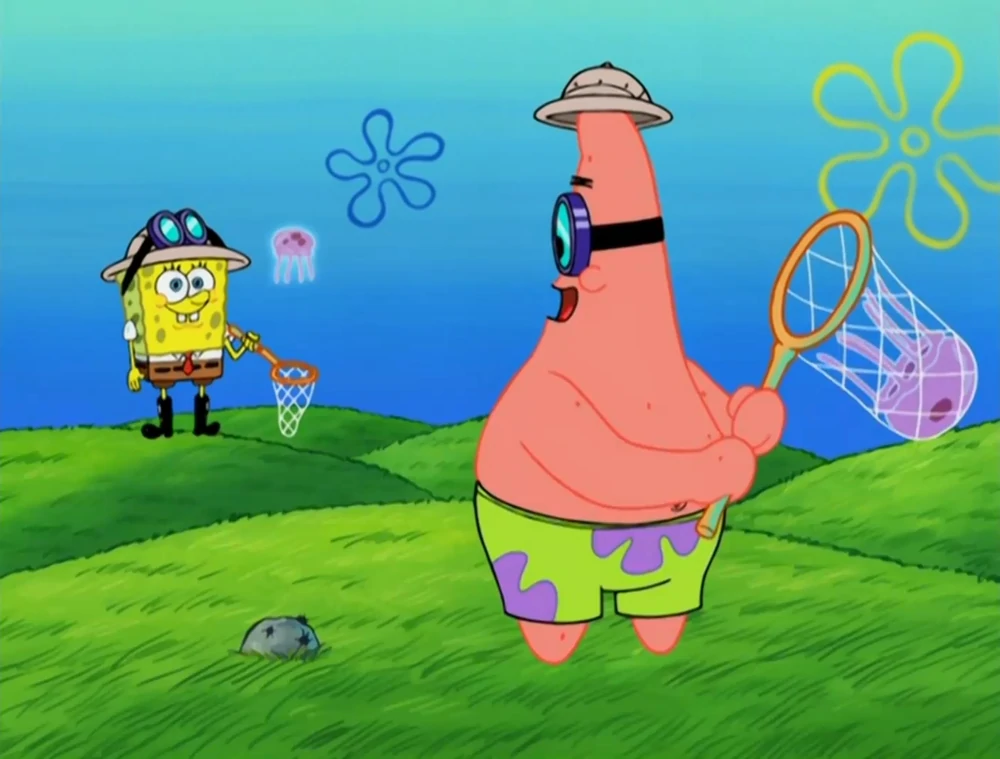 The episode begins like any other, with Spongebob and Patrick jellyfishing. But they soon see a billboard that says a highway is going to be built over Jellyfish Fields, upsetting SpongeBob. 
SpongeBob and Patrick try to stop the new construction to save Jellyfish Fields. They get arrested, start a parade, and everything else. The highway is still built, but it ruins Bikini Bottom. So the townspeople destroy it, and everything goes back to normal. 
Season 8, Episode 169 – "Planet of the Jellyfish"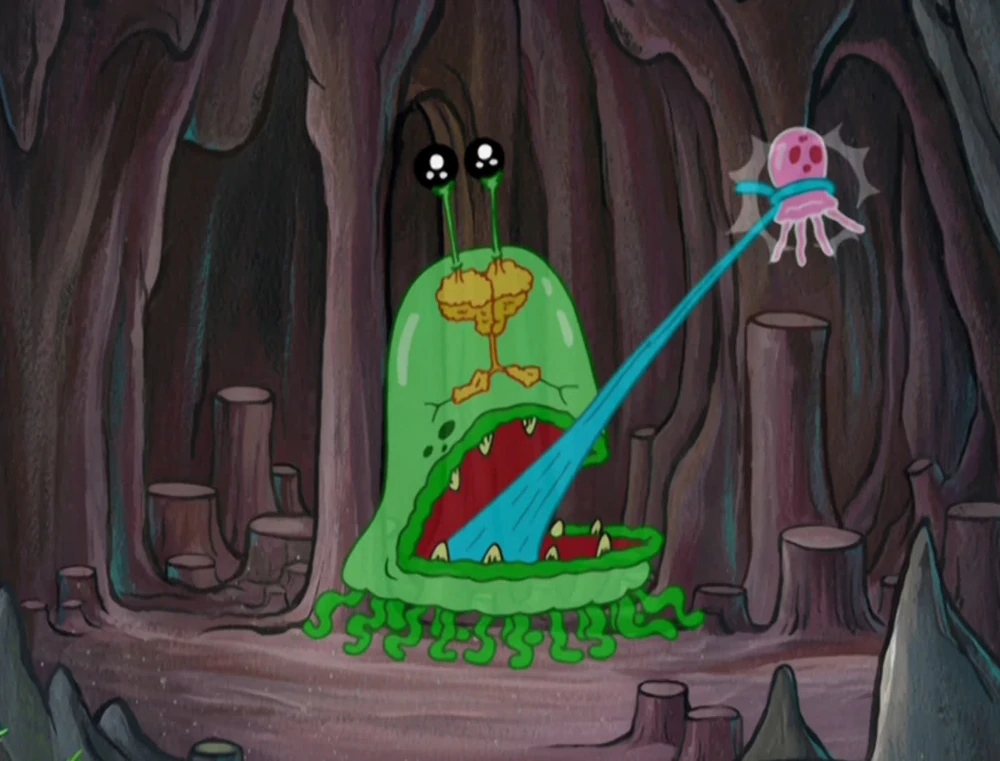 This strange episode features the Jelliens, which are alien jellyfish. They spend the episode harassing Bikini Bottom, eating everyone they can so they can make clones of them.
Their quest for world domination ends when the gang realizes that the Jelliens' weakness is mayo. So SpongeBob and Sandy shoot them with mayo. As the episode ends, Patrick asks for no mayo on his burger, leaving a cliffhanger. 
Season 11, Episode 224 – "Squid Noir"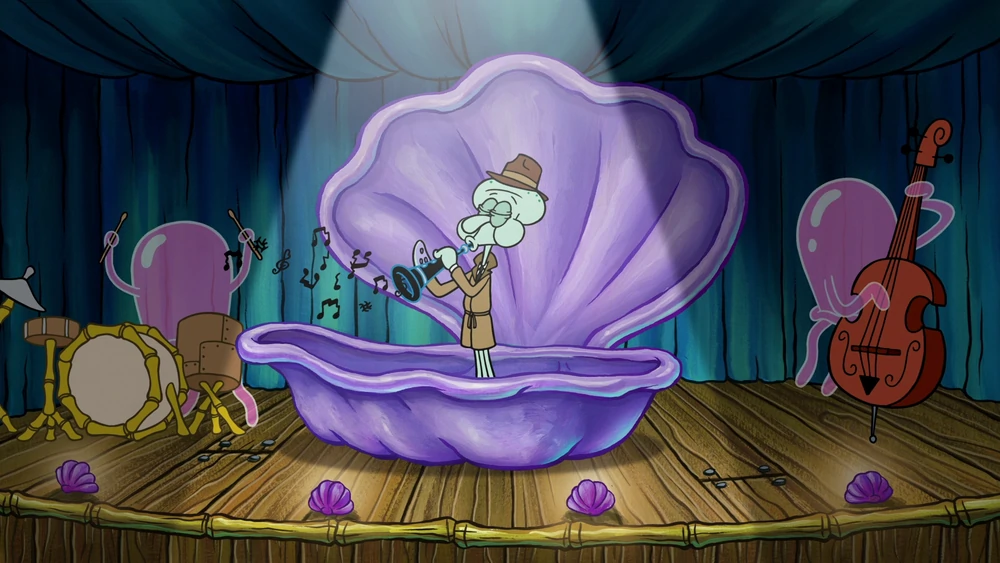 While it contradicts what has happened in previous episodes, we find out in this episode that Squidward should never be separated from his clarinet. When he is, the world goes black and white.
Because they want color restored, they search for the culprit, who happens to be the jellyfish. Whenever he gets his clarinet back, color returns, and Squidward plays a concert with the jellyfish. 
Season 11, Episode 241 – "Squirrel Jelly"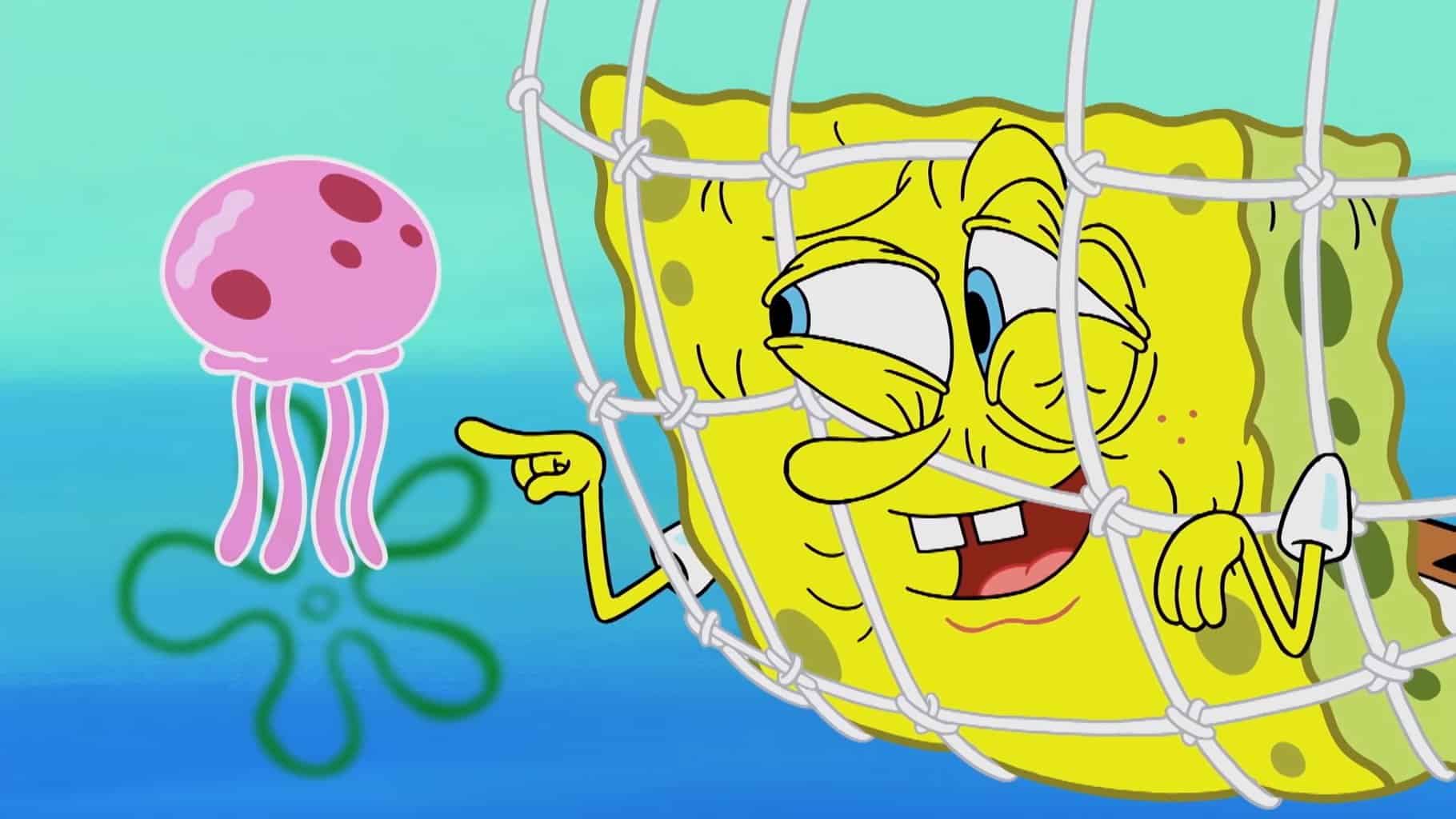 In an attempt to be better than Sandy at something, SpongeBob and Patrick challenge her to catch jellyfish. Bored with catching jellyfish, Sandy feeds them Franekstein food, which makes them grow large.
She soon learns it was a mistake but not in time to stop the jellyfish from merging to create a monster. The only way to stop it is for Sandy to unleash her aggression which she had decided to calm. 
Types of Jellyfish in Bikini Bottom
Jellyfish like Doodle Jellyfish and Ghost Jellyfish will not appear on the list because neither can be considered "real." Others like SpongeBob Jellyfish will also not be included because it was a dream.
Pink Jellyfish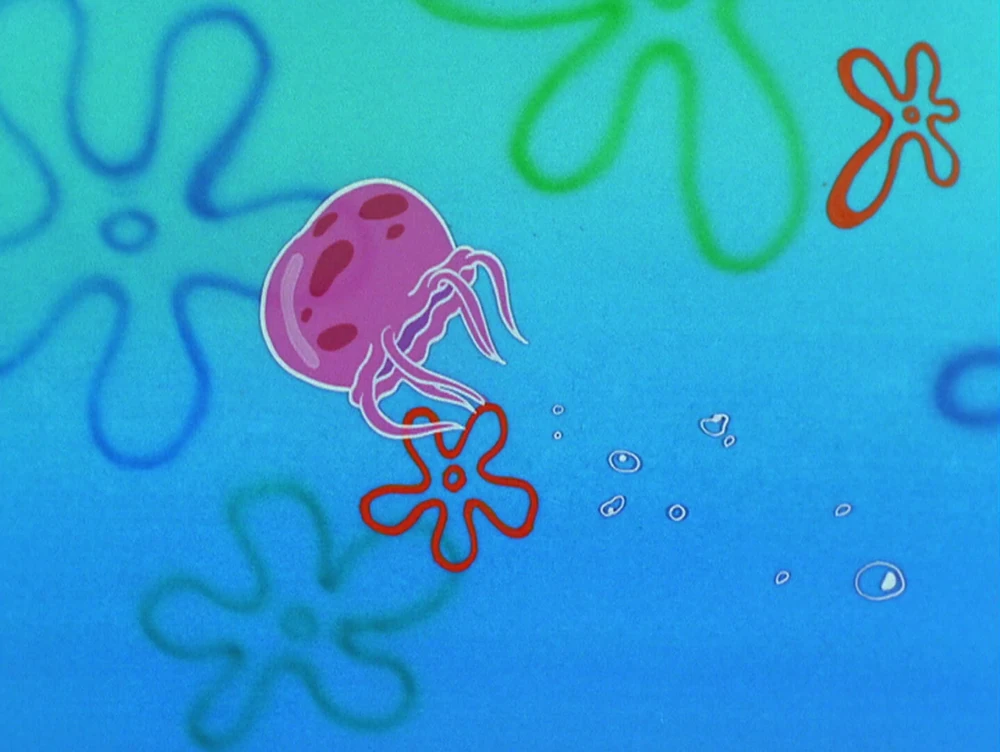 The pink jellyfish are the most common type of jellyfish. They have four stingers and a handful of dark pink spots. If the type of jellyfish isn't specified, it's a pink jellyfish, which doesn't have a specific name.
Blue-Crested Blaster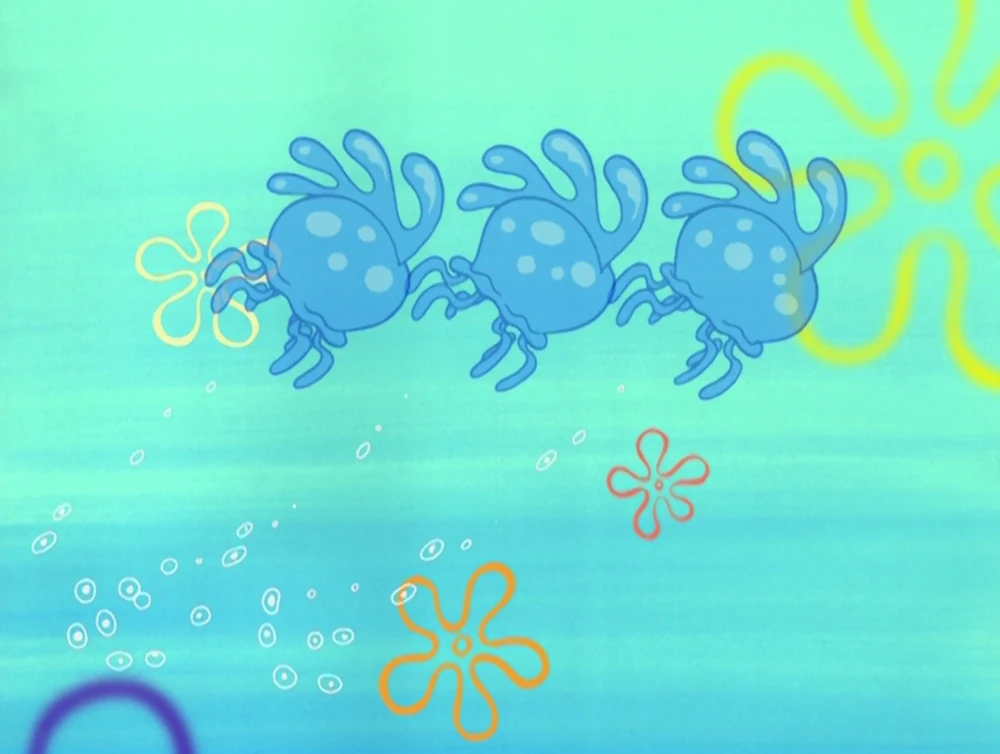 This strange jellyfish appears in "The Pink Purloiner." It is a blue jellyfish with a crest like a rooster. It is only seen in one episode because it migrates yearly to Jellyfish Fields with other rare jellyfish.
Speckled Squirter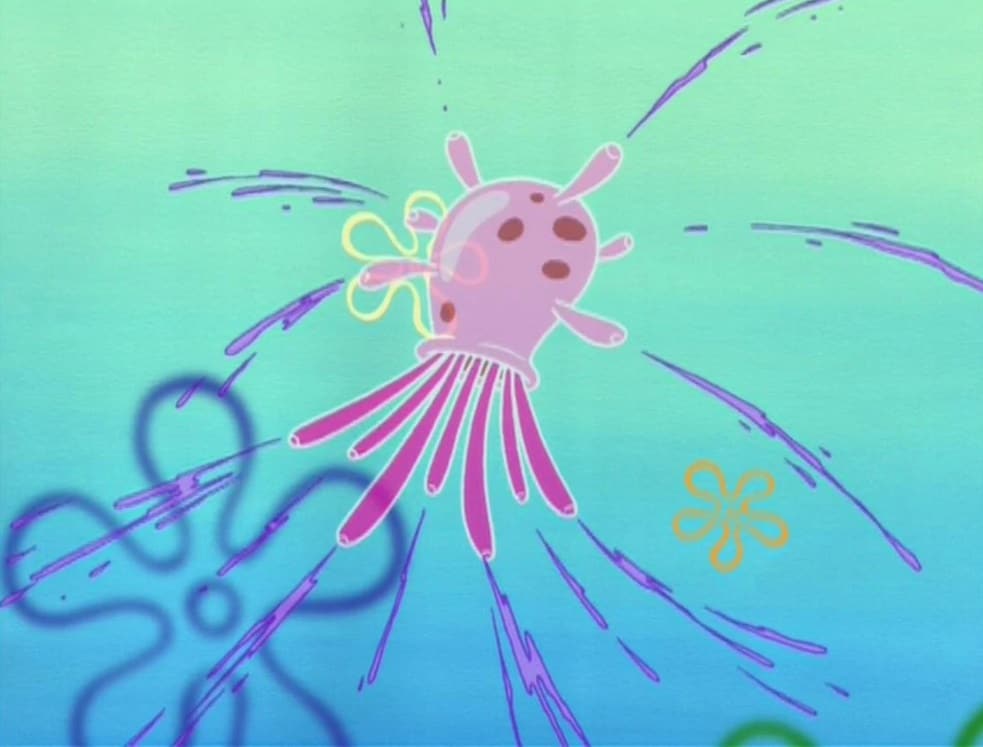 The Speckled Squirter is another "The Pink Purloiner" gem. It looks like the regular pink jellyfish but has more stingers and squirts jelly from its entire body. It also migrates through the fields once a year.
Two-Fisted Jumper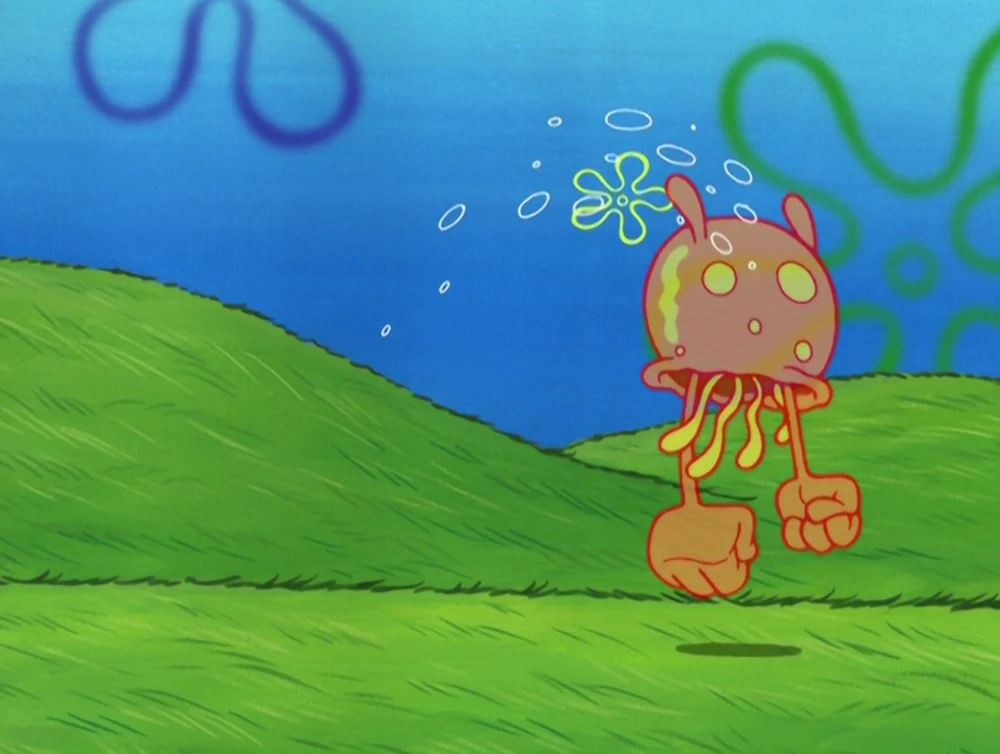 The two-fisted jumper is another "The Pink Purloiner" exotic. It is orange with two fist stingers coming out of the bottom next to the other stingers. It also has two antennae on its head.
Golden-Throated Stinger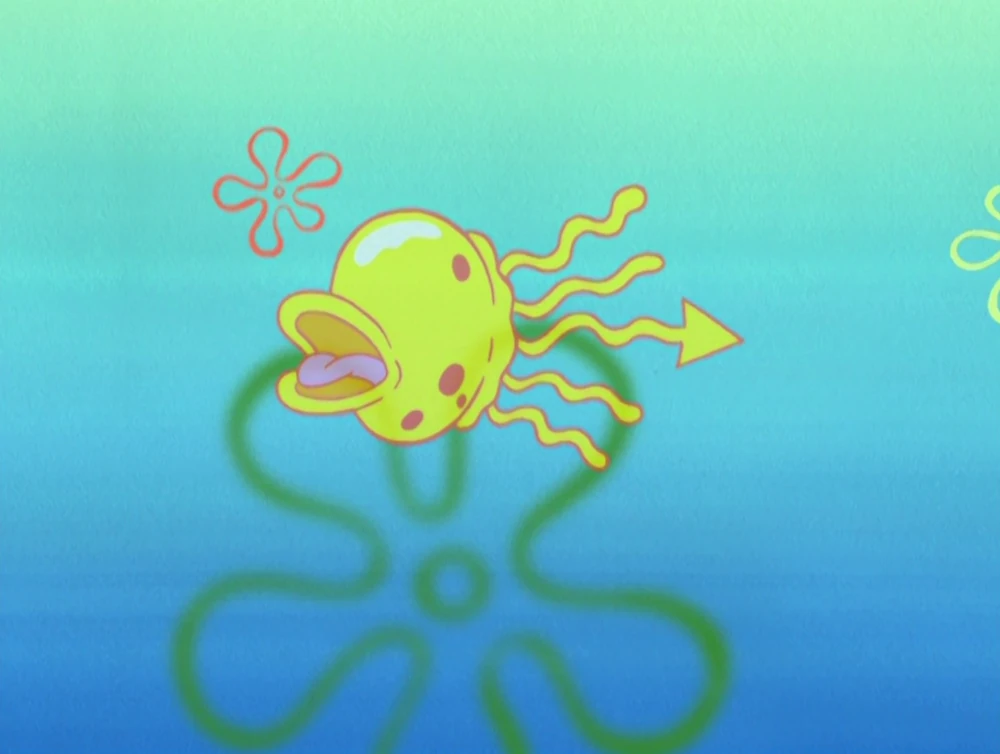 The strange Golden-Throated Stinger has four regular stingers and one pointy one. This yellow jellyfish also has a large mouth on its head. The higher pitch it sings, the faster it moves.
Glowing Three-Spot
The Glowing Three-Spot looks like a normal jellyfish, but it has six stingers, and it glows. It first appears migrating in "The Pink Purloiner" but then has a cameo in "SpongeBob's Last Stand."
Blue Jellyfish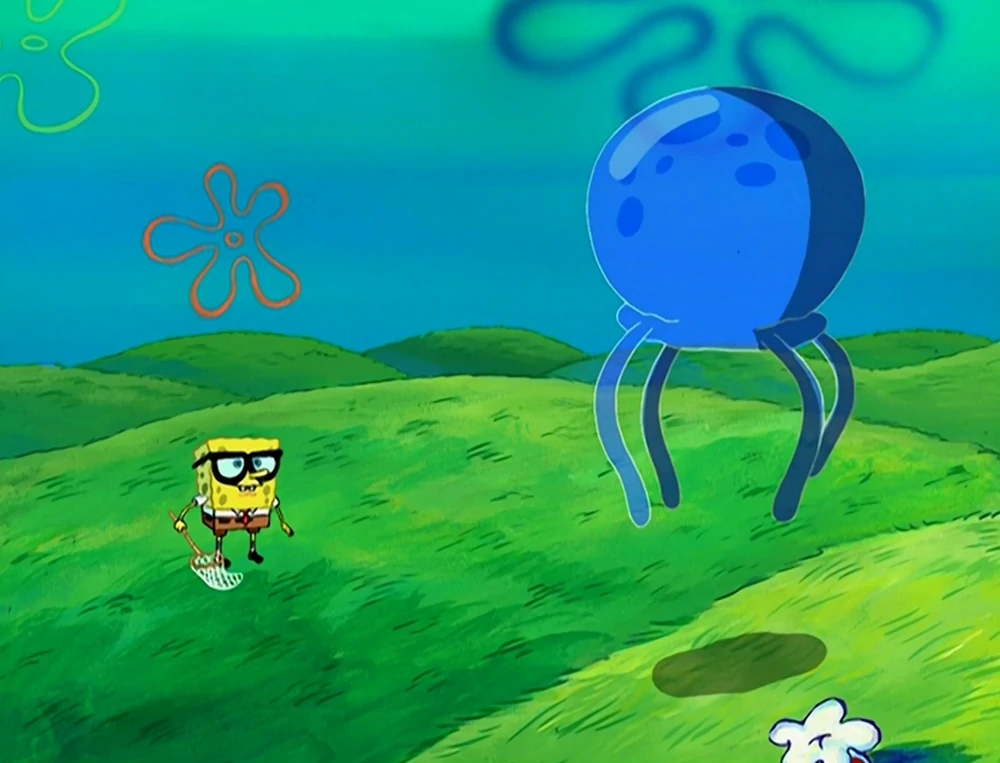 Blue Jellyfish are more common than exotic jellyfish, but they are rare. They are elusive and difficult to catch. SpongeBob befriended one in "Jellyfish Hunter" whom he eventually calls Friend.
Jelliens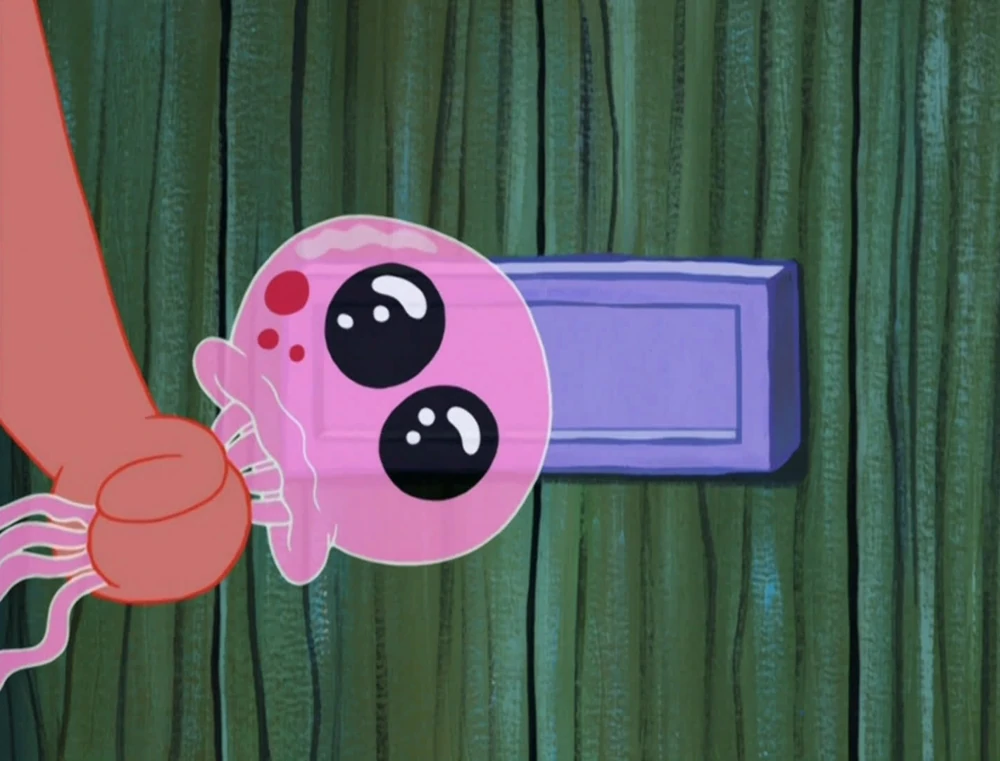 Jelliens are alien jellyfish created by the Jellien Leader. These jellyfish hope to one day rule the planet by turning sea creatures into clones. They do this by eating them with their sharp teeth. Jelliens cannot sting.
Jellybee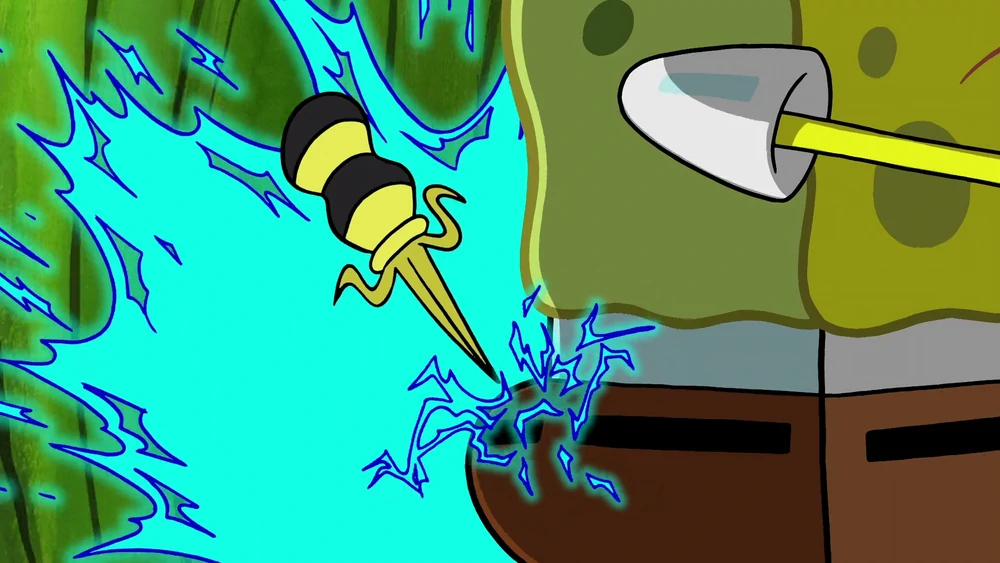 Jellybees are a specific type of jellyfish that only appear in the episode "FarmerBob." They look a lot like bees – more than like jellyfish – and sting in a similar manner as seen when one stings SpongeBob.
Firejellies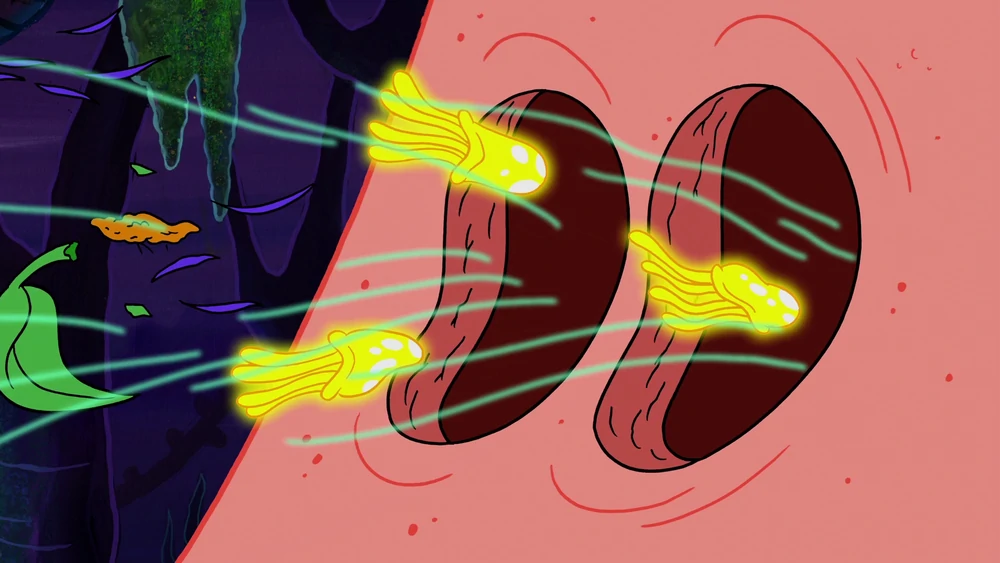 Firejellies are inspired by fireflies. They are tiny but have a sting even stronger than that of a pink jellyfish. They appear in "Swamp Mates" when they sting Bubble Bass's tongue, causing serious damage.
Specific Jellyfish
There are a few jellyfish that don't have a specified breed but do have a name. These jellyfish are considered characters, and each has its own role in its episode.
King Jellyfish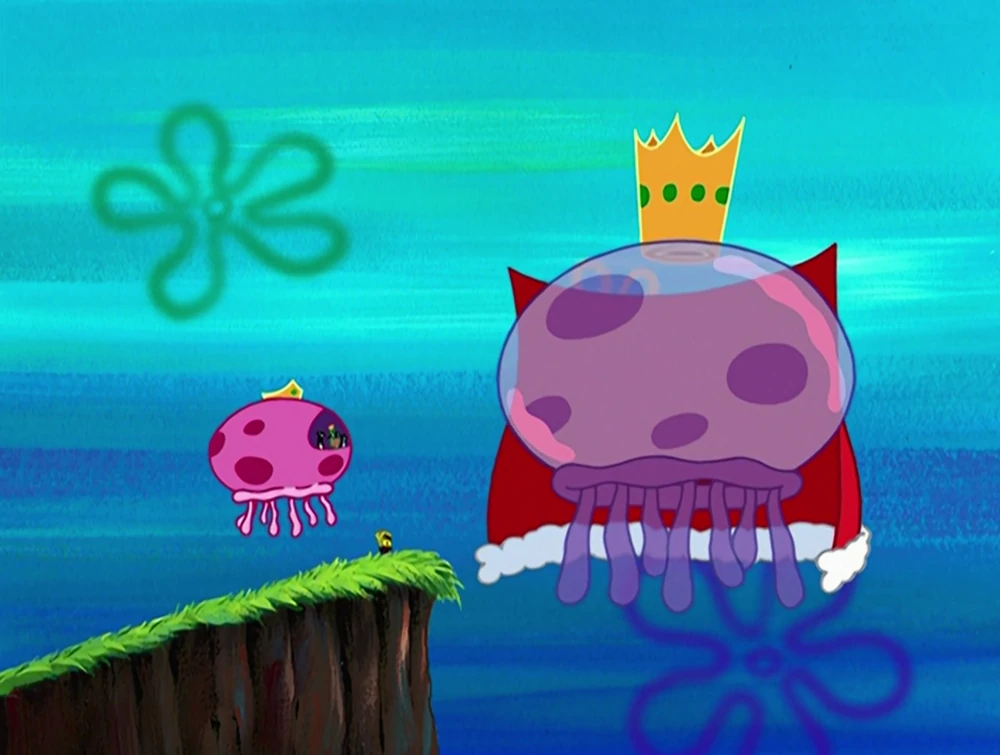 King Jellyfish appears in "I'm Your Biggest Fanatic." He's a large jellyfish that chases down SpongeBob and Kevin. He only stops when SpongeBob offers pie made out of bubble soap. It turns out, King Jellyfish loves pie.
Queen Jellyfish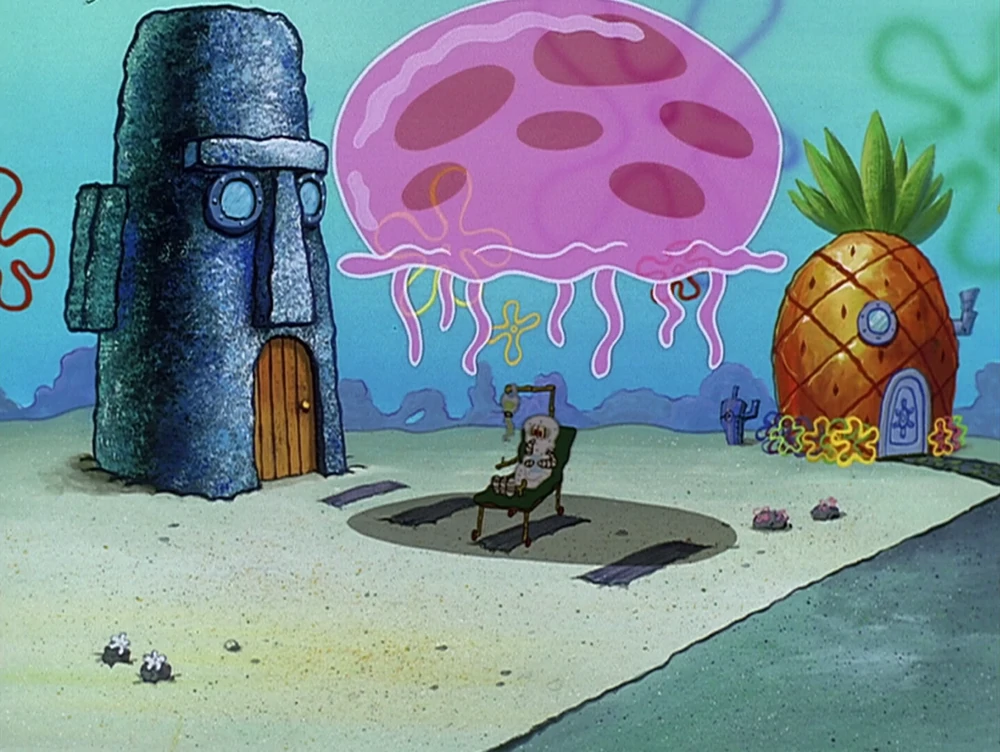 Queen Jellyfish appears in two episodes. She's large but otherwise normal. She's protective of other jellyfish and will even get violent if she fears someone is trying to harm them.
Big Lenny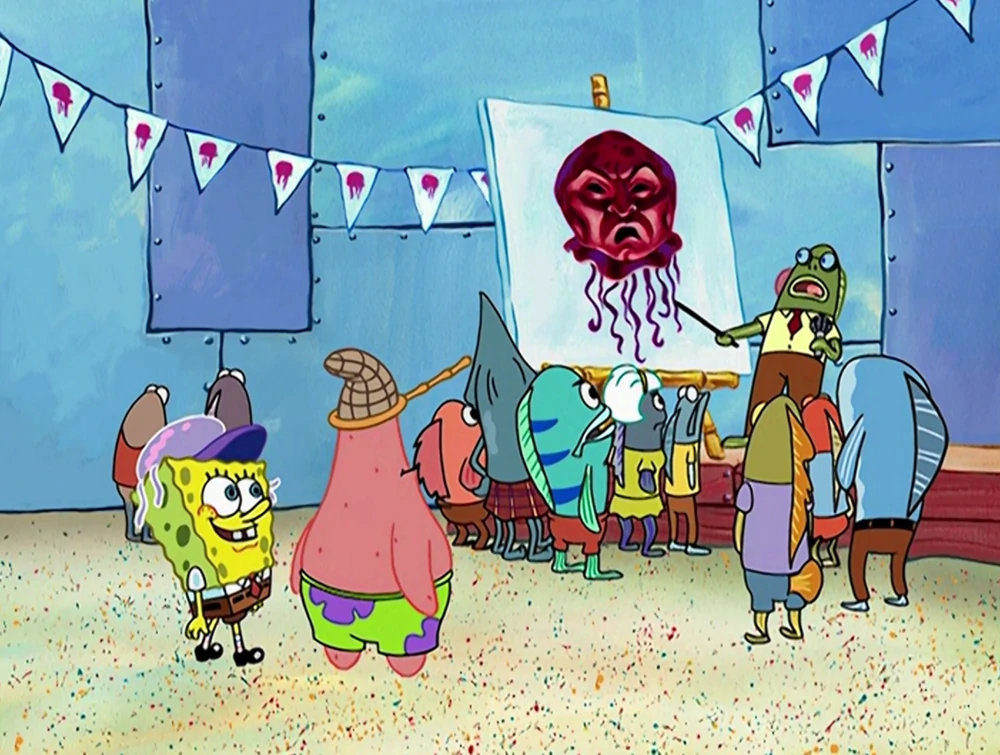 Big Lenny is a creepy jellyfish with a realistic human face. There is only one man who has survived an attack from Big Lenny. The catch is that Big Lenny has only ever appeared in this man's drawings.
Dragon Jellyfish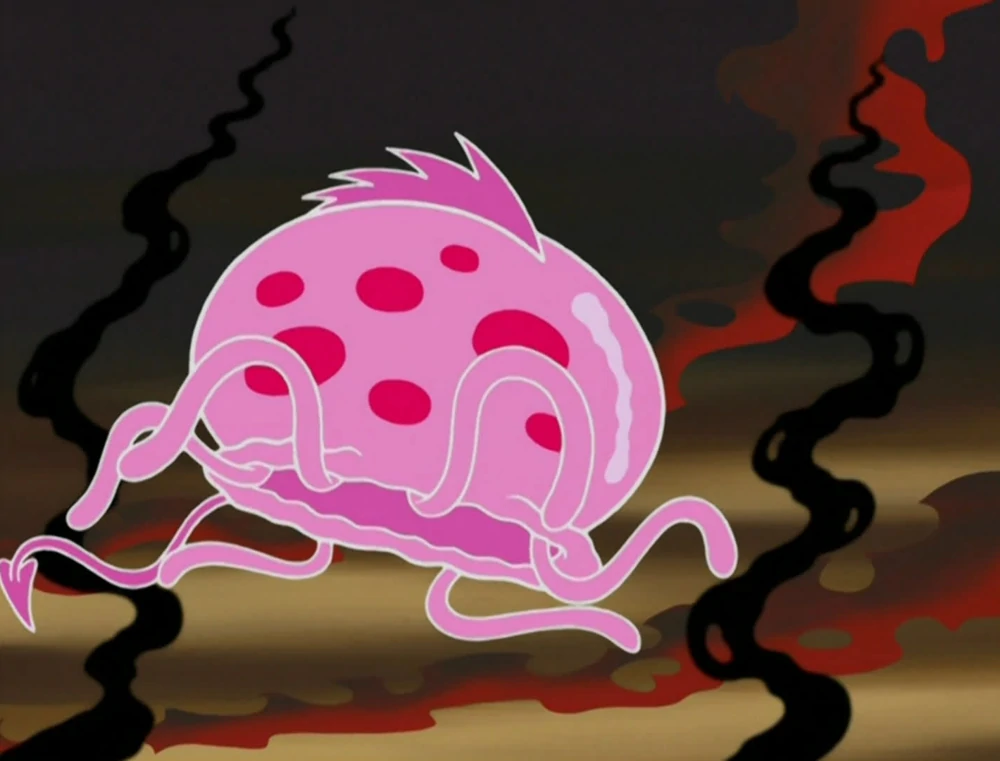 Dragon Jellyfish appears in "Dunces and Dragons." It is a jellyfish with six stingers, a dragon tail, and a barbed mohawk. It doesn't just sting; it can also burn them to the ground. Thankfully, it can be distracted by Krabby Patties.
Jeffrey the Jellyfish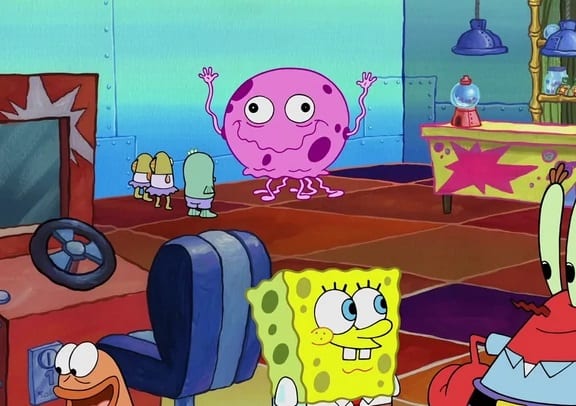 Jeffrey is a jellyfish mascot. He's not a real jellyfish, but he's special enough that he needed to appear on the list. That's because Jeffrey is the team mascot of Bikini Bottom, and every town knows how special that can be.
Ol' Bessy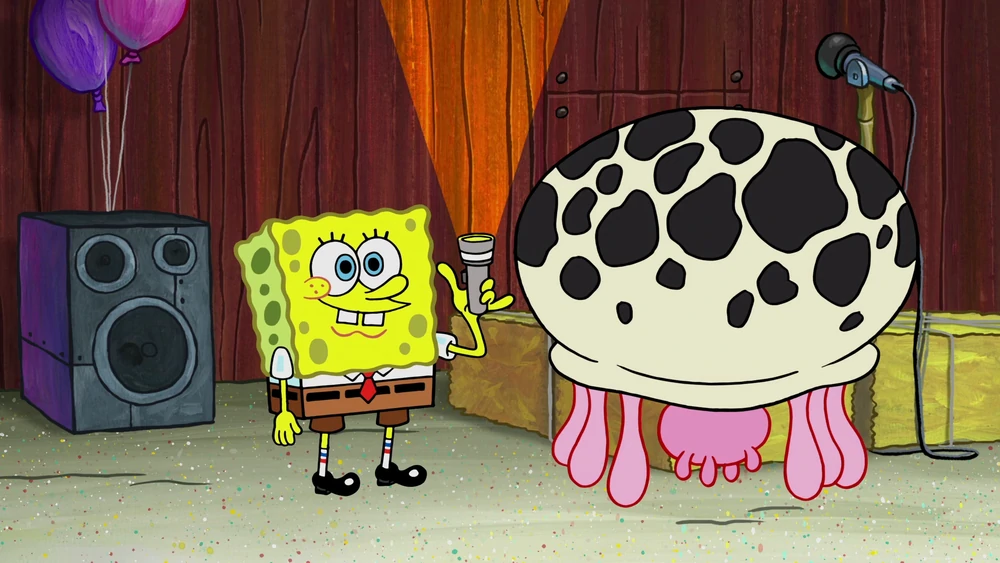 The strangest jellyfish on the list is Ol' Bessie, who looks like a cow and even has an utter. She is Old Man Jenkins' jellycow that SpongeBob tries to milk. She does squirt jelly rather than milk.
FAQs
Question: What are Jellyfish Called in SpongeBob?
Answer: Jellyfish are called jellyfish in SpongeBob. There are many different types of jellyfish, each with its own name, but they all fall under the larger category of "jellyfish."
Question: Has SpongeBob Every Caught a Jellyfish?
Answer: Yes. In "Jellyfish Hunter," SpongeBob even catches almost all of the jellyfish in Jellyfish Fields. While he does like to jellyfish as a hobby and releases them right away most of the time, he is adept at the sport.
Question: What Does Jellyfish Jelly Taste Like?
Answer: Strawberry. This is answered in "Jellyfish Jam." So we can assume that it is identical to strawberry jam. If you've never had strawberry jam, you can try it, and then you'll know what jellyfish jelly tastes like.
Jellyfish – Their Place in Bikini Bottom
Jellyfish serve a purpose that isn't minor or major. They may not have been missed if they never appeared in the series. But since they have, they've become such an icon for Bikini Bottom.
These creatures represent animal life in Bikini Bottom, which isn't often depicted. Because most of the characters are animals that can talk, it's interesting to see that jellyfish are animalistic.
Looking for more interesting readings? Check out: