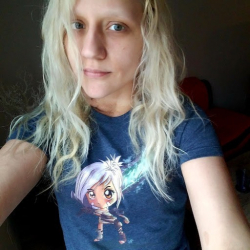 Latest posts by Emily Medlock
(see all)
The best SpongeBob pajamas for adults will allow you to be a kid again – at least in spirit. While it's known that kids like SpongeBob, most adults under the age of 40 have probably watched more than a handful of episodes.
Most millennials and Zoomers understand SpongeBob references without thinking about it. And if I had to choose the safest type of clothing to express myself, I'd choose pajamas because they are for my eyes only. Anyone who would see me in pajamas knows me well enough that I don't have to hide my inner child.
SpongeBob Pajamas for Kids Top Picks – At A Glance
| | | |
| --- | --- | --- |
| Name | Link | Category |
| Squidward Pajamas | Amazon | Mens |
| SpongeBob Sleep Overalls | Walmart | Unisex |
| Vintage SpongeBob Crop Top Set | Amazon | Womens |
| Two-Pack SpongeBob Shorts | Walmart | Mens |
| Nerdy SpongeBob Nightgown | Amazon | Womens |
Best SpongeBob Pajamas for Men
The best SpongeBob pajamas for men will show you how much variety you can find. After all, not all men want the basic yellow pajama bottoms and white tops. However, that is an option below.
OppoSuits Short Set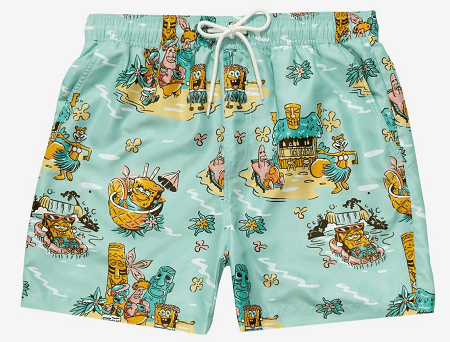 The OppoSuits set from Box Lunch is one of my favorite sets for men that work well as loungewear too. You can find the shirt to match here. This is the most unique set on the list, and I'm here for it.
If you're going through that stage where you need a Hawaiian-type shirt, then this SpongeBob shirt is here for you. But if you want to keep things simple and versatile, then you can just get the shorts.
Pros
Versatile
Unique
Button-up doubles as your fun Friday wear
Polyester for those adverse to cotton
Available online and in-store
Cons
BoxLunch Exclusive
Sells out fast
Expensive
Van Gogh SpongeBob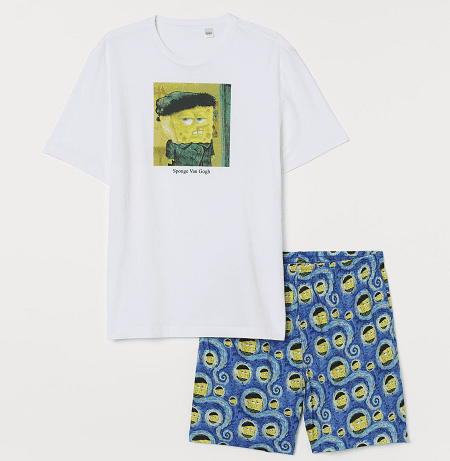 This is the most laidback yet sophisticated set on the list. I love the vibe and fit of Sponge Van Gogh. If you're unfamiliar with this character, perhaps you're in need of a brief summary.
Sponge Van Gogh is a painting made by SpongeBob that appears in Nickelodeon calendars, video games, and magazines. It even appeared in a real exhibit in France during Exposição SpongeBob.
Pros
Artistic
Other character options available
True to size
Highly recommended
Cons
Only at H&M
It can be too eccentric
SpongeBob Santa Pajamas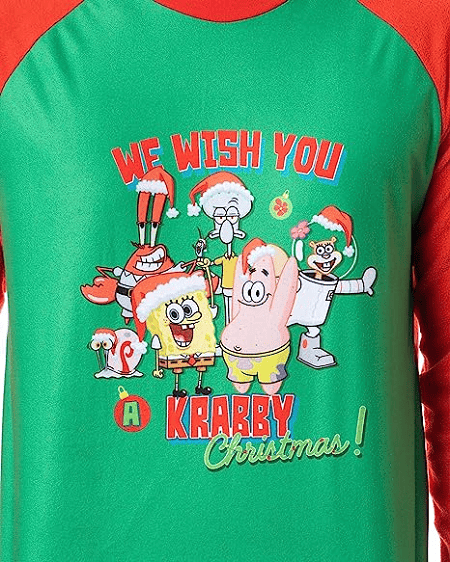 My favorite time to wear pajamas is on Christmas morning. Although there are SpongeBob Christmas sets I like more, this one is almost always available, whereas others are only available at Christmastime.
I love that this set features so many characters, even Plankton, that I missed the first time I saw the set. While I like a simpler approach most of the time, at Christmas, I'm totally cool with going all in.
Pros
Microfiber (plus for winter)
Features many characters
Christmas colors
Cons
Christmas all year isn't for everyone
Krabby Patty Lounge Pants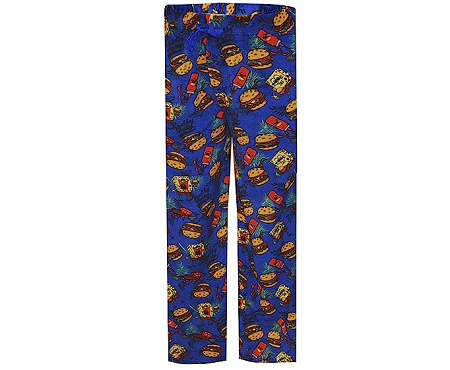 Krabby Patties are one thing from SpongeBob that most fans have obsessed over. I love this design that features the ketchup bottle, and I'm not sure why. Something about it speaks to me.
Plush bottoms aren't all that common for adults anymore, so it's always nice to find them. Of course, I'm not into plush clothing items, but I know many people love them. It also may not look like it, but these pants have pockets.
Pros
Plush (if you're into that sort of thing)
Krabby Patties!
Good fit
It has pockets
Cons
Squidward Pajamas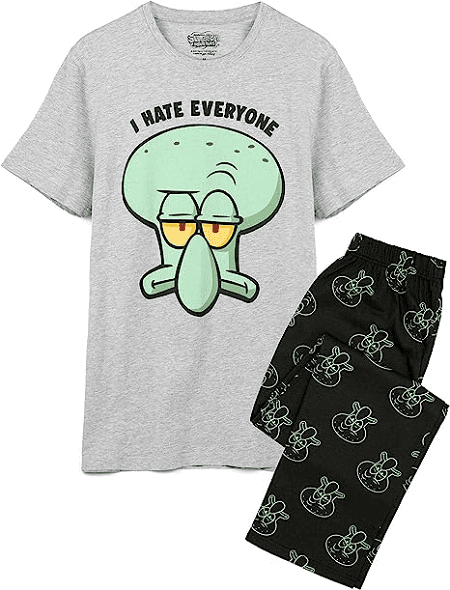 Squidward is a relatable character that more than a handful of fans consider their favorite. Although the "I Hate Everyone" phrase isn't for me, this style looks perfect for any SpongeBob fan, any time of year.
The pants alone are hardly recognizable as Squidward unless you look closely, which I consider a plus because I like to switch things up and mix and match my pajamas. Something about this pair really sets itself apart.
Pros
So classy
Squidward has his time to shine.
Tee works with any bottoms
Cons
Sassiness isn't for everyone
Not classic PJ material
Simple SpongeBob Lounge Pants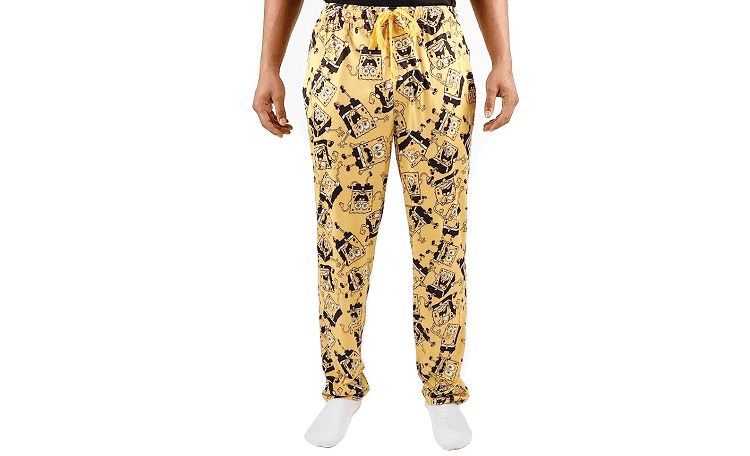 This is one of the safest options for sleep bottoms because they go with most tops. There's not much negative to say about this pair of pants because it's exactly what one might expect.
If you want simple sleep pants that you can use with your favorite plain shirt or SpongeBob shirt, this is your best bet. I find this to be especially true if you are getting someone pajamas as a gift.
Pros
Simple SpongeBob pants
Works with most tops
Nice blend
Fits as expected
Cons
Discrepancies in real materials used
Krusty Krab Short Set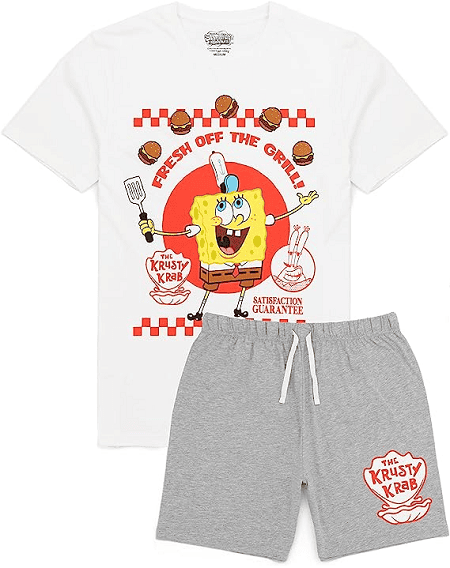 This Krusty Krab short set looks like something I would wear, so it's safe to say that this could be considered unisex. I know people who only wear grey bottoms or jeans, so I understand why this would be a hit.
But it isn't the simple grey shorts that have me loving this set. It's the t-shirt that I love. The Krabby Patty shirt is one of my favorites. I am a sucker for white tees, even though they never seem to stay clean.
Pros
Amazing design
One of the few cotton short sets
Comfortable
Cons
Shorts are shorter than most men's shorts
Plain Doodlebob Pants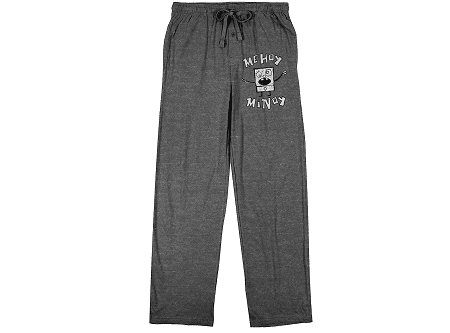 I know many men who like to keep their pajamas as simple as possible. This is that perfect blend of themed pajamas and a step up from sleeping "in the nude," as Sandy would say.
I love the graphite color so much as I've had this very color of pajama pants, which were my favorite. I know a lot of people like the vintage wash, which is why I had to include these DoodleBob pants.
Pros
Simple
DoodleBob
Graphite color
BioWorld
Comfy blend
Cons
Not very on-theme
Can be too basic
Space SpongeBob Pants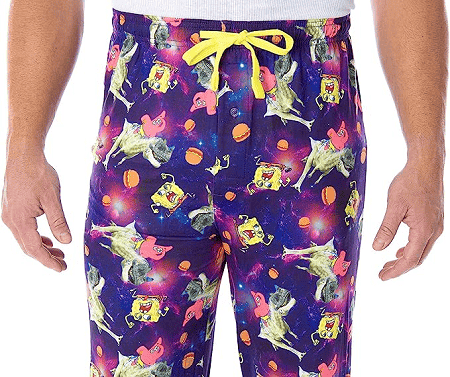 The space SpongeBob pants are for fans of Sandy's Rocket and every other space episode from the series. They are unique because they have a bit of Spandex, which is one of my favorite blends. I have half a dozen dresses with the same blend.
But what I love most about these pants are the details you will notice if you look closely. We see this  realistic dinosaur in the two hour-long specials, "Ugh" and "Truth or Square."
Pros
Great for tall people
BioWorld
The dinosaur is out of this world
Cons
No pockets
Can be too busy
Patrick Shorts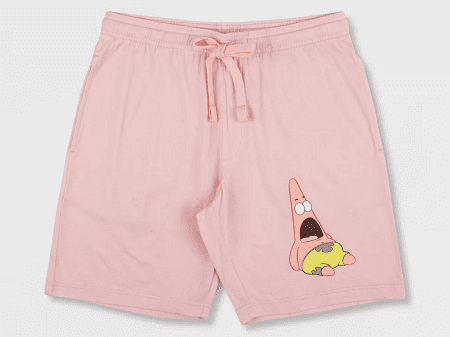 The Patrick shorts are only for alpha males who feel comfortable wearing short pink shorts to bed. For those who don't, this two-pack also comes with a classic SpongeBob pineapple pair.
Both are amazing, have a great design, and look super comfortable. But I like the Patrick pair because I find that pink shorts like this are rare, and the perfect time to try some out is at bedtime.
Pros
It's big, scary, and pink
Two pack
Comfortable
Cons
Only available to ship
Really very pink
SpongeBob Sleep Overalls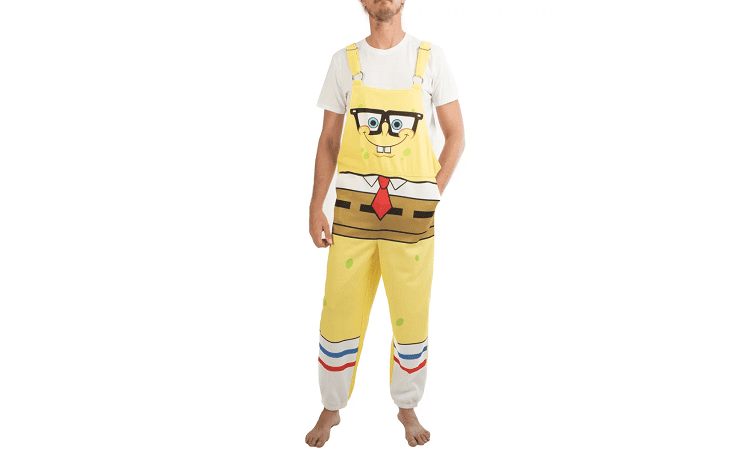 The SpongeBob sleep overalls are the most unique entry for men, though they work for anyone. If you're confident in yourself, I dare you to wear these overalls because I've never seen SpongeBob pajamas so special.
To be honest, this is the type of thing that a sibling would tell their parent that their sister or brother would love and convince the parent to buy it for them. But the joke is on the trickster because this is the bomb.
Pros
Overalls are cool
Classic cosplay look
Thick and sturdy
Cons
Not all sizes are readily available
Metal rings may be uncomfortable
Grumpy SpongeBob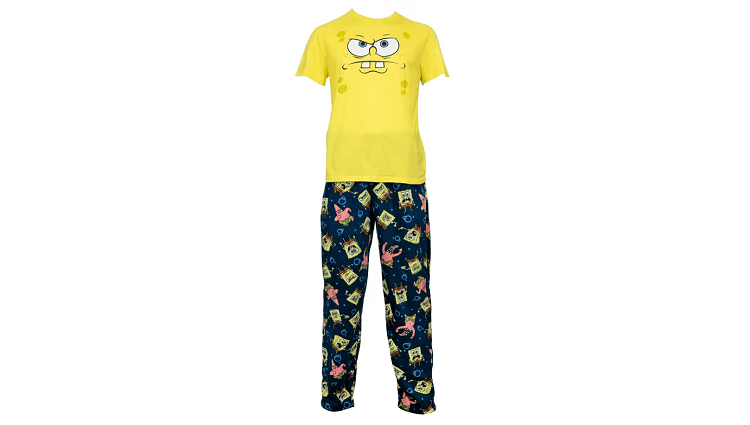 If you get grumpy when you're tired or wake up feeling this way, this is the set for you. Although I see the faces more as determined than grumpy, I think either will work for the purpose.
This is one of the most classic pajama sets on the list. It features the SpongeBob face top and the SpongeBob and Patrick bottoms. If someone knows only two characters, it will be these two.
Pros
Fierce faces
Versatile tee
Great colors
Cons
No give to the material
Only goes to XL
Two-Pack Sleep Shorts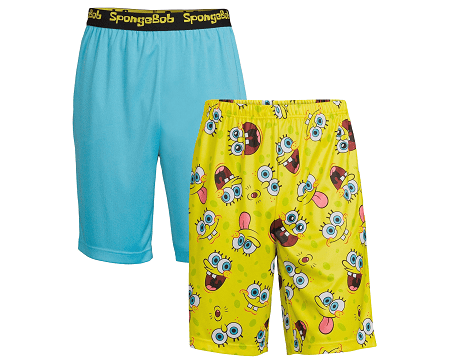 If you're one of those people who prefer to grab the cheapest thing to sleep in and match a t-shirt with it, then I feel you.
Pros
Cheap
Super light material
Longer shorts
One fancy pair, one plain
It comes in CatDog too
Cons
Chillin' SpongeBob Pajamas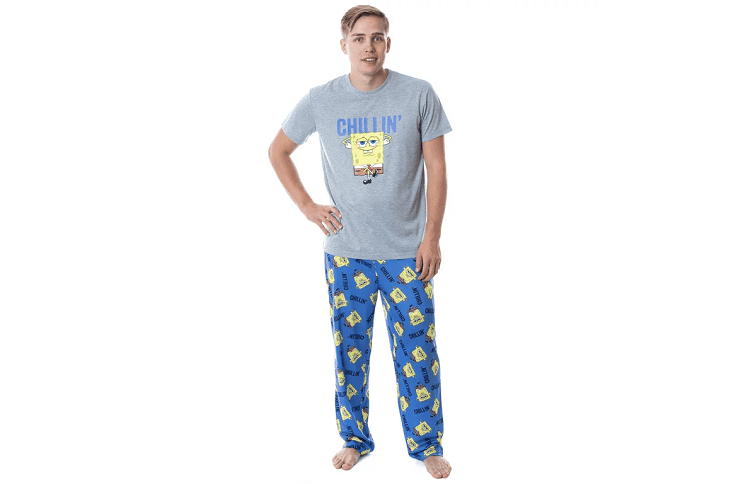 Chillin' is one of my favorite SpongeBob trends. Although SpongeBob is often seen as high energy, he also knows how to chill, and as someone with anxiety issues, that is inspiring.
The color scheme works so well with the chillin' vibe too. So all-around, the set was well-designed. It may be a bit on the expensive side, so I'm hoping it will be on sale sooner rather than later.
Pros
Chill
Unique, relaxed color scheme
Classic PJ bottoms
Versatile tee
Cons
Often unavailable
Expensive
Good size range
SpongeBob One Piece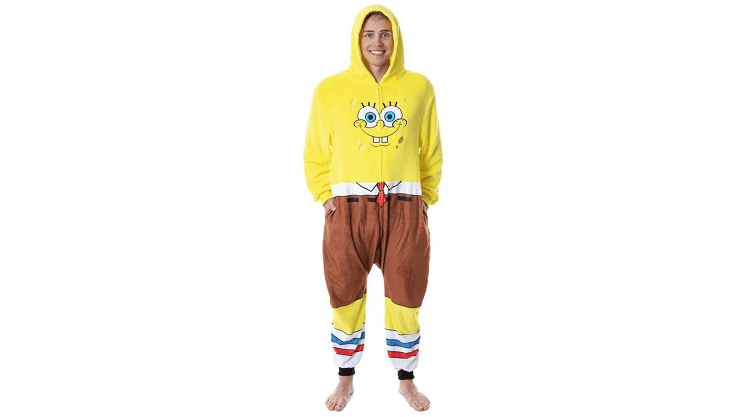 I think everyone should own a once piece like this, and SpongeBob is one of the most universal characters for it. This one is quite fuzzy, so if you are sensitive to plush materials, this may not be for you. But if you're for it, I highly recommend trying one eventually.
Pros
Classic SpongeBob cosplay look
Has a hood
Comes in a variety of sizes
Cons
Best SpongeBob Pajamas for Women
The best SpongeBob pajamas for women are classy, cute, and fun. This list has plenty of options so you can feel seen and heard in regards to what you like to wear and, of course, your love for SpongeBob.
Friday Pajama Bottoms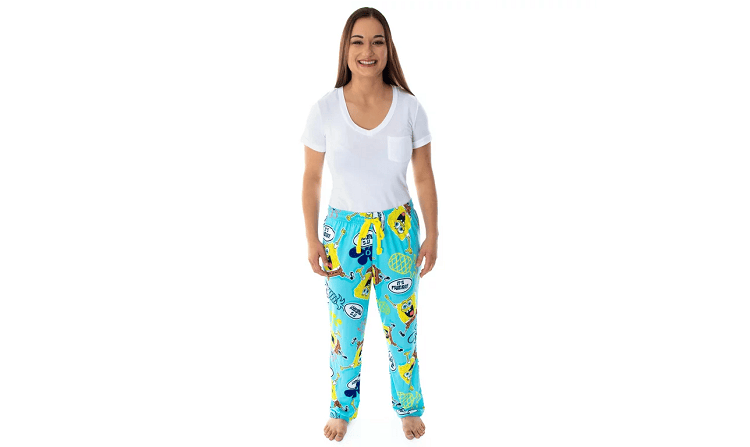 Friday, Friday, gotta get down on Friday. If you get the reference, you're only a little too old to still watch SpongeBob, and that's perfectly fine. At least every time you wear these, a wrinkle appears as the song plays in your head.
Though most people smile at the thought of Friday, no matter their age. Even if Friday makes you sad because you work on the weekends, the pants are still great. The color is unique yet still well-suited for the underwater theme.
Pros
It's Friday
Nice colors
Fun
BioWorld
Cons
May be too bright for SpongeBob shirts
Design less interesting than others
Classic SpongeBob Pajama Set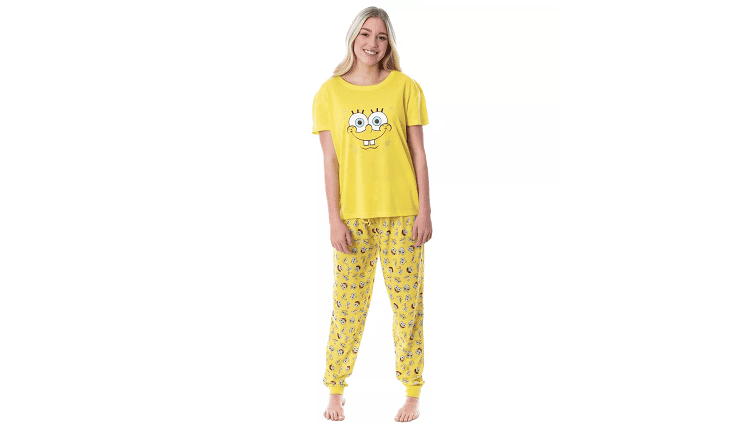 This SpongeBob pajama set is a classic for women of all ages. If you're okay with being covered with this much yellow, then you're good to go. Just keep in mind that you'll likely hear SpongeBob's laugh in the back of your mind for as long as you wear them.
Other than the overwhelming SpongeBob presence, this set is a winner. Like many SpongeBob sets on this list, this one is made by INTIMO, so you can be assured that it will be good quality, soft, and last long.
Pros
Classic
Fits well
Plenty of size options
Cons
Tapered legs
A lot of yellow
Crop Top SpongeBob Pajama Set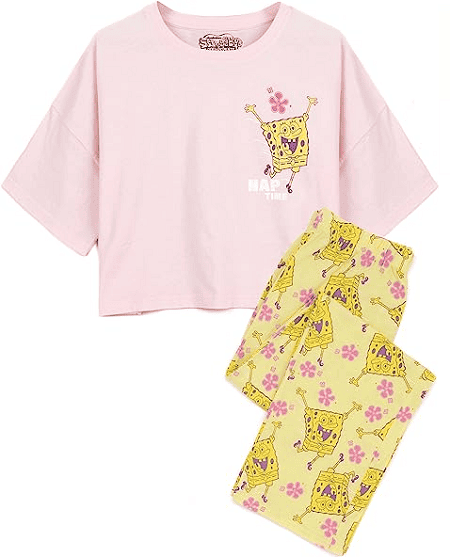 If you love crop tops and a 70s vibe, this set is sure to please. As someone who cannot pull off crop tops, I envy anyone that can, yet I still want them to get this set because it's adorable.
One trick I have learned about crop tops is that if you wear a tight tank top under it, it can do a world of good if your body shape doesn't work well with the crop top alone. All it takes is a $3 tank from Walmart.
Pros
Cute colors
Vintage look
One of the only crop top options
Cons
Not many size options
Not very stretchy
SpongeBob Womens' Short Set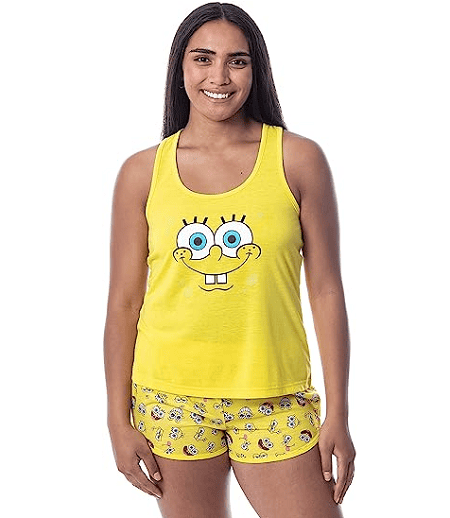 This SpongeBob shorts set is sure to please. If SpongeBob is your favorite character and you like light sleepwear, this is one of your best options. I have had a similar SpongeBob shirt, and I loved it.
Be sure to check the size guide, though, because there are rumors that it is a little tight. If there's one time when you want to be comfortable, it's when you sleep, so that's always a good thing to double-check.
Pros
Simple SpongeBob design
Comfy
Lightweight
Cons
Slightly expensive
See-through at times
Nerdy SpongeBob Nightgown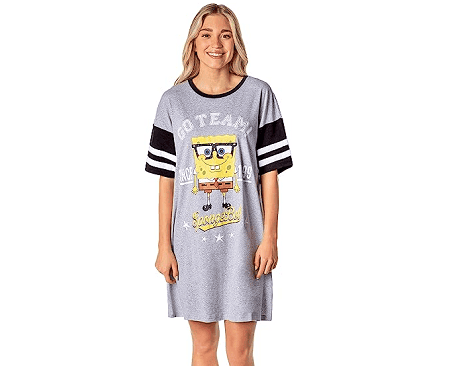 The nerdy SpongeBob nightgown is my favorite, and I'm adding it to my cart right now. I don't think that they have enough nightgowns available for adults that cover well. i don't want a nightie; I want an oversized T-shirt to sleep in.
This one looks so good too. It isn't super short, it's grey, and it's versatile. With this type of nightgown, you can wear it with leggings in the winter and shorts or without anything in the summer.
Pros
Comfy nightgown
Classic style
Nerdy SpongeBob
Lots of sizes
Cons
Sleeves are a little large
Not for those who prefer something bright
Boating School Short Set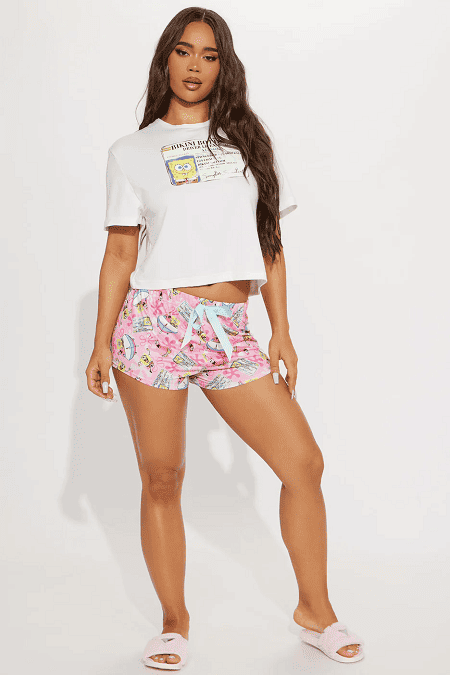 What did you learn in boating school? As someone who has got my dog a fake FBI license and a friend a fake Batman license, I now realize I have a thing for fake licenses. Though I swear, that's as far as that fascination has gone.
This tee is something special because it not only features SpogneBob's license for the world to see, which seems invasive, but it also has all of his info. So if you ever forget, it's right here.
Pros
Boating School pride
Unique idea
Frequently on sale
Cons
Cozy Winter SpongeBob Pajamas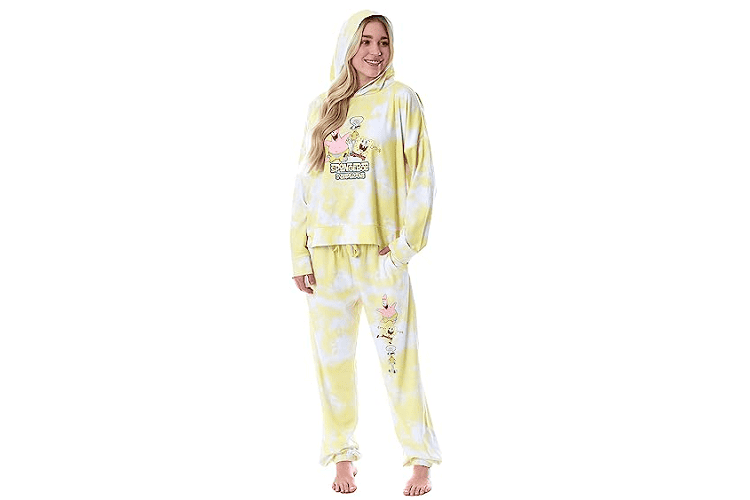 When it's cold outside, there's not much cozier than a pajama set like this. Although I don't like to sleep in pants and long sleeves, this would be the set I would get if I did. The yellow tie-dye mixed with the adorable design made me fall in love with this set.
The hood only makes it more interesting. Although it may not be that comfortable for sleeping, it's ideal for lounging around watching movies on a cold winter night. Just be careful not to spill hot chocolate.
Pros
Unique yellow color
Sweet design
Comfortable for daywear
Cons
Hood is not comfy for sleeping
Expensive
Tie-Dye SpongeBob Pajamas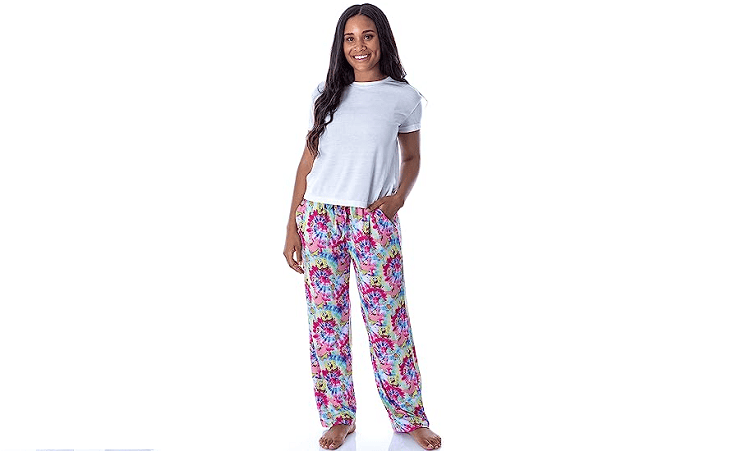 Tie-dye is one of my favorite patterns, so I'm a sucker for these pants that even feature Gary, who no one hates. The design is so good if you like tie-dye, though it may be a bit much if you don't.
I love how they off-set the tie-dye with a simple character design. The material has a soft and slinky feel which is amazing all year long. If I wear pajama pants, it is this material because they are breathable and soft.
Pros
Tie-dye
Colorful
Features four characters
Has Spandex
Cons
A little long
Low availability
Chillin' Short and Tee Set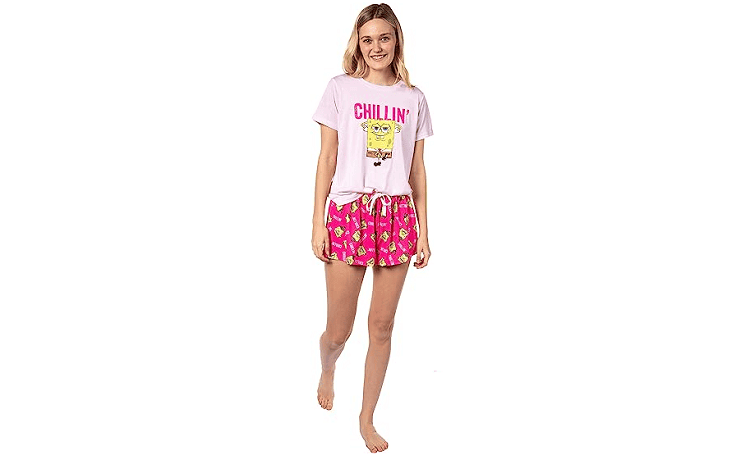 Again with a Chillin' winner, this time in pink. The top is versatile here, and the shorts look super comfortable, which is my favorite combo. If you find yourself uncomfortable with tight pajamas, this set should suit your fancy.
The only problem is that I can't decide which Chillin' set I like more. The colors and designs are both great, suited to the theme, and comfortable. Perhaps having two sets isn't all that bad after all.
Pros
Classic PJ shorts
Chillin' vibe
Comfortable
Cons
A little more expensive
Shorts ride up
Patrick Cosplay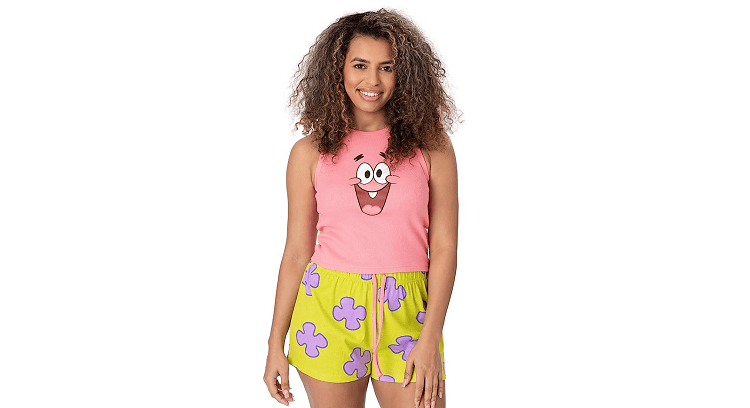 This is practically Patrick cosplay, and I'm here for that. I would buy the shorts even without the tank, but the ribbed tank is a favorite of mine too. I always get hot at night, even in the winter, so sleeping in a tank top that I don't have to pull up all the time is amazing.
The goofy Patrick face makes this even better, but I still think the shorts take the cake here. If you are a fan of Patrick, there's a good chance you've looked for a pair of short exactly like these.
Pros
Patrick shorts
Tank top
Colors are perfect
Covers well
Cons
High neck tank top for some
Tank top is short
Lucky Patrick Set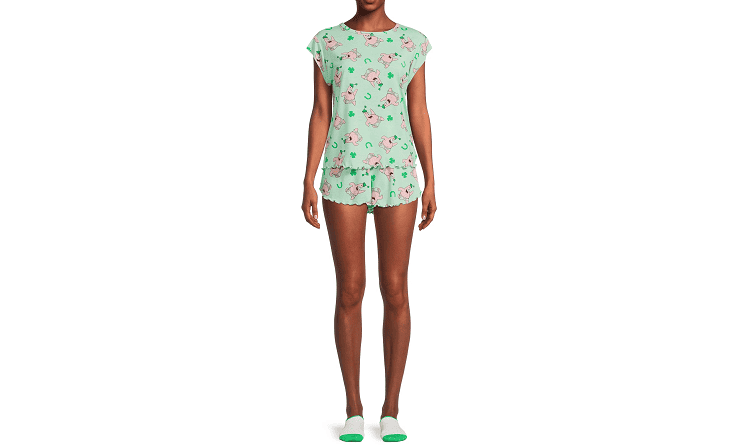 Something like a Nickelodeon St. Patrick's Day set is just the right amount of quirky. This set looks as magically delicious as a bowl of Lucky Charms, and I know people who would consider them their lucky PJs.
The fabric blend on this set is delightful. I always find blends to be more comfortable than solid materials; this blend is ideal for pajamas. However, they do go in and out of stock often.
Pros
Comfy
Finally, something for women who like green
Unique
Cons
Low availability
The pattern throughout is not for everyone
FAQs
Question: How Old is Too Old for SpongeBob Pajamas?
Answer: There is no too old for SpongeBob. But if you're shopping for someone and you're unsure if they like SpongeBob, know that it came out in the late 90s and was popularized in the early 2000s. So anyone over 40 may not have watched it when they were younger.
Question: Who is the Most Popular SpongeBob Character?
Answer: SpongeBob is the most popular character. However, if you're buying for someone else, Patrick, Squidward, and Sandy are usually safe choices. When you go further than that, it gets risky. Though when it comes to Gary, no one will say they don't love that snail.
Question: Are All SpongeBob Pajamas Unisex?
Answer: Pretty much. I would wear anything on this list without hesitating. The reason I separate them is because there is still a large portion of the population that only shops in specific sections.
Choosing the Right SpongeBob Pajamas for You
SpongeBob pajamas for adults come in so many different styles that it can be difficult to pick a set for someone else. But if you're shopping for yourself, then this list can help you find the perfect fit.
Remember that character and franchise pajamas go out of stock often, so it's important to hop on your favorite sets while you can. But even if your favorite set does, surely one of the other SpongeBob pajamas for adults will ensure "you're ready" for bed.
Looking for more interesting merch? Check out: