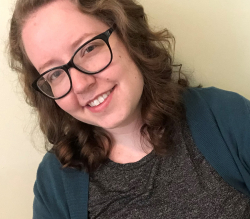 Latest posts by Hannah Haefele
(see all)
While growing up, I would have loved to have the best SpongeBob Crocs guide ready to go. I watched the show and wore Crocs all of the time.
I loved the shoes so much that I even wore them on walks, and when I was running, I tripped and fell and gashed my knee. But if I had a pair of SpongeBob Crocs, I might not have felt so bad.
While I can't go back, I do think it'd be fun to revisit both parts of my childhood with some SpongeBob Crocs. If you're in the same boat (pun intended), consider your options.
Bottom Line Up Front: The best SpongeBob Crocs are a pair of plain colored clogs with character Jibbitz and charms. You can get your favorite color or blue shoes and add as many character charms to the pair as you can fit.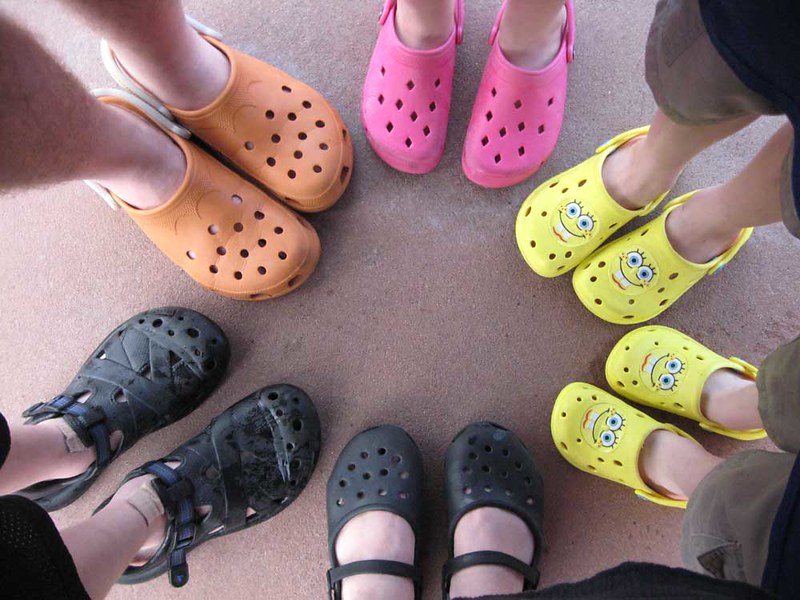 Best SpongeBob Crocs
If you want a good comfortable clog, you may want to look into SpongeBob Crocs. That way, you can wear nice shoes but also show off your favorite show.
You can find a lot of Crocs out there, so it might be hard to find a SpongeBob-themed pair. However, I found a few options with characters already on the shoes.
I also included a couple of blank slate Crocs that you can add charms to. That way, you can make the shoes more or less obvious depending on the situation.
And I included at least one pair for adults and one pair for kids. Here are some options I found.
SpongeBob Crocs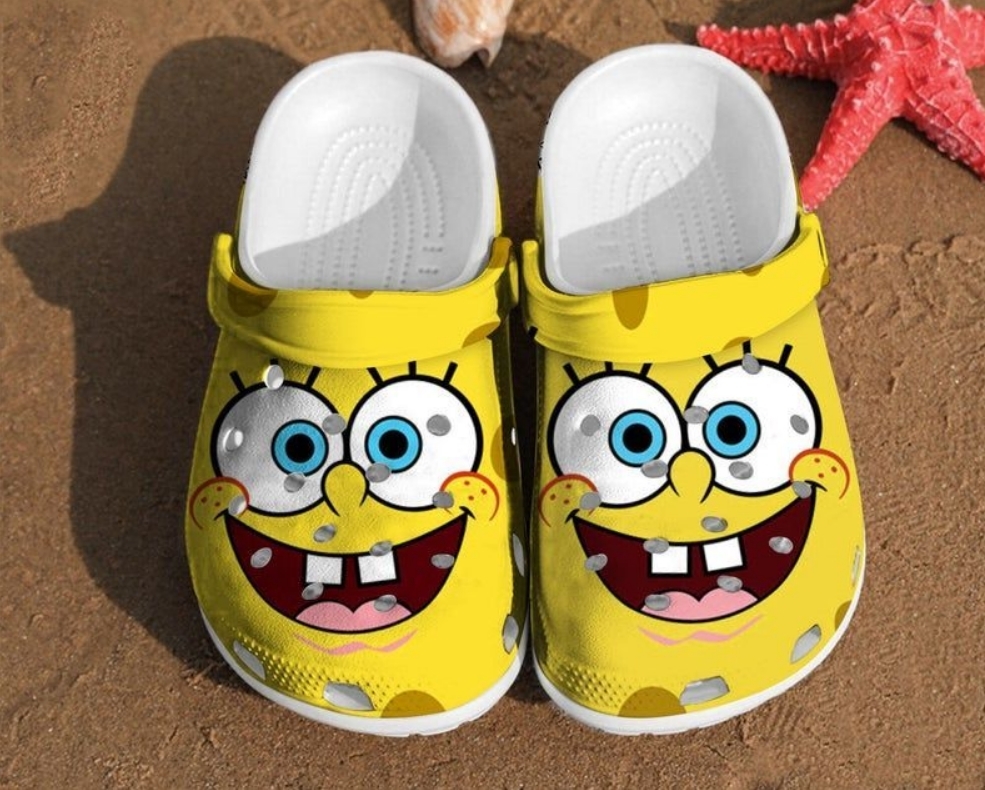 You can buy custom SpongeBob Crocs from third-party retailers. The pair I found have a white interior and some, while the exterior, of course, is yellow.
On top of each shoe is SpongeBob's smiling face, and his face takes up much of the space. That way, you can wear the Crocs alone or add some Jibbitz or other charms.
These shoes come in women's sizes from 4 through 15, but it doesn't look like there are any half sizes. Still, you can easily size up or down to get a pair that's comfortable for you.
Pros
SpongeBob design
Variety of sizes
Option to add Jibbitz
Comfortable
Cons
A bit expensive
Not in all stores
Funny SpongeBob Crocs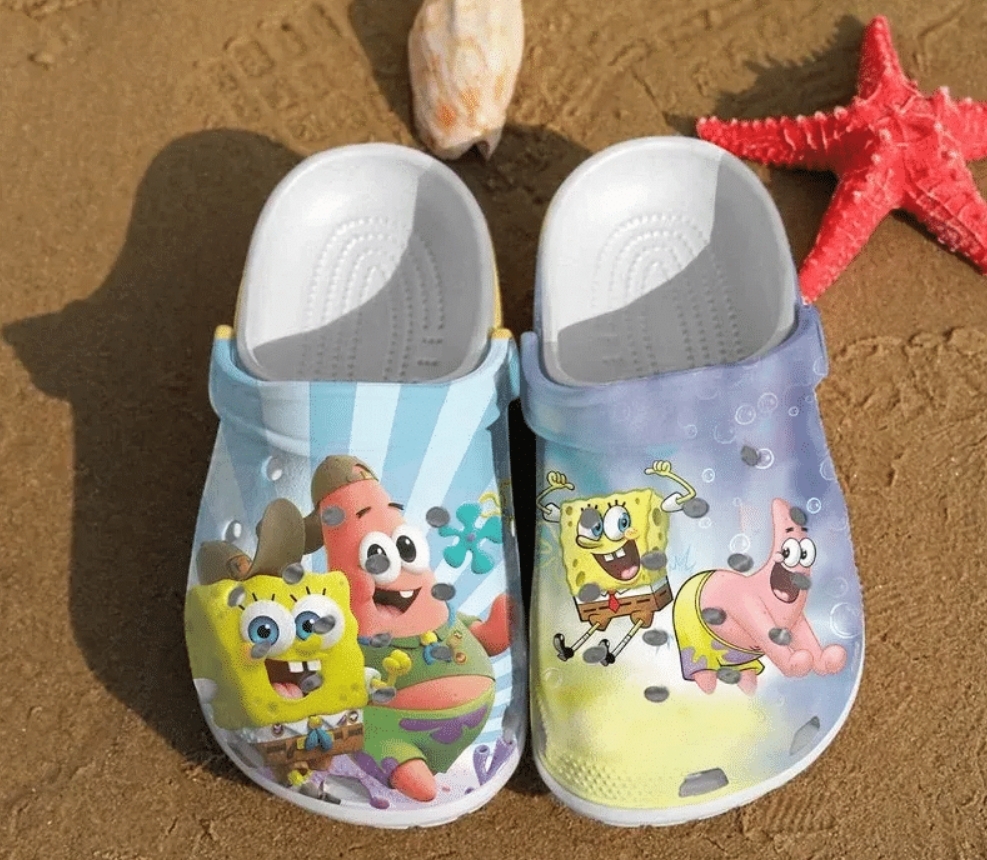 The Funny SpongeBob Crocs feature SpongeBob and Patrick, and each shoe is a bit different. Your left Croc shows the two friends bumping their butts together on a purple and yellow background.
On the right shoe, the friends appear to be from Kamp Koral, so they're younger. The shoe also uses the 3D animation from the spin-off, and there's a blue background.
I wish the two shoes were the same or at least matched better. However, they still look cute, and it can be fun to wear mismatching shoes.
Pros
SpongeBob and Patrick
Cute designs
Different animation styles
Variety of sizes
Cons
Somewhat expensive
The two shoes don't quite match
SpongeBob 9c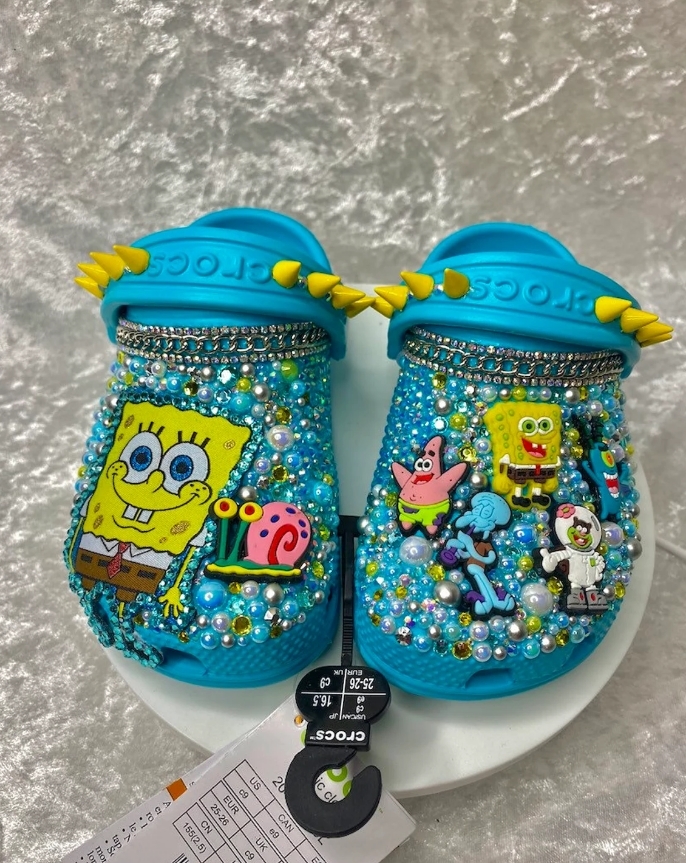 If you want some fancier shoes, consider the SpongeBob 9c style. I love how the shoes are bedazzled and already come with plenty of Jibbitz of SpongeBob and his friends.
The shoes are blue, which makes for the perfect oceanic background. However, it looks like these shoes are a rare find on Etsy, so the seller doesn't make them that often.
I believe 9c refers to the size, and that appears to be a children's size. Still, the shoes are cute, and you can always message the seller to ask if they'd make you a pair in your size.
Pros
Bedazzled
Comes with Jibbitz
Looks great
Comfortable
Cons
Quite expensive
Not easy to find
Crocs Unisex-Adult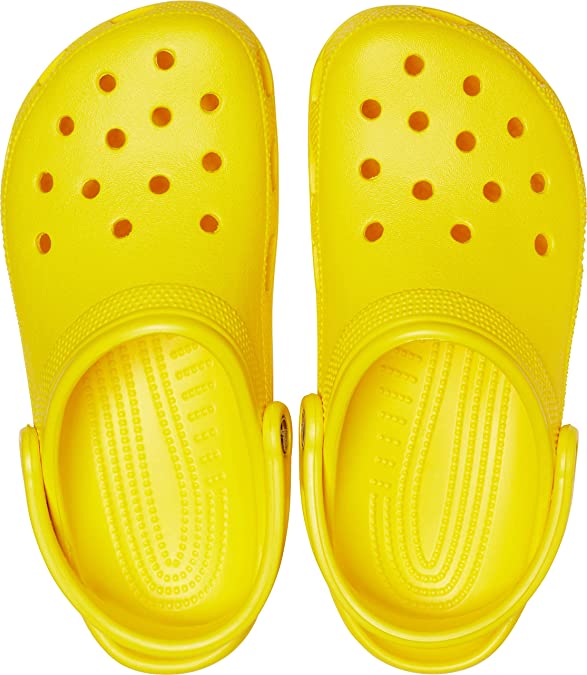 Maybe you don't want to buy SpongeBob-themed Crocs but want to add Jibbitz or other charms. I'd recommend going straight to the brand to buy a pair of Crocs Unisex-Adult.
The shoes come in a variety of colors, but you can't go wrong with yellow to match SpongeBob. You can choose from sizes ranging from women's 4 to 15 (men's 2 to 13).
I like that the shoes also come in other colors, such as pink, green, grey, and red. That way, you could get shoes to represent other characters, like Patrick, Squidward, or Mr. Krabs.
Pros
Multiple sizes
Various colors
Comfortable fit
Lightweight
Cons
Requires charms
No half sizes
Crocs Unisex-Child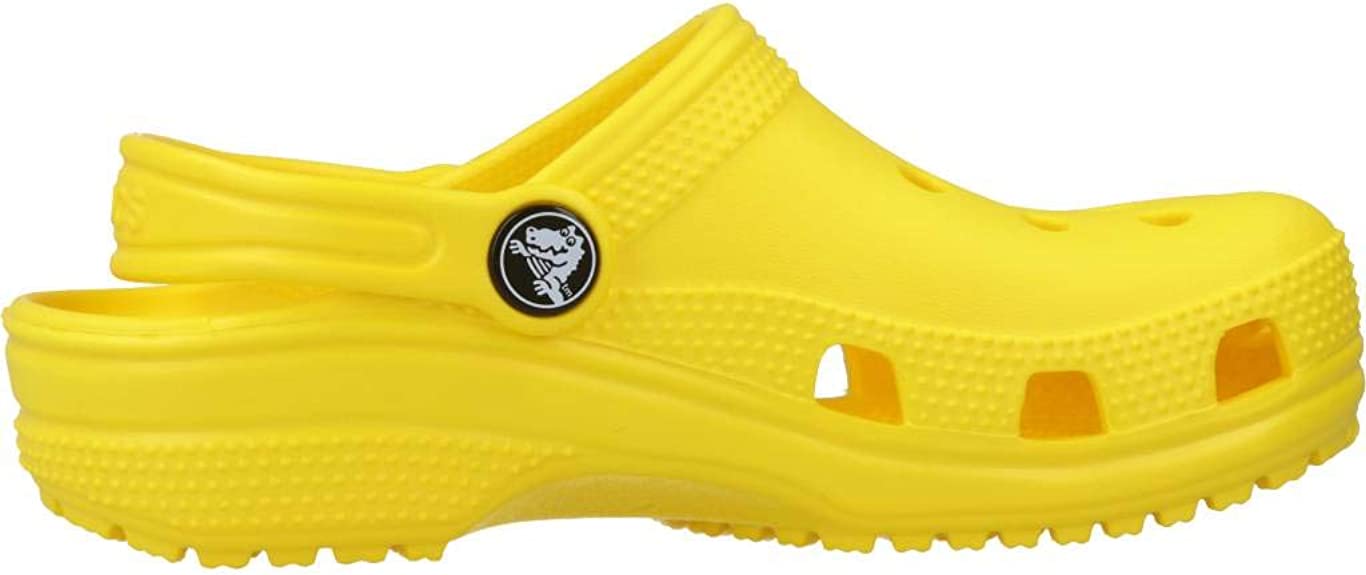 Don't keep your kids out of the SpongeBob Crocs fun! You can get them a pair of Crocs Unisex-Child, and that style comes in sizing for toddlers, little kids, and big kids.
The specific sizes depend on the type of Croc you select, but there's a variety to suit your family's needs. I love that the shoes come in a lot of the same colors as the adult shoes.
So if your child's favorite character is Patrick, you could get a pink or green pair. If they love Sandy, you could get some white shoes to represent her underwater suit.
Pros
Different colors
For toddlers through bigger kids
Most sizes
Lightweight
Cons
Can be expensive
No charms included
Best SpongeBob Croc Charms
As you shop for SpongeBob Crocs, you may decide to get a simpler pair. Some of the more involved designs are hard to find, so you can get a solid color.
Then, you can add Jibbitz, which are Crocs' official charms. Other companies also make charms that you can put into the holes on your shoes.
I looked at a variety of charms and packs, and I included official and third-party options. In my search, I found charms for SpongeBob and other main characters.
Here are some individual charms or bundles that you can check out.
Crocs SpongeBob Jibbitz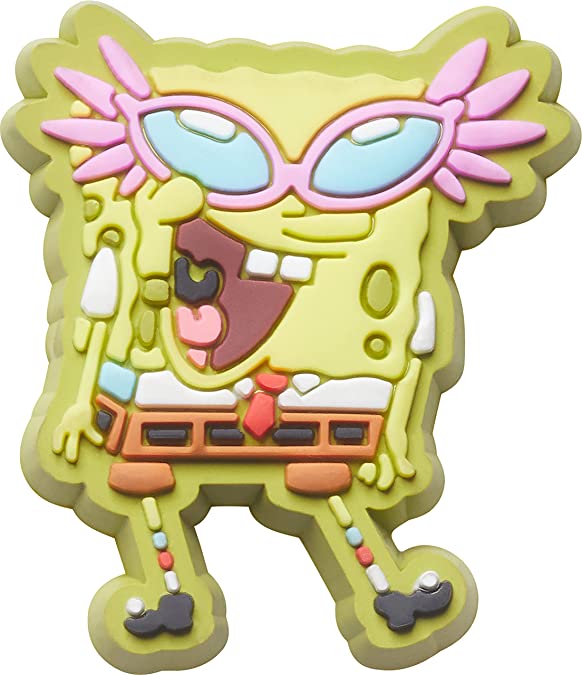 The Crocs SpongeBob Jibbitz refers to one charm that comes from the shoe company. In it, SpongeBob has a big smile on his face and looks like he's wearing someone's glasses.
Unfortunately, it's currently unavailable, so the style might not come back. However, you might be able to find some on the used market, or you can trade other charms with your friends who do have this style.
I think SpongeBob looks a little ridiculous in this design, but he's still cute. It can be a good addition to a variety of colors of Crocs.
Pros
Official option
Works with any Crocs
Cute design
Decent price
Cons
Hard to find new
May not be available new anymore
Shoer 6PCS Shoe Charms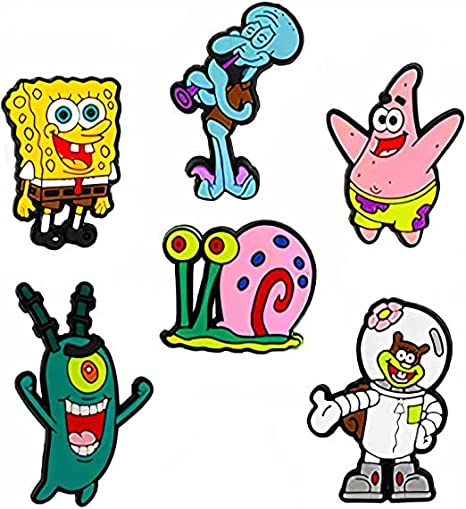 If you want a few charms to add to your Crocs, consider the Shoer 6PCS Shoe Charms. You'll get one of SpongeBob smiling, Patrick waving his hands, and Sandy holding out her hand.
There's also a Gary charm and one of Plankton in the midst of an evil plan. As a musician, I love that the last charm is Squidward practicing the clarinet.
The charms can be a bit hard to insert and remove. However, if you want SpongeBob Crocs, you might not plan on removing the charms that often.
Pros
Multiple charms
Popular characters
They look great
Decent quality
Cons
Hard to use
Can fall off easily
JIVNEOKZ 32 PCS Croc Charms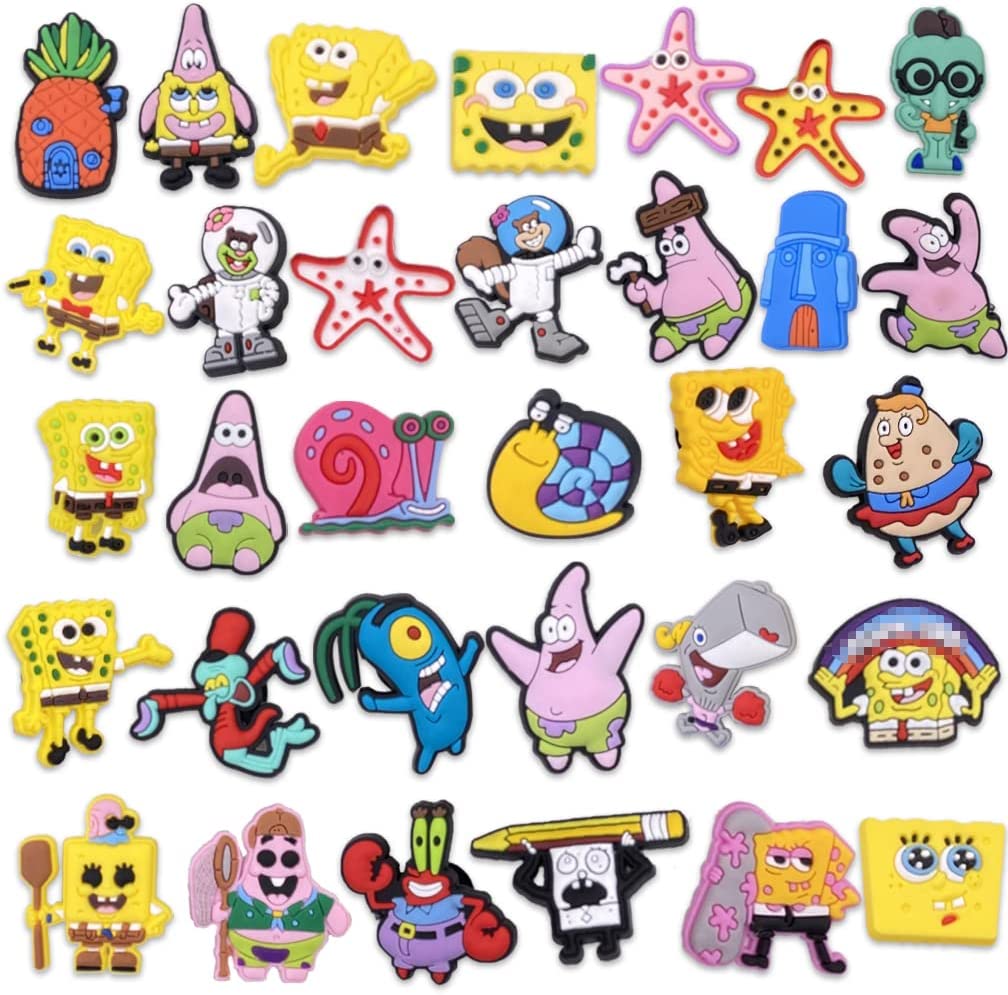 Another set is the JIVNEOKZ 32 PCS Croc Charms, and it comes with more charms than you can use. You'll get a few charms of SpongeBob making different expressions, and the same is true of the Patrick charms.
There are charms of DoodleBob, SpongeBob's pineapple, and Squidward's house as well. Some of the charms don't use the correct colors, like the fact that Plankton is blue.
However, you don't have to use all of the charms, especially since a pair holds 26 charms at most. You can choose the charms from this collection that you do like, and it's still pretty affordable.
Pros
Large collection
Different characters
Decent quality
Great gift
Cons
One charm features a bad word
Too many charms for one pair
LTT Deco Croc Shoe Charms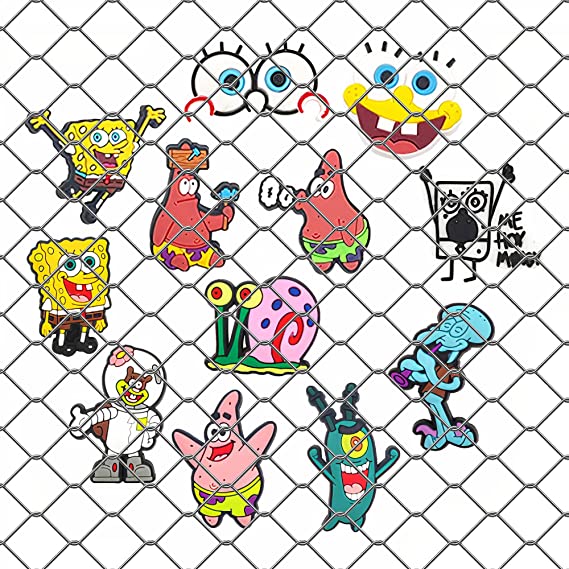 If you liked the first set I shared but want more, the LTT Deco Croc Shoe Charms could be for you. This set has the same six as the set from Shoer.
However, you also get a few extra SpongeBob charms, including two of just his face. You'll also receive a DoodleBob charm and a charm of Patrick blowing bubbles.
I like how you have plenty to cover both of your shoes, but you can leave some spaces open. Then, you can always add more charms, or you can have room between the ones you get.
Pros
Plenty of charms
Cute designs
Decently accurate colors
Cons
Hard to install
Not enough for all spaces
Copycat of other sets
Flyker 18 PCS Croc Charms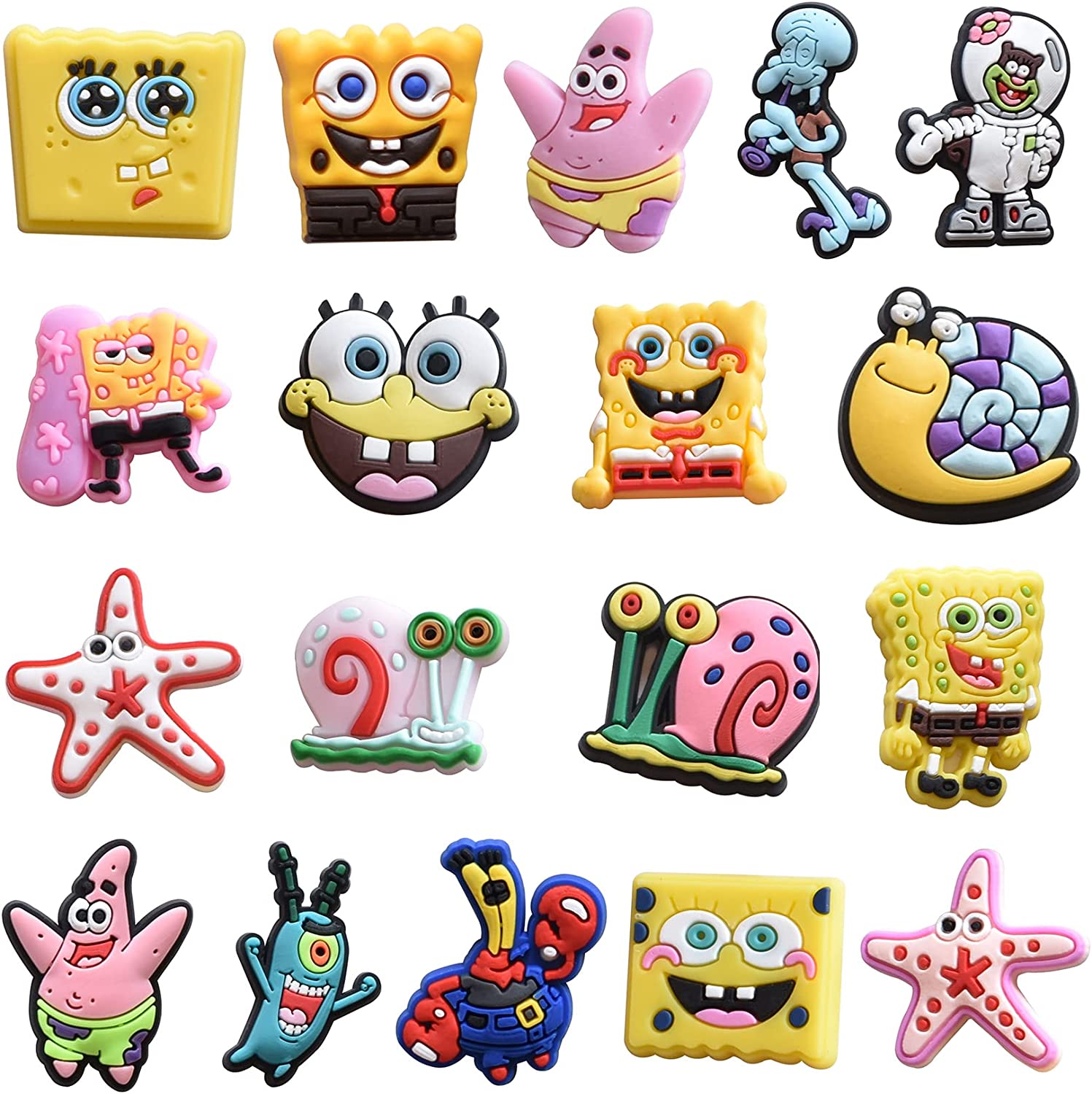 The Flyker 18 PCS Croc Charms use waterproof PVC, so they're perfect for putting on your Crocs long-term. I don't like how some of the charms have different styles, like not all of the SpongeBob charms look the same.
One of the snail charms looks nothing like Gary, and another looks like a demented version of him. However, you can choose the styles that you like to add to your Crocs.
I think most of the charms are pretty cute, but they are similar to those in other sets. You can get the charms for yourself or as a gift for your kid or another SpongeBob fan you know.
Pros
Variety of styles
Plenty of pieces
Waterproof
Looks nice
Cons
Not the easiest to use
Some charms look very odd
LJIEAHD 12 PCS Shoe Charms
If you get the LJIEAHD 12 PCS Shoe Charms, you'll receive a variety of charms of SpongeBob, Patrick, and others. One of the charms features SpongeBob on Patrick's shoulder, which is cute.
You'll also get charms of SpongeBob with Patrick and as an ice cream bar. The set also includes a charm that looks like a burger or could be a Krabby Patty.
Some of the charms are funny, like Plankton's face where he looks like he has a devious plan. All of them look great together or separately, so you can enjoy the charms on multiple pairs of Crocs.
Pros
Variety of designs
Cute and strange
Good
Nice fit in the Croc holes
Cons
WANGDEFA 34Pcs Shoe Charms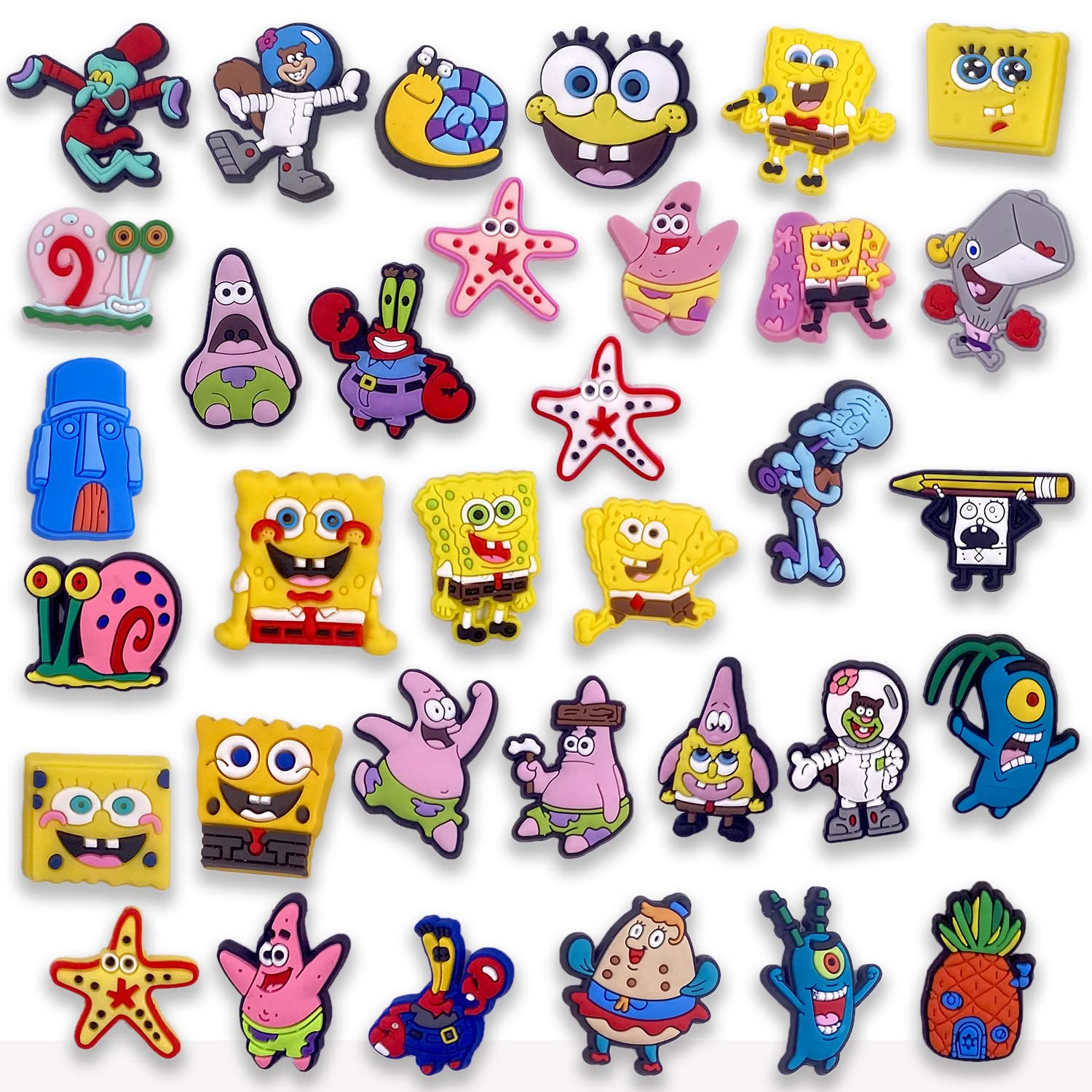 The WANGDEFA 34Pcs Shoe Charms seem similar to other sets, and there are more charms than you could need. I like that some are pretty realistic, but some aren't, and that's weird.
One of the snails uses the incorrect colors, and both Plankton charms are blue instead of green. However, I love how one charm is of Patrick wearing SpongeBob as a shirt.
There's also a charm with Squidward in his band uniform, which makes the musician in me happy. You can use as many of the charms on a pair as possible, or you can pick and choose.
Pros
Big selection
Nice designs
Good price
Durable
Cons
Can be hard to install
Some charms don't look right
Cartoon Ice Cream Charms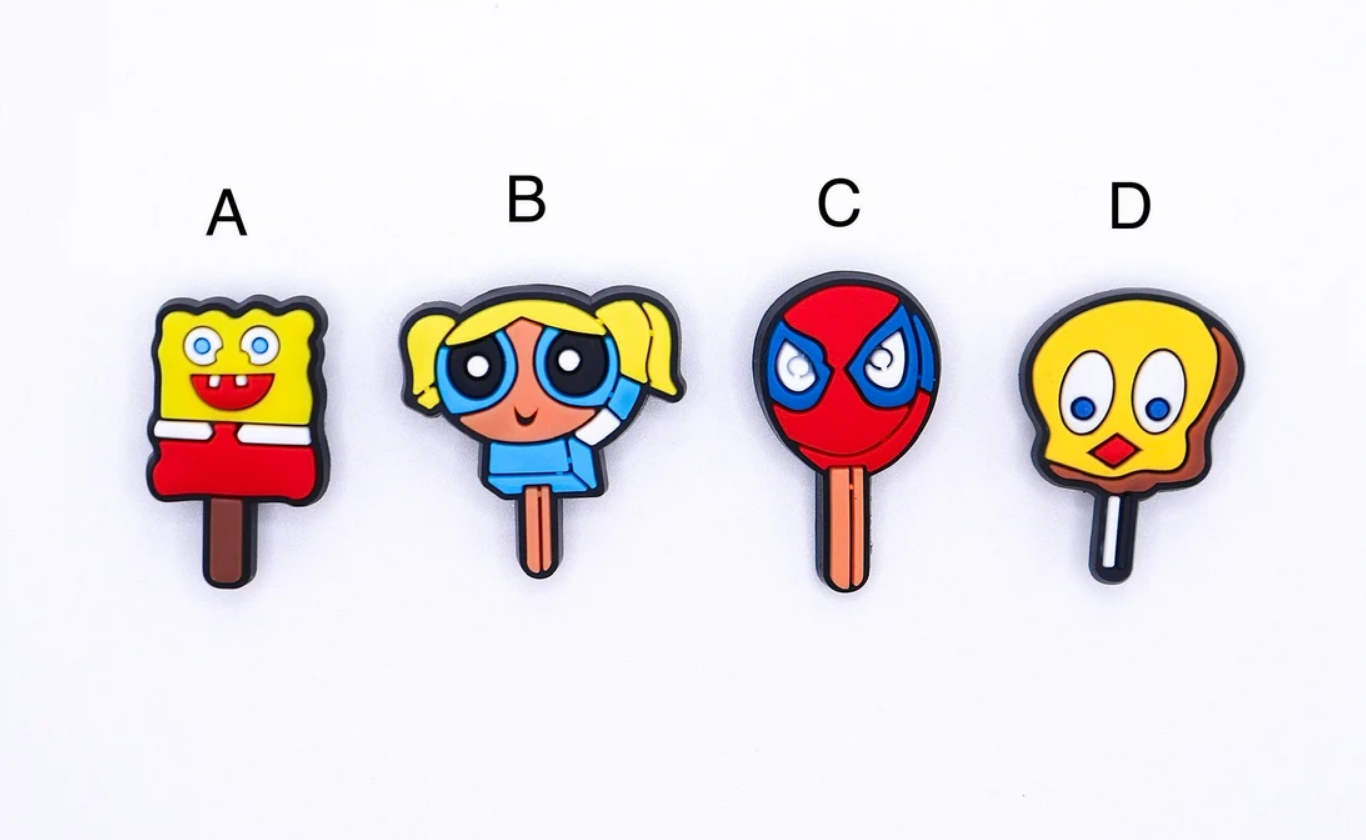 If you want to support a small business, check out the Cartoon Ice Cream Charms I found on Etsy. You can get a charm of SpongeBob as if he's an ice cream bar on a stick.
The other character options aren't from SpongeBob, but they're all classic options from an ice cream truck. If you just want SpongeBob, you can buy only him.
These charms are more affordable and of better quality than some of the bigger packs. Plus, you can choose the design that you want.
Pros
Handmade
Uses recycled materials
Affordable
Different characters
Cons
Only one charm
Can take a while to ship
THAIHOEY Croc Charms
Another option to consider is the THAIHOEY Croc Charms. I like that you get a lot of different charms specifically of SpongeBob, such as him in a pirate costume.
There are even a couple of Patrick charms as well, along with one each of characters like Squidward and Sandy. However, some of the charms look like those from other collections.
So these might not be the most unique options out there. But they are one of the more affordable collections, so you can save money and get some popular charms for your Crocs.
Pros
Multiple SpongeBob charms
Decent price
Comes with plenty of charms
Cons
Colors look a bit off
They're a little big
SpongeBob and Friends Croc Charm Set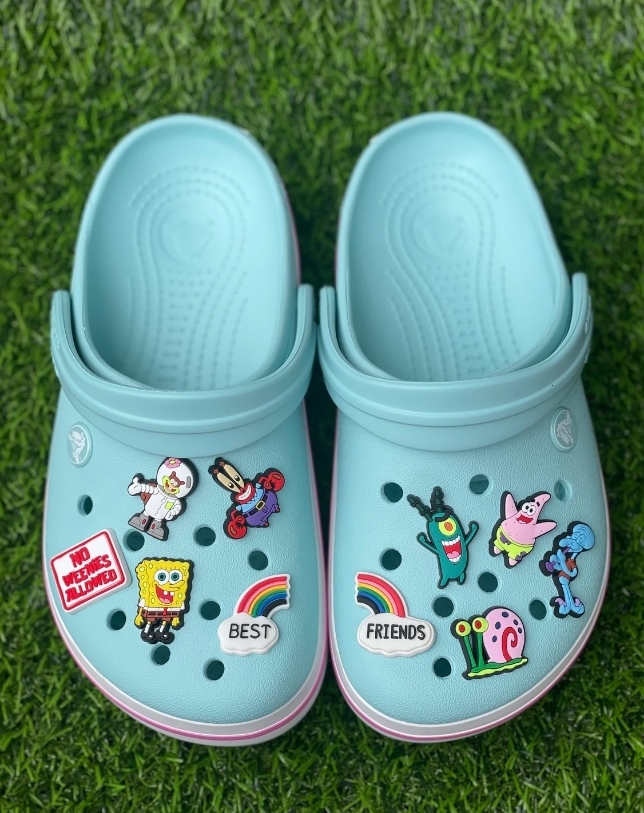 The SpongeBob and Friends Croc Charm Set is a cute option that has some unique charms included. Some are pretty common, such as SpongeBob smiling or Squidward playing the clarinet.
However, you'll also get charms that say "weenies not allowed." I also like that you get two charms that say "best friends" and each has part of a rainbow.
So you could pair those charms across your pair of Crocs, or you can give one to a friend, like a friendship bracelet. The charms are a bit big, so you won't want to use them if you want a charm in every hole on your shoes.
Pros
Unique charms
Good designs
Decent sizes
Looks nice
Cons
Some charms are copies of other options
Expensive for what you get
How to Choose SpongeBob Crocs
After you look at some SpongeBob Crocs and charms, you may wonder how to choose the ones for you. Maybe you want to match your shoes to a SpongeBob wallet, or you're working from scratch.
Either way, you should consider a few things to help choose the right shoes of Jibbitz to add to your existing Crocs. That way, you'll look good, and you can show off your love of Bikini Bottom.
Here are a few things I'd suggest you think about before buying new shoes or charms.
Crocs or Charms
First, you should decide if you want SpongeBob Crocs, like where the shoes feature SpongeBob. If so, you might need to shop around a bit to find a pair in your size.
You can also look for custom shoes to get a specific design if you have one in mind. The shoes will probably cost more, especially if they have any handmade elements.
On the other hand, you can find SpongeBob charms for less than $10. Then, you can add them to Crocs you already have, or you can get a new pair.
Because of that, charms are probably better for kids since their feet are growing. You can always move the charms to a larger pair of Crocs.
Verify the Size Selection
Speaking of growing feet, you should look at the selection of sizes. Depending on where you buy the Crocs, you might not get the size you want.
Unfortunately, Crocs don't come in half sizes anywhere, so you'll need to size up or down. Be sure to try both sizes to see which is more comfortable for your feet.
Choose the Right Color
If you want to buy charms, you should consider getting a plain pair of Crocs. You can choose from a variety of colors, from white to black, and all shades of the rainbow.
I'd recommend getting the color that matches your favorite character from SpongeBob SquarePants. That could mean you get yellow shoes, but you might get green, white, or red.
Then, you can pair the shoes with charms of your favorite color, and the charms will look great. If you can't decide on one character, consider a blue pair so that it imitates the ocean.
FAQs about the Best SpongeBob Crocs Guide
Question: Where can you find SpongeBob Crocs?
Answer: You can find SpongeBob Crocs online from different retailers. It's possible that some stores carry a style or two, but I wouldn't count on it.
If you want to shop in a store, call the location beforehand to see if they have SpongeBob designs. You can still go in person to verify your size, and you can order the style you want online.
Question: Where can you find SpongeBob charms?
Answer: You can also find SpongeBob charms and Jibbitz online from various stores. Official Jibbitz are probably your best bet, but you can find other options.
Speaking of Jibbitz, a store that sells Crocs in person may have a good selection of the official charms. So you could find a SpongeBob one or two.
Question: Do you need a ton of SpongeBob charms?
Answer: You don't need a ton of Jibbitz or third-party SpongeBob charms. A pair of Crocs can hold no more than 26 charms, and some charms are big enough to lower that number.
Consider how full you want your Crocs to be. Then, you can get a set of charms with the right number of accessories to add to your clogs.
Question: Are SpongeBob Crocs expensive?
Answer: Some of the SpongeBob Crocs I found were expensive, especially the bedazzled pair. However, other styles are as affordable as any other pair of Crocs.
The specific price could depend on the style or color as well as the size that you select.
Final Note on the Best SpongeBob Crocs Guide
If you like some comfy shoes, you should consider the best SpongeBob Crocs guide. Then, you can wear some nice clogs and show off your favorite characters from under the sea.
I'd recommend getting a plain pair of Crocs directly from the brand. Then, you can shop for Jibbitz and other charms to add and remove from your shoes as you please.
Plus, your kids can use the same charms as they need a bigger pair of Crocs.
Looking for more interesting merch? Check out: