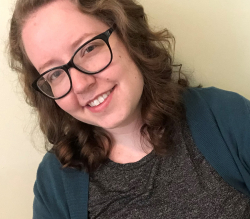 Latest posts by Hannah Haefele
(see all)
Do you want to express your love of SpongeBob SquarePants by redoing part of your bedroom? Consider a few SpongeBob bed ideas to figure out how to add the character there.
Then, you can make Spongebob Squarepants the focus of your room or a small part of it. I loved SpongeBob when I was growing up, but I still like the show now.
However, I'd probably go for something less obvious since my room has other decorations. Here are a few ideas to help express your love of SpongeBob.
Bottom Line Up Front
The best SpongeBob bed is probably the Twin Platform Bed. However, adults might want to consider a variety of SpongeBob duvet covers.
How to Choose the Best SpongeBob Bed
Here are a few things to think about when buying a SpongeBob bed.
Who Will Use It
If you want to choose the best SpongeBob bed for you, consider who you're buying for. If you want to buy for your child, you'll need a smaller bed based on their age. When buying for a pet, you should stick to pet beds. If you buy for yourself, you should consider the bed size to ensure a bed set is available.
Bed or Set
You might also need to decide if you want a bed or a bed set. There are platform beds for kids, but adults must go with a duvet cover, sheet set, or blanket. If you want a set, consider if you'll need to buy extras, like sheets, a duvet, or pillows.
Room Decor
Finally, consider if you want to match the bedding to another SpongeBob decor. If you want a full SpongeBob room, you can get paintings and other items to put on your walls. You may want to match your sheets to decorations you already have. That way, everything will look more cohesive.
Best SpongeBob Bed Ideas
If you love SpongeBob, your bedroom is the perfect place to show that off. Maybe you already have some good SpongeBob blankets, but you want even more comfy gear. Whether you're looking for sheets, a comforter, or an entire bed, there's something out there for everyone. That way, you can design a SpongeBob room or simply incorporate the sponge into part of your bedroom.
To help me choose the best ideas, I looked for beds and bed sets. I also considered options of different sizes and at varying price points. Here are some of the best bed ideas for SpongeBob fans.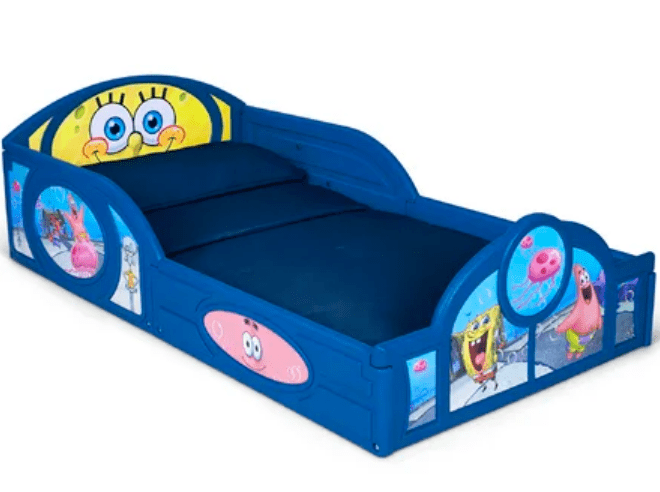 I found a cute SpongeBob Platform Bed for toddlers. The headboard features SpongeBob's face, and Patrick's face is on the side of the bed. Both sides also feature images of various characters, such as SpongeBob, Sandy, and Mr. Krabs. The majority of the bed frame is dark blue, so it can look good in any kid's room.
Of course, this won't work for adults or older kids since it's specifically for toddlers. However, you can use it to inspire you if you want to design your own platform bed. I love that it's easy to assemble and sturdy, plus it works as a ball pit if your kid already as a bed they like. But the stickers can fall off, so you might need to be careful.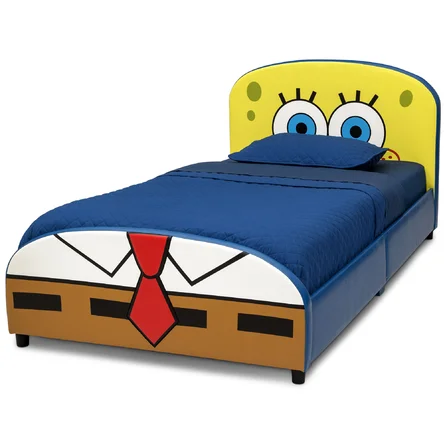 The Twin Solid Wood Platform Bed comes from the same brand as the toddler bed. This one features a headboard that is a rounded version of SpongeBob's face. On the foot of the bed are SpongeBob's signature collared shirt, tie, and brown pants. The sides of the bed are blue, and you can pair the bed with any of the SpongeBob comforters out there.
I love that this bed is a twin, so it's great for kids. It's also suitable for teens who want a twin-sized bed or who can't fit a larger bed into their room. The bright bed is comfortable and easy to set up, but it's a bit expensive. And while adults could use it, it's a tad small, especially for taller adults.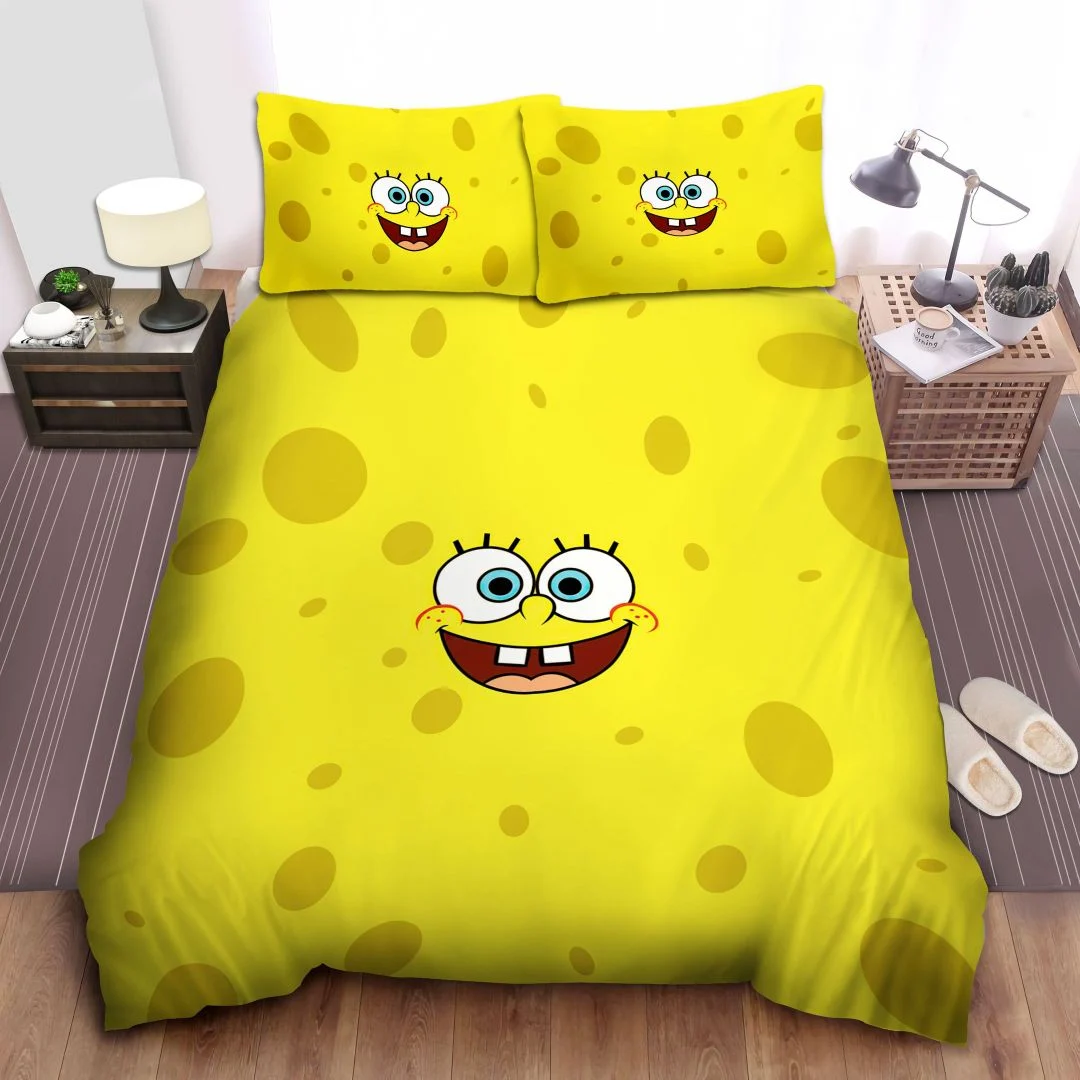 If you have a bed you like, consider adding the Yellow Face Bed Spread on top. The comforter comes in sizes ranging from twin to king, so you can use it on almost any bed.
SpongeBob's face is in the middle of the comforter, and the rest of the bedding is bright yellow, with the sponge holes in a darker yellow.
You'll also get two pillowcases with the same design. I like that the comforter is actually a duvet cover. Unlike some of the beds, these sheets come in multiple sizes to work with any bed you have. They also come with matching pillowcases, but the cover can be hard to get on and off.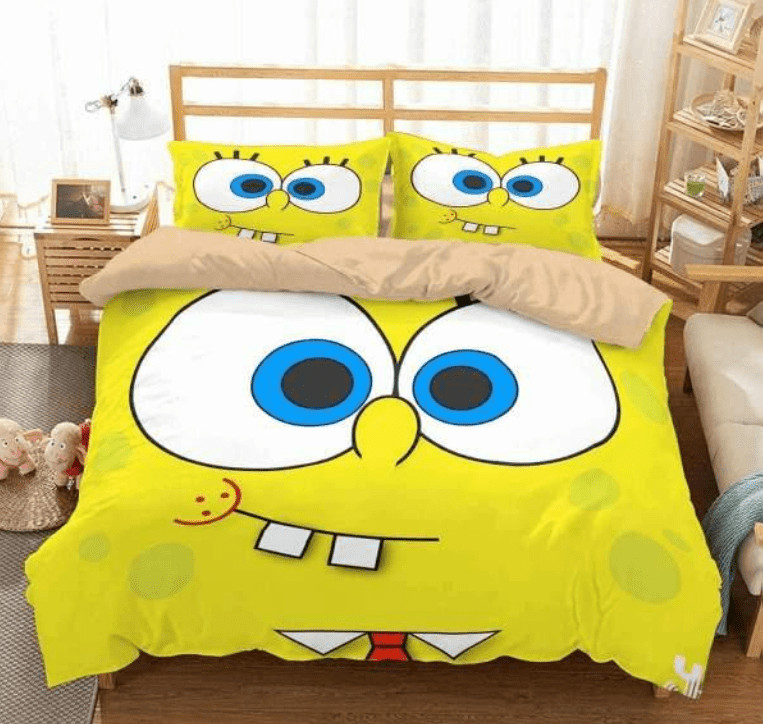 Another duvet cover you can get is the SpongeBob SquarePants #5 style. This one is very similar to the last one in that it's a bright yellow with SpongeBob's face on it. However, the character's face is much larger on this cover. He also doesn't have as big of a smile, and you'll find his necktie on the bottom of the comforter.
I love that you can get this in a twin through a king or even a California king. You can also order it with matching pillowcases and a matching flat sheet. The set comes with everything you need for a SpongeBob bed. Unfortunately, it does get a bit expensive.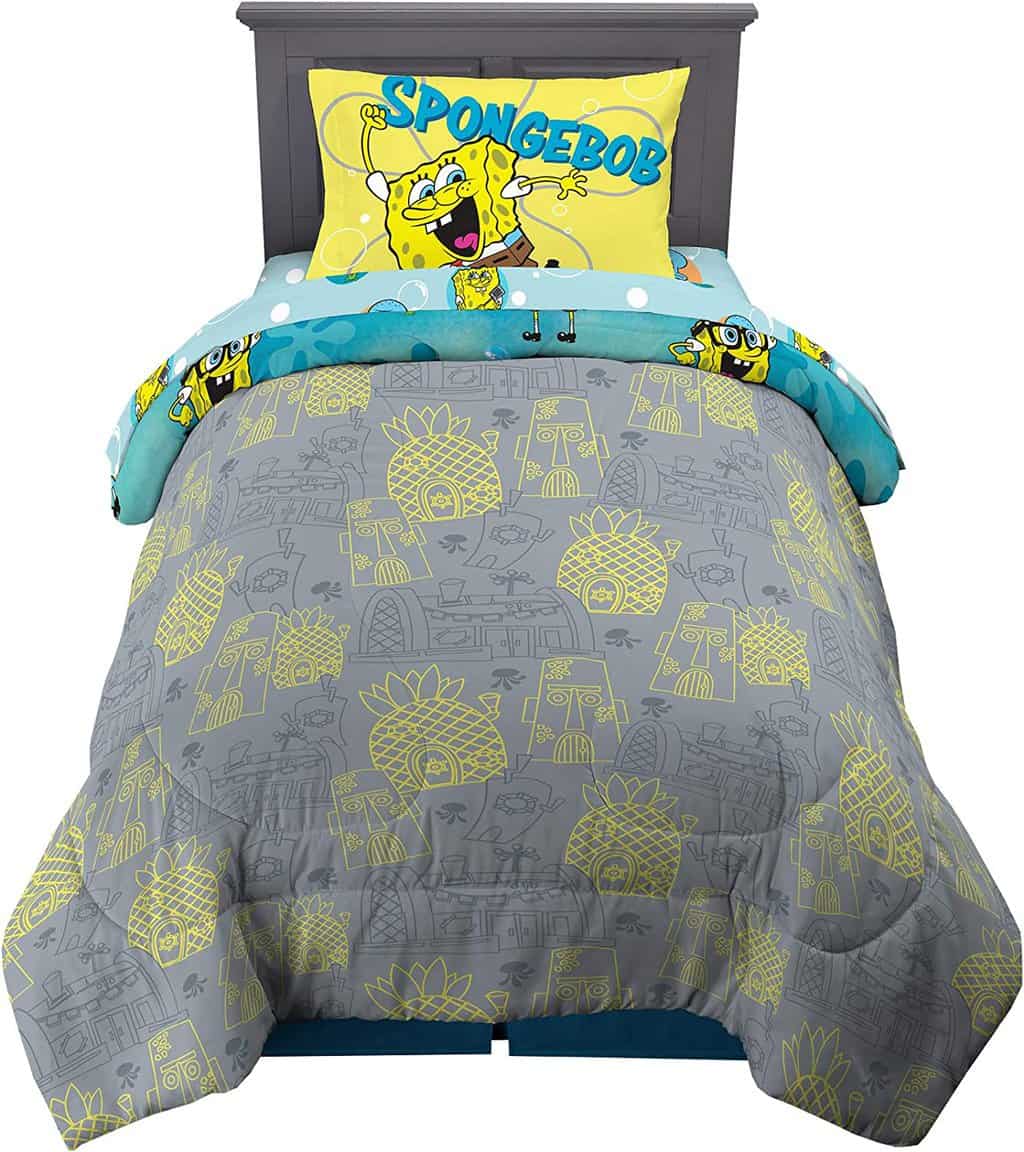 The Franco Kids Bedding is an excellent choice for young SpongeBob fans. You can choose from various patterns with different fictional characters, and the SpongeBob version features him, Patrick, and Gary.
Those characters also appear on the pillowcase along with Sandy, Squidward, and Mr. Krabs. This set comes as a four-piece set for a twin bed or a five-piece set for a full bed.
I love that the cover is reversible, and the other side features various homes and buildings on a gray background that can be a bit less in-your-face. You can put everything in the wash, but the fluff inside the comforter can move around.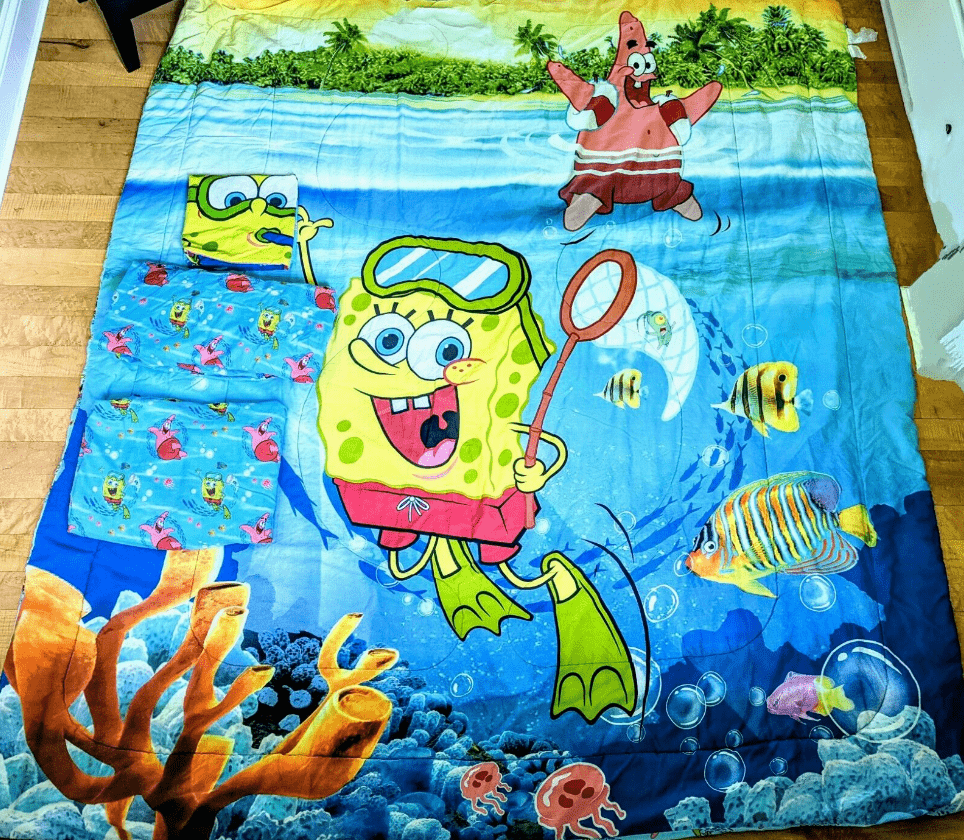 Another SpongeBob Comforter Set features the sponge and Patrick on a blue oceanic background. I like that it features two characters, and they're both pretty big on the comforter.
Plus, the blue color isn't as bright as yellow, so it can be a bit more comforting for a bedroom. The set also comes with two pillowcases, and both feature one of the two characters.
While I couldn't find where to buy this specific set, you could design something similar. Then, you can get a unique bed set compared to buying something outright. I love the blue background and how it features two friends.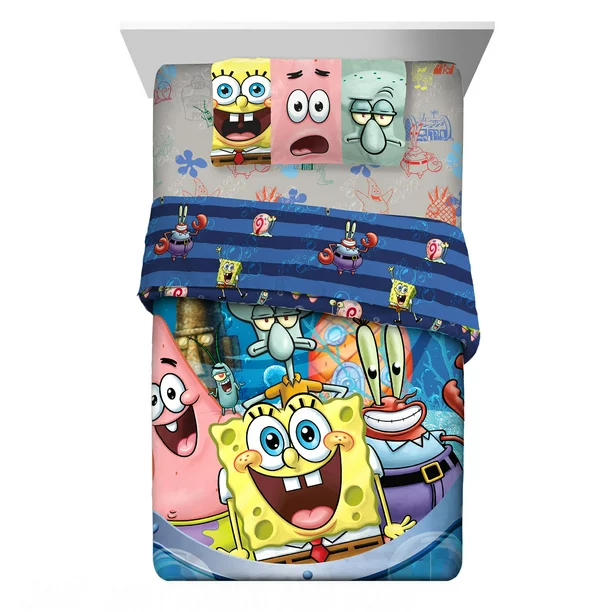 The SpongeBob SquarePants Kids Twin Bed in a Bag is great. It comes with a comforter, pillowcases, and sheets with different designs that look good together.
I love that the comforter is reversible, and one side shows the main characters while the other shows the characters, but they are smaller throughout the fabric. The pillowcases are also reversible, and one side shows great facial expressions.
This set is microfiber, so it's soft, but it may not be as breathable as cotton. You can choose between a twin or full set, so it's great for kids or even adults. Unfortunately, some buyers got the wrong set, so they got a set with characters from a whole different show.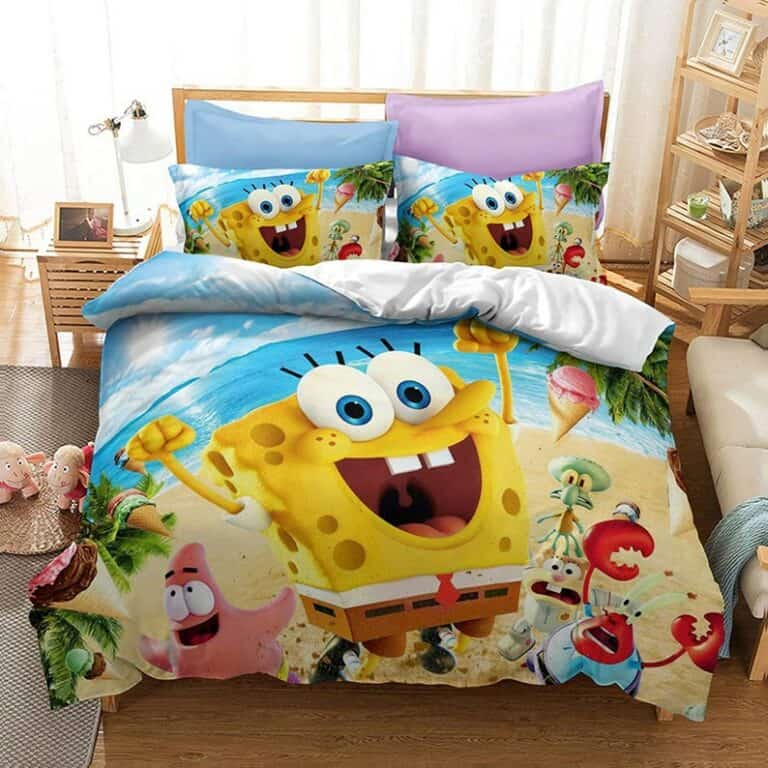 If you're looking for a duvet cover for a bigger bed, consider the Gearfandom SpongeBob SquarePants Duvet Cover. This cover uses a similar animation style to the SpongeBob spin-offs, so it's a bit more 3D.
It features SpongeBob and his friends on a beach, with SpongeBob jumping, and his friends appear worried. I like that the set comes in twin, queen, and king sizes. Full size also appears to exist but wasn't for sale on the site I found.
No matter the size, you'll get a duvet cover and two matching pillowcases. The beach background looks great, so it's a nice background for the animated characters. I think the overall design is pretty fun, but it's not the classic style that long-time fans know and low.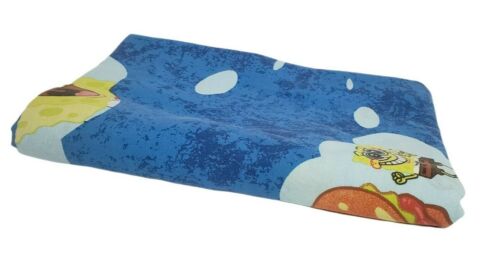 Perhaps you have a duvet cover and just need a new sheet. The Vintage SpongeBob SquarePants Flat Sheet is an excellent choice, but it can be hard to find. If you can find a set, I'd recommend giving a good wash before you sleep with the sheet. I like that you can hide the sheet beneath a more generic cover, so no one has to know you have it.
The sheet has a pretty simple design, with SpongeBob in his sleeping cap against a blue background. There are some polka dots and other elements as well.
Since they're sheets, you can hide them if you don't want others to see your SpongeBob obsession. But you'll have to search for a while to find these or something similar once this listing sells.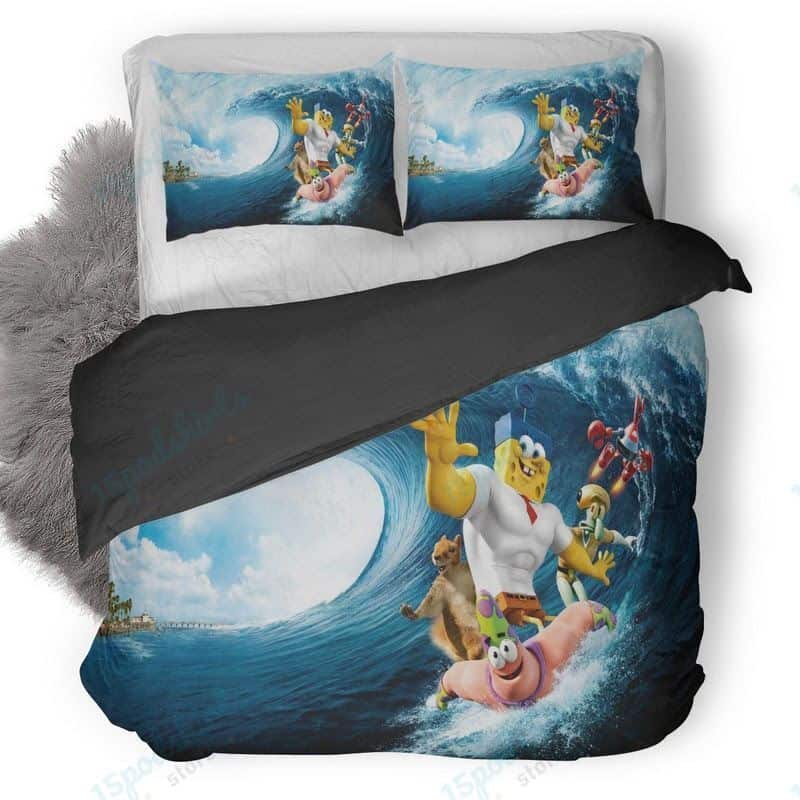 If you like the 3D animation style, you might enjoy The SpongeBob Characters Windsurfing Duvet Cover. You'll find SpongeBob, Patrick, Squidward, and Mr. Krabs on the water.
I love that SpongeBob is incredibly buff, so he's about as tall as the other characters. The background wave looks pretty realistic, so the characters stand out easily.
You can choose from a twin through California king for the size and three or four pieces. The set comes with a cover and pillowcases. Sadly, shipping can take a while, so this isn't the best last-minute purchase. It's also a bit over the top for my taste.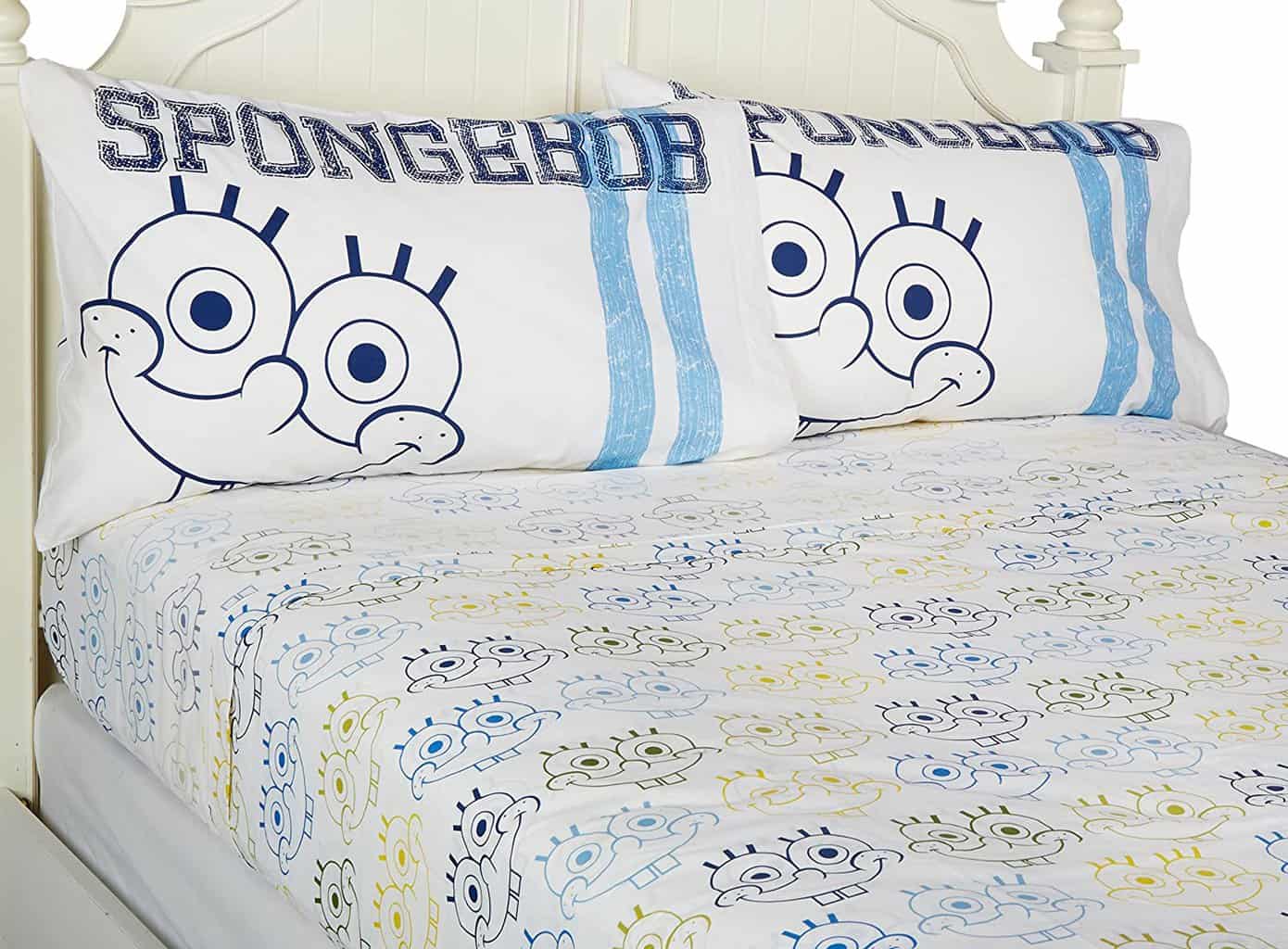 I found a great idea that's out of stock, but I still wanted to include the Nickelodeon SpongeBob Sheet Set. You can pair the sheet set with any of the duvet covers out there.
This set is also nice and subtle since it has a white background with the outline of SpongeBob's face in blue or yellow. The pillows are a bit more obvious since they also include the character's name.
If you can shop around and find this set, I'd recommend it. It looks good, and people might not be able to tell it's SpongeBob unless they look closely. Cotton sheets are great, but this set isn't always available.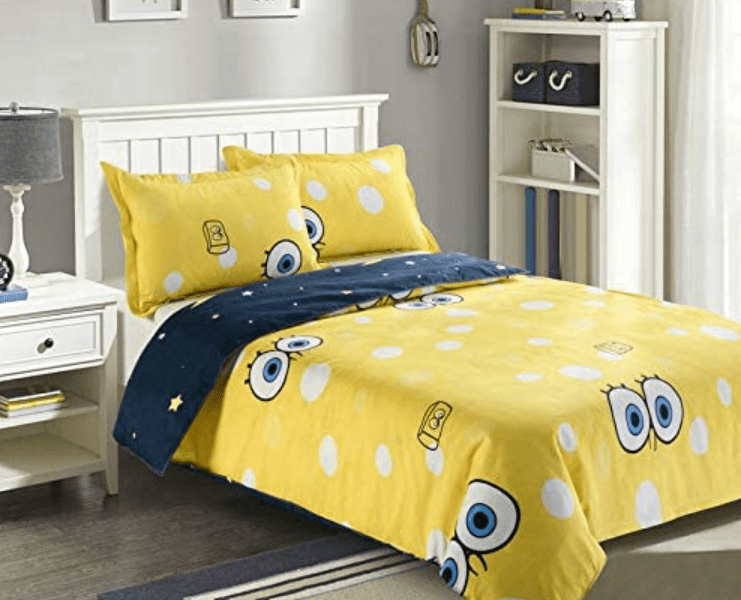 The ORIHOME Bob Eyes Duvet Cover features a yellow background with a few instances of SpongeBob's eyes. You'll also find other white polka dots within the design.
This set comes in a twin, full, or queen size and includes two pillowcases. Microfiber is the material, so it's soft and can keep you warm when it gets cool outside.
The zipper closure is easy to use, but it can still be a challenge to get the duvet in and out. If you can figure that out, you can easily wash the cover. Washing can help keep the cover looking great, but you won't get to wash the blanket that goes inside the cover.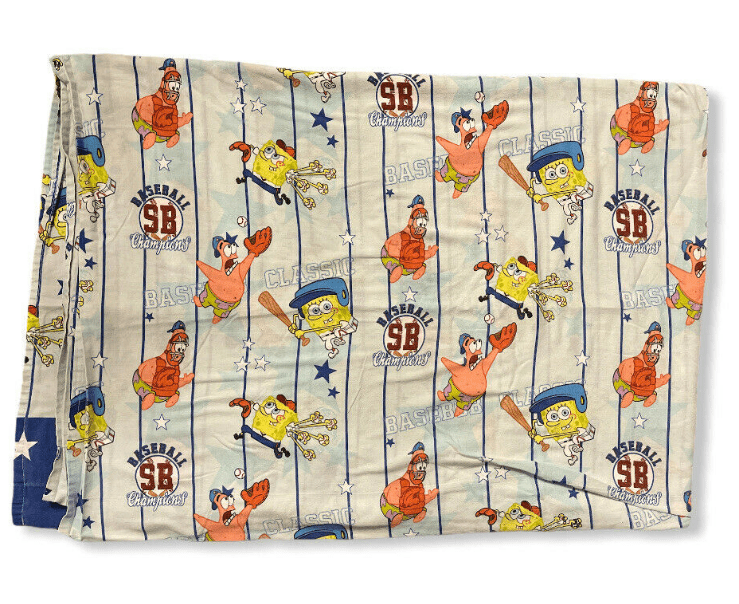 The SpongeBob SquarePants Baseball Champions 2007 Bed Sheet set is nice if you can find it. Of course, it's only available on the used market, which isn't ideal.
However, the design features SpongeBob and Patrick playing baseball. It's a great choice for a kid who likes SpongeBob and sports.
I'll admit it's a bit expensive for just used sheets, but you can return them if you don't like them. You'll need a twin bed to get the specific set that I found.
It comes in decent condition, assuming the seller kept it that way. I couldn't find it used or in all of the potential sizes, your bed could be.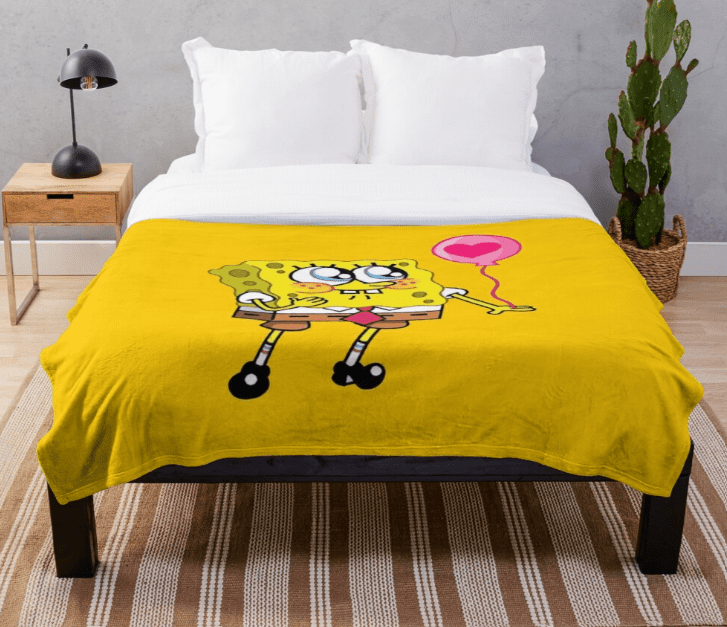 I live in the equivalent of a finished attic, so it easily gets hot in my room. Because of that, I love that there's a SpongeBob SquarePants Throw Blanket.
The design I found has a yellow background and features SpongeBob's full body while holding a pink balloon. So while I might not use a SpongeBob duvet cover, I would probably use this throw on my bed.
It's nice and thin, so good for hotter nights, and you can take it around the house with you. The blanket is even reversible, so you can just have a white blanket if you don't want to show off SpongeBob. Plus, it comes in different sizes, so you can get one for a smaller or larger bed. But you'll want something thicker for really cold nights.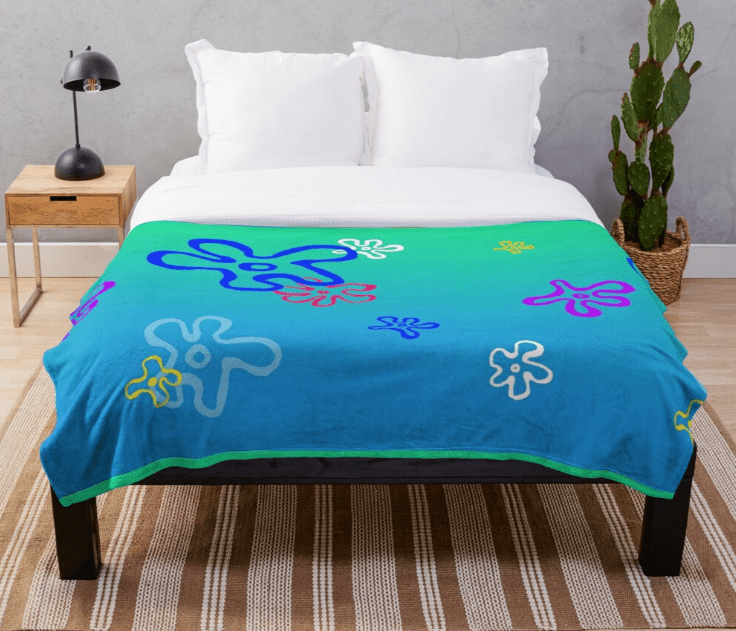 The SpongeBob Sky Background Throw Blanket has a similar concept. I love that it's thin, so it would work well in a hot bedroom like mine. Plus, it's not as obvious to people who don't know SpongeBob that well. The sky background features flowers that can look like any random design.
It's also reversible, and you can wash the blanket if it gets dirty. You can choose from a few different sizes to find one that matches the size of your bed. The subtle design is nice for a SpongeBob room or a beach or ocean room. If you want something with characters on it, this isn't the product for you.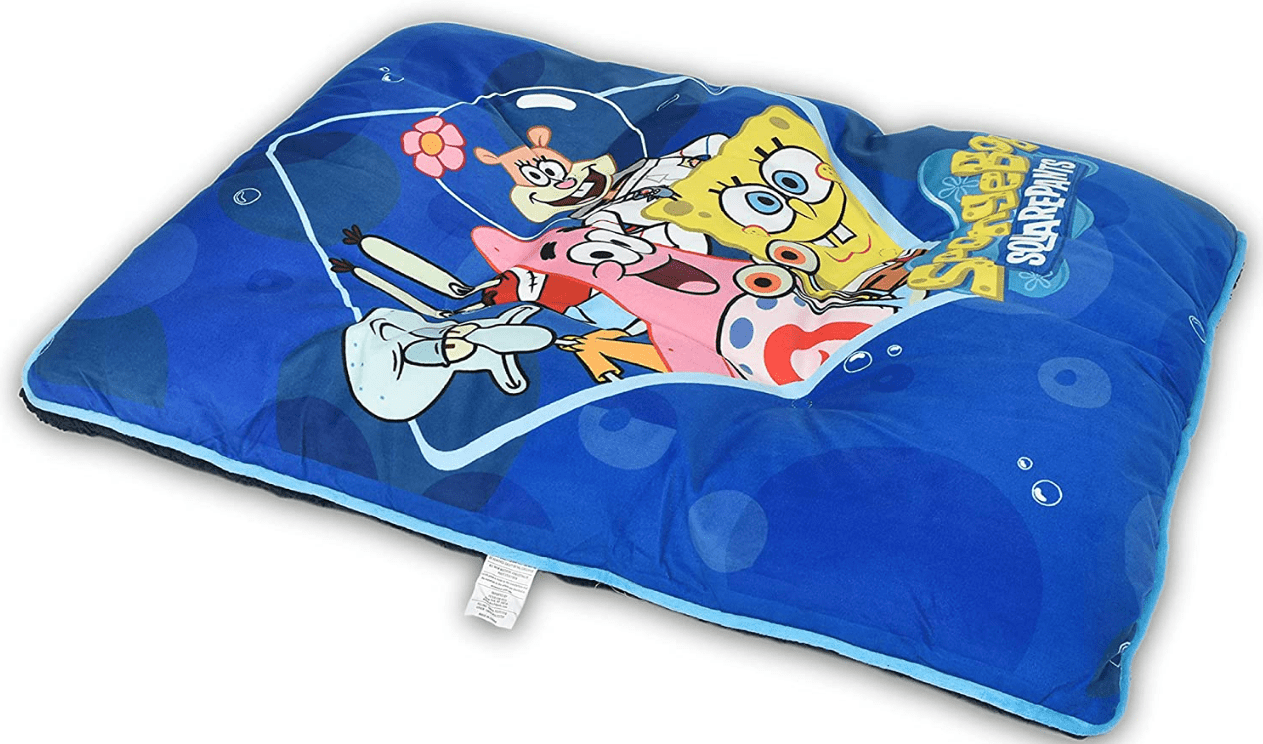 The Dog Bed from SpongeBob SquarePants for Pets is so cute. It has SpongeBob, Gary, Sandy, Patrick, Squidward, and Mr. Krabs posing in front of a dark blue background.
However, you can choose from a few other patterns if you like something better. You also get to decide between a napper bed or a cuddler bed, which comes up on the sides.
I'd probably get a cuddler bed so that my dogs wouldn't slide off the side of the bed. But I do like that you can just toss the napper style in the wash. As a dog owner, I love that this is affordable, so it's not the end of the world if your dog doesn't use it or if they damage it.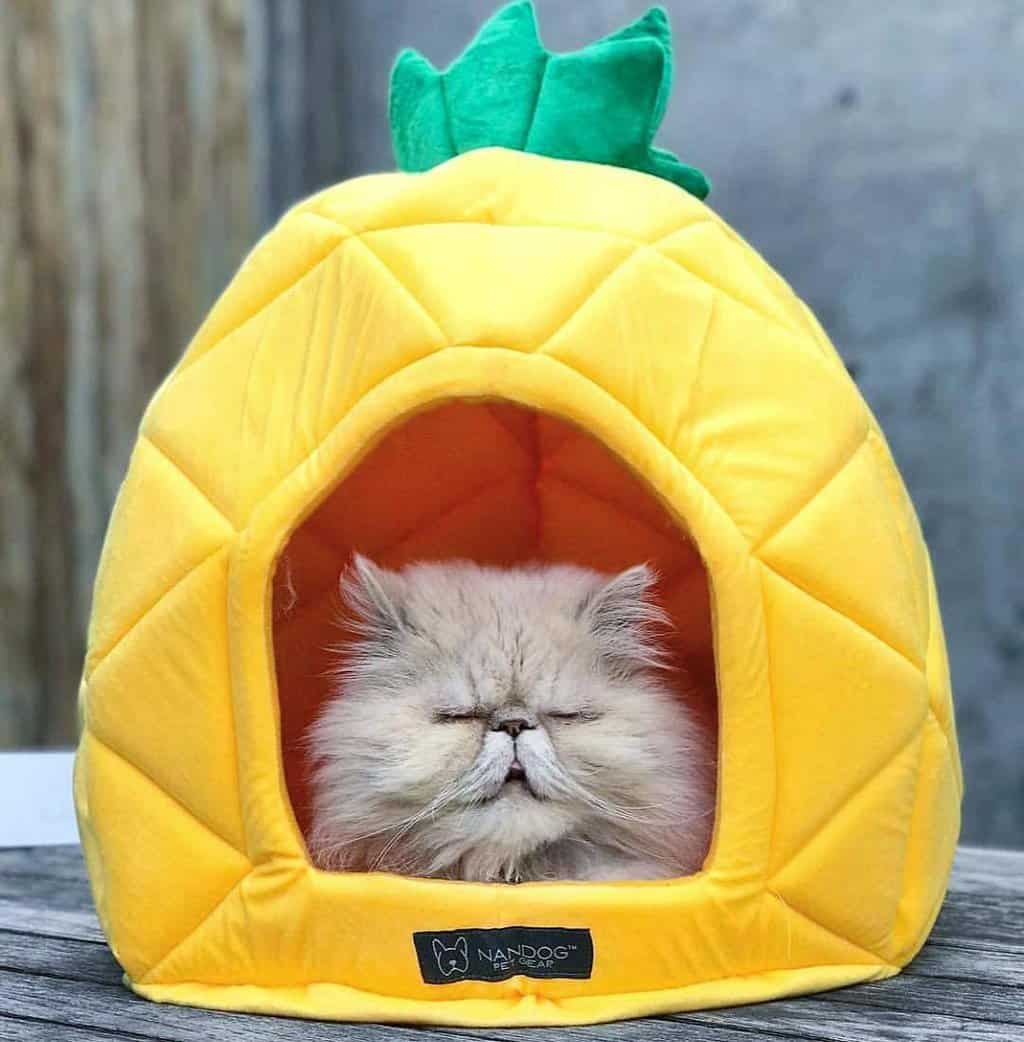 If your pet likes to feel like they're burrowing, they might enjoy the NANDOG Pineapple Dog and Cat Bed. This bed isn't specifically a SpongeBob one, but it does look like his pineapple under the sea.
There's a nice little pillow inside for your dog or cat to lay on. Sadly, the bed might be a bit too small for larger dogs, but it's great for cats and smaller dogs.
It's a bit expensive as well, but it has a nice structure. As long as your pet doesn't get too destructive, the bed should be able to last a while. Your dog can burrow inside, which is nice if they like to hide often.
FAQs About SpongeBob Bed Ideas
Question: Why should you consider SpongeBob bed ideas?
Answer: You should consider SpongeBob bed ideas if you or your child loves the show. Bring your favorite characters into your bedroom and feel like you're in Bikini Bottom. Or go all out and decorate your room entirely with SpongeBob gear. Then, you can show off how much you love the series and its movies and spin-offs.
Question: Is SpongeBob bedding expensive?
Answer: Some SpongeBob bed ideas are expensive, especially the platform beds. However, you can find plenty of duvet covers and sheets for an affordable price. Be sure to set a budget before you go shopping to make sure you don't overspend.
Question: Can you design your own SpongeBob bed ideas?
Answer: You can design your own bed ideas using SpongeBob and the other characters. Websites like RedBubble let you design items to sell to others, but nothing is stopping you from buying what you design. You can even sew a quilt or blanket to add to your bed if you're crafty. And if you have woodworking skills, you could build a headboard and paint SpongeBob on it.
Question: Are SpongeBob beds only for kids?
Answer: When it comes to beds, the only ones I found are small and good for kids. However, adults can find blankets and comforters that fit beds as large as kings or California kings. So if you love SpongeBob as an adult, you can still show that off with your bedding.
Question: What if you don't want the bedding to stand out?
Answer: A lot of the SpongeBob bed ideas are out there and obvious. However, I found some of the sheets and blankets a bit more subtle. Choose some sheets or other items with muted colors, or go with the sky background throw blanket if you don't want anything too obvious.
Final Note on SpongeBob Bed Ideas
The best SpongeBob bed ideas range from platform beds to dog beds. Be sure to consider who you're buying a bed or bedding for and what you want the design to be.
I'd probably buy the SpongeBob Sky Background Throw Blanket. It's subtle and isn't too thick to keep me hot at night, but it's big enough for my bed. However, you should consider your own needs since that blanket might not work for you.
Looking for more interesting readings? Check out: