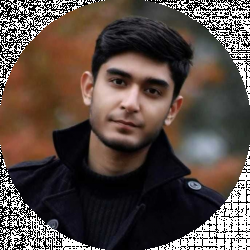 Latest posts by Asad Mehmood
(see all)
"The most challenging thing is the decision to act; the rest is merely tenacity." – Amelia Earhart.
Admit it, peeps! SpongeBob has been in our lives since day one. The love and attachment with this series go far beyond what we can imagine. If we think about it, Mr. SquarePants never ceased to teach us liveliness. He wants us to live the best lives, full of excitement and thrill. So this plush guide is another toast to the lessons of our beloved hero and his friends. 
SpongeBob is a household name nowadays. From Gen X to Baby Boomers, we have seen SpongeBob and his shenanigans in Bikini Bottom. It is one of my go-to cartoon series for lighthearted laughs and silly prank ideas. 
Naturally, those laughs turned into a passion and a desire to own everything SpongeBob. You will know about my collecting habits if you have read some of my other guides. Okay, before I start rambling more about my favorite childhood series and its heroes, let's get down to our topic for discussion today.
The guide will focus on the best SpongeBob plush toys. During our pit stop at Bikini Bottom, I will share my personal favorites and discuss my experience as a proud SpongeBob plush owner. Don't forget to miss my secret formula for buying your unique SpongeBob plush. So buckle up and get ready to witness the finest SpongeBob plush ever!
The Best SpongeBob Plush Guide: Bottom Line Upfront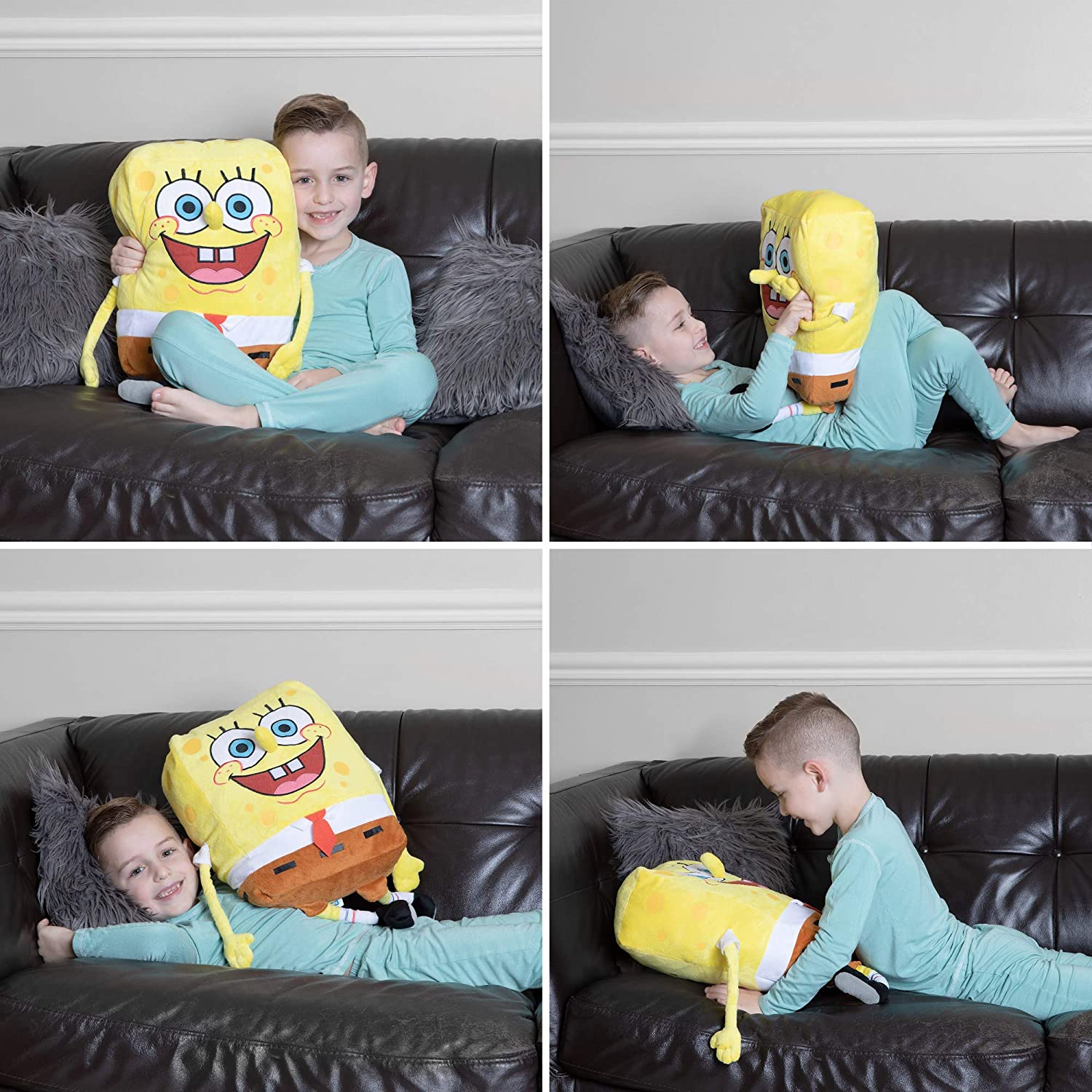 SpongeBob and his friends make the perfect and most cute character for plush toys. Franco's Spongebob Kids Cuddle Pillow Plush Buddy is my favorite SpongeBob series plush. Its quality is unprecedented and reminds me of SpongeBob every time I see it. The best thing I like about this plush is its form factor and the fact that it is soft and huggable. It almost feels like my favorite Rock Bottomite is always there for me. I would recommend the following top picks to every SpongeBob SquarePants fan.
My Top 11 Best SpongeBob Plush Picks at a Glance
SpongeBob Plush Toys Expert Buying Tips And Tricks

Make Up Your Mind About a Particular Product and Do Your Research Thoroughly
Spending money is very easy but spending it right is what matters the most. Selecting the particular SpongeBob Plush before buying it is the most crucial step. Firstly, you must Make up your mind about the specific plush you want; decide on the character or characters from the series and then dig into your many choices. Browse different websites if you are ordering online, and compare the prices and reviews. Look for other available sellers and try to get it for the best rate possible.
Take Advice From Those Who Own Similar Products!
It is always a great idea to get advice from a veteran SpongeBob plush collector before placing your order. We often make rash decisions and regret them later. If you have some true friends, like SpongeBob or Patrick, do ask them for their experience with the plush. They may introduce you to some of the hidden defects they have experienced along their journey that were not even discussed in the product's description.
If Possible, Go to the Shops and Check the Toys Physically
To really get an authentic feel for the toy and its quality, we need to be able to hold it in our hands. Plush toys come in different varieties and materials. Although online sources are the best for SpongeBob plush toys, I suggest you go to your nearest shops and check the quality. Having a physical interaction with the product is something that online stores cannot provide and, in my opinion, one of the biggest perks of retail shopping.
My Selection Criteria: Why Did I Pick These Plushes
The availability of these plushies across the States.

My personal experience with these plushies.

The popularity of these plushies among The SpongeBob fans.

The quality and build of these toys.
My Top 11 Best SpongeBob Plush Picks
#01 Nickelodeon Just Play Spongebob and Plankton Plush Set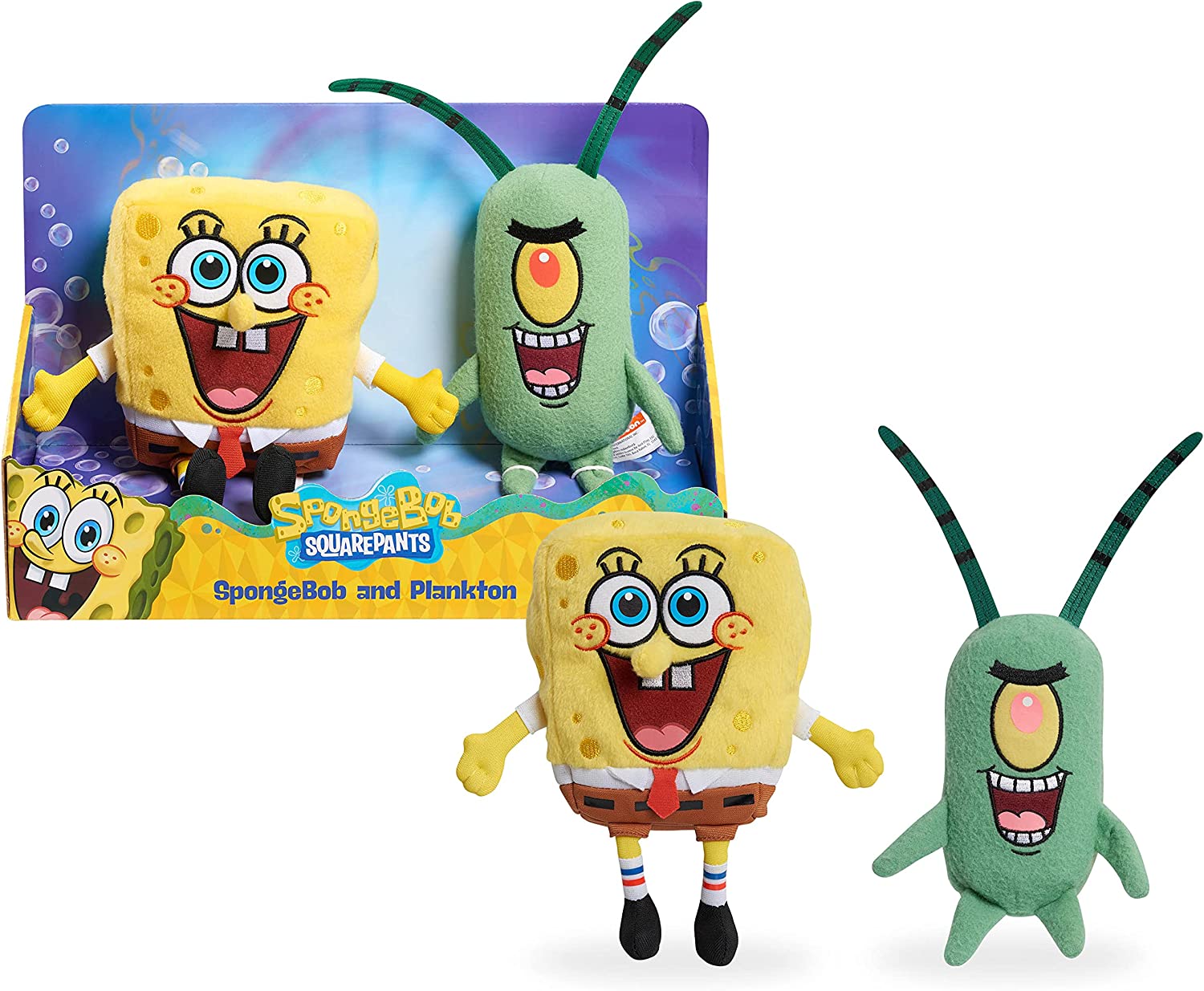 Who could have thought SpongeBob and Plankton would be together forever? This fan-favorite combo is packed up in a box that constitutes the best plush toy box ever, giving you the savior of Bikini Bottom and its destroyer. I truly believe in this 2-in-1 fun package. You can delve into the non-stop adventures that await you.
SpongeBob and Plankton are neither too big nor small, making them perfect for every age group. This product features unique details and looks close to the characters in the show. But I think Plankton might have been made pretty big by the manufacturer compared to his actual size. That was Plankton's second wish, so I am impressed by the manufacturer's thoughtfulness. 
Both SpongeBob and Plankton are created from the softest fabrics available on the market. This combo box is a good option for any SpongeBob fan who is a bit tight on budget. However, this moderate price also offers a lack of color quality.
Pros
It is eligible for refund, return, and replacement within thirty days of receipt.

It is very affordable.
Cons
The color quality is not sharp.
#02 Good Stuff Patrick Plush Toy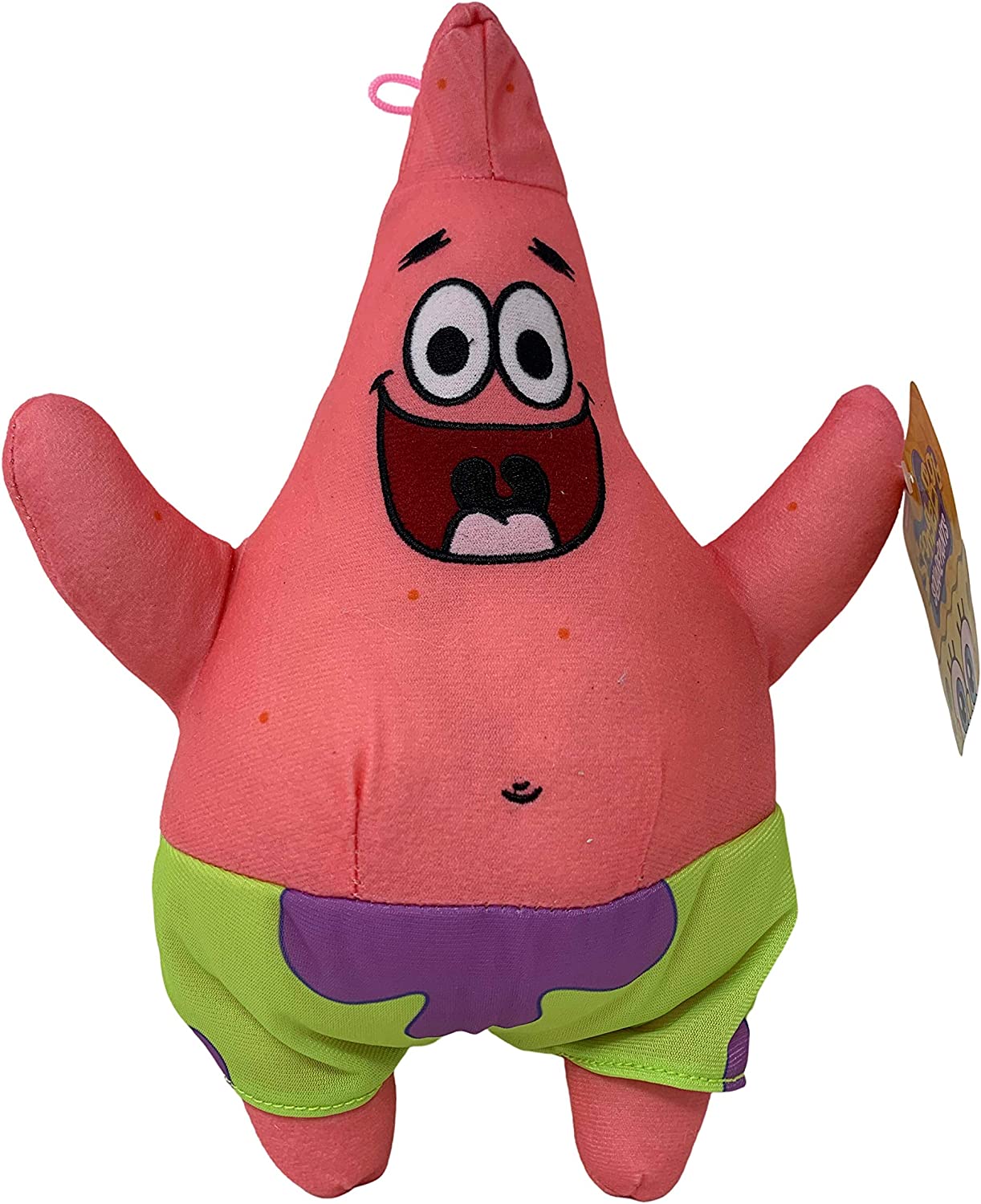 Who does not know the star of Bikini Bottom, Patrick Star? Our hero shares every adventure with him. Although he seems pretty naïve, I am quite impressed by Patrick's selfless attitude regarding SpongeBob.This plush is a credit to all the memories that we formed with this brave starfish.
This plush toy is made precisely to mimic Patrick. The attention to detail is flawless. Especially if you look closer at Patrick's face, the burst of energy radiates out of this plush. Also, this Patrick plush has a huggable feeling around it, something the manufacturer indeed managed to capture.
Being offered by the SpongeBob officially licensed merchandise, this plush is on Amazon's Choice list, which it rightfully deserves. What I don't like about this plush is how polyester fiber gathers at some points of the plush. However, even this problem reminds me of the time when Patrick got punched in the head by Sandy. So, it is an issue I can live with.
Pros
It comes at an affordable price.

It comes with thirty days refund policy. 
Cons
The seams offer big stitches, something that does not look good.
#03 Franco's Spongebob Kids Cuddle Pillow Plush Buddy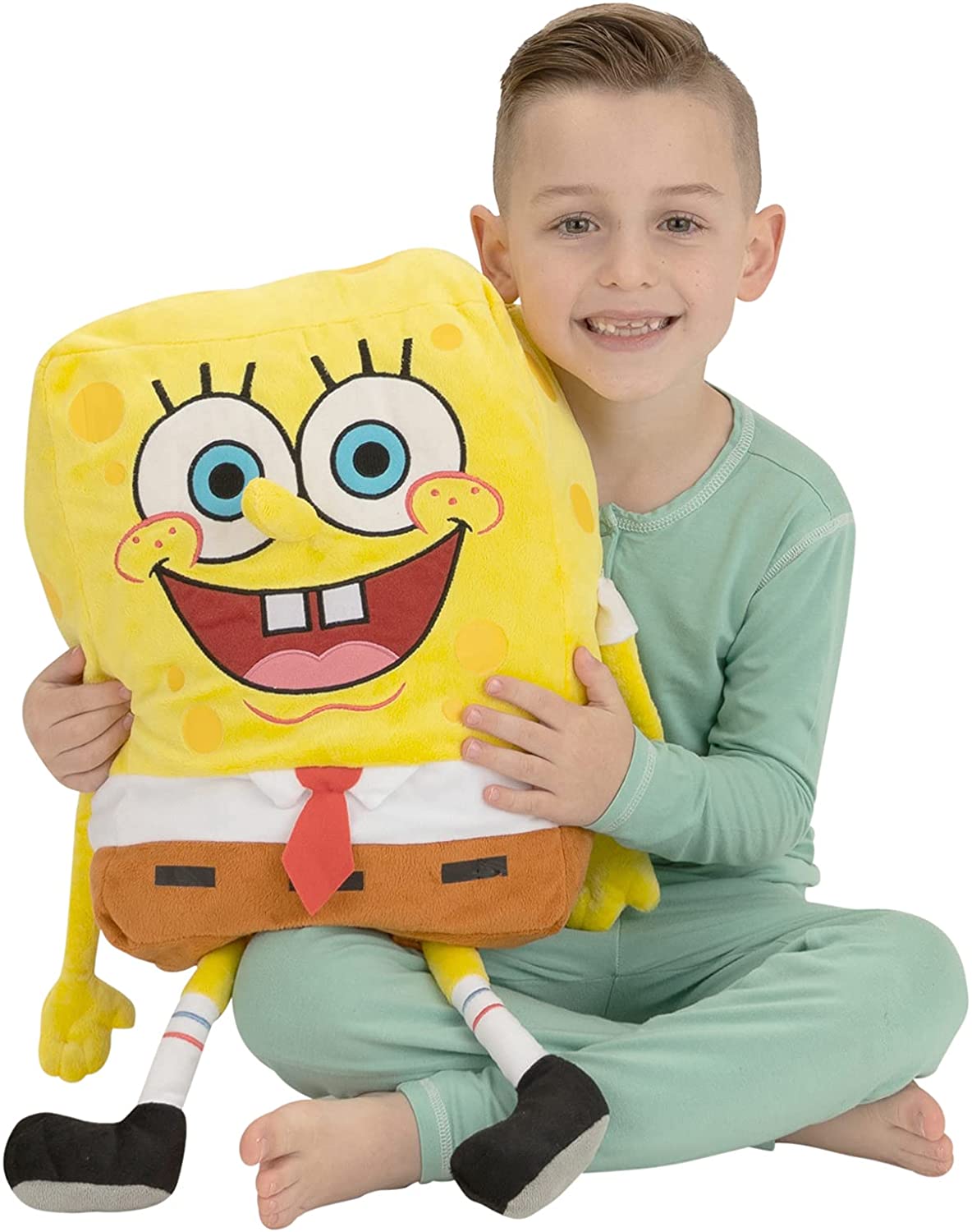 I have idolized SpongeBob and his way of dealing with his life since childhood. Still, I will admit, during childhood, I was not successful in fully capturing the notions that SpongeBob as a character portrayed. But now, after seeing what is going on in this world, I can never stop admiring the brave, empathetic, and simple-living nature of Mr. SuarePants. And this is what motivated me to buy this soft pillow buddy for myself. 
Well, if I am to speak the truth, I was not going to buy this plush for myself. I had an order from my lovely niece to buy her a SpongeBob plush. But I had a change of plans when this plush arrived at my doorsteps. But this does not mean I did not buy her the savior of Bikini Bottom. I bought her another piece of this plush the very next day.
This cuddly and fun character pillow plush brings SpongeBob to life. This plush can be used to have multi-purposes. You can bring it to your friend's house for sleepovers, or it can be your perfect companion for napping and cuddling. So what are you waiting for? Get your kid the best friend they can ever ask for.
Pros
It is made of a hundred percent polyester.

Its bigger size allows many uses.

It is easy to carry.
Cons
The hands-to-body ratio is peculiar. Its hands are pretty slim compared to around six-inch thick head it has.
#04 Plankton Soft Stuffed Plush Toy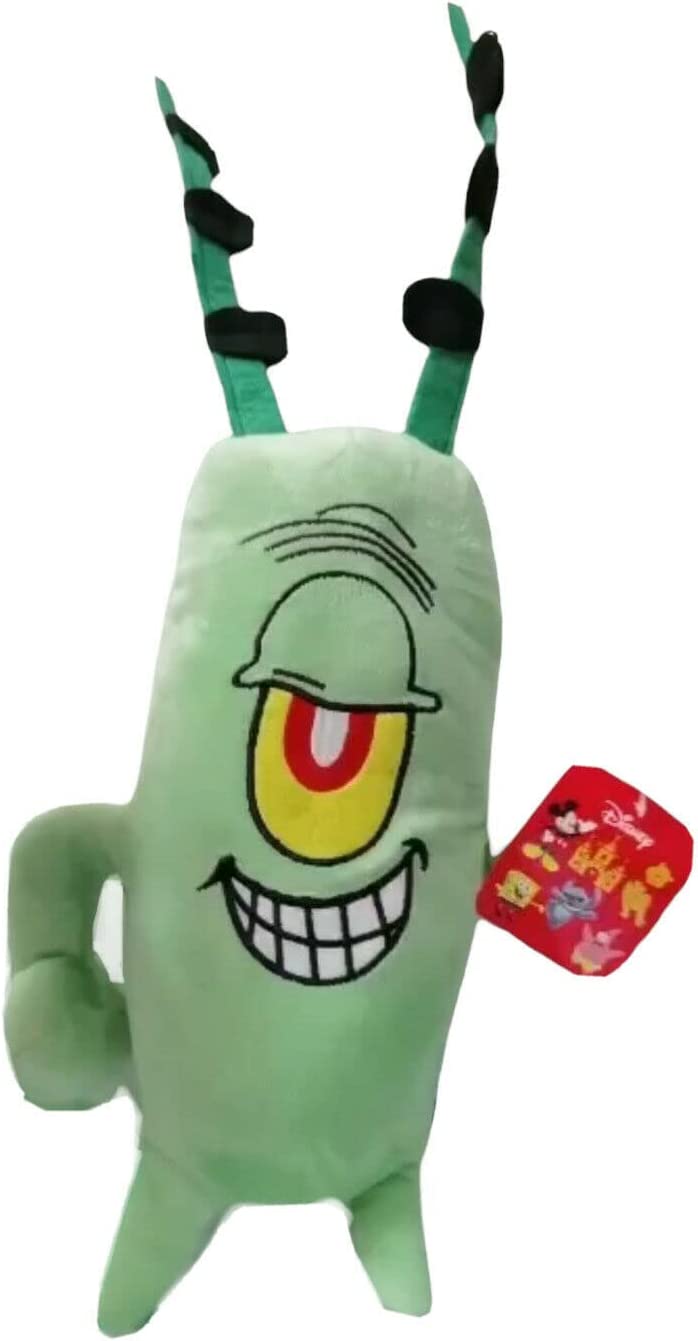 Now, let's talk about the main antagonist of the SpongeBob series, who is after our favorite secret formula. Plankton is a compelling character for many fans because he adds drama and suspense to the series. Watching him with his evil grin on this plush, I am afraid if he got his hands on the secret formula. But you have to find it yourself.
This plush is stuffed with soft and high-quality material. The plush's eye and tentacles are up to the mark and look precisely like the real Plankton in the series. However, I am not impressed by this plush mist-green color. I believe the plush should have been in his iconic sea-green color to maintain the evilness that Plankton stores. 
However, the best thing about this plush is its size, and it is one of the biggest SpongeBob characters' plush I have ever seen. So, if you work at chum-bucket, this plush can be the best option to get close to your boss.
Pros
The size of this plush makes it a good choice for home décor.
Cons
The hand resting around its waist is attached to the plush, restricting playing with it.

The white teeth tend to attract more dust.
#05 Just Play SpongeBob SquarePants Bikini Bottoms Buddies Plush Set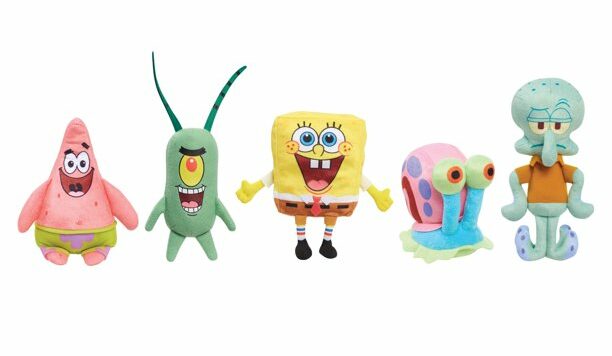 This plush set has all the main characters from this series, including the lively SpongeBob, the goofy Patrick, the serious Squidward, the evil Plankton, and the loyal Gary. If you like small plush and are a die-hard fan of the SpongeBob series, I am sure you cannot say no to this plush set.
One of the best things about this 5-piece plush set is the exact depiction of the characters. This set does not fail to capture the expression of the personalities the Bikini Bottomites offers. Their iconic looks are perfectly entailed in each plush, especially Mr. Squidward, who is still thinking about why he was made a part of this set. 
These plushies are made with super-soft fabrics, and each plush toy stands approximately 5.5 to 8.5 inches tall. I like oversized plushes, so this plush set is a bit small in my view. Still, this is the best choice if you want to buy it for your kid.
Also, if you want to start building your collection, you can start with this set. You cannot find a better deal than this for twenty dollars. Yes, folks, you heard it right. Just twenty dollars for a set of five characters of the SpongeBob series. Hurry Up! before it sells out.
Pros
It is as affordable as it gets.

This plush set perfectly catches the expressions of the characters

This product has a ninety-day return policy.
Cons
The stitching on the product is not good, and the seams do not tolerate hard pulling.
#06 Gary the Snail Plushie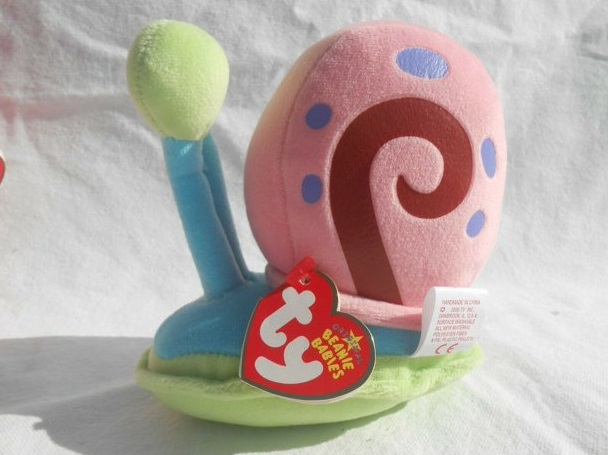 How can I forget about Gary while writing a SpongeBob guide? So, folks, this plush is dedicated to all the snail lovers, or should I say cat persons, who know how pets kill your loneliness. Even when our hero returns home after fighting all the evil in Bikini Bottom, Garry never fails to comfort our courageous SpongeBob. So to all heroes who work tirelessly and want to be greeted when they return home, this Gary plush is for you.
The materials used in making this plush toy are some of the best in the game. This Gary plush is appropriately stuffed, unlike other low-quality plushies with a soggy feel attached. This plush is so stuffed that it bounces back a little when dropped, or maybe it is Gary's super skill. But this does not mean it is any harder. The polyester fiber gives it the cushiness it deserves. A cushy plush that can bounce; isn't it unique?
So, what are you waiting for? Go make Garry the snail your pet. I can confidently say you will never feel lonely in Gary's presence.
Pros
A beautiful and quality item for any SpongeBob merchandise collector.

A child-friendly plush. Perfect for children two and above.
Cons
For $59.99, it is pretty expensive.
#07 Sandy Cheeks Plush Toy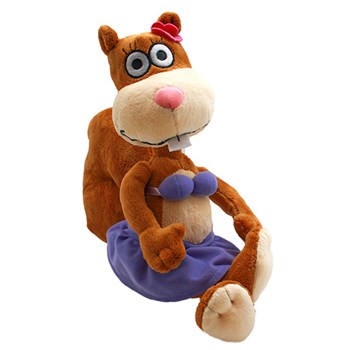 Hide your black belts. Your training is not going to do any good in front of Sandy. Sandy is undoubtedly the most powerful creature of the Bikini Bottom, and she can kick your butt in a blink of an eye. Don't believe me, ask Patrick. So, do not ever try to annoy her. 
As a child, I always admired the karate skills of this unbeatable squirrel. However, her diving suit was always intimidating for me, as this strong suit could almost break anything. I witnessed walls, even rocks, getting shattered with her single punch. But when I came across her plush in a beach dress, I knew I could get close to her without breaking my finger. 
This plush toy is designed to look precisely like Sandy Cheeks. The manufacturer made it approachable by introducing Sandy in her beach attire. We can see her smiling behind her strong incisors, and the flower in her hair further adds to the beauty of this plush. 
This Sandy plush comes in almost one foot, making it perfect for placing on your study table. Also, if your kid wants some powerful guardian to accompany them to the beach, you can count on this Sandy plush.
Pros
A perfect toy for the beach.

An ideal size to place on your study table or shelf.
Cons
The clothes feel like plastic and are not soft.
#08 Alpha Group Squidward Movie Plush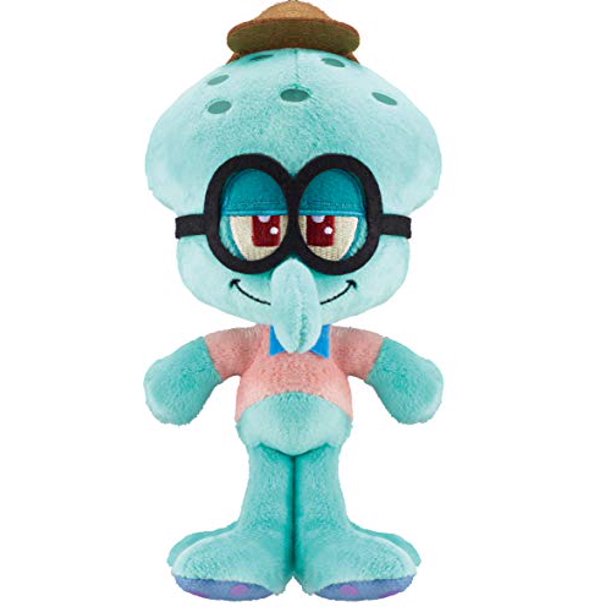 I sometimes think Plankton may be the biggest villain of the SpongeBob series. But when it comes to disliking a Bikini Bottomite, most of us can agree on Mr. Tantacles. Well, I don't have anything personal against Mr. Squidward, but when I see my hero not getting any warm response from a person, I cannot be on good terms with them. However, I believe Mr. Squidward had a pleasant demeanor at some point in his life. And this plush explains what I mean.
It has been just two years since were met the cute side of Mr. Squidward at Camp Coral. The SpongeBob Movie: Sponge on the run not only helped the SpongeBob fans explore the love of SpongeBob for Gary, but it also changed how we look at Mr. Squidwards. The young Mr. Squidwards was one of the cutest things we observed in the movie. And this cute little fellow is perfectly captured in this plush.
A smiling Mr. Squidward, yes, you heard me right, in a pink shirt wearing his boy scout cap is pure joy. The cute Squidward plush toy is securely sewn with the highest quality stuff and filled with down cotton filling, exclusively all-new material, soft and cuddly. It is the best example of Squidward plush on the market today. When you hold it in your arms, you will feel comfortable and elastic, with a smooth feel and delicate texture.
The only things I missed in this plush are its bigger size and Mr. Squidward's iconic clarinet. But it's a relief as we no longer have to listen to Mr. Squidward's unsolicited tunes.
Pros
A smiling Mr. Squidward. Something not less of a collectible.

A very smooth finish.
Cons
A bit costly for its size.

It gets dirty quite quickly.
#09 Nickelodeon Patrick Star Plush Dog Toy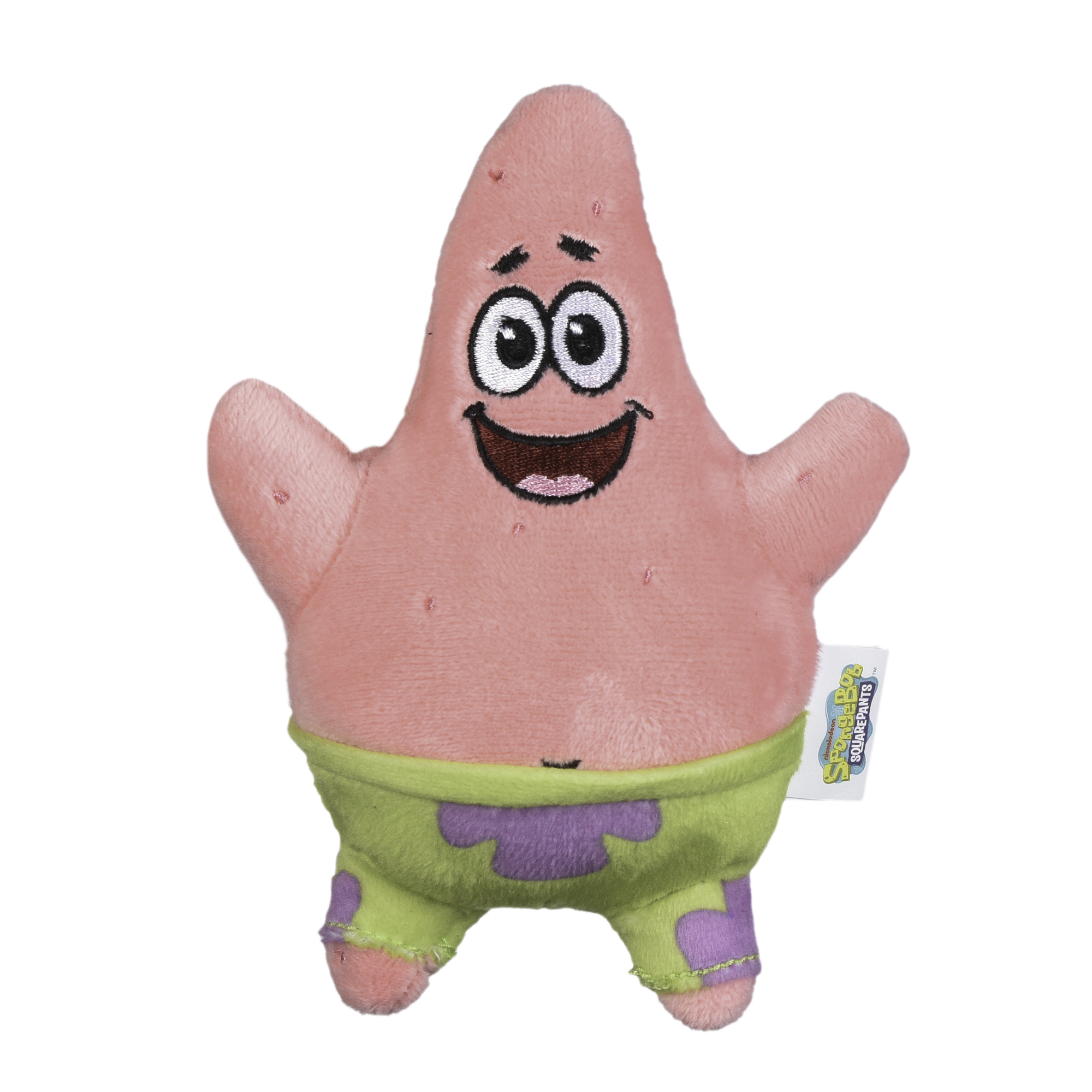 Have you ever thought about your doggo, who is also a SpongeBob fan? I bet you haven't. Well, you don't need to become a selfish Mr. Squidward. This plush allows your good boi to get close to his favorite character, Patrick. My dog loves his Patrick plush toy; he is simply obsessed with it. There is never a time when I expose this Patrick plush in front of him, and he does not play with it. 
This squeaker plush toy is the perfect chew toy for Milo, my dog. I am pretty sure Milo always goes on a trip down to Bikini Bottom with this adorable SpongeBob SquarePants Patrick Star Dog Toy. I just hope he does not leave me for good. After all, who can resist a Krabby Patty after trying it for once?
This chew toy plus is high quality and durable. It has a unique non-abrasive feel that won't wear down your dog's teeth. It is filled with a quality poly-fill, and its squeaking ability makes me wonder if it might be talking to Milo.
One of the best features of this product is that it's washable, and water does not damage it as much as the other plush toys. This is crucial because this toy goes directly into your dog's mouth, so it should always be clean. Have no fear of fakes or counterfeit products here. Nickelodeon officially licenses this product, and you can trust its quality.
Pros
This product is officially licensed by Nickelodeon.

It won't hurt or damage the mouth of your pet. Indeed a safe squeaker for your dog.
Cons
This plush cannot stand the wrath of big dogs.

With constant washing, the material also gets rigid.
#10 Mr. Krabs Alpha Mini Plush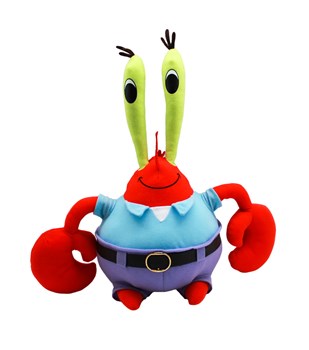 Let's be fair. What comes to your mind when you first hear money? If the answer is not Mr. Krabs, you don't deserve to call yourself a true SpongeBob fan! If it was not for Mr. Krabs, our hero, SpongeBob, would not be flipping Krabby patties, and he would most be unemployed. So, I am thankful to Mr. Krabs for providing Mr. SquarePants with the opportunity. And to show my gratitude to Mr. Krabs, this plush is always on my bookshelf.
This plush is perfectly designed to look like Mr. Krabs. The material used is of high quality, and the stitching on this product is immaculate. Not a single sticker or cheap stuff is used that can fade away with time. I will highly suggest this plush to any SpongeBob fan because, for a plush toy, it will last for a while. 
Pros
A good quality plush at an affordable price. 

An official product from Nickelodeon.
Cons
The big eyes of this plush might scare little children.
#11 TY Beanie Babies Patrick Claus Plushie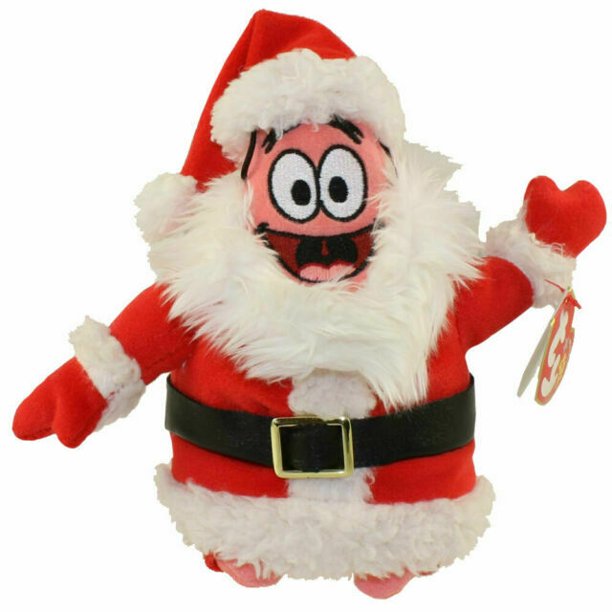 This pandemic has made our days boring and longer, while at the same time somehow managed to increase the rate at which years pass by. Days feel like years, while years feel like days. Crazy, right?
We are already halfway through 2022, and it seems like just yesterday we celebrated Christmas. Yet, we are already closer to the next one than the previous one. To make this Christmas more memorable and last a while longer, I have got a perfect addition to your Christmas gifts-to-buy list.
Let Patrick join you and your loved ones with this Patrick Claus Plushie, and I bet he will make your Christmas more happy, cozy, and full of joy. You can get him in mint condition here.
Pros
Free 30-Days Return Policy!

It's in mint condition, making it a good collectible.
Cons
It's costly at 40 USD. You may be able to find cheaper alternatives, but they are not in mint condition.
Frequently Asked Questions
Question: Can the SpongeBob plush toys be only used by kids?
Answer: Absolutely not! We have all watched SpongeBob growing up, and people of all ages have a particular affiliation with this series. And it would be biased to associate them with only a specific age group. Just like SpongeBob, these plush deserve love from everyone.
Question: Can I find any SpongeBob plush under 10 USD?
Answer: Well, yes. You definitely can. With the options like Patrick plush or the Patrick dog plush, you can get the best plush for yourself, even for your dog, that would not feel heavy on your pockets.
Question: Can a SpongeBob plush accumulate germs?
Answer: Yes, a SpongeBob plush can accumulate germs if not washed and rinsed correctly or according to the prescribed manner. Playing with a dirty plush can be unhealthy for yourself or your kid. However, keep in mind that some SpongeBob plush toys are machine washable while some are not.
My Final Thoughts On SpongeBob SquarePants' Plush Toys
SpongeBob plush toys bring us closer to the series. Life is made of small moments, and only we can make it exciting by making every moment count and enjoying it to the fullest. SpongeBob and his witty jokes are a source of entertainment. Their soft, cute plush toys around us make us appreciate the series even more. 
While choosing your Spongebob plush, be aware of the scammers out there. Go for authentic dealers and retail shops. Pinpoint the product you are most interested in, and then do your research. Compare prices from different sites and stores and go with the ones that give you the best quality for the best price. Also, look for sales and coupons on various sites to get the best deal.
My favorite pick from the plushes mentioned above is Franco's Spongebob Kids Cuddle Pillow Plush Buddy. I highly suggest buying it because of its premium material, affordable price, and top-notch quality. Not to mention the decently large-sized body makes it a good cuddle buddy. With all that said, I hope this guide proved helpful and helped you find some fantastic deals online.