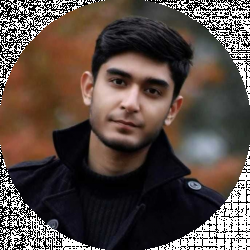 Latest posts by Asad Mehmood
(see all)
Being the fifth longest-running western animated series and the 32nd highest-grossing media franchise, SpongeBob SquarePants is synonymous with happy childhood memories and fun toys for billions of fans worldwide. It is a mainstay of pop culture, and as a true SpongeBob fan, I'm here to help guide you to the best SpongeBob toys around.
I prefer to shop for my collectibles online. Over the past few years, I've built a massive collection of merchandise from various franchises consisting of hundreds of collectibles – one of my favorites, my SpongeBob collection.
Today, shopping online has become much easier than it was back in the day. Yet, the number of scammers has also increased exponentially. Amidst this tug of war filled with questionable bots, fraudulent sellers, and organized groups of scammers, it has become challenging to identify who's honest and who's not.
This is where I, a proud citizen of Bikini Bottom, come in! In this Best SpongeBob Toys Guide, I'll share expert buying tips, tricks, and hacks that you can use to shop like an expert. Now without further ado, let's get started.
The Guide: My Top Pick
If I had to choose one toy, I would have the Nickelodeon SpongeBob Bikini Bottom Boat Race Playset. It is an exciting way to enjoy toy racing and makes for an excellent display item. The fun track, the Bikini Bottom setting alongside the mini cars, and figures bring those happy Pineapple-under-the-sea vibes to the room. For me, it's a perfect way of celebrating and showcasing my love for the show. Make sure to read till the end, as I've got a list of some exciting picks that any fan would love to have.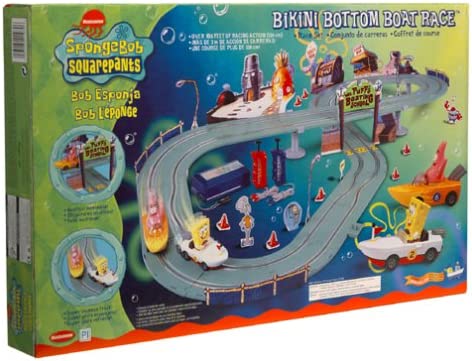 List of My Top 10 Picks
Expert Buying Tips From A Resident of The Bikini Bottom
This is a fact that anyone buying toys from their favorite series finds themselves coming across fake or low-quality products. So, below are some expert tips on buying SpongeBob toys and what should be kept in mind to save yourself the trouble other enthusiasts feel.
#1 Buying From Authorized Sellers
Many fake stores are operating around the world. These stores make counterfeit products and scam you. So, before selecting a toy, better select a reliable store. Simply credible sites such as Amazon and Walmart should be used. Also, the officially licensed site: SpongeBobshop.com can also be reached. Customer service is important, especially if you have to return a toy. Buying from an authorized seller ensures you can enjoy collectibles for years!
#2 Check Out for the Quality of Toys
Some of the toys are made of low-grade materials and are not suitable for kids. If you have kids, you do not want to keep spending on something that would not even last a day or two, especially if your kids are hyperactive like me. It is better to spend on a good quality product once than ordering every other day.
#3 Plan Your Budget: Spend Those Bikini Bottom Dollars Wisely
Well, this is a tricky thing, and I know it is never enough when it comes to SpongeBob. So, it is essential that you find a toy in your buying range and don't waste money on toys you might not need for the moment. Patrick might live a few days under a rock without food, but I am sure you won't. To help you in that regard, using tools like Honey and Karmanow is a great way to find great discounted deals on the internet for the product you are looking for.
Here, I've only recommended toys that are actually in stock, but there are some rare toys that I wish I could get my hands on. Sometimes discontinued toys become available on eBay or other collector sites.
#4 Are Not Just for
Fans of the Bikini Bottom universe are of all ages, and who doesn't love toys? Whether you are building your own collection or looking for a special gift for a friend, remember that fun has no age limits. Certain toys have age recommendations, so it's always wise to check manufacturer age recommendations if gifting to a younger fan.
My Selection Criteria: Why Did I Choose These ?
These are some factors that I took into account while selecting these toys:
Availability: All these are readily available in the States and can be procured from stores around you or online.
Credibility:

The items I have selected are from credible sources, and all of them have a positive response from users. The trust in a company or its products matters greatly to seal your deal.

Reliability: in this guide are reliable and are made of suitable materials. These are not going to say you goodbye very soon.
Versatility:

The

I have selected for you in this guide are not based on a single theme but rather represent and capture the whole essence of the series. Something for every fan.
My Top 10 Picks
#01 1980 Chevrolet K5 Blazer With Diecast Figurine
Description
A Two-in-One package, this toy set consists of the SpongeBob figurine and the Chevrolet K5 old-school 1980 model. I really like the toy's touch of reality and originality. It's a perfect miniature replica of the original Chevy. Opening doors, a detailed interior, and a sturdy build, all painted in the iconic SpongeBob colors. My favorite parts are the rubber tires; they make the toy look more natural and epic. The design makes it look like a SpongeBob Autobot with SpongeBob's face painted on its roof.
With the standing SpongeBob figure, you can take your SpongeBob Chevy to races at Bikini Bottom. After all, Mr. SquarePants is the only referee we can trust. The toy comes at a low price for its excellent build quality and intricate design.
Pros
The price is not high.

A perfect two-in-one toy.
Cons
The car isn't battery-powered; you have to manually push your Chevy. Not something a Chevy owner would like.

The color quality of the SpongeBob figure is not up to the mark.
#02 Pillow Pets Nickelodeon 16″ Stuffed Animal Toy

Description
I picked this cuddle buddy for my little niece; I believe every kid deserves one. A stuffed toy based on the savior of the Bikini Bottom, SpongeBob; this toy is the best sleeping buddy a kid could get. Perhaps, Mr. Bean's Teddy would beg to differ, but when he's not around, this Sponge takes the cake.
As the name refers, it can also be a pillow. It can also be used as your kid's traveling or TV-watching buddy, and I must add that my niece carries this toy around wherever she goes. The brand "Pillow Pets" provides one of the best plush and stuffed toys and offers this high-quality SpongeBob stuffed pillow for under $30. I love the idea of practical multipurpose toys, and this one indeed fills in the part.
Pros
The best part about this toy is its universality.

It is made of cotton and polyester and is also machine-washable.

The SpongeBob's face is not printed but embroidered, making it a quality product.
Cons
The color of the toy light makes it prone to getting dirty faster.

The price is a bit higher compared to other stuffed .
#03 SpongeBob Deluxe Costume For

Description
Every kid wants to become their favorite cartoon character, and there is a time when they can look like them. Costume parties in schools or Halloween parties provide them this opportunity to be a part of their favorite fictional world. The SpongeBob deluxe costume for kids is the perfect costume for any fan of this Sponge who lives in a pineapple under the sea.
This costume offers a perfect design and is made according to your kids' needs, making it safe and easy to wear. It is made of cotton and polyester, which will not harm your kid's soft skin, and it is also lightweight and easily washable. It'sIt's a solid contender for the best costume prize.
Pros
This costume offers a perfect SpongeBob look.
Cons
This is a pricey costume.

It is non-adjustable.
#04 NKOK Remote Control With SpongeBob Vehicle

Description
This is the much cooler brother of the Patty Wagon, the Krabby Patty Sports Car. You can take this car for a sweet ride with SpongeBob occupying the captain's seat to the frozen depths of Shell City, where Neptune's crown resides.
Remember something? Yeah, same. This toy reminded me of SpongeBob's adventures on the Patty Wagon. Long ago, when Mr. Krab was frozen by King Neptune, SpongeBob retrieved his crown from the Shell City with the help of the Patty Wagon. The Patty Wagon gave us our Mr. Krab back. This makes a great reason to include this one in my Top Picks.
This toy is also attractive for SpongeBob fans because it encompasses the series theme. Most of the series revolves around SpongeBob and his cooking inside the Krusty Krab. This toy never lets us forget the bond between SpongeBob and Krabby Patty.
On the surface, it's just a remote control toy car. But it's not a simple racing car; it offers Turbo Boost to run from the tridents thrown at by the Neptune's army. The design and features make it interesting for kids of all ages, and its fully functional headlights make it even more fun to play with.
Pros
It is a multi-featured car. A perfect item to show SpongeBob's allegiance to the .

The price is also affordable for such a toy.
Cons
The spoiler on the Patty Wagon is easily breakable.
#05 FisherPrice Imaginext Kastle

Description
Who does not know about Krusty Krab, where our beloved sponge works? And who does not know of the allegiance SpongeBob has with this workplace? Behold! This majestic Krusty Krabby Kastle will allow you to fight alongside your favorite hero, SpongeBob.
Did I mention, unlike other castles, this Krusty Krab Kastle allows you to enter it? Inside the Kastle, you will find different rooms and characters from the series. You can call this Kastle a bad-ass doll house for all the Bikini Bottom soldiers who have pledged the security of the secret formula.
You have a lot of removable parts at your disposal in this toy set. And the restaurant inside is designed close to what we see in the series. However, I believe you will not side with Plankton and reach the vault in Mr. Krabs' office. Wait, did I mention it also has the Krabby Patty Formula Bottle?
Pros
This toy set is exceptionally built and has many interactive inside.
can spend quality time with the product by getting creative with this toy set.
Cons
This toy set often gets sold quickly, and you must wait weeks before it gets restocked.

The small parts of the toy serve as a choking hazard for small .
#06 Nickelodeon SpongeBob Bikini Bottom Boat Race Playset
Description
It is a playset encompassing almost the whole Spongebob universe. From our favorite SpongeBob's residence to Mrs. Puff's driving school, this playset takes you on a never-ending journey of Bikini Bottom.
I remember buying this playset as it shares quite some resemblance with my favorite toy car, "Hot Wheels." I also liked the boat-themed vehicles as they give the essence of an aquatic environment. Well, how could someone have not included them? It is Bikini Bottom, after all.
It isn't only the boat-themed cars and the track that makes this toy exciting but all the other smaller accessories provided along in the box. You don't get to see Mr. Squidwards waving at you while participating in a race.
Pros
A lot of popular playable accessories are also provided in this toy set.

The price is quite convenient for such a diverse set.
Cons
This toy is not recommended for under 3 as the small parts might be a choking hazard for .
#07 6pcs SpongeBob Toy

Description
This one is for you if you want to add something soft and comfy to your toy collection. All the fan-favorite characters from the series are included in this offer, and you have six plush pieces waiting for you to play with.
If there is one thing that I can indeed say about plushies is that no one hates them. These toys never leave your side and are always there for you whenever you need them. Whether your kids go to school or need someone to cuddle, you can count on our heroes from the Bikini Bottom.
I highly recommend this plush toy set for children. The best thing I like about these plushies is their built quality. Its material allows it to withstand pulling and squeezing, something toddlers are a great fan of. Not only this, but unlike other fabric-based toys, these plushies do not form lint; a significant relief for the hardworking mothers, right?
Pros
The plushies are explicitly designed for toddlers.

All the major characters are included in the toy.
Cons
Most of the designs these plushies offer are not close to the actual characters from the series. Instead, some seem pretty ugly.

These plushies are pretty small, even for toddlers.
#08 Coloring and Activity Tin Box

Description
Pragmatic toys are great for kids to learn while also having fun. I do agree that the purpose of toys is to provide entertainment. Still, I appreciate the toys that can teach something to our loved ones. The SpongeBob SquarePants coloring and activity tin box is the perfect example of such toys.
This normal-sized SpongeBob-themed box contains colors and crayons for your kid's art class. Even if your kid does not attend school, this box can help them explore their creativity. The rich colors allow your kid to make it a perfect briefcase for any playdate.
The mini crayons make it perfect for your little artist-in-the-making. The kids can pen their designs on the sketch pad provided in the set. And if they get bored of coloring, they can play with their favorite stickers. Another best thing about this box is the standee SpongeBob and Patrick figures. I am sure, under the supervision of SpongeBob, your kid is going to learn a lot of things. However, you might also want to consider finding a good tutor for them. Cuz we all know how smart SpongeBob is, right?
Pros
A playable set that allows to explore their creativity.

The price is also affordable for such a versatile box.
Cons
The standee are pretty delicate.

Minimal crayon colors are offered in the box.
#09 Hot Wheels Monster Trucks (Yellow) 1:64 Scale Includes Connect and Crash Car

Description
If you are a fan of Hotwheels, monster trucks, and SpongeBob, this one is the perfect all-in-one toy. This sponge yellow SpongeBob-themed Hotwheels monster truck is the ultimate choice to crush all those old and rusted cars. It's a bold option that will make driving toy cars even more fun than the regular-sized Hotwheels cars.
Pros
30-day return policy!

Die-Cast Metal.

Officially licensed product.

Includes Connect and Crash Car.
Cons
Choking Hazard.

Not Suitable for children under 3.
#10 Hot Wheels Car

Description
Another entry from the Hotwheels toy cars collection to make a list it's the Patrick Star's pink hot wheels racing car. It's one of the 6 collectibles featuring the main cast of the Bikini Bottom; if you want to get your hands on the complete set, you can check it out here. Hotwheels mini-cars are prized collectibles famous for reaching high values and always in demand.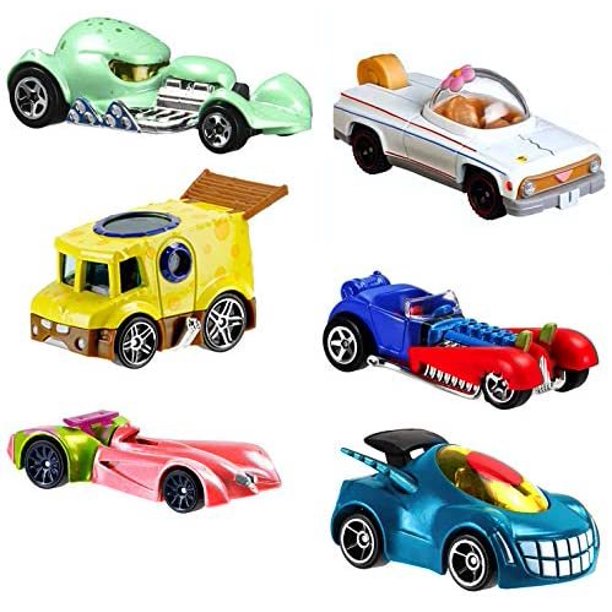 Besides that, they are extremely fun to play with, especially if you have a fun racing track to go with them. I like to combine them with the entry #6 Bikini Bottom Boat Race Playset to host some incredible races through the Bikini Bottom. If you want to see more car toys, make sure to check out my Best SpongeBob Toy Cars Guide here.
Pros
30-day return policy!

Officially licensed product.
Cons
Choking Hazard.

Not Suitable for children under 3.
Honorable Mentions: Some Equally Awesome Rarities and Memic
Here are some equally awesome but rarer toys that might interest an avid collector like me. Some of these are extremely expensive but well worth the money for a true Bikini Bottomite.
HM #1 Masterpiece Meme Vinyl Figure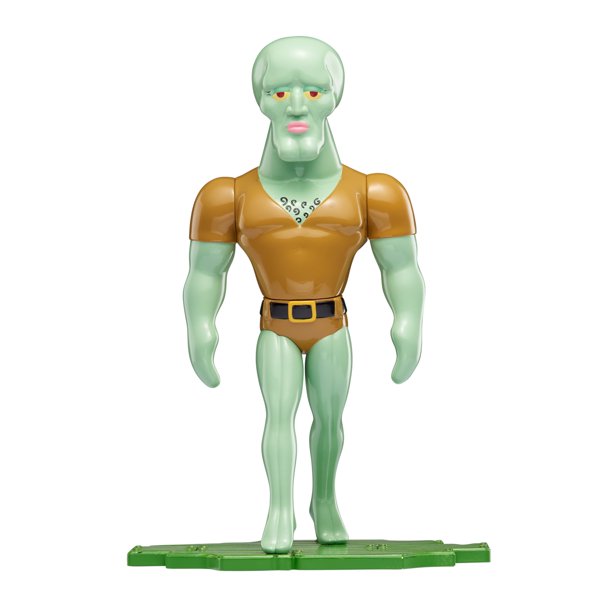 Description
This meme won the heart of the whole internet when it was introduced in episode 18, The Two Faces of Squidward, Season 5 of SpongeBob SquarePants. The brutally muscular and well-built Squidward took everyone by surprise and became the face of the internet for a while.
This 8 inches tall vinyl figure captures the meme in its full glory. It is a banger of a conversation starter if you put it on the shelves to watch over your guests. If you want to get your hands on one of these, you can find it on this link here.
Pros
30-day Return Policy!

Free and Fast Shipping within the USA!

Officially Licensed Figure.
Cons
Choking Hazard.

Not Suitable for children under 3.
HM #2 2009 Magic Towels SpongeBob, Gary, Patrick, and Plankton

Description
Magic Towels used to be the talk of the street back in the day, and I still remember these iconic gimmicks from my childhood. Everyone used to get some of these from the magic shop and the stalls at carnivals.
Put the dehydrated bar in hot water and watch it unravel into a large cloth. It is undoubtedly magic from the Bikini Bottom.
Many designs are available for these magic towels, and I have shared the link to 6 of my favorite picks. You can find them on this link here. If you are looking for the Plankton variant, check this link here.

Pros
Comes in many designs; I have linked to 6 of them!
Cons
No Returns Policy.

It's a one-time trick, and the cloth isn't good quality.
HM #3 LEGO 3818: Bikini Bottom Undersea Party

Description
LEGOs are undoubtedly one of the world's most iconic and celebrated toys. They are as popular as those Pokemon cards and Beyblades. Everyone used to have them or knew someone who had them in childhood, and you had to have one to be the cool kid. Times have changed since then, but I still believe you need LEGOs to be the cool kid, and that indeed feeds into my merch collection obsession.
SpongeBob-themed LEGOs were discontinued for a long time, and that's why many discontinuation series are scarce. These fetch high prices with collectors and fans alike. You can find it on this link if you are one of such avid collectors and fans. This set features SpongeBob and his neighborhood alongside our favorite characters. If you are in for Boatmobile racing and LEGO building, this Mrs. Puff's Boating School LEGO will also interest you.

Pros
It's SpongeBob LEGOs; what else do I have to say?

Officially licensed product.
Cons
Really Expensive due to being rare.
HM #4 Squidward Racer

Description
This is the second Squidward toy on this list. It brings a mix of LEGO's buildings, fun boatmobiles, and our quirky octopus. You can already tell my love for Squidward, I'm sure. I love this particular one because it comes with a mini-action figure of Captian Squidward.
Pair this one with your other Spongebob toy cars and racing tracks to get the most out of it. You can find it on this link here.
Pros
It's a fun and less expensive way to enjoy SpongeBob LEGOs.

Comes with a Squidward micro- .

Officially licensed product.
Cons
Choking Hazard.

Not Suitable for children under 3.
HM #5 -Doh Builder SpongeBob's Pineapple House Kit Toy

Description
Playdoh is a fun way to enhance your child's creativity in those early development days. It is like LEGOs but more flexible and certainly less painful when stepped on. This Play-Doh SpongeBob Pineapple House Builder Toy Kit has many excellent play-doh molding tools and building kits. Besides the molds, it features 8 healthy buckets of multi-colored playdoh, enough to build the whole house of our favorite Sponge. You can find it on this link here.
Pros
Comes with lots of fun -doh molding tools.

30-day return policy!

Officially licensed product.
Cons
Not enough playdoh… I mean, it's never enough. Right Patrick?

Choking Hazard.

Not Suitable for children under 3.
Frequently Asked Questions
Question: Can SpongeBob toys be gifted to grownups?
Answer: In my view, yes. You can give SpongeBob toys to adults. After all, most millennials grew up with this series. I have to say it was these adults who revived the spirit of SpongeBob by making it quite popular through memes. And they do deserve some SpongeBob toys for appreciation.
Question: Can SpongeBob toys become collectibles and increase their value?
Answer: Yes, SpongeBob fans come from every age. If you see a father with his kid buying a SpongeBob toy, you can never be sure for whom that toy is intended. With such a massive fanbase, it would not be wrong to construe that these toys will become collectible at some point. And don't forget one thing, collectibles are sold at some high rate, just like the world's greatest fry cook boots.
Question: Are other SpongeBob characters' toys also as famous as SpongeBob?
Answer: This question is difficult to answer. SpongeBob is SpongeBob after all. But we cannot contend with the popularity some other characters from the series enjoy. Not to mention, Mr. Squidward also has a strong fanbase among adult fans. So yeah, the toys based on other characters are pretty famous among SpongeBob series fans.
The Best SpongeBob Toys Guide: Wrapping Up
Mr. SquarePants has influenced many lives, including mine. I always liked the simple and curious personality of SpongeBob. The aquatic environment and characters of the cartoon were equally interesting.
Like every other SpongeBob fan, I never missed a chance to get a hold of my favorite SpongeBob toy. The joy these SpongeBob toys brought me was unparallel. However, initially, it was difficult for me to find good-quality toys. After a lot of hit-and-try, I could finally boil down the list of dependable sellers I could count on for my favorite toy.
My favorite toy among all the SpongeBob toys is the Nickelodeon SpongeBob Bikini Bottom Boat Race Playset. With a remarkable resemblance to my all-time favorite Hot Wheels, this set always makes me remember the strong bond of friendship SpongeBob and Patrick share. After all, cruising with your best friend is one of the best pleasures only available to the blessed ones.
I hope this SpongeBob toy guide will help you find the best toy for yourself or your loved one. Oh wait, I forgot, my Krabby Patty is ready. Until next time!
For more interesting readings check out: