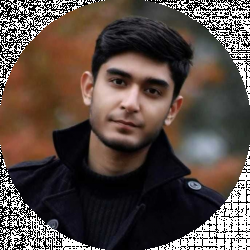 Latest posts by Asad Mehmood
(see all)
Think about who lives in a pineapple under the sea, and it will bring back nostalgic memories and a happy smile on your lips. That's the power of SpongeBob SquarePants, who seemingly absorbs all the sadness from the viewers like a sponge absorbs water.
If you are anything like me, you spent your childhood watching the show and singing the Aye Aye Captain song, the one not from Peter Pan. The story that aired its first episode in May of 1999 has now become a worldwide icon for nostalgia and laughs.
Over 13 billion USD in merchandise revenue, you must have seen and/or owned a piece of merch with SpongeBob's happy squirrel tooth face shining on it. I was the same, and I used to have a proud collection of SpongeBob-themed merch ranging from geometry and lunch boxes to backpacks, hoodies, and caps. You name it!
Now I have a cute 5-year-old nephew whose birthday is due this month. Honestly, his smile and scouting nature remind me of SpongeBob and Patrick's hilarious adventures in Bikini Bottom. Though, I sure hope he doesn't grow up to be as silly as them.
He also loves the show and often likes to watch it during his evening TV time. It gets pretty cold here during the evenings, and Winter will be back in a couple of months. So I thought, why not gift him a cozy SpongeBob-themed blanket to cuddle with during his evenings.
I take my online shopping seriously as an avid collector. I'm writing this article to share my experience with everyone else. Here are my favorite picks, selection criteria, and expert buying tips to help you find some great deals for SpongeBob-themed blankets. Now without further ado, let's get into the content.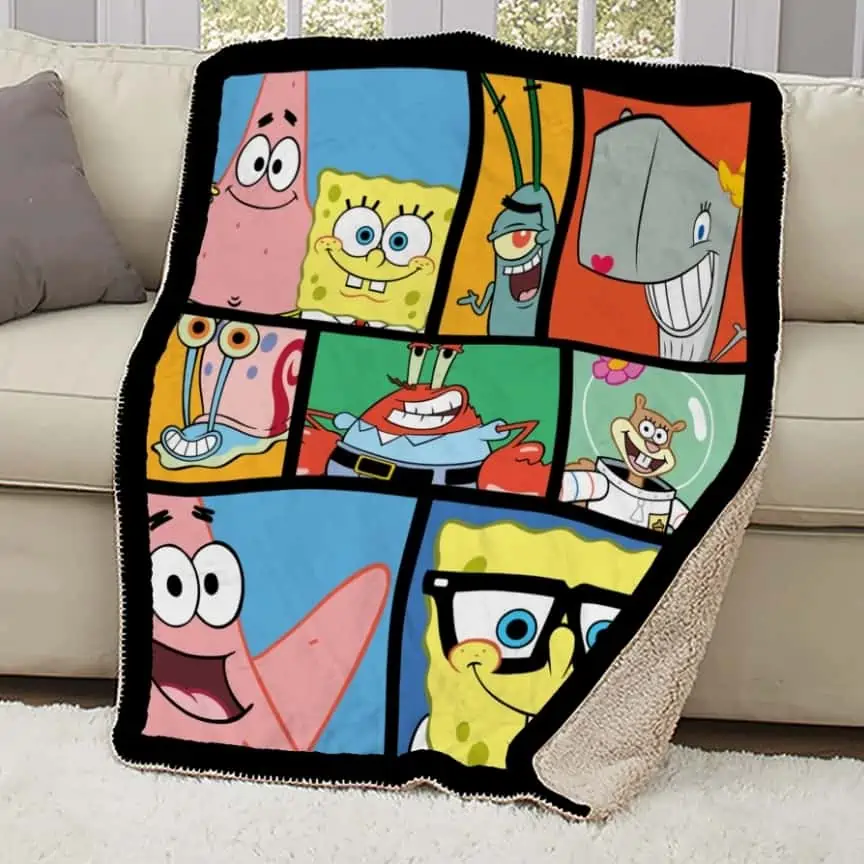 Oh, I Can't Meme Sherpa Blanket: My Favorite SpongeBob SquarePants Blanket.
After searching through hundreds of shops and thousands of options, one blanket that stuck to my mind was the "Oh, I can't" meme Sherpa blanket. Its bright and vibrant yellow color makes it uniquely attractive to me.
The design is pretty refreshing, and the product quality is superb. It is made of 100% polyester fabric, making it an excellent option for cool evenings and even cooler nights.
My Top Best SpongeBob SquarePants Blanket Picks At A Glance
SpongeBob SquarePants Character Grid Sherpa Blanket

:

 If you want all the Bikini Bottom creatures in one frame, this character grid Sherpa blanket is the perfect choice for you. Its soft and smooth touch and warm layers make it a good choice for winter nights too.

SpongeBob SquarePants Best Year Ever Jellyfish

:

 I love this blanket due to its refreshing blue color and pink jellyfish design. Being part of the Best-Year-Ever collection, it's a must-have for collectors like me. 

SpongeBob Singing Funny Meme Sticker Throw Blanket

:

 This blanket caught my attention due to its shiny black color. My nephew says the happy singing face of SpongeBob SquarePants on it makes him feel happy too.
An Expert's Buying Guide: Tips, Tricks, And Advice For Online Shopping
Here are some expert tips and tricks you can use to find the best deals on SpongeBob SquarePants blankets online.
Best Sites Where You Can Buy SpongeBob SquarePants Blankets
Like many of us, I keep my guard up when shopping online. In this circus of scams and fraudulent sellers, it is hard to find reliable sellers and good-quality products. Knowing about credible shops and sellers is worth its weight in gold, and that information is now yours for free. 
These are the top websites where I get all my SpongeBob SquarePants products. I recommend them for high quality, reasonable price range, quick delivery, and top-notch customer services. Whether a veteran or a new fan, I urge you to check these sites to shop for your SpongeBob blankets.
Excellent Quality, Affordable Price Range, and Sizes of Blankets
When shopping online, there are some metrics that you should keep in your mind. Namely, these are brand, build quality, material, price, and size. No one wants to waste their time and money on low-quality and highly-priced products. Don't rush in making any purchasing decision, and consider the following factors in detail before finalizing your picks.
Build Quality and Materials
Build quality and materials are the most essential factors while buying any product. It is always worthwhile to spend some time doing research on whether the product is made up of high-quality material or not. 
High-quality products will long last and will be more comfortable to use. The blankets I have recommended in this article are made of reliable, durable, and long-lasting materials.
Price Range to Look For
The ideal price range in which I would prefer to buy blankets is 30 USD to 60 USD. I think this price range is not as costly as you can get high-quality products in this range. However, that does not mean that you cant find decent blankets in lower price ranges. Still, there is something like too much for a blanket.
Branding and quality have a significant role in determining a product's price. The shops I have recommended offer premium officially licensed blankets at reasonable prices. Sometimes, you can find deals that are a steal at low prices. My list features a mix of cheap and expensive, good value-for-money options. 
Perfect Size
Always check the size of products while placing an order. Getting the wrong size can put you in a lose-lose situation. When looking at an item online, check the sizing options and return policies in case of incorrect delivery. Large-scale sellers often offer detailed standard size charts with their products on the site to help buyers understand the correct measurements for their orders.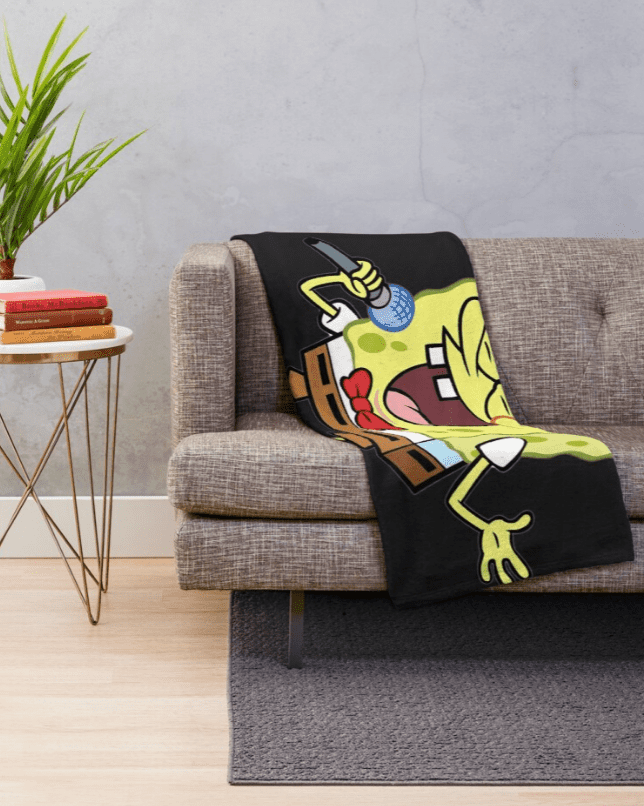 My Selection Criteria: Why I Chose These Blankets
While making a purchase, you should set clear selection criteria. This will help you keep your priorities straight and avoid scammy comments and buttered feedback from fraudulent sellers. This would greatly help you select the right product. 
In my case, I look for high quality, a reasonable price range, and the perfect size. Besides that, I put extra care during research when purchasing branded and officially licensed products to avoid fakes and false copies. 
These selection criteria made it easy for me to buy my favorite SpongeBob blankets. All the products I mentioned in this article fulfill these criteria very well.
My Top 10 Best SpongeBob SquarePants Blanket Picks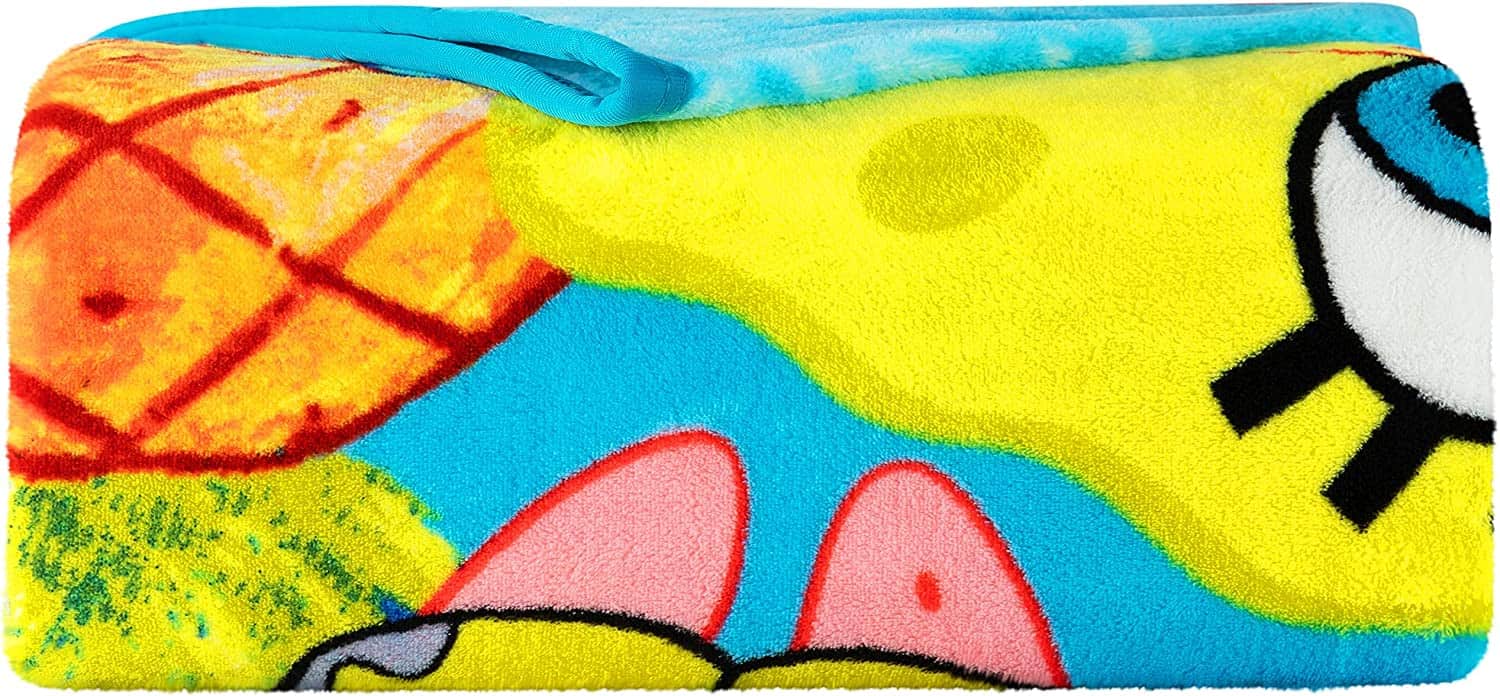 Description
This super soft and cozy blanket caught my attention due to its bright and vibrant colors. My little brother is quite picky in choosing products, and he wanted a blanket with both his favorite characters together. While watching this blanket, the first person that came to mind was him.
Its high-quality polyester is durable and long-lasting, making it a good fit for kids. Due to its lightness, you can carry it around while traveling and camping. The price range is considerably low concerning the product quality, which is just $29.75.
Pros
It is easily washable in cold water without fear of themed pattern fading.

There is no need for ironing as its high-quality polyester makes it clean and straight after wash.
Cons
Available in only one color may not be favorable for some kids.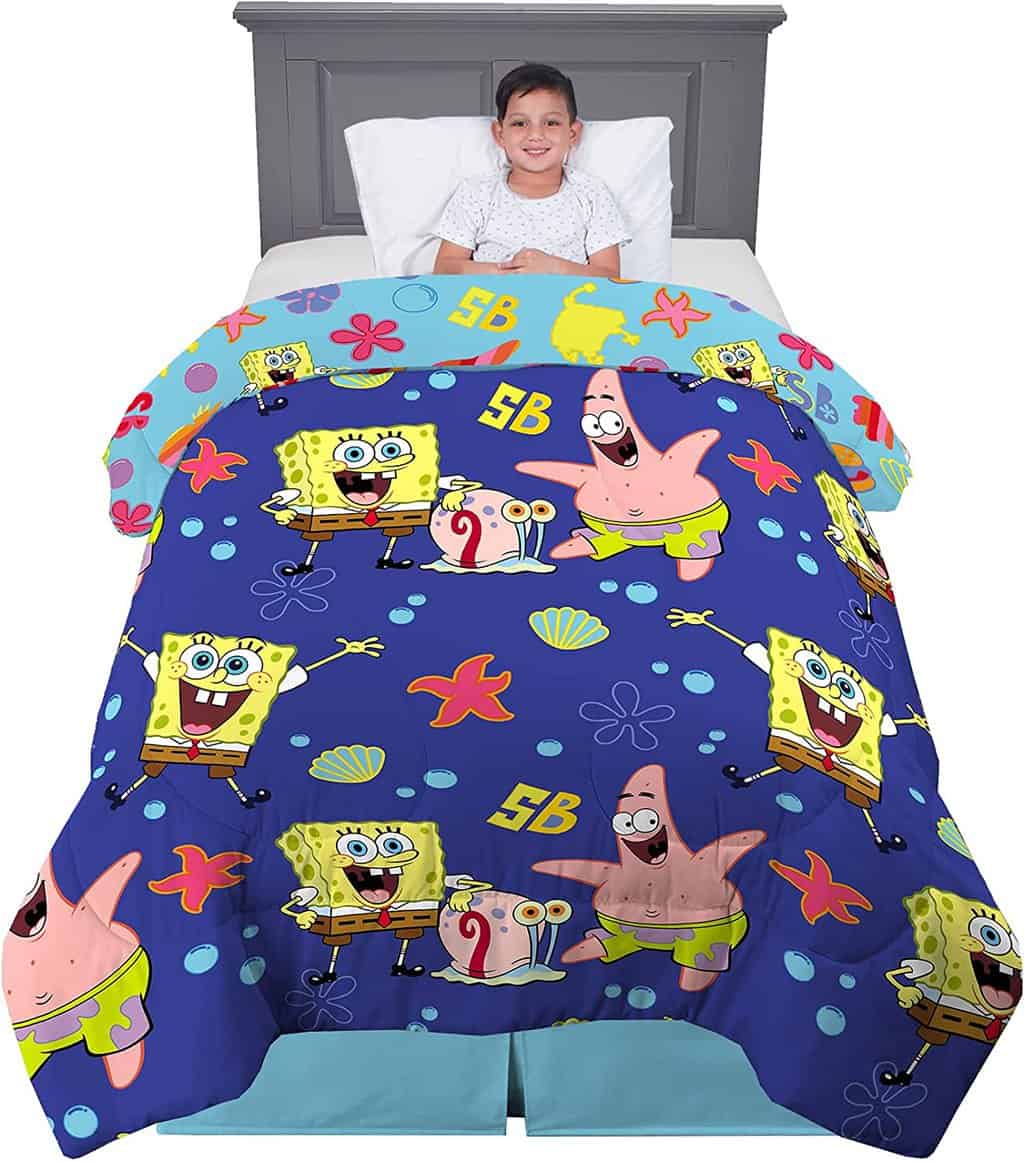 Description
This twin microfiber comforter stuck to my mind due to its double-sided design. You can change the sides whenever you want. This high-quality comforter is suitable for kids of any age. My friend got this blanket for his son, who now loves it and refuses to sleep without it.
It's easy to use and can be carried anywhere due to its lightweight. This blanket is available for just $44.99. Its excellent quality material with a soft and fluffy touch makes it appealing for kids.
Pros
Readily available in twin and full size. 

You can wash it in the machine with cold water quickly.
Cons
This twin comforter is only available in one color, which may not be suitable for some people.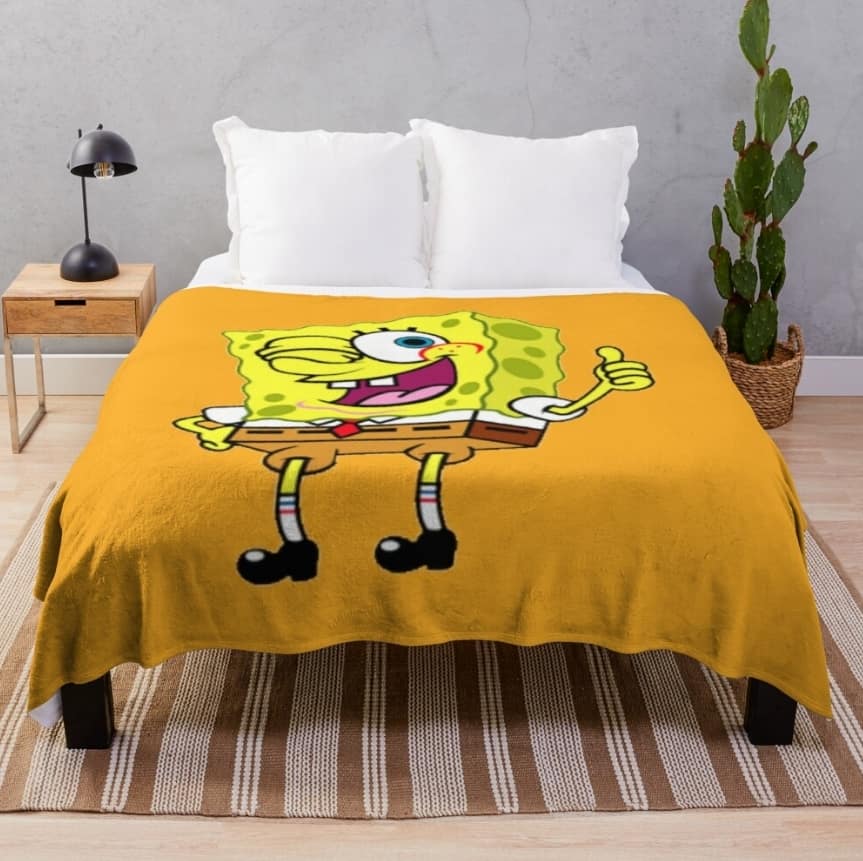 Description
This thumbs-up meme sticker throw blanket is what you need to see on dull days. It is designed by Grace Cop at Redbubble, who loves to make SpongeBob products.
This polyester fleece blanket features a SpongeBob "thumbs-up" design. It's a clean look with a cheerful design that best appreciates your hard work after a tiresome day. Its yellow-orange color is vibrant and bright, with the reverse being a plain off-white. It is available for just $55.19.
Pros
It is made of 100% polyester fleece with durable and long-lasting fabric.

It is machine washable with no need for ironing.

This soft fluffy art is available in all three sizes (small, medium, and large).
Cons
Its yellow color is pleasant for the eyes. But it may not be appealing to some people.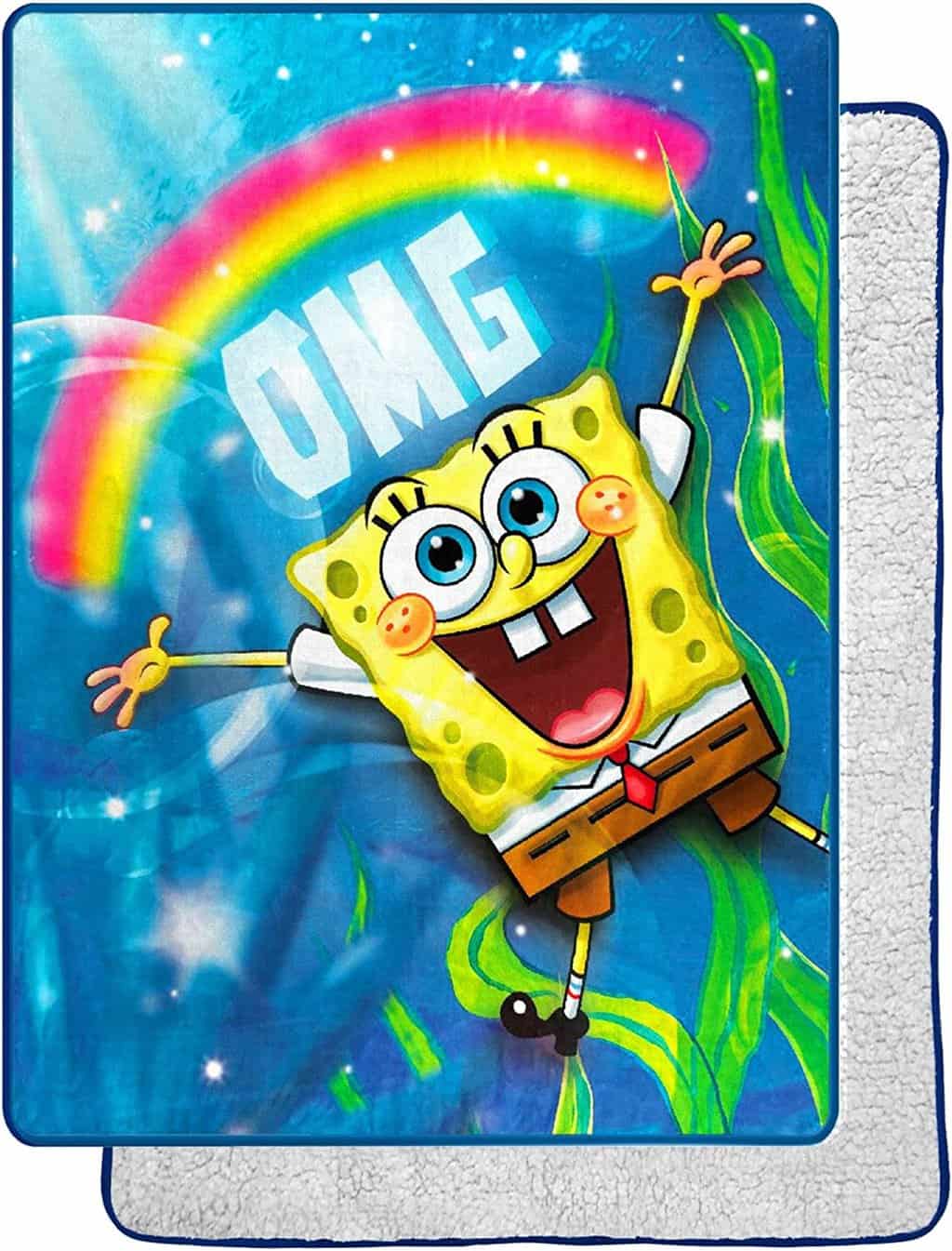 Description
My younger sister picked this one while selecting a gift for my nephew. Having a companion for choosing a gift was good, and a second opinion never hurts.
This OMG oversized throw blanket is the perfect choice for rainbow lovers. Its bright underwater color scheme makes it a refreshing touch to bedrooms. SpongeBob, full of fun and joy, makes this blanket more attractive for kids. It is available only for $48.90, which is quite reasonable for this high-quality product.
Pros
This super soft and cozy blanket is made of 100% polyester, making it long-lasting.

It has neutral color binding all over the edges, which is unique and attractive.
Cons
It is available only in one color, which may not be suitable for some people.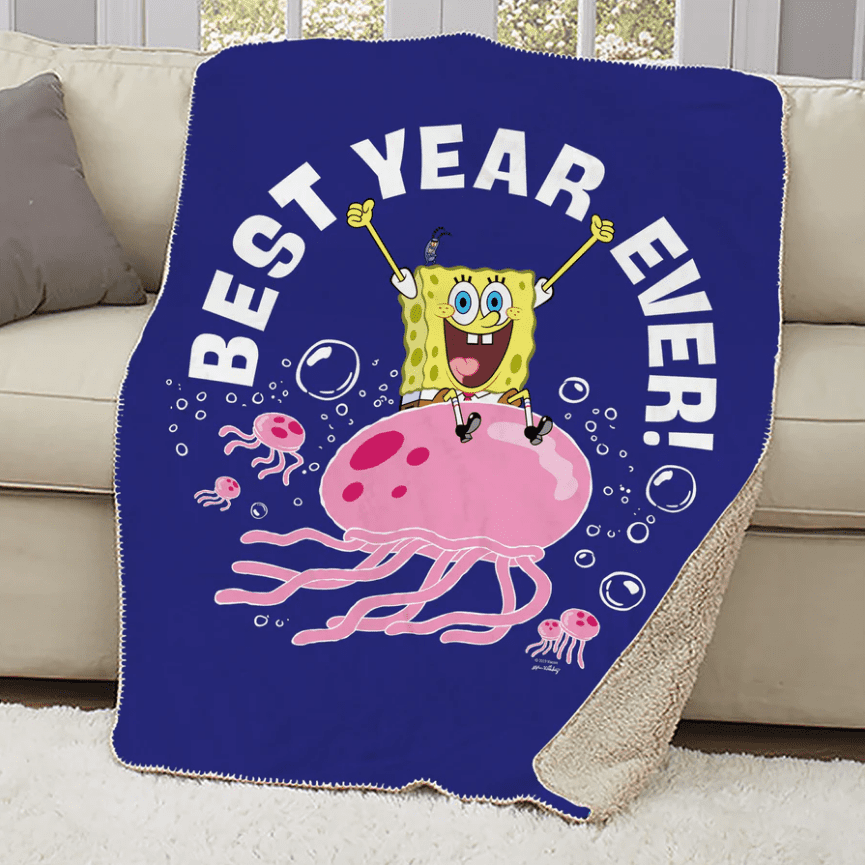 Description
This SpongeBob SquarePants best year ever jellyfish Sherpa blanket reminds me of my childhood friend. I spent my best childhood years watching my favorite cartoon series with him. This Sherpa blanket is super comfy on cool winter nights and a good companion in the cold. It certainly made those years the best ever.
The high-quality polyester makes it durable and wrinkle-free. It would be an excellent choice to consider if you want to give a gift to a fellow SpongeBob fan and collector. It is available for just $49.95.
Pros
This comfortable blanket is made up of yarn-stitched edges, which make it exceptionally soft and fluffy.
Cons
It is available only in bright blue, but some people may prefer a different color, making it less appealing.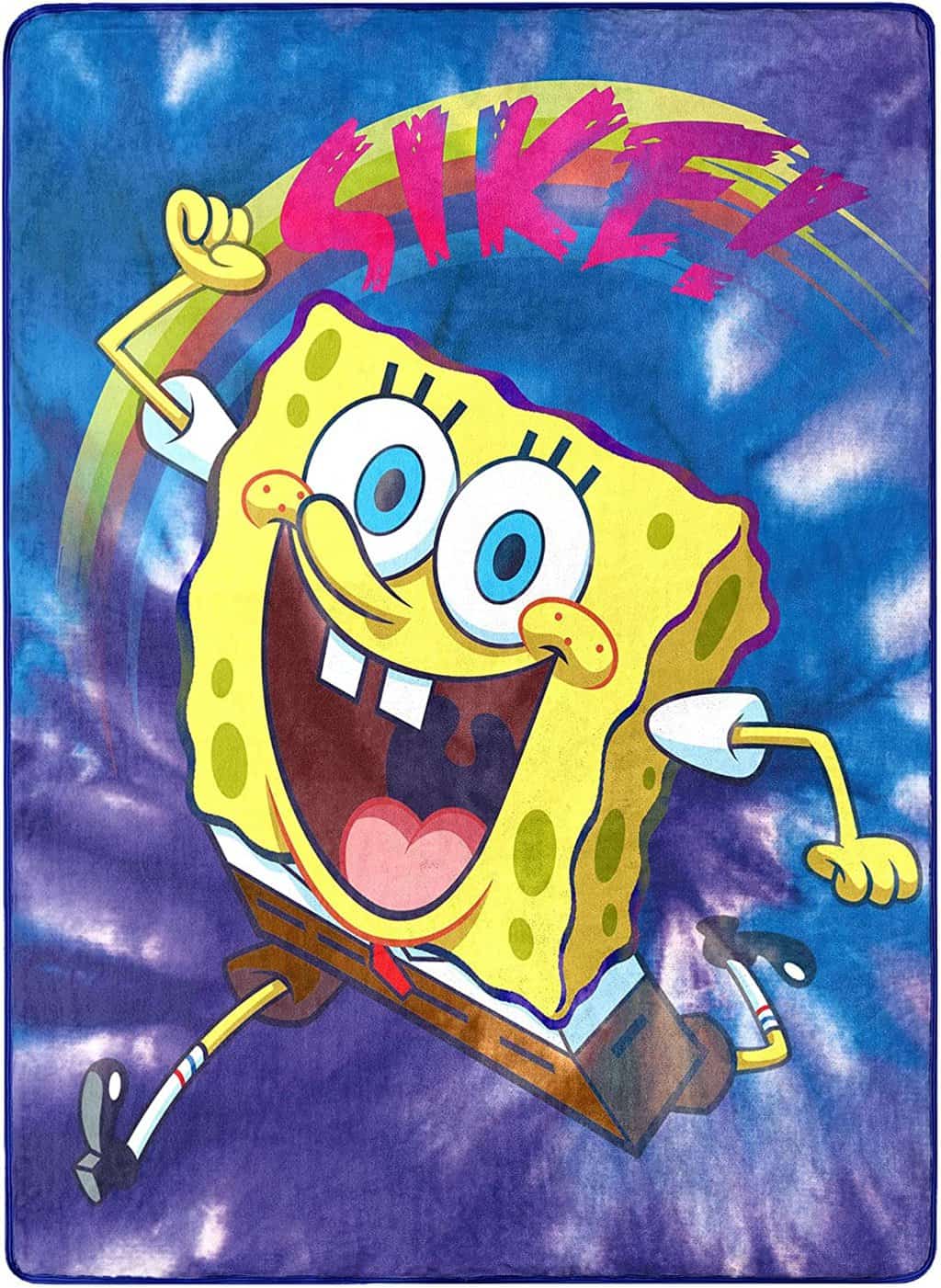 Description
SIKE! This tie-dye blanket reminds me of energetic kids and exciting moments. The hyper-active design features SpongeBob ready to start an adventure. This northwest SpongeBob tie-dye blanket is made up of pure polyester fabric.
Its lively colors and soft silk touch make it a comfy pick. It is available for $34.99, and only limited numbers are left.
Pros
It has a super soft and silk touch with decorative binding all over the edges.
Cons
Its color scheme is attractive, but it may not be a good choice for some people as it is available in a single color scheme.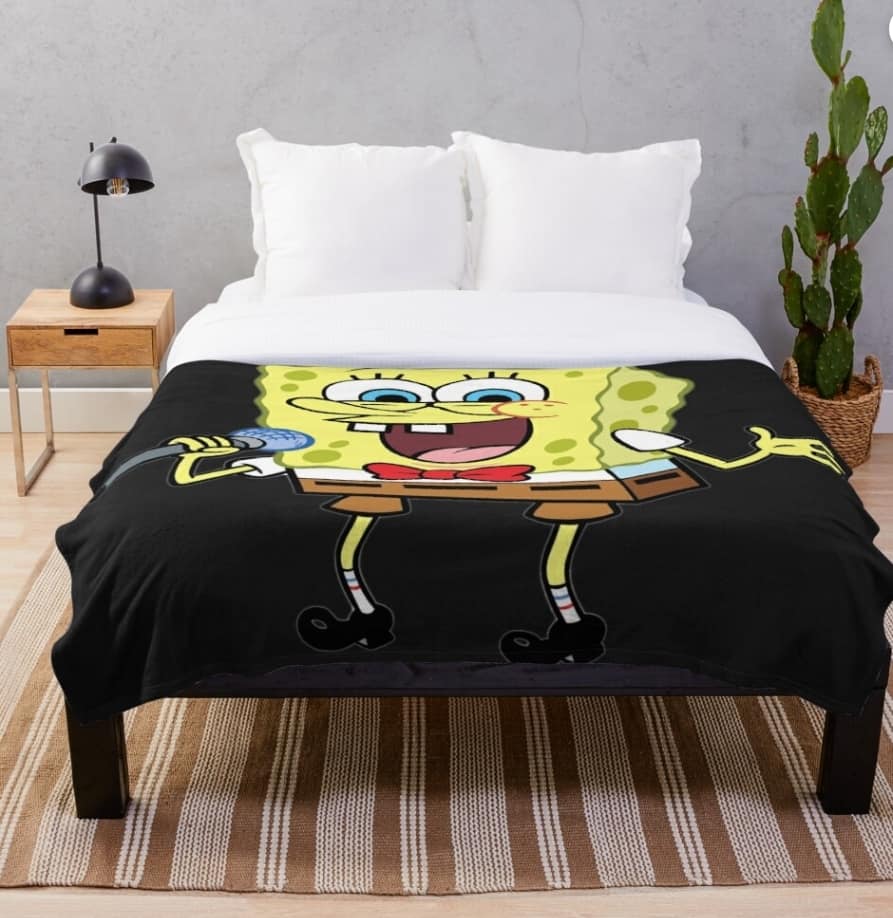 Description
Another fan-made entry from Grace Cop, this throw blanket features SpongeBob with a mic ready to sing his favorite songs. It reminds me of my old friend who always sang the SpongeBob "to love a patty" theme, which was one of his favorite songs. 
The blanket comes in a black background with an off-white reverse print. Being made of durable polyester, It is a good choice for picnics, traveling, and other outdoor plans. This singing throw blanket is available for $42.14.
Pros
This soft, smooth blanket is easily washable in the machine with cold water.

It is available in three sizes (small, medium, and large).
Cons
It is available only in black, which may not be a preferred color for some people.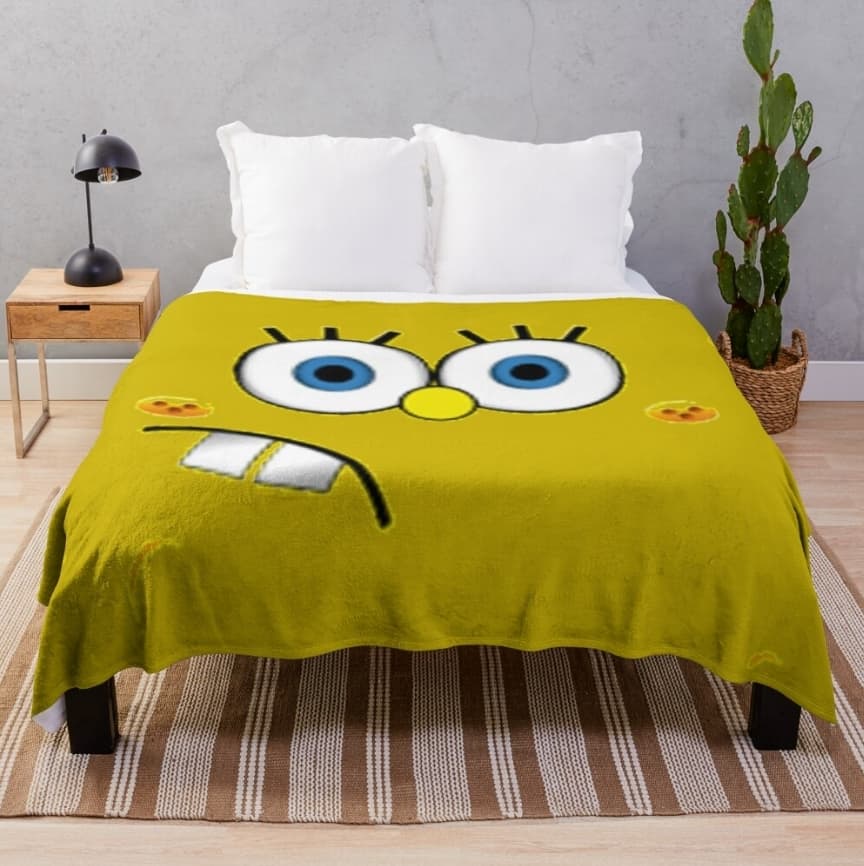 Description
This arguably sad blanket reminded me of the time when I was young, and my parents won't let me watch the show at night. The yellow-colored blanket features a full print of SpongeBob's face with a sad yet questioning expression.
100% polyester, this durable blanket is a good pick for traveling and outdoor adventures. This blanket ranges from $24 to $52.98, depending on size.
Pros
This lightweight and soft-touch blanket is available in all three sizes.
Cons
I love this yellow color of a throw blanket, but it may not be preferred by others as it is available in one color only.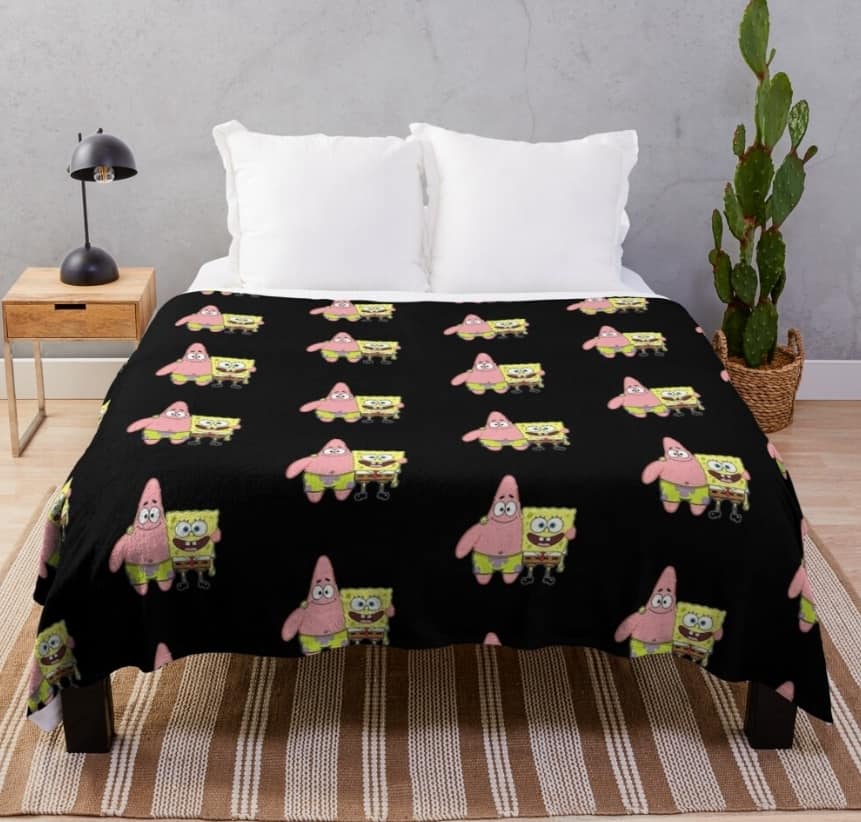 Description
One who shares your joy and sorrow, the one who stays in every good and bad condition. That's what we call a true friend. One example of such a remarkable bond is between SpongeBob and Patrick. While SpongeBob acts relatively maturely, Patrick is undoubtedly the heart of the relationship. He is such a loyal friend who is always there with SpongeBob no matter what. To me, their friendship was the most delightful thing in the whole series.
This soft and comfy blanket is a good choice for Patrick lovers like me. Its reverse is off-white paired with a black background on the front. 
Pros
This black and lovely blanket is available in all three sizes, from kids to young ones.
Cons
Only available in black, which may not be pleasant for some people.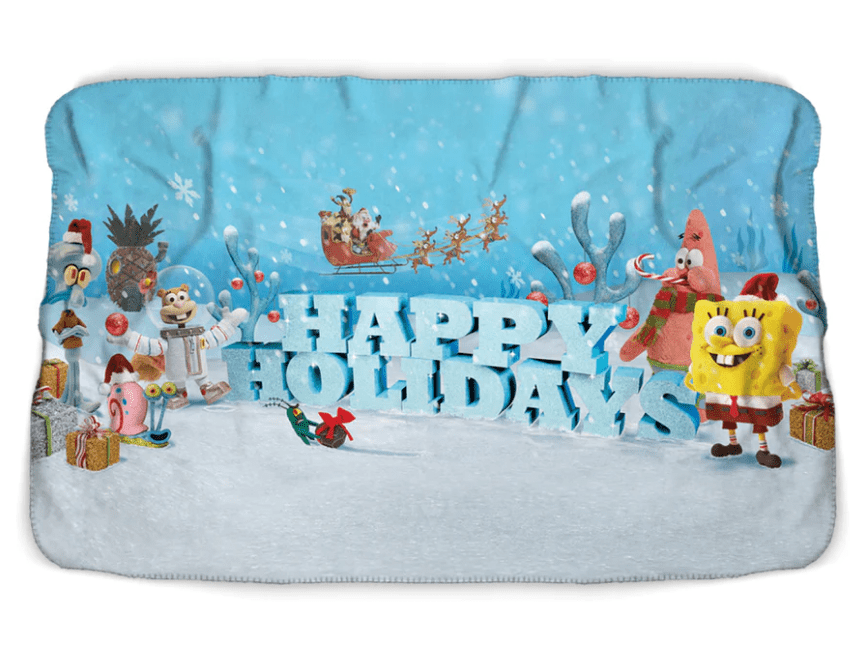 Description
Enjoy your holidays with this happy holiday Sherpa blanket to carry around on your vocational trips. It is easily carriable for cuddling, sleeping, taking a nap, or can be folded around during play time in winters. Its winter colors make it more attractive, and its comfortable touch makes your child warm. Its price is just $49.95, which is quite reasonable.
Pros
This soft and cozy blanket is made of 100% pure polyester and is durable.
Cons
Its colors also give the vibes of Winter, which fascinate me the most. It is available only in one color, which may not be suitable for others, making it less appealing for kids.
Honorable Mentions!
Here are some honorable mentions which could not make it to my top 10 list but are equally as good in terms of quality and designs. I would hate for them to go unnoticed, so here they are!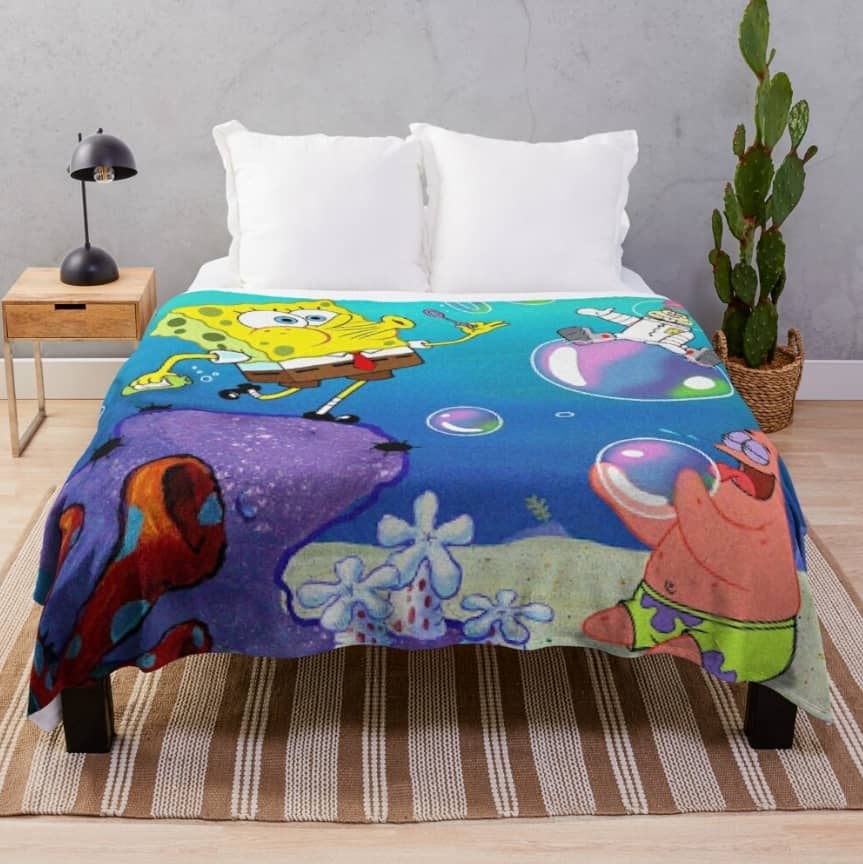 Description
This colorful soft, and fluffy blanket is what can be a good partner on cool winter nights. Its themed design is unique and contains my favorite supporting role as Patrick star and sandy squirrel. My younger sister also chose this blanket as she loves the sandy squirrel very much. 
She just requested me to buy this product for her. Its high-quality polyester fiber makes it durable for kids. Its price ranges from low to reasonable is $24.08 to $52.99. 
Pros
This comfy is available in all sizes for the use of not only kids but other young ones also.
Cons
Its colors are pretty vibrant, but it may not be liked by some people who want this product in other color schemes.
#02 SpongeBob Gay Throw Blanket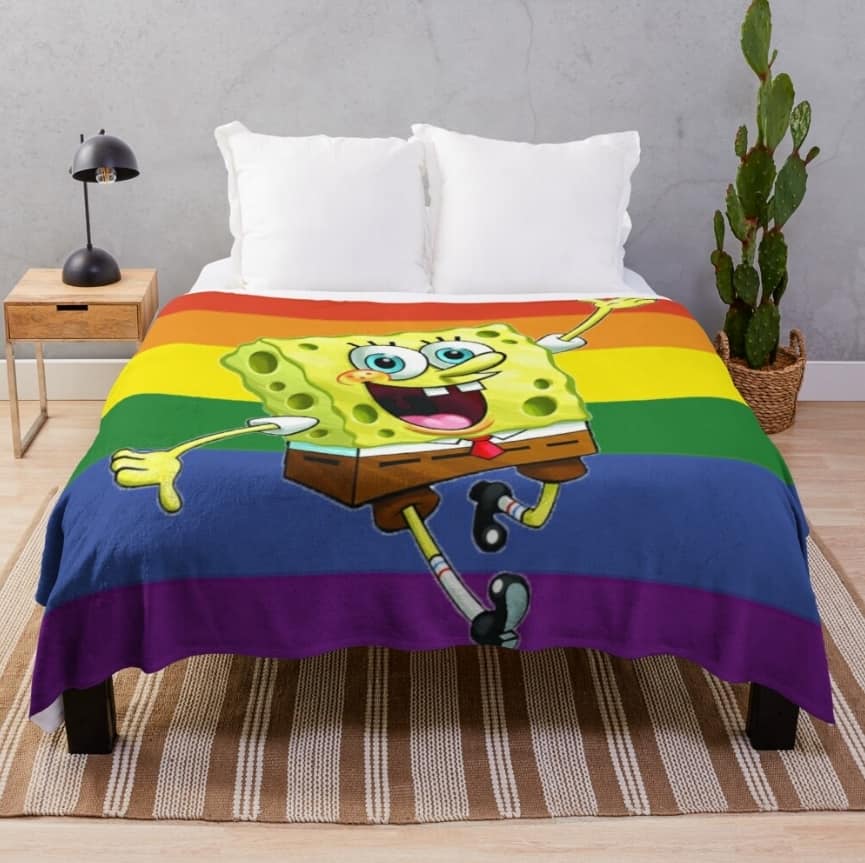 Description
This rainbow-colored blanket is quite lively and refreshing for kids. It reminds me of my childhood days when my friends and I arrange a drawing competition on a rainy day. The bright and excited SpongeBob makes you energetic to work efficiently. 
Its lightweight and fluffy nature make it efficiently carried for traveling and other outdoor purposes. It's made up of excellent quality polyester material, making it more valuable. Its price range from $24.07 to $52.98.
Pros
Easily washable in a machine with cold water.

It is available in all sizes.
Cons
It is available in a single color pattern, making it less appealing for some people.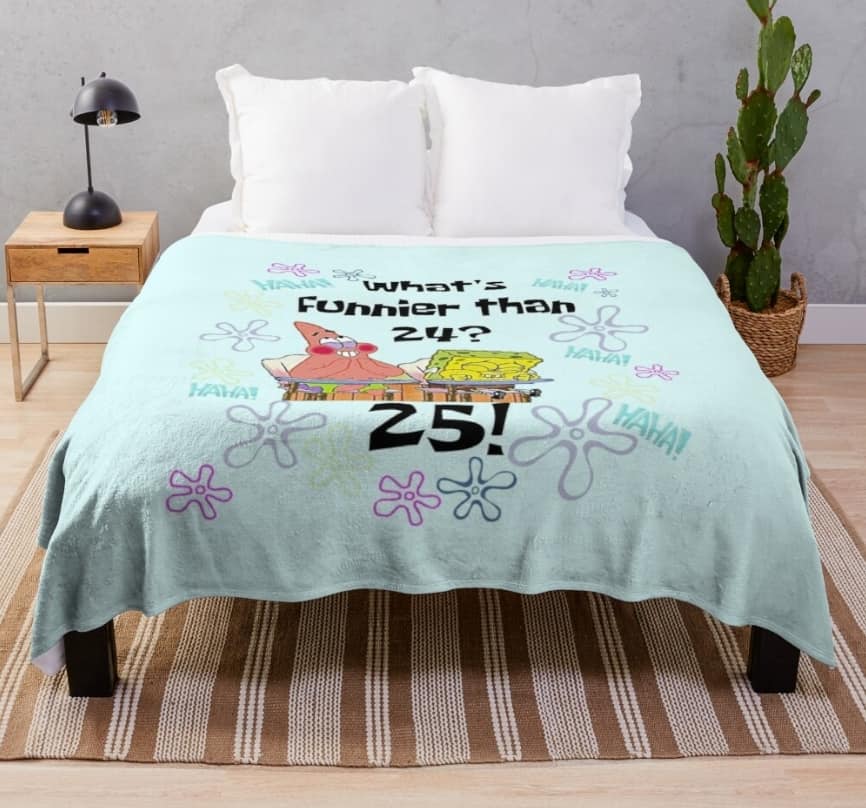 Description
This fun meme patterned design grabs my attention due to its catchy phrase, "what's funnier than 24? 25". The happy and full of joy Patrick and SpongeBob are looking full of life to make you passionate for each day. 
This SpongeBob blanket is soft and comfy for the use of kids. Its exciting colors make it an excellent fit for picky users. The price range from $33.10 to $72.85. Its light blue color makes it a good companion for kids and young ones.
Pros
Its 100% polyester-made fabric is long-lasting and valuable.

It can be easily washed in machines with cold water.

It is available in all sizes, from small to large.
Cons
It is available in light blue, which some people may not like, making it less appealing.
Frequently Asked Questions
Question: Is there any official merchandise available to buy online products of the SpongeBob SquarePants collection?
Answer: Yes, an officially licensed online store is available to get your needed products. It has all varieties of blankets for kids and young ones. You can also get hoodies, trousers, t-shirts, backpacks, and other accessories on Spongebobshop.
This official store contains excellent quality products for your daily need at reasonable prices. It does not mean other stores do not have high-quality products. You can also get numerous SpongeBob products from international stores such as Amazon.com, Hottopic.com, Walmart.com, redbubble.com, and target.com. Here you can get premium-quality products with good customer service.
Question: What can you pair with the SpongeBob SquarePants blanket on your bed?
Answer: It's up to you whether you want pillows or cushions; you can get both from online stores with premium quality material at a reasonable price. All the pillows and cushions are made of high-quality polyester with long-lasting fabric material.
Here you will get a large variety of bed-room accessories at reasonable prices with fewer delivery charges. As my sister is a fan of sandy squirrel, I bought a howdy throw pillow designed with a sandy squirrel for her as a surprise gift.
Question: Are there other themed design blankets except for SpongeBob SquarePants character?
Answer: Yes, there is an extensive collection of blankets with each of our favorite cartoons character. My elder sister bought a blanket designed with a Patrick-themed pattern for her son. It was just perfect for getting along with. Its feather-like weight made it easy to carry around on a picnic and other family tours.
Here is the link to Patrick's star blanket: "Patrick Star" Throw blanket by alyaST14 | Redbubble. In the same way, you can also buy your favorite SpongeBob series character patterned designed products from the online stores mentioned above.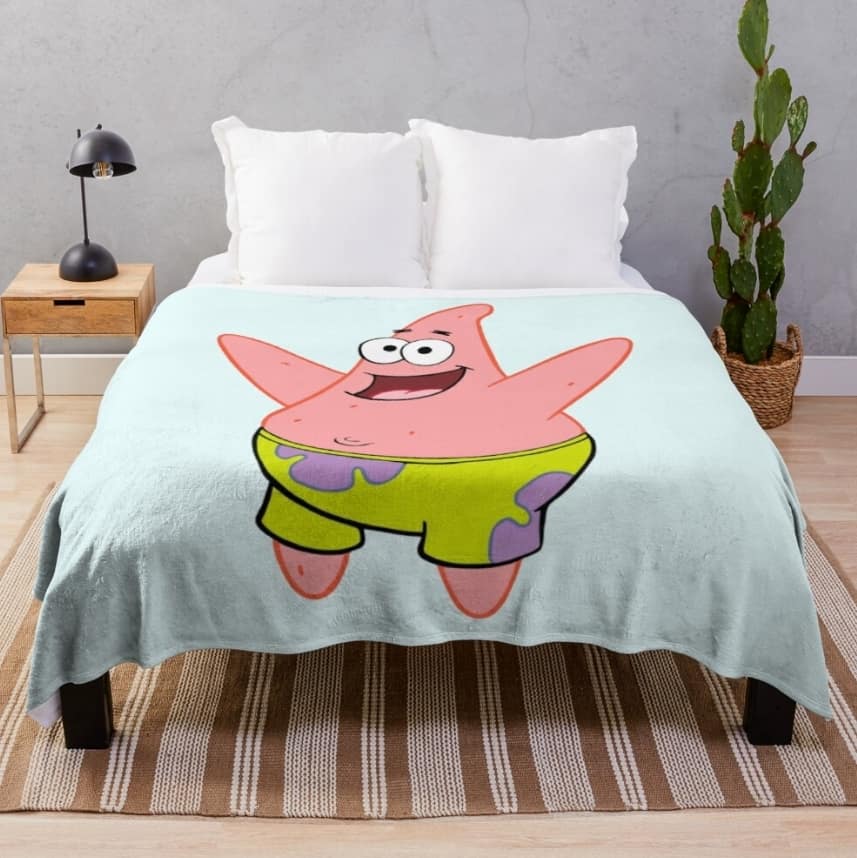 Best SpongeBob SquarePants Blankets Guide: Summing Up
I was pretty excited to write about my favorite cartoon character. These bikini bottom creatures are printed on many more products such as t-shirts, hoodies, backpacks, trousers, and many more. You can check out the other products from their original merchandise shops.
Through this article, I have fulfilled my duty to make you aware of the top blankets guide. Hope you got to see the best collection of blankets. All the products are of high quality, and I am pretty sure about the product condition and material quality. If you want to get a good guide for other home accessories, click on the links below: