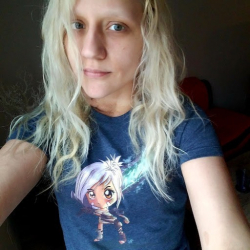 Latest posts by Emily Medlock
(see all)
The best SpongeBob pajamas for kids are the sets kids feel excited about. You want the kid you are getting pajamas for to be passionate about what they are getting because it's in their nature.
SpongeBob pajamas have been popular for decades, with kids from ages 3 to adults in their 30s still enjoying them. It never fails to be included in the most popular cartoons of all time.
That's why saving time shopping and filtering through hundreds of SpongeBob pajamas for kids can be a good idea. I love looking at curated lists before I shop to at least start my journey, and SpongeBob pajamas for kids are no exception.
SpongeBob Pajamas for Kids Top Picks – At A Glance
How to Choose the Right Kids SpongeBob Pajamas
SpongeBob pajamas follow very similar criteria to any other type of pajama for kids. But it's always a good idea to plan things a bit before you start shopping so you know what you're looking for.
Content – When choosing SpongeBob pajamas for kids, make sure that you pay attention to what's on the pajamas. An eight-year-old boy whose favorite character is Squidward may not be too happy with a Pearl set. The same goes for non-canon pajamas, which will not be appreciated.\
Comfort – Comfort has always been important to me, so I advocate for anyone wearing comfortable clothes when possible. If the pajamas aren't comfortable, I won't get them for hardly anyone unless they specifically ask for them.
Versatility – Kids tend to get attached to certain clothing. So ensure that whatever you get them will be good for a while. They may wear their favorite SpongeBob jammies every time they can, fresh out of the wash.
Quality – Quality is a big one for me, so I only buy certain brands sometimes. But in the case of SpongeBob pajamas, the brand isn't important. You have to dig deeper, look at reviews, and trust curated lists to find good quality sets.
Summer SpongeBob Pajamas for Kids
Summer sets are my favorite because I tend to wear shorts all year; even as a kid, I did this. I also think that summer is a better vibe for SpongeBob because in Bikini Bottom, it seems to be summer in most episodes.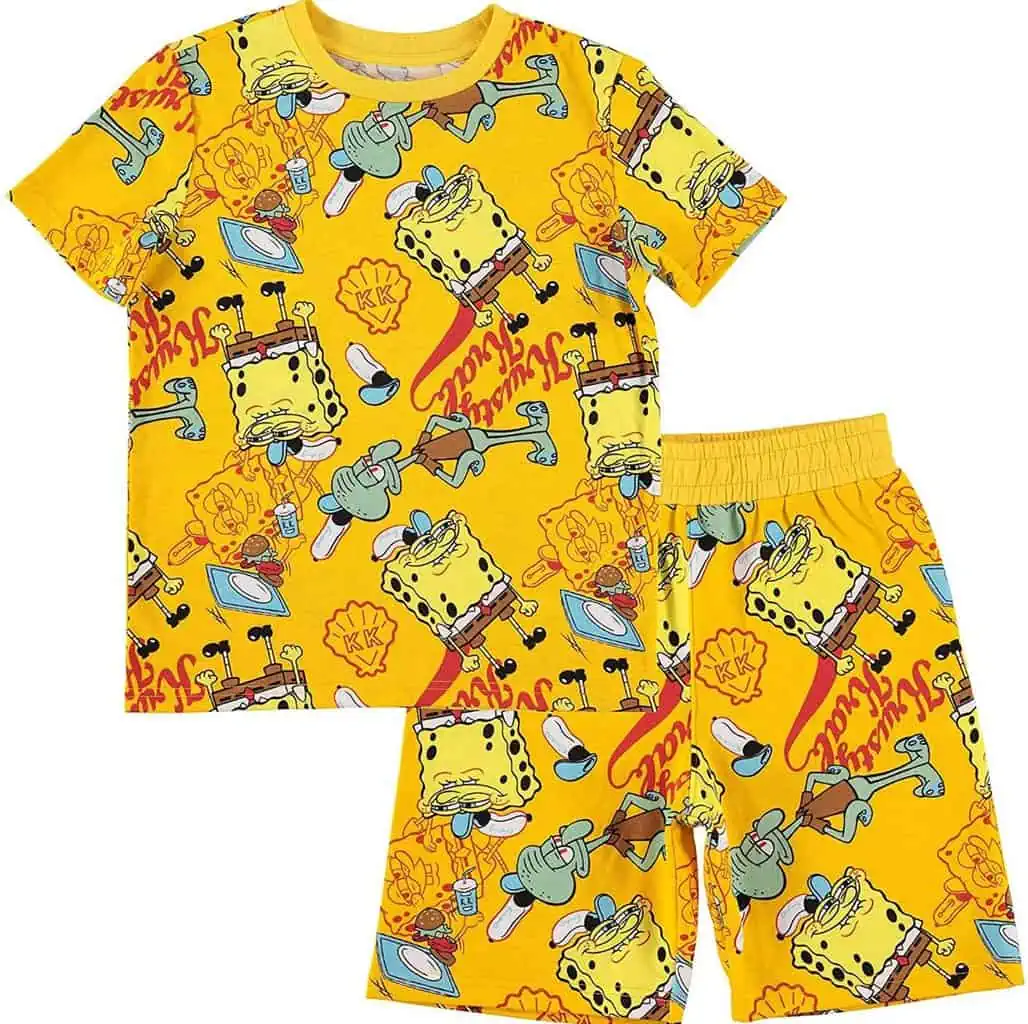 Both of these sets are amazing. As someone who has shamefully messaged businesses just so I could say, "Is this the Krusty Krab?" I condone this set more than you know.
The trouble is I can't decide which one I like better. They both have smug SpongeBob, the Krusty Krab, and amazing colors. So I guess that it's a tie for me, though your young ones might have a preference.
Pros
Two choices
Features Krusty Krab
Six sizes
Cons
Thick waistband
Not technically pajamas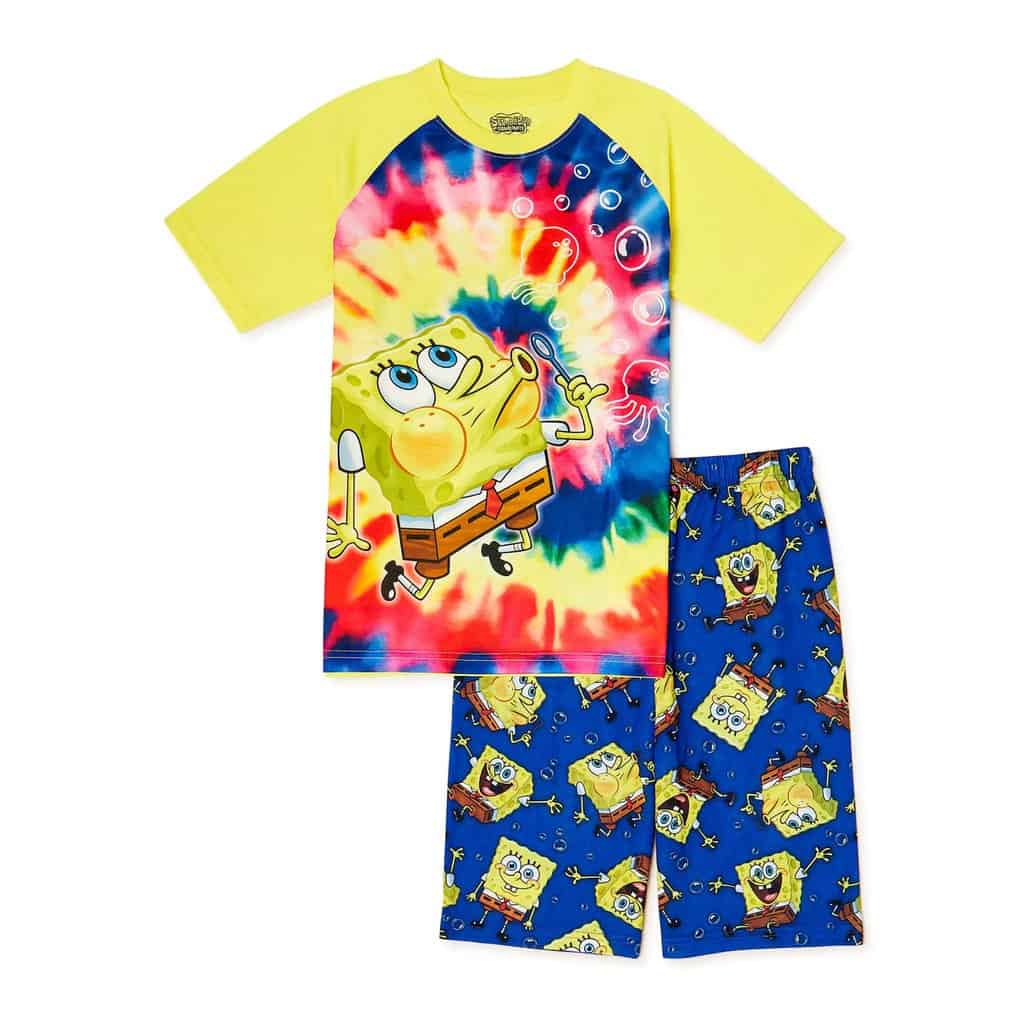 Tie-dye is another favorite of mine, proven by the fact that I've made tie-dye shirts multiple times, the last time being in 2023. This set is super fun, mixing some of SpongeBob's favorite things.
When I saw this tie-dye set and realized bubbles and jellyfish were two of my favorite things in SpongeBob, it also made me realize this is the vibe that SpongeBob and I share.
Pros
Vibrant
Doesn't wash out
Lightweight
Soft
Cons
Only goes to size 8
No cotton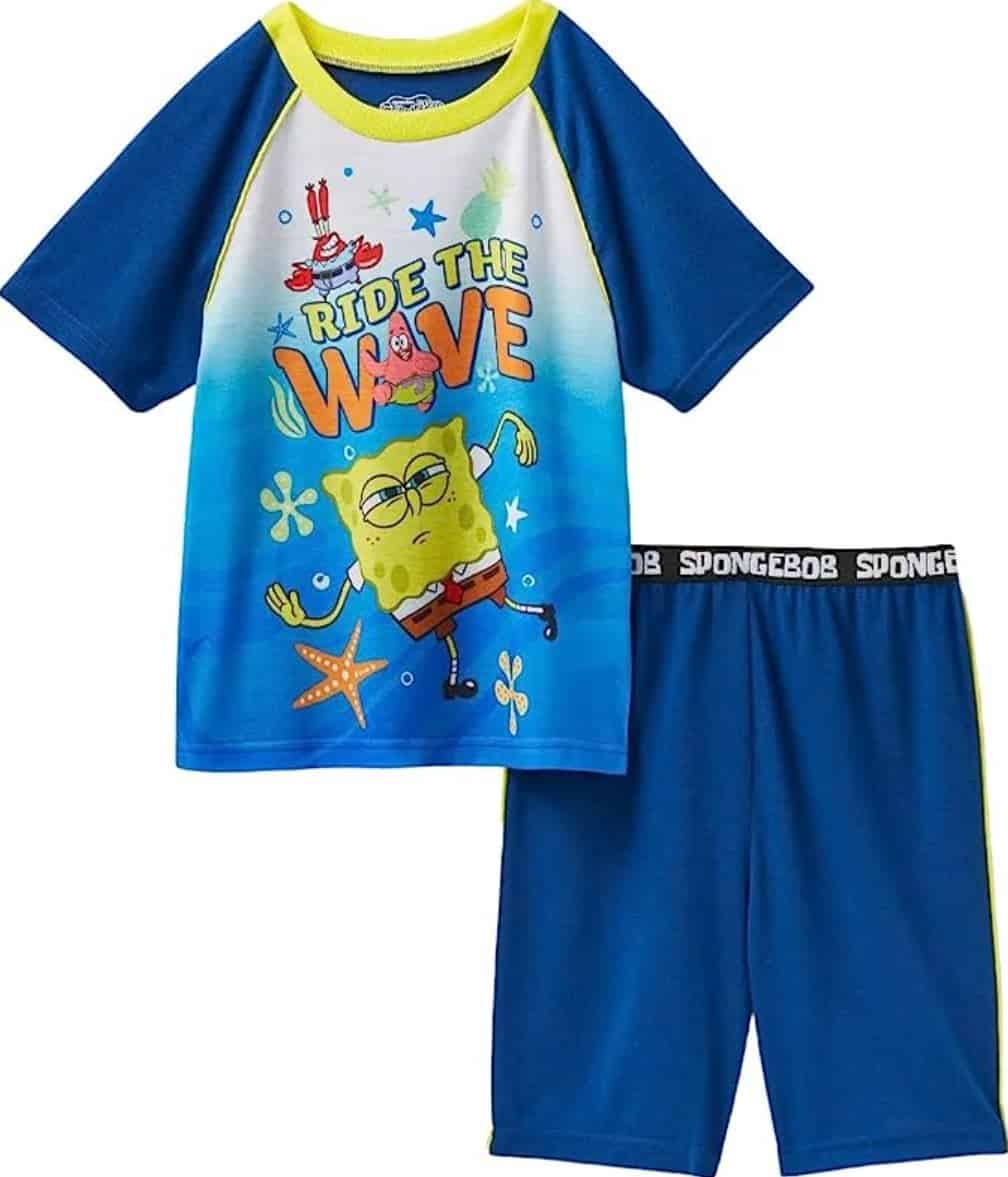 This set gives amazing Bikini Bottom vibes. I find that most SpongeBob SquarePants pajama sets lean in a different direction, but this one takes advantage of the surfer dude feel that fits in Bikini Bottom.
If your kid has mentioned Jack Kahuna Laguna or Scooter, then they will definitely like this set. Just make sure you catch the wave because they outgrow the available sizes.
Pros
Unique summer vibe
Breathable
On the cheaper side
Cons
Separate waistband
Not a classic look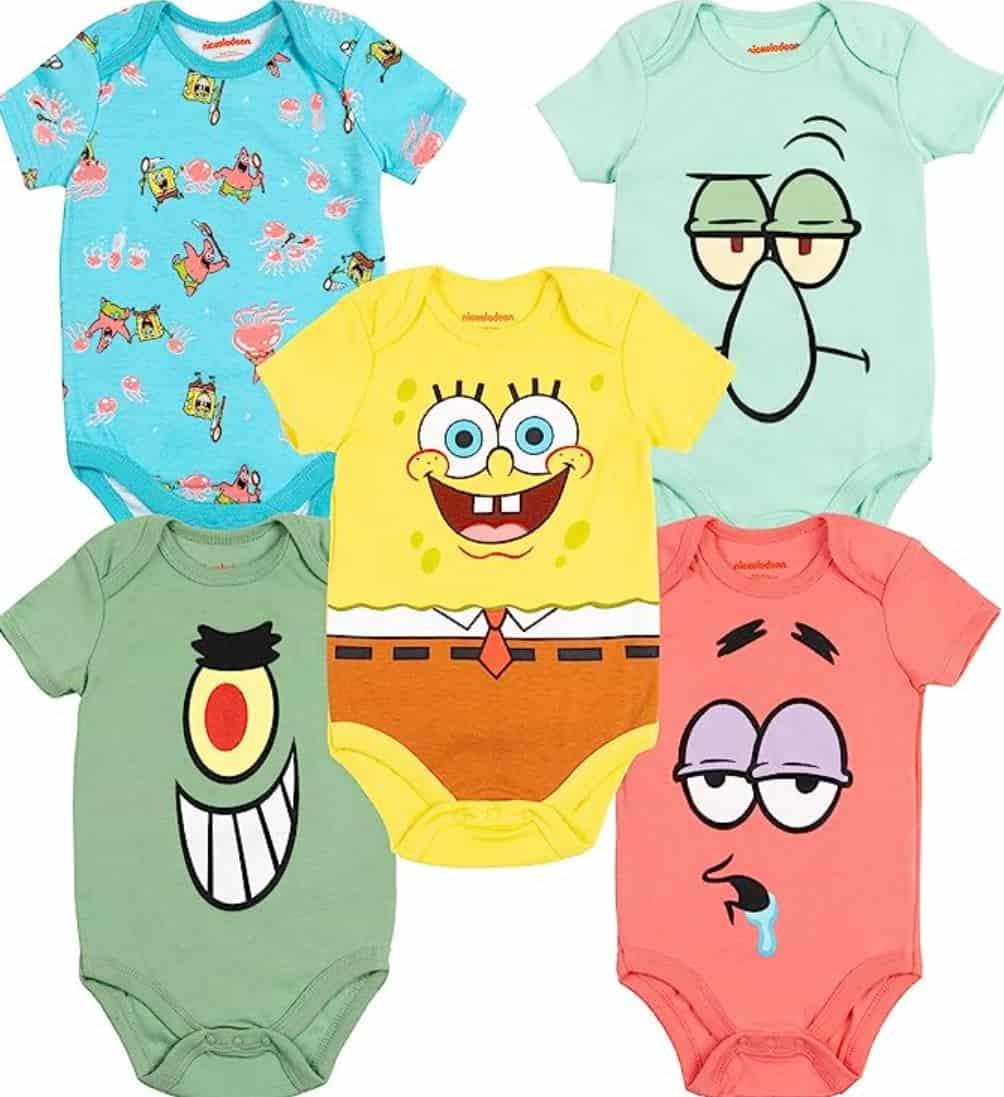 I'm always quick to endorse this set because my summer daughter lived in cut-off onesies when she was a baby. Some people prefer keeping the onesies intact, and I totally understand.
This set is super cute and has four main characters, plus an extra jellyfish bodysuit. The quality is amazing because it comes from the official SpongeBob SquarePants collection.
Pros
Has all infant sizes up to 24 months
Five pack
Classic fit
Cotton blend
Cons
Some orders fell apart
Price seems to fluctuate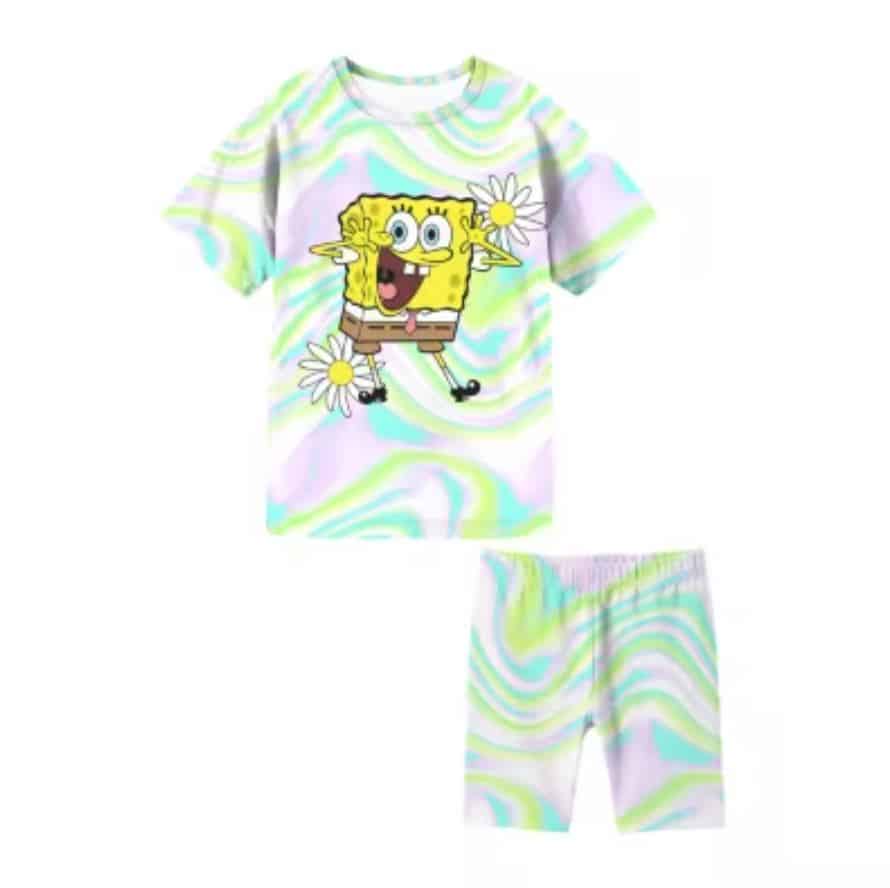 This set from JCPenney is a winner in my book because I love its 60s/70s feel. If your kid feels that most SpongeBob pajamas are too obnoxious or too boring, they may love this set.
I've also worn similar styles, and let me tell you that they are comfy, much comfier than something fluffy or snug fit. They have just the right amount of stretch yet are still cozy during the summer.
Pros
Comfortable
Stretchy
One of the only feminine graphics
Cons
Top and bottom are two different fabrics
Colors may be off in picture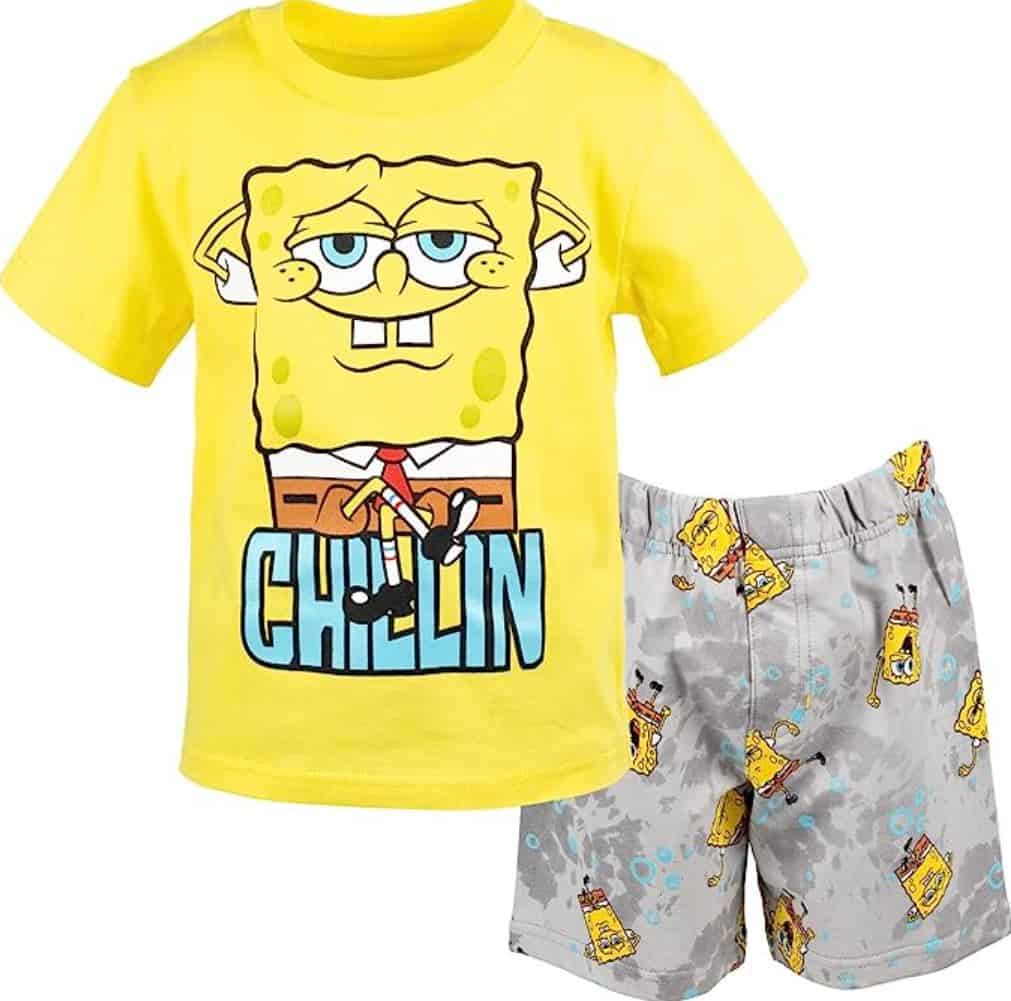 I believe this set would suit older kids who want to transition to adult sizes. It comes in sizes 6 to 20, so most kids can wear it, though don't be surprised if you find them wearing the shirt with jeans.
After all, it is just a really cool SpongeBob shirt rather than a pajama top. The shorts aren't pajamas either but they work for pajamas just as well as real pajamas.
Pros
Sizes up to 20
Works for daytime and bedtime
Classic neutral graphic
Cons
Shorts are thick
Shirty may shrink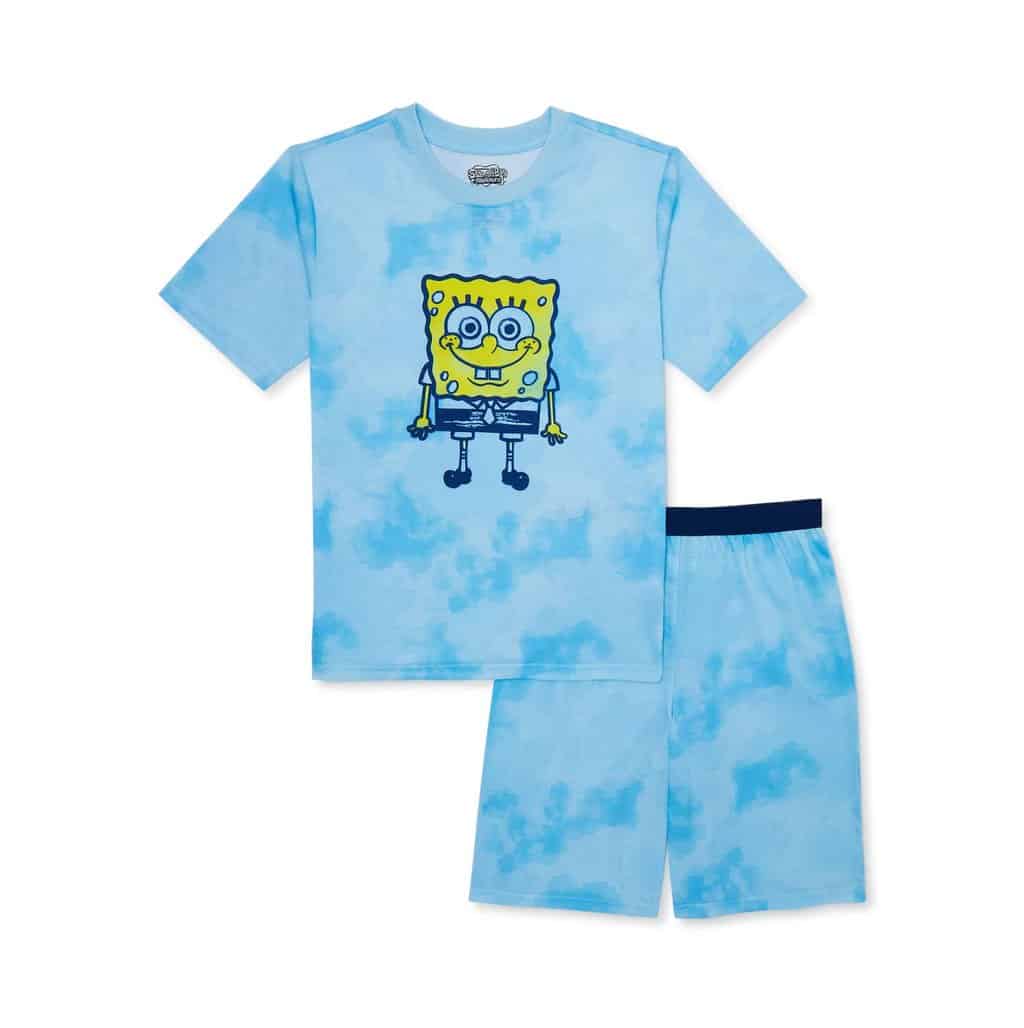 The wash on this set is perfect in my eyes because I love good distress. I think the look here is meant to be SpongeBob floating in the clouds, with SpongeBob being phased in as if in a dream.
This set is super affordable, too, ringing in as the cheapest option on the list. So if you want a quick and cute set, this one is it because you're unlikely to find a set of new SpongeBob pajamas any cheaper.
Pros
One of the only super simple choices
Unique artistic wash
Shorts can be worn as non-SpongeBob shorts
Cons
Waistband may roll
Often out of stock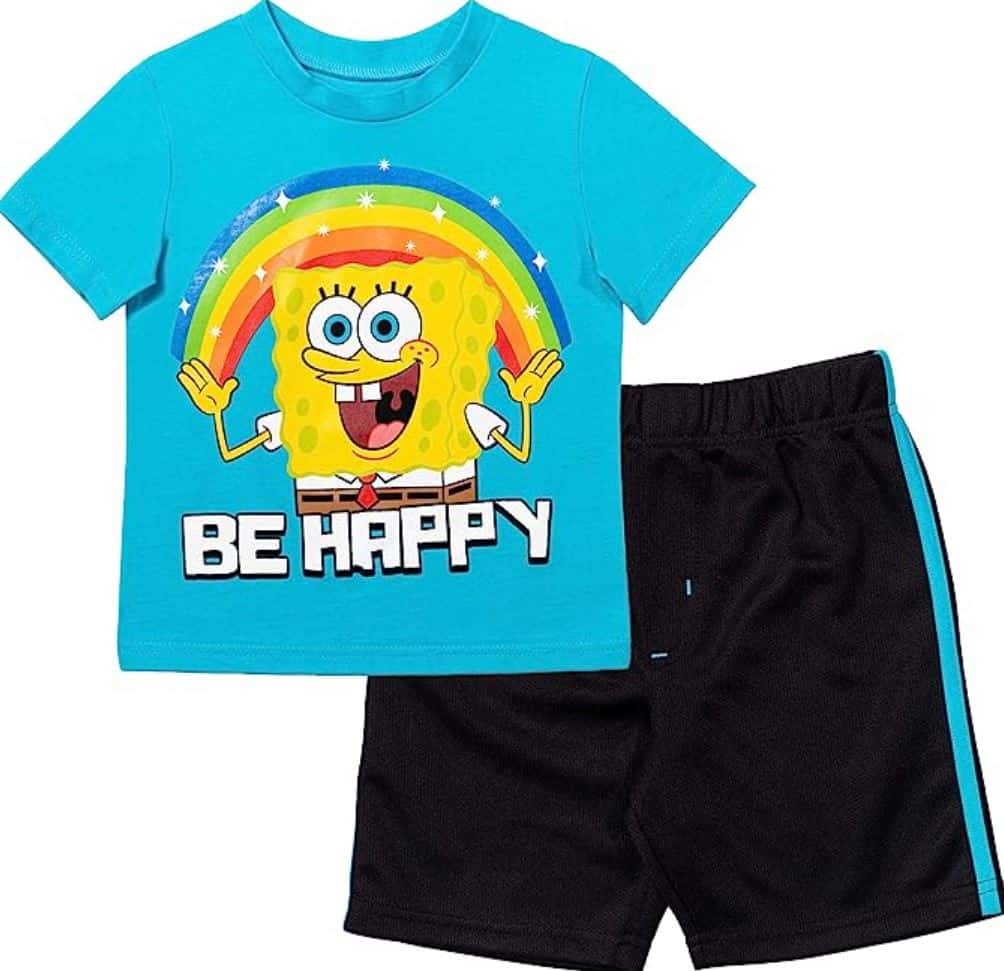 All four of these sets are great. My favorite is the dripping ice cream one with Mr. Krabs, Patrick, SpongeBob, and Squidward. But all four are amazing and the one you choose would depend on the kid that would wear the PJs.
The set comes in ten sizes, fitting ages 4 to 20, so almost any kid can wear them. Because they aren't technically pajamas but are comfortable enough for pajamas, kids can wear these all day and all night without any worries.
Pros
Four choices
Cheap
Shorts work for any occasion
Cons
Often out of stock
Design may fade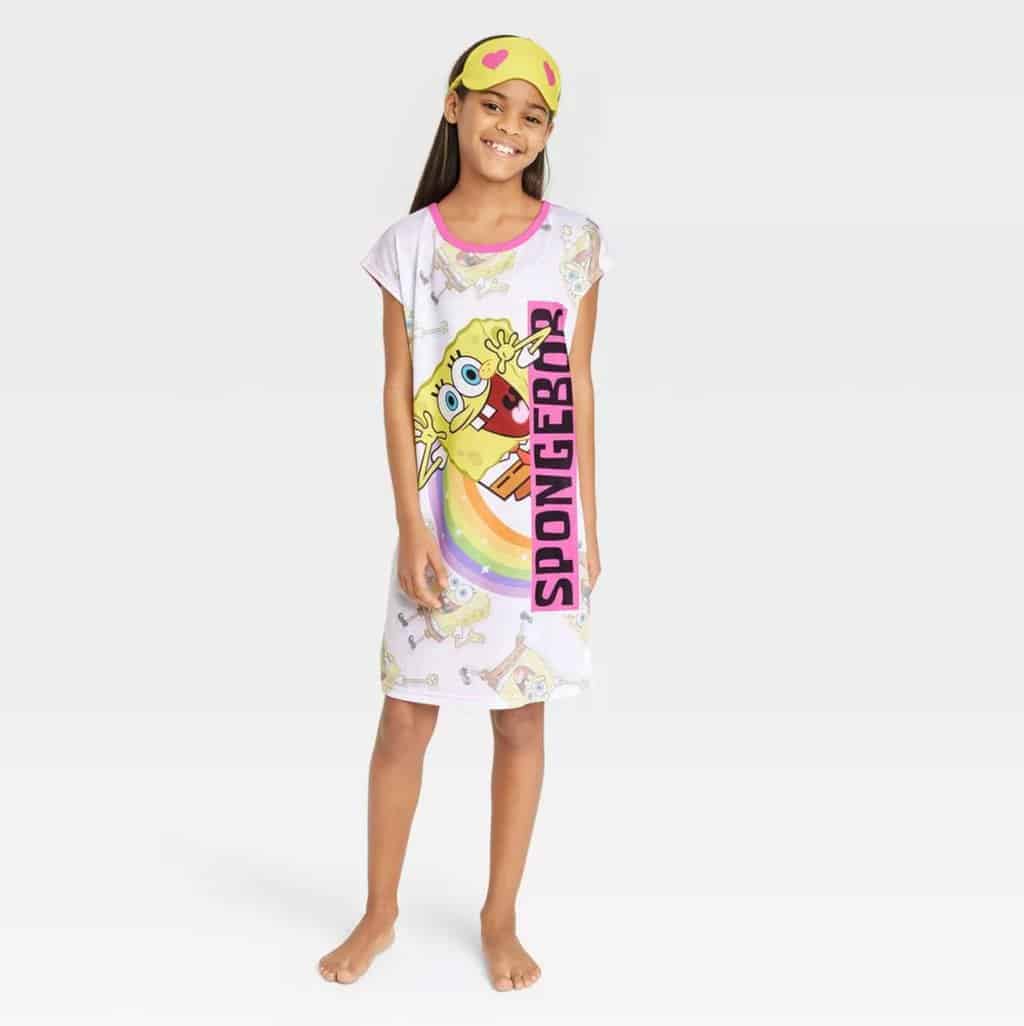 Nightgowns were my favorite sleepwear for a long time. I wore this exact style with faces from Lisa Frank, Barbie, and Pokemon, to name a few. So I know that the trending characters would make many girls happy today.
The type of graphic on the front with the plain pink back is so classic. But I've noticed that sleeping masks are trending now with kids this age. Luckily, this one comes with an emoji mask which goes well with any pajama set.
Pros
Emoji sleeping mask
Comfortable
Lightweight
An adorable design for a nightgown
Cons
It doesn't come with the slippers pictured (kids notice this type of thing)
Only at Target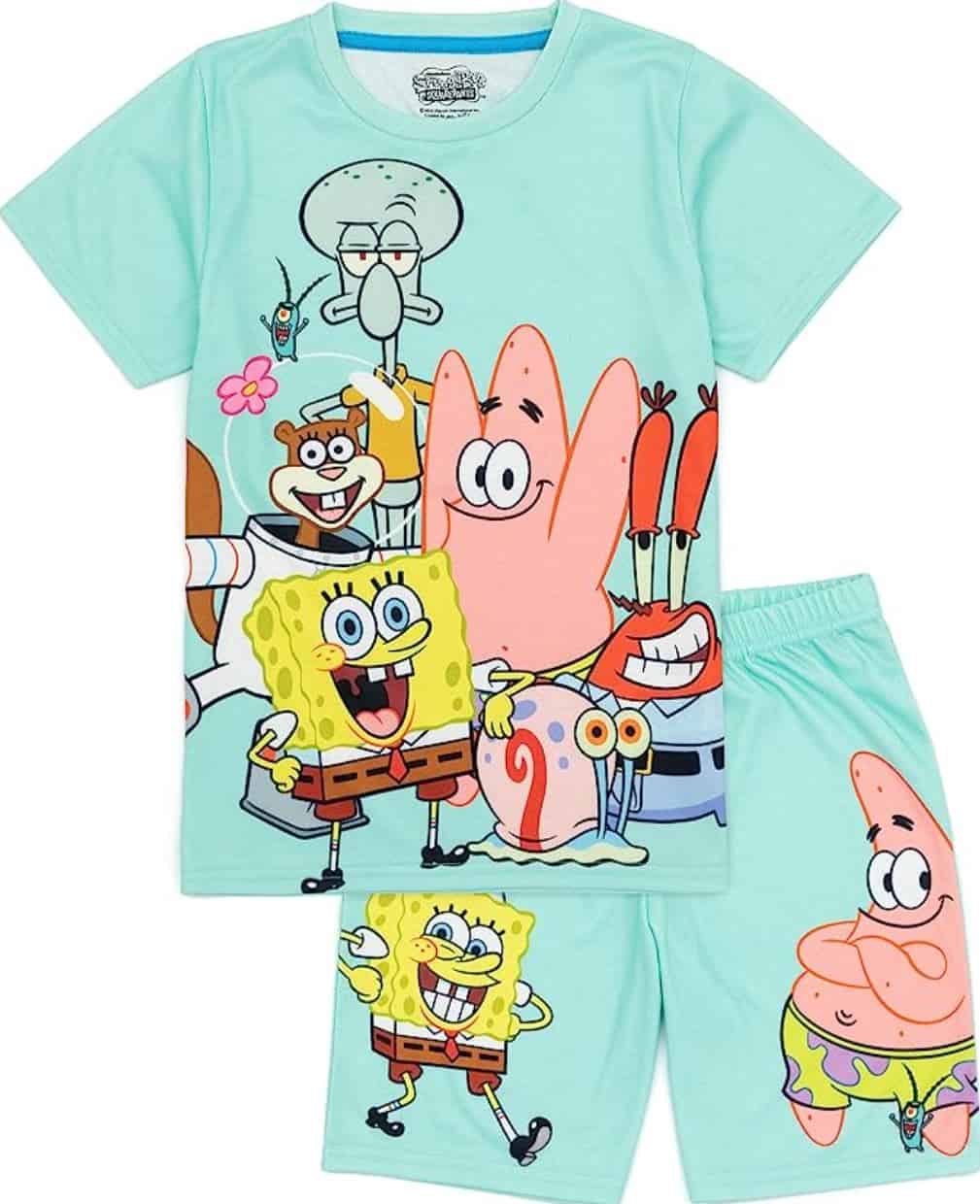 I love seeing everyone together in this set, and I think kids will too. There's a super good chance that your kid's favorite character will be on these jammies, which is always exciting.
What I like most is the color which is a popular favorite color yet somehow rare color in this type of merch. The set also works for daytime play because the material is comfortable and doesn't look like pajamas.
Pros
Comfortable
Graphic with all friends
Unique color
Large size selection
Cons
Slightly pricey
Color may not suit every kid
Winter SpongeBob Pajamas for Kids
Winter is coming, so be prepared with the best winter SpongeBob pajamas for kids. I love getting cozy with jammies on a cold winter night when I have nothing to do but drink hot cocoa and watch Netflix.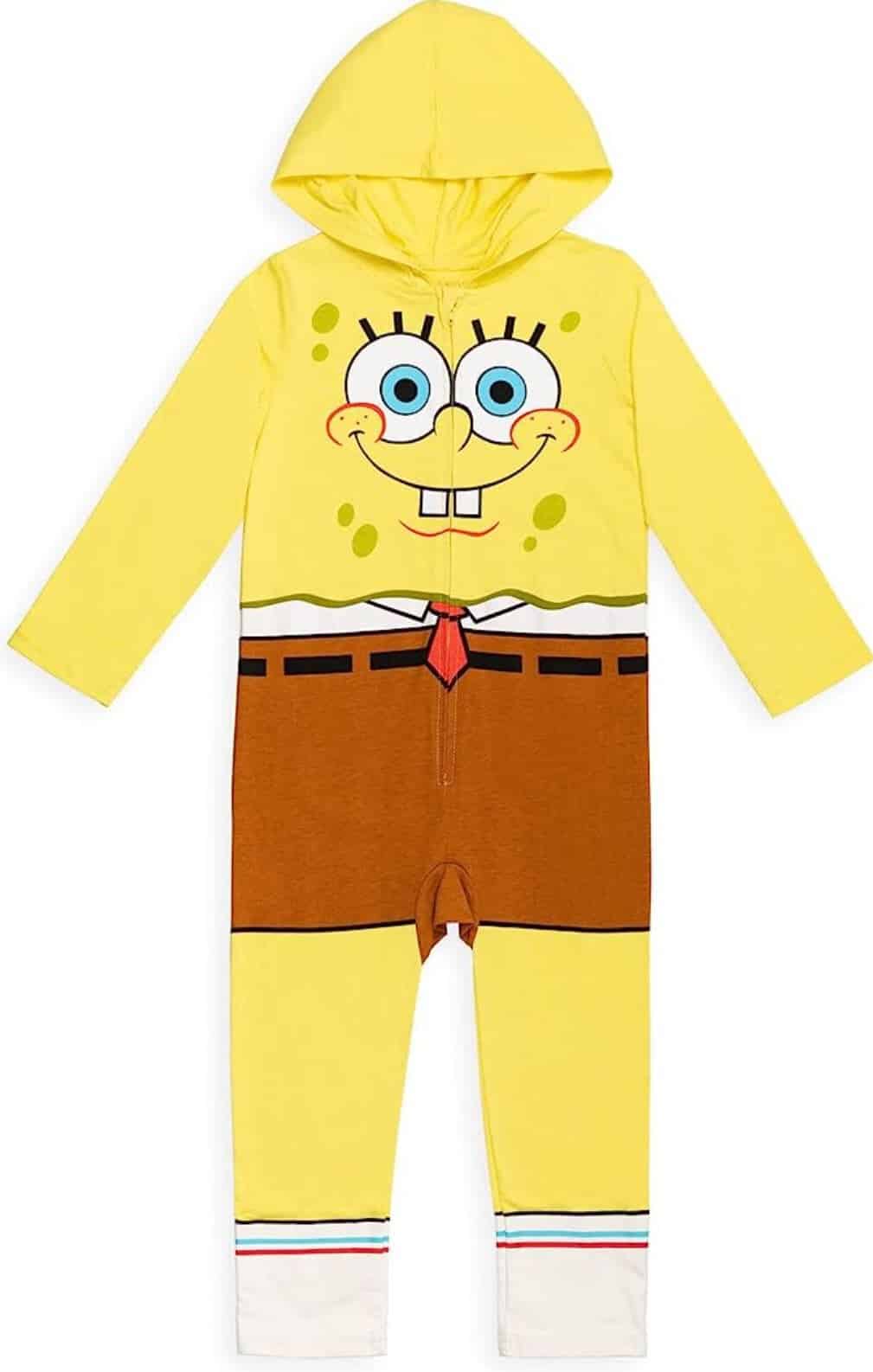 I hope hooded onesies are still trending because this is my favorite winter pick. The details here are so good. It has the SpongeBob socks, the tie, and the holes from SpongeBob's pores in the back and front.
But what I admire most is that it comes in all sizes for kids, and that's not an exaggeration. You can get it in a size 0 or a size 20, so anyone, even many adults, can find a size to suit them.
Pros
It's a onesie
The socks are crowd-pleasing
Zip-up
Baby sizes are cheaper
Cons
The zipper may come off
Not thick and cozy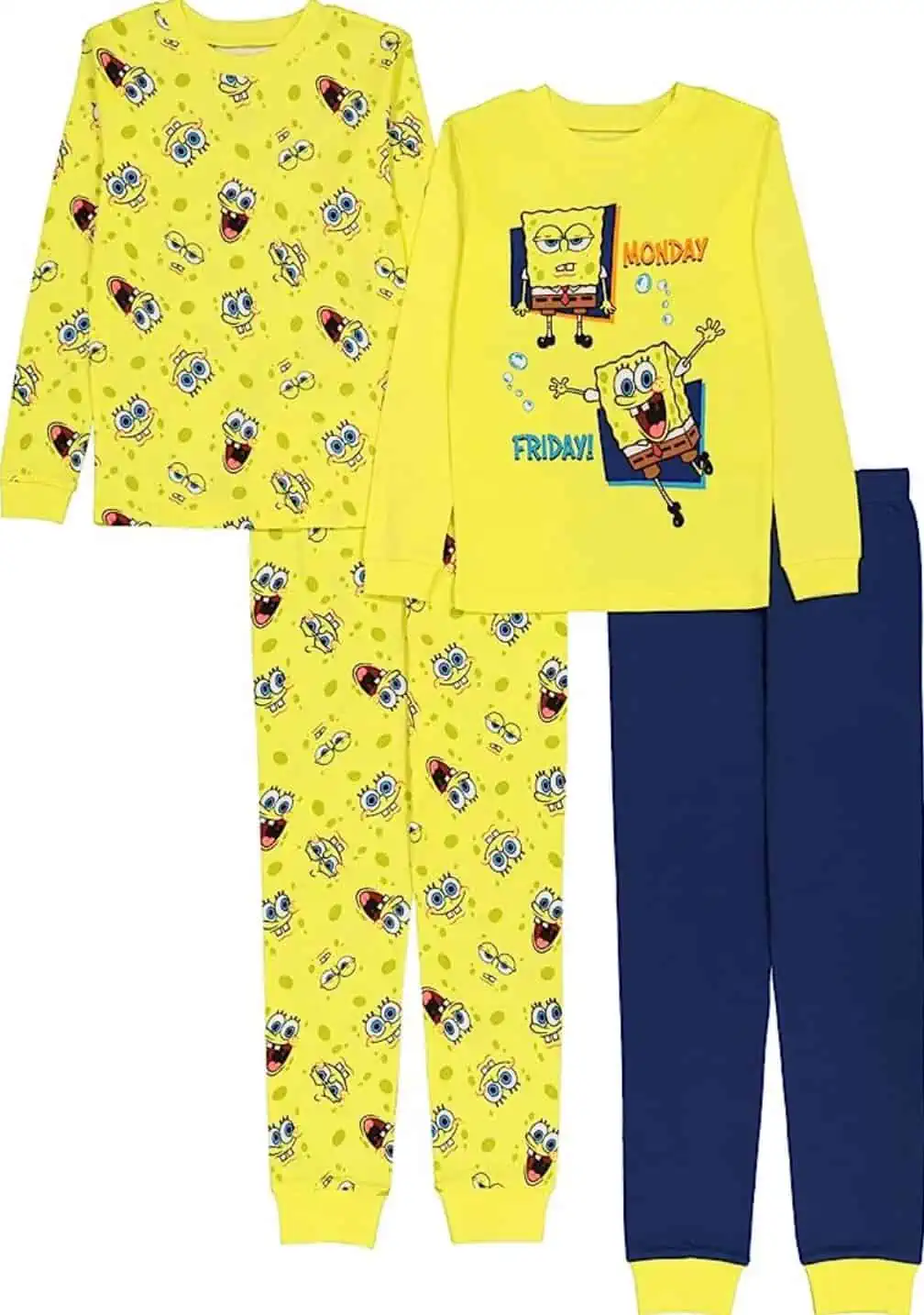 These pajamas have classic snug-fit cotton, which younger kids seem to enjoy. The mixture of Monday vibes and Friday vibes here is comical and sure to entertain any kid who understands the meme.
If you're looking for a budget set, this is it because you get two sets for the price of one. It isn't double the price just because it has double the pajamas. Hopefully, you can find it in the right size.
Pros
Affordable
Double set
Meme-y
Cons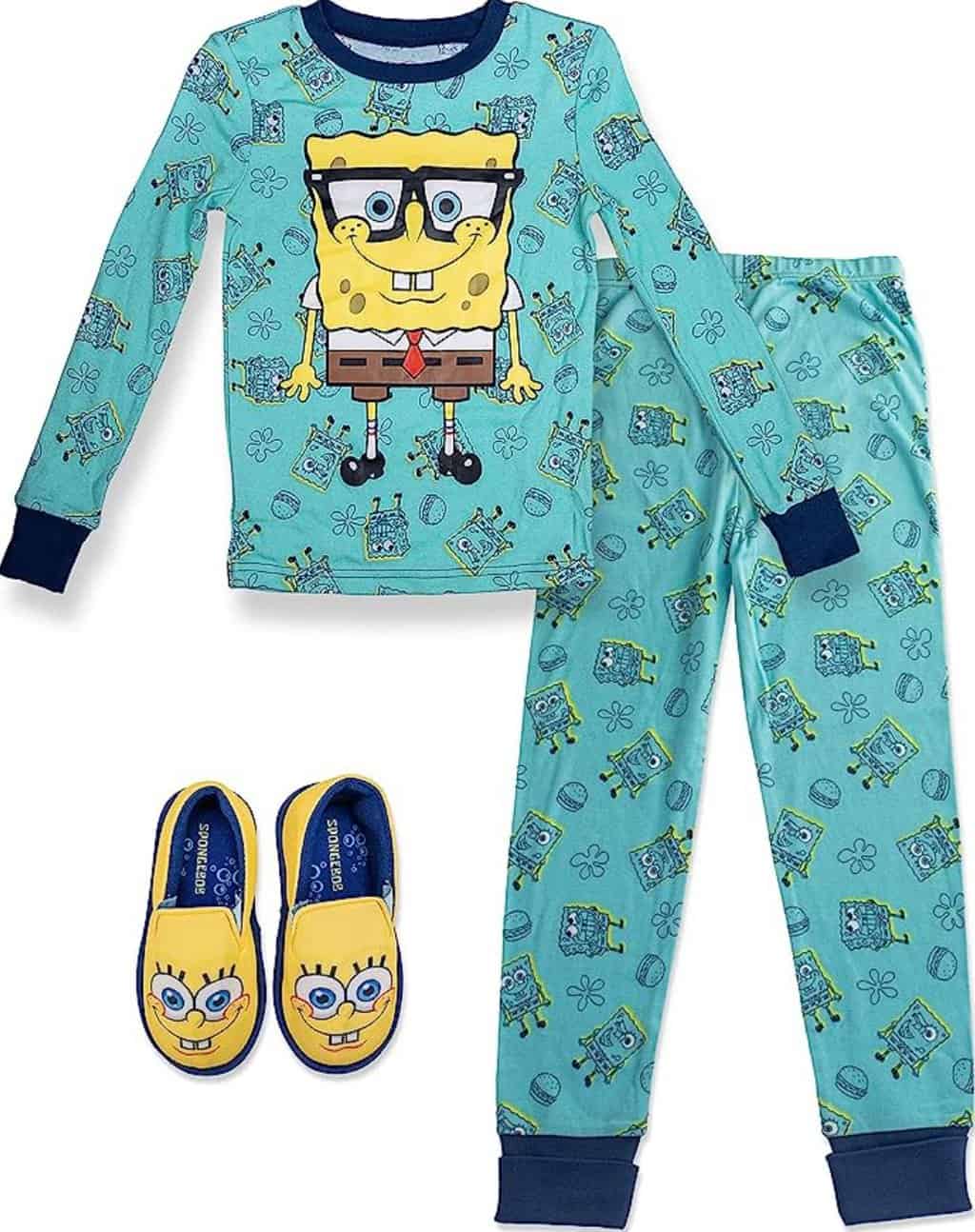 Nerd SpongeBob is one of my favorite versions, so I admit I'm partial to this set. The color, the facial expressions, the Krabby Patties, and the extra slippers made me instantly fall in love with this.
One thing about this nerd set that may not suit everyone is the price tag and the fact that it's difficult to find in other sizes. But if you want to splurge then this would definitely be my choice.
Pros
Comes with slippers
Unique look
Only one that features nerd SpongeBob
Cons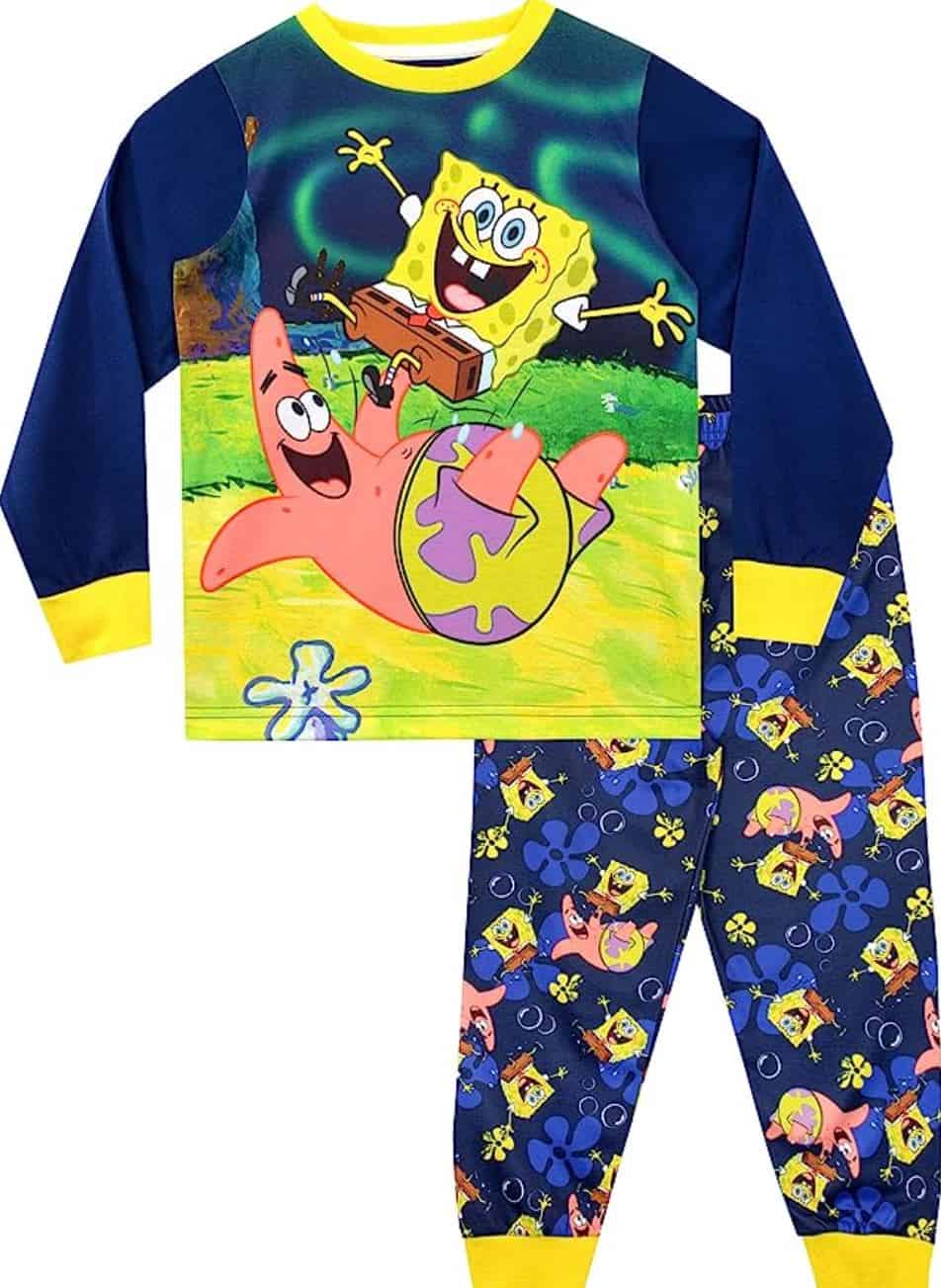 This set gives major FUN vibes, which capture SpongeBob's essence. It is simple enough that it isn't overstimulating but exciting enough to keep kids attached for years to come.
It comes in quite a few sizes as well, which makes sense considering there are plenty of kids of all ages that would like this set. According to reviews, this is one of the best sets on the list, as hundreds of kids have confirmed they love them.
Pros
Graphic is great for younger kids
Classic pajama fit
Great quality
Cons
Older kids may not love graphic
Slightly on the higher end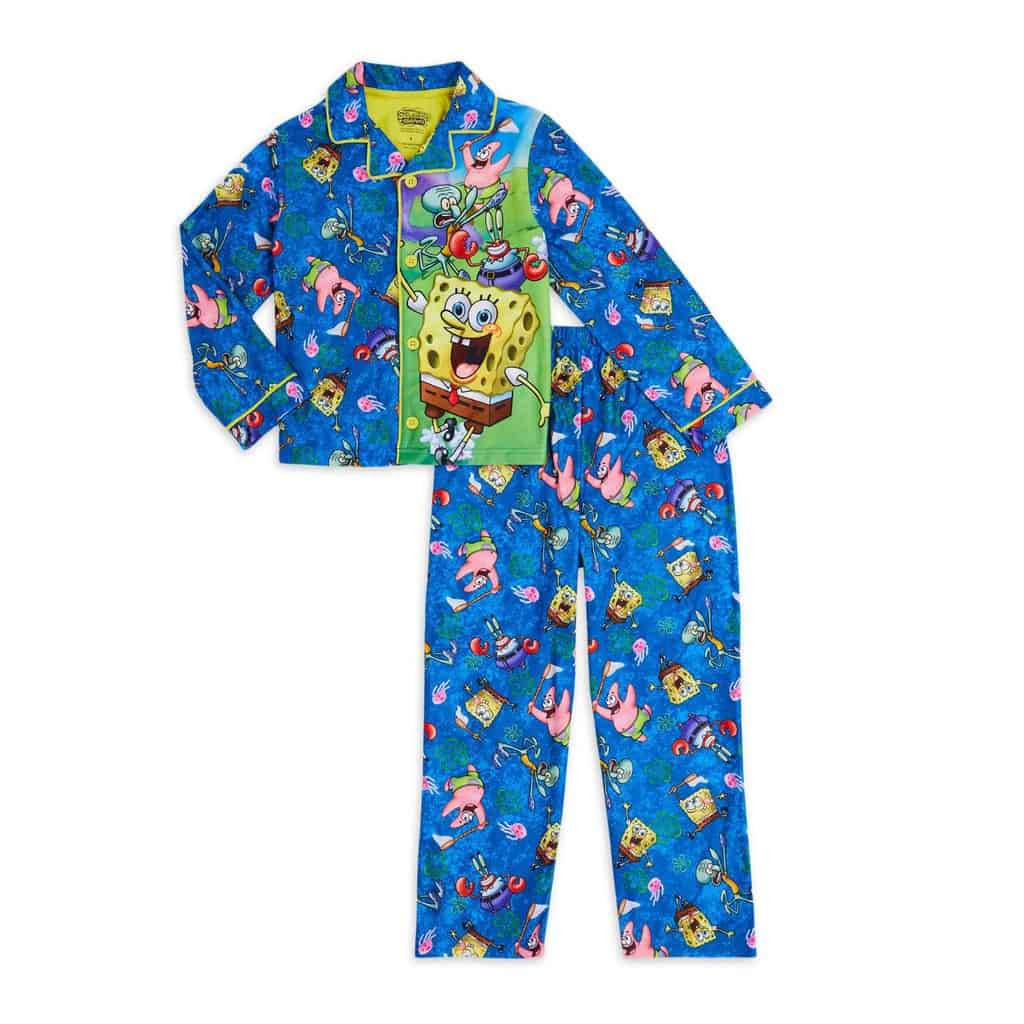 The button-up PJs are rare these days, so I'm always excited to find a pair. Although it's no striped pajamas like SpongeBob wears, it is definitely the same style, and kids will notice this.
But a detail you may miss is that it's a jellyfishing set of pajamas. Something about jellyfishing is calming and whimsical. Although Squidward doesn't look too calm, the rest of the group is easy to vibe with.
Pros
Unique old-school pajamas
Jellyfishing feature
Extra warm
Cons
Younger kids may not want to button up
Often out fo stock in the winter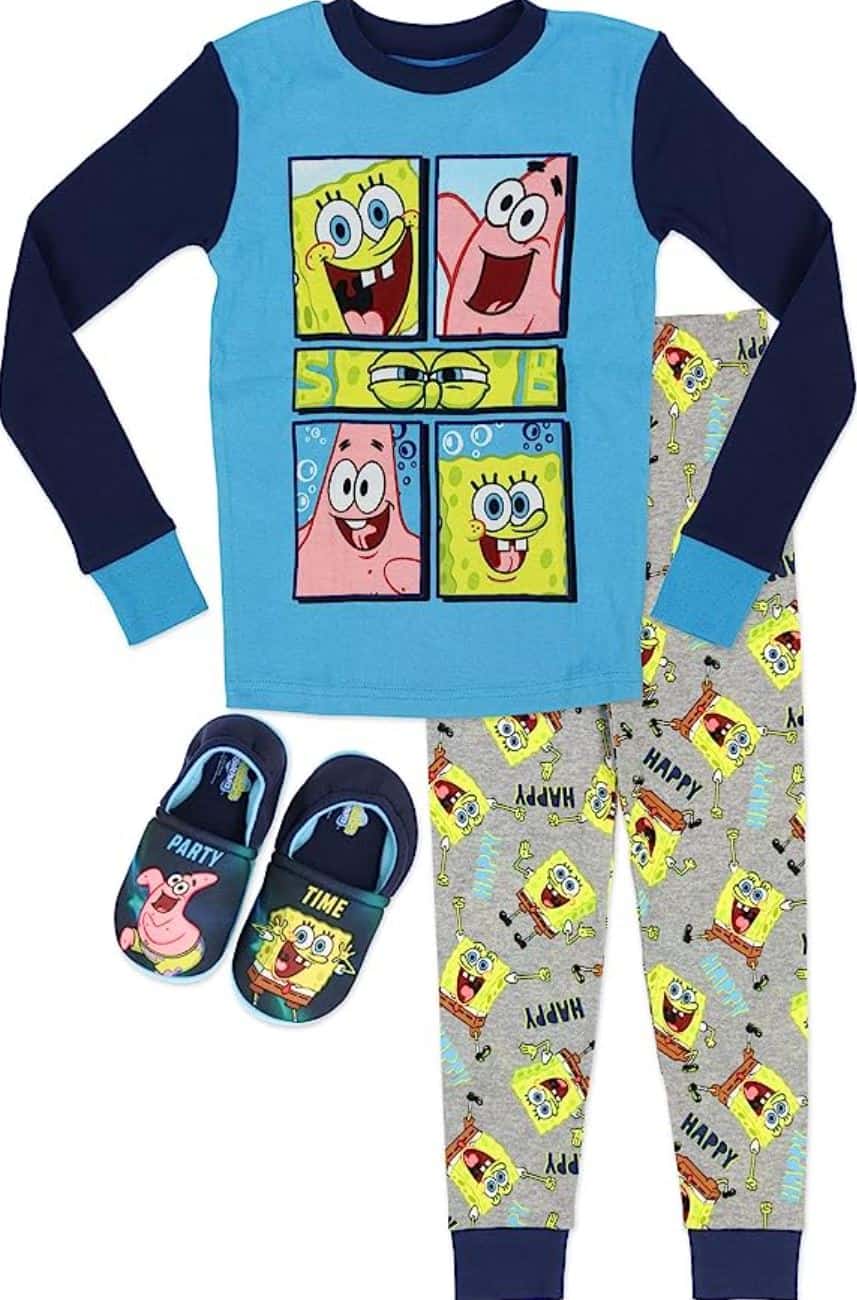 This set is perfect for the kid who likes to express themself. It is covered in personality, from the intense SpongeBob stare to the silly faces of the dynamic duo. Kids who like SpongeBob will notice this.
If you look closer, you will too. You got happy, excited, silly, and intense all in one. It's also a lightweight material yet has long sleeves and pants. As someone who feels smothered by heavy materials, I love this.
Pros
Expressive
Comes with slippers
Standard pajama fit
Cons
Low in stock
Few sizes (must shop for each separately)
This is an extra piece to keep your kid warm in the winter. I have found that most kids love snuggies and fuzzy blankets in the winter, and who can blame them? This one may not please every kid because it is pink, but it is one size, so it will work for most kids.
What I like about this snuggie is that it is simple which I believe snuggies should be. It doesn't have a lot of details to make it distracting while cuddling on the couch watching Christmas movies.
Pros
Affordable
Comfy and warm
Simple graphic
Cons
Only in pink
One-size is risky
Year-Round SpongeBob Pajamas for Kids
These sets of SpongeBob pajamas for kids can be worn during every season. They may not always work outdoors, but chances are your kid will be comfortable in them every night in bed.
If you grew up in an area like Midwest America like me, you probably know people who wore t-shirts and pants all year (ex. every brother I have.) Yet others strictly wore as little as they could in the summer and as much as they could in the winter due to the drastically changing seasons.
After a few years in this climate, most people get used to it and hop on the t-shirt and pants bandwagon (or long-sleeves and shorts if you're like my cousin) for all-season wear. These sets are for parents who can easily save money by buying the only type of pajama set their kid can comfortably wear all year.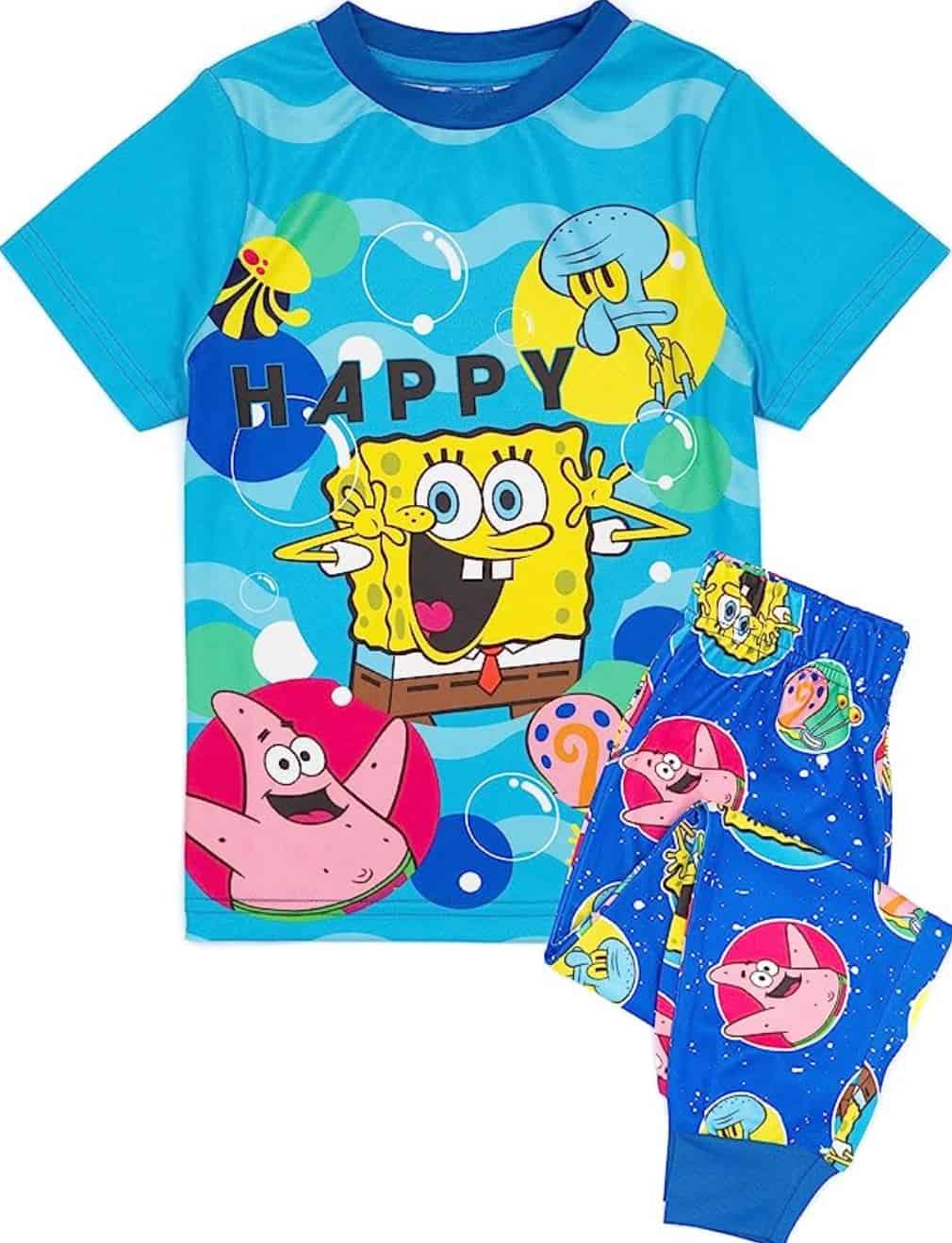 This is a cute choice for any kid, though it is more suited for younger kids rather than pre-teens who may find them too vibrant. It is the classic pajama set that has been popular for decades and isn't subsiding in the slightest.
If I had to choose one set for kids ages 3-10, I'd choose this one. My reason is that it's not just cute, but it's versatile and has all three main characters, plus Gary. So chances are one of their favorites will be present.
Pros
Super fun
Versatile style
Up to size 12
Has four characters
Cons
Not all kids like tapered ankles (I never did)
Special wash instructions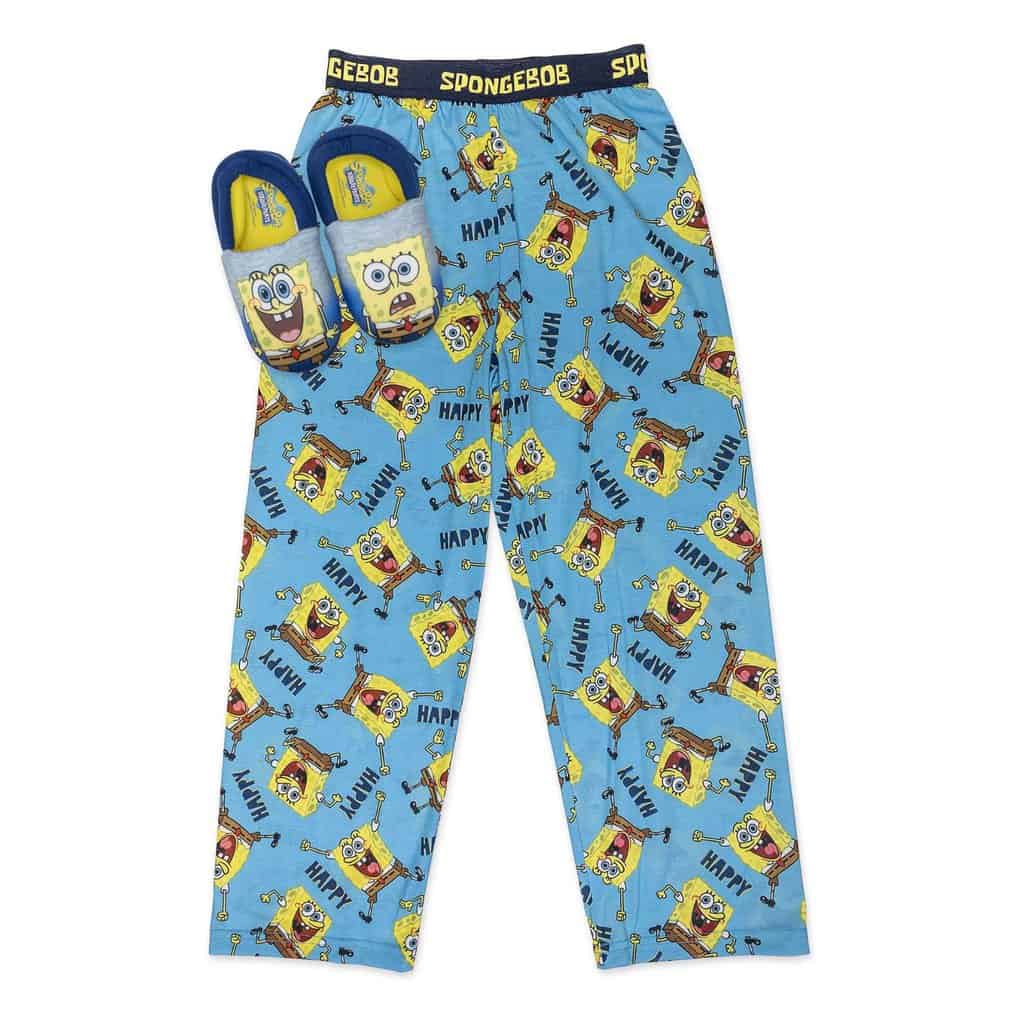 This one is for the kid that likes to switch things up. I often find pajama sets to be mixed and matched by kids – and me, if we're being honest. So getting slippers and lounge pants is often preferable.
If the kid who is getting these likes SpongeBob, they will like this set because it's neutral enough to please anyone. I don't like plush or microfiber pants, but I don't know anyone who doesn't like this type of pajama bottom.
Pros
Comes with slippers
Versatile style
Comfortable
Cons
Often out of stock
Shipping takes a while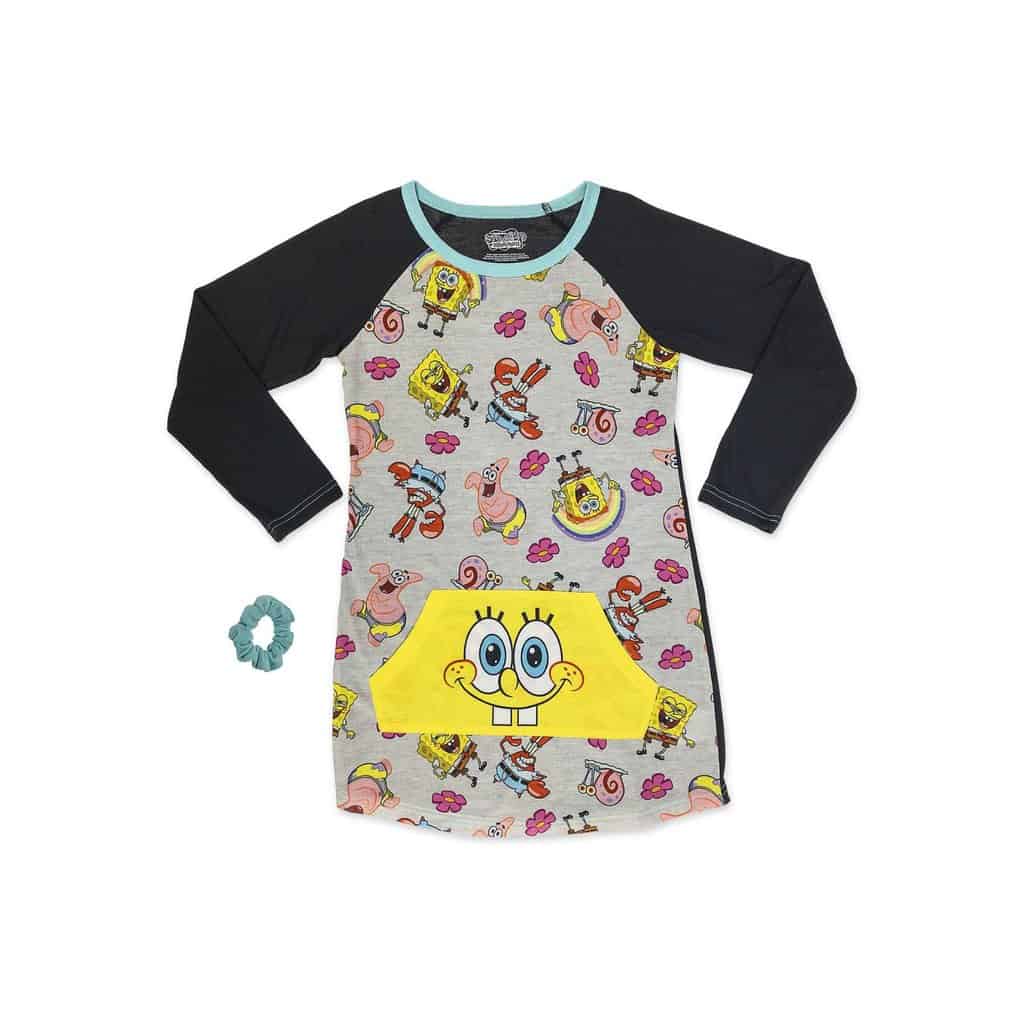 Long-sleeve nightgowns are so versatile. They work well for every season because you can wear them without bottoms in the summer and with leggings in the winter. Trust me; there's not much cozier than a long sleeve nightgown and leggings in the winter.
I also think that the layout here is well done—the mixture of baseball-style plain sleeves, graphic base, and simple SpongeBob face pocket work well here. Not to mention, it comes with a scrunchie!
Pros
A crowd-pleasing mixture of styles
It comes with a scrunchie (trust me, this is important)
The style works for girls of all ages
It has pockets
Cons
Slightly high for a nightgown
Fabric is thin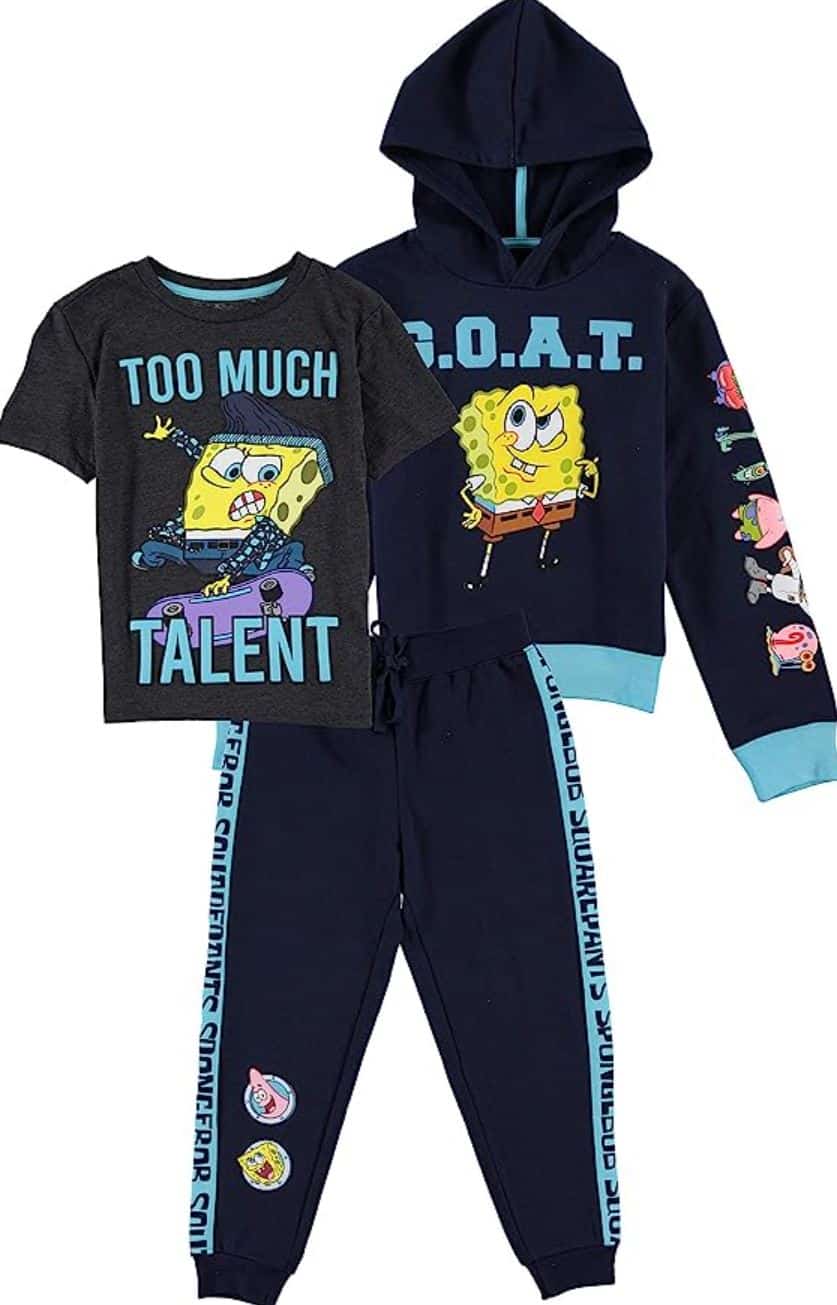 This set can work for any season, and it has just enough attitude for the age group it is available for. It comes with pants, a tee, and a hoodie, making it the perfect gift set for kids in the size range.
The sayings on the set are also great for kids this age who want to feel older. I love getting pajamas and hoodies as gifts so this set makes me happy as it is an all-in-one set for the price of what most hoodies this size cost.
Pros
Comfy blend
Affordable considering it comes with a hoodie
When in stock, goes to size 20
Cons
Not exactly SpongeBob's vibe
Pants can be warm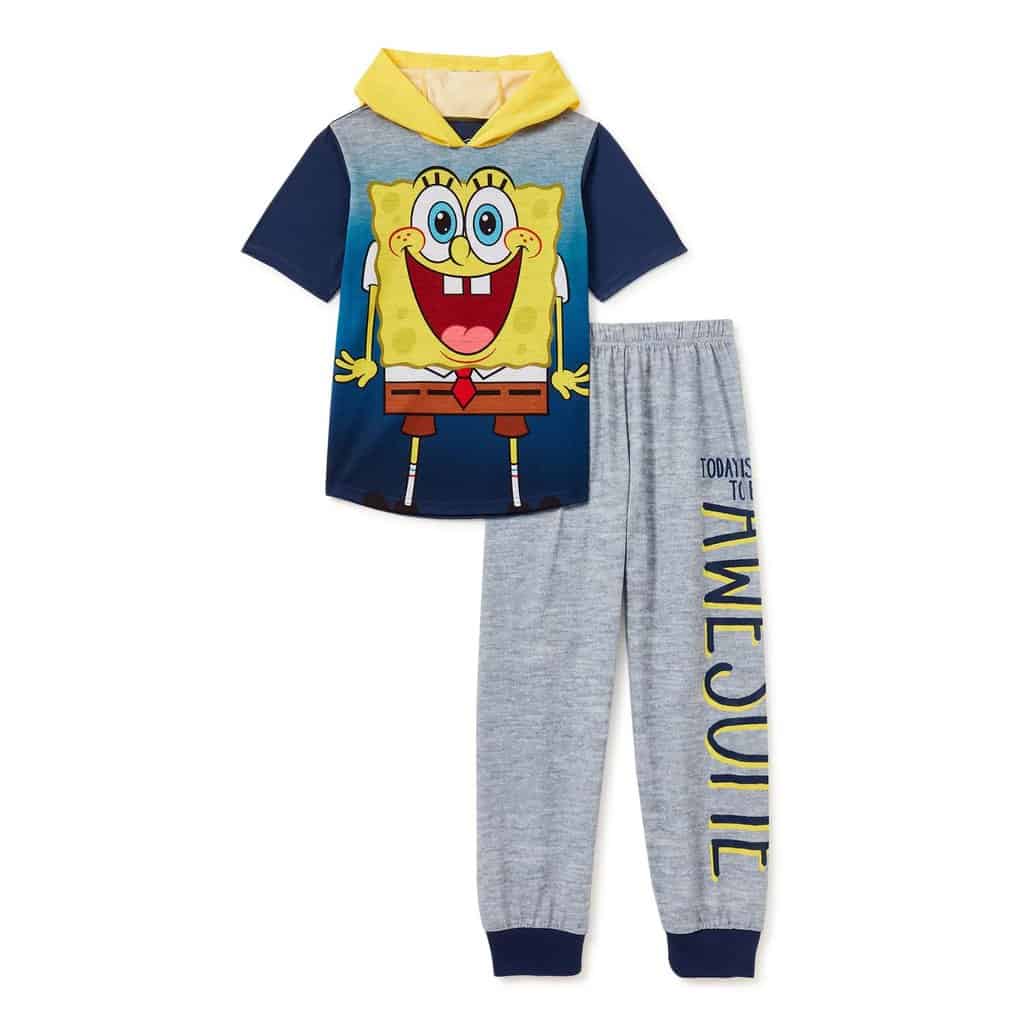 I know kids who have spent months only wearing tops with hoods. In the summertime, this can be alarming when temperatures hit 100 degrees Fahrenheit. That's when short-sleeved hooded tops come in handy.
I firmly believe that shirt sleeves and pants can be worn indoors all year. This set transitions well between daytime and nighttime, too, complete with a neutral image and the cutest SpongeBob face on the hood.
Pros
Pants work with non-SpongeBob shirts
The hood is usually a winner
Comfortable
The taper is loose
Cons
Not for kids who hate hoods
Grey pants may not be interesting enough for younger kids
FAQs
Question: Who is the SpongeBob Pajama Kid?
Answer: The SpongeBob pajama kid is a meme featuring a kid whose mom mixed up pajama day and picture day. So he went to picture day in SpongeBob pajamas, which did not make this kid happy.
Question: Which SpongeBob Character Do Kids Like?
Answer: Each kid likes a specific SpongeBob character. However, if you're not sure which one they like you can either ask them (or a friend) or get SpongeBob pajamas featuring Mr. SquarePants himself.
Question: What Age of Kids Like SpongeBob?
Answer: SpongeBob is enjoyed by kids of all ages and has been since the early 2000s. So chances are kids won't grow out of SpongeBob because the kids older than them still like it.
SpongeBob Pajamas Kids Can Connect To
Kids love to connect to what they do. So when they can merge their fantasy worlds with the physical world in a positive and healthy way, it's an amazing thing. One of the best ways to do that is by getting them memorabilia they can wear.
SpongeBob pajamas may always be one of time most popular types of pajamas for kids, and I'm here for that. I'll always be here for the positive vibes and emphasis on happiness that SpongeBob brings.
Looking for more interesting SpongeBob merch? Check out: