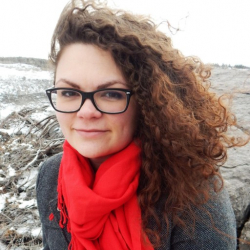 Latest posts by Candace Osmond
(see all)
Who lives in a pineapple under the sea? You guessed it, my focus today falls upon a beloved children's cartoon character that lives under the sea and is probably the most joyous character on TV. If your kid is like mine and a fan of the Crabby Patty-making superstar, let me help you find the best SpongeBob underwear for kids.
Bottom Line Upfront
My son is obsessed with this show. He has all sorts of SpongeBob apparel, including underwear. We got him the Boy's SpongeBob SquarePants 4pk Boxer Briefs last Christmas and he loved them!
Top Picks
Best Materials for Kid's Underwear
It doesn't matter what type of fabric you or your children like most for children's underwear; what's most important is how it feels to wear. When shopping for kids' underwear, look for comfortable and soft fabrics.
The finest textiles are woven from the highest quality yarns, which have long threads that give the fabric a plush feel, ensure its longevity, and protect it from pilling. The ideal weight for a piece of fabric is substantial enough to provide a velvety feel yet also offers durability while preserving its softness and drape.
Perhaps you like the natural breathability of 100 percent cotton better than other materials. Maybe you like organic cotton, which is known for its cleanliness and suppleness.
Blended fabrics can often give the benefits of both natural and synthetic fibers, particularly when they contain modal, which is renowned for its smooth feel and ability to wick away moisture.
And many of us actively seek out clothing with a touch of spandex in it, both for the additional stretch it provides and the way it can be restored to its previous size and form.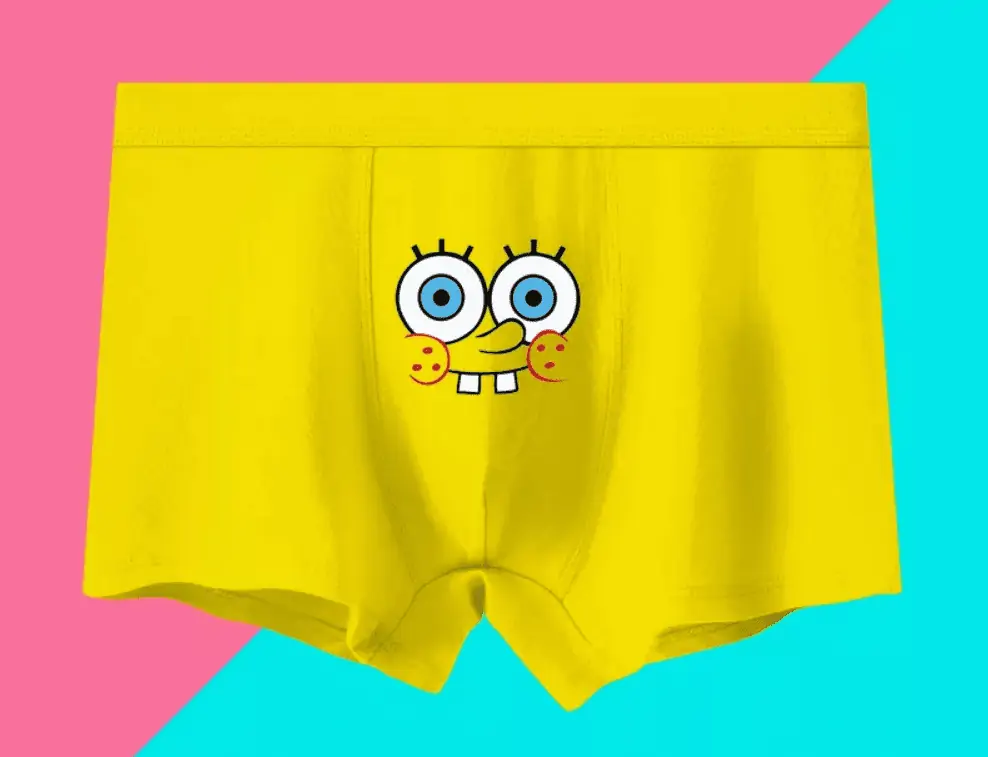 Worst Material for Kid's Underwear
Synthetic fibers are those you want to avoid when it comes to both children's and adult underwear. In fact, here are some things you need to avoid when choosing your kid's underwear:
Avoid materials that are not breathable.
Steer clear of fabrics that could cause skin irritation.
Don't pick undies made with chemical dyes.
How to Pick Underwear for Your Kids
Durability
When selecting underwear for your children, one of the most important factors to consider is how well the garments will hold up after being washed and dried in a machine. As your little one is learning to use the potty, this is of the utmost importance because your child may go through several changes of underwear in a single day.
You don't want to be in a situation where you're always tossing away many pairs of underwear and incurring the cost of buying new ones every few weeks. You may steer clear of that problem if you make it a point to get children's underwear that washes up nicely and maintains its form, color, and texture.
Material
Cotton is a common fabric used for children's underwear, and many parents prefer to choose organic cotton when possible. They take these measures to reduce the quantity of potentially hazardous chemicals that their children are exposed to.
Design
This may not be much concern for most parents, but it could be the aspect that determines whether your child will wear the underwear that you purchase for them.
I find the best thing is to take them with you and let them show you what designs they like.
Comfort
Some youngsters may not enjoy wearing underwear that is designed to suit them with a close fit. However, some children could feel awkward wearing underwear that is too loose. Determine your child's weight to select the appropriate size for him or her.
Selecting underwear that does not have seams is a decision that cannot lead you astray. Seams can irritate delicate skin and cause discomfort in youngsters who struggle with sensory difficulties.
Age
Purchase some underwear for your child that includes a cushioned region in case they have an accident while they are still learning how to use the potty. These are not intended to perform the function of training pants and will not catch an overflowing bladder.
They are designed to collect what are known as "starter dribbles," which can occur even before your child has a chance to use the restroom.
Your child's ability to pull their underwear up and down without assistance is another factor to take into consideration. Grip-holed underwear or underwear with a loose waist could be the best option for younger children because they may have difficulty dressing and undressing themselves independently.
Organic Fibers
The skin of children is notoriously delicate. It is estimated that 8,000 different synthetic chemicals are employed in the production process of clothing, particularly in children's sections.
This is even though many adults are equally susceptible to rashes. Some toxic chemicals are known to cause cancer and interfere with hormone balance, while others can cause allergies.
Some children have a strong aversion to wearing underwear due to the irritation that it causes. This irritation is typically caused by synthetic fabric, toxic dyes, or chemicals that are concealed within the underwear.
Best SpongeBob Underwear for Kids
I picked this selection to give a variety of styles, from boxers to briefs and everything in between. I also tried to find fabric that are machine washable and breathable to wear.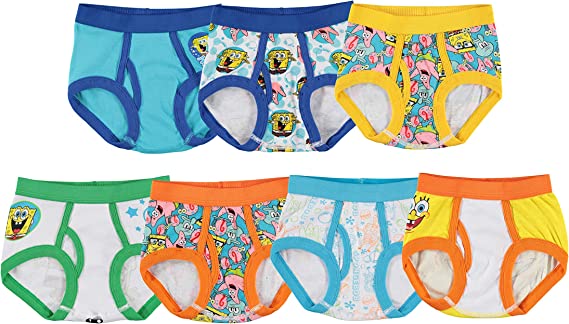 Best pack
If you're looking for a convenient pack of briefs for your little boy, here is one of my favorites. It showcases SpongeBob on various backgrounds, and the color options are a-plenty. I love that you get one pair of briefs for each day of the week, so you can chill when doing laundry.
Price Range: $10 – $30
Available Sizes: 2-3T, 4T, 4, 6, 8, 10, 12
Material: Cotton
The adorable knickers are made entirely from cotton, and your kid will surely feel comfortable when wearing them. You can also choose packs with 10 pieces, and they are available at really convenient prices.
Pros
Made with soft cotton.
The set contains multiple pieces of underwear.
Machine washable.
Cons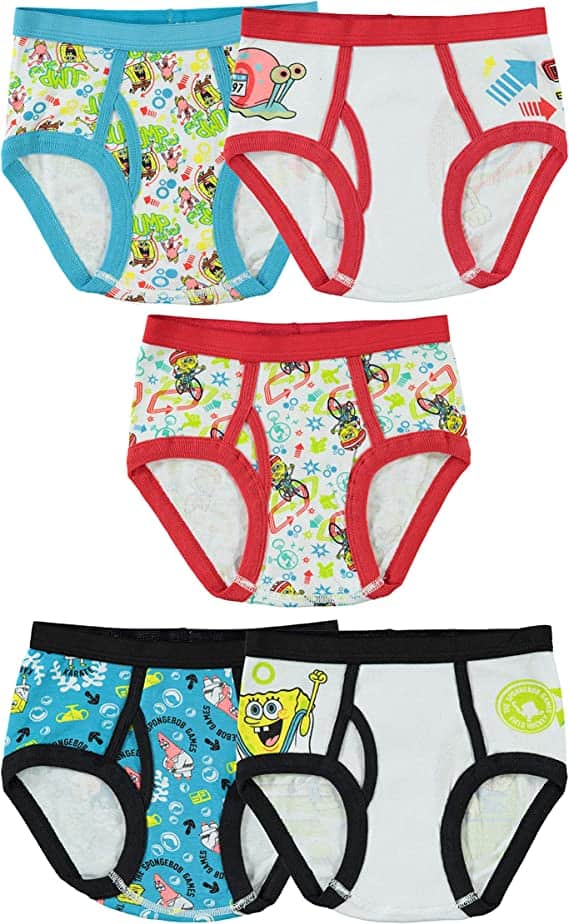 Best bargain
This set is pretty similar to the one I showed you earlier as they are made from cotton of similar quality, have a pull-on closure, and are machine washable. They feature playful prints showcasing your favorite underwater sponge, so I'm pretty sure they will be very popular with any kid that loves the one who lives in a pineapple under the tree.
Price Range: $10 – $20
Available Sizes: 4
Material: Cotton
When you do the math, it comes down to a very convenient price per pair, so it's definitely a purchase worth making if you're short on cash and would like to buy in bulk.
Pros
Machine washable.
Comfortable cotton construction.
Each pair has a different print.
Cons
Some buyers claim not all pairs are of the same size.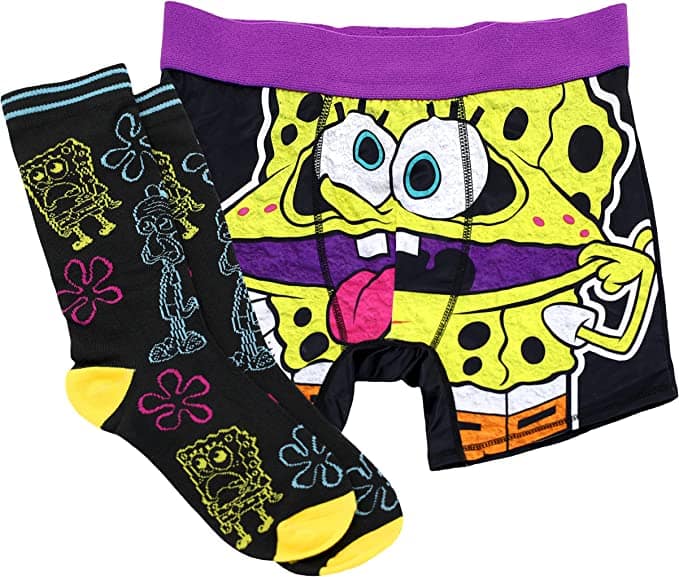 Best gift
One of the reasons why SpongeBob is so popular with children is because he has a goofy and innocent personality. The faces he sometimes makes are so relatable to kids, and this pair of boxer briefs is the perfect example. This particular pair of underwear s made by combining breathable polyester with stretchable spandex.
Price Range: $10 – $20
Available Sizes: S, M, L, XL
Material: 92% polyester, 8% spandex
The underwear is machine washable, and you get a matching pair of socks that also includes stitching of Squidward. This set is available in only four sizes, ranging from S to XL.
Pros
Machine washable.
Includes a pair of matching socks.
Socks come with a secure fit.
Cons
You can't choose the size of socks and briefs separately.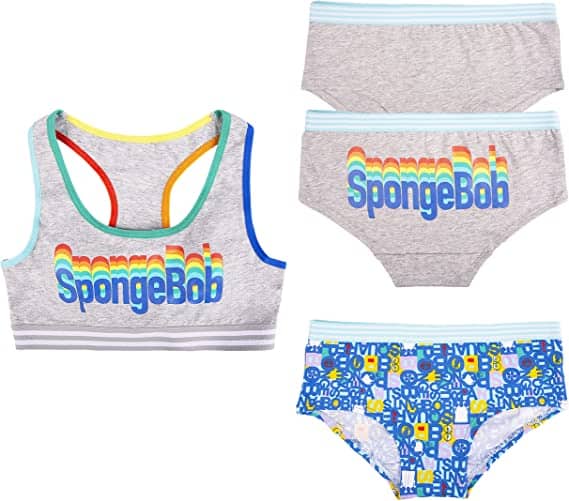 Best for girls
OK, enough with all these boys' underpants. It's time to throw something in here for girls who also love SpongeBob. My daughter is gaga for the TV show and is always running around spewing off hilarious quotes. She'd love these!
This set includes a bra-style tank top and 2 pairs of SpongeBob underwear, all made with a cotton and polyester blend.
Price Range: $5 – $20
Available Sizes: 6, 8, 10, 12, 14, and 16
Material: 95% cotton, 5% polyester
Granted, perhaps this set could have been more popular if the prints included more SpongeBob and less of this gray background, but it's still a very aesthetically-pleasing set.
Pros
Machine washable.
Includes matching bra.
Made with comfortable cotton fibers.
Cons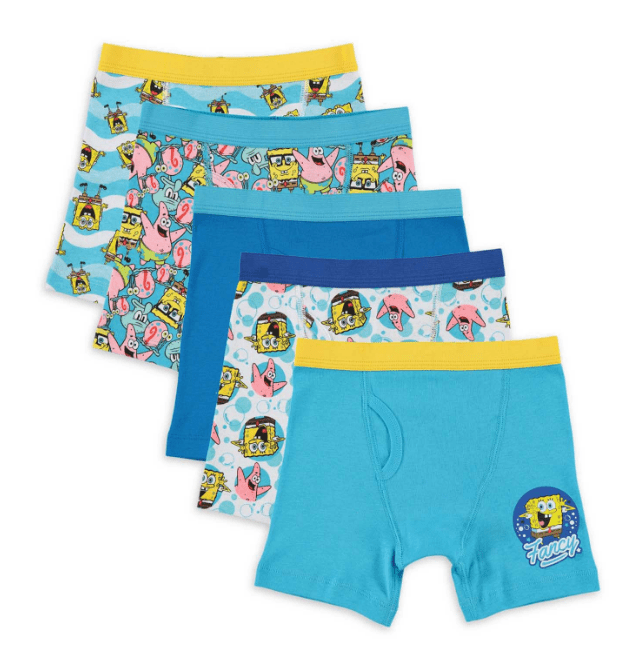 Best boxer briefs
If you were looking for some quality boxer briefs for your child, this is a pack that I'd strongly suggest. Combining different tones of blue and yellow, these are fitting for a true SpongeBob fan. Patrick is also here to bring a smile to your toddler's face, so let's welcome both of these characters with open arms.
Price Range: $10 – $20
Available Sizes: 4, 6
Material: Cotton
I love that these are made from comfortable cotton and come in a pack of five different designs so your little one has plenty of options to choose from. It also means less frequent laundry sessions for busy moms and dads.
Pros
Includes 5 different pairs.
Comfortable cotton fabric.
Good fit with the elastic waistband.
Cons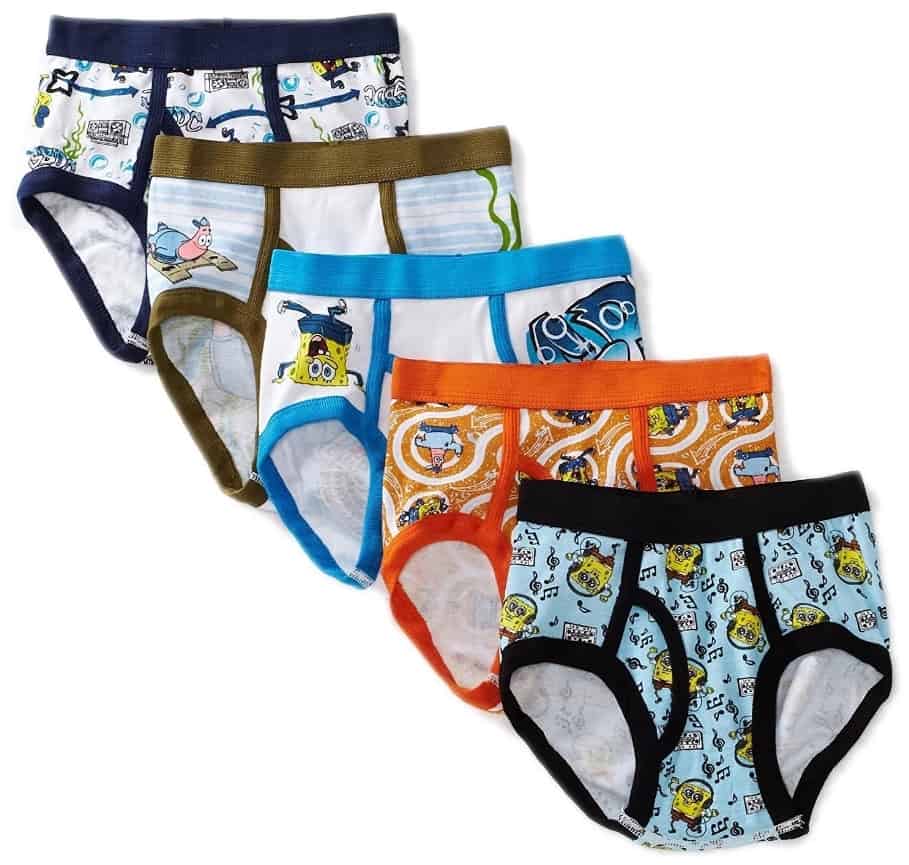 Best briefs
SpongeBob briefs are just about as adorable as they sound; if you're looking to buy a convenient pack of five, this is an offer you can't refuse. This set is among the most popular in a world filled with SpongeBob-loving children. I'm sad that it's only available in three sizes, but you can't always be the luckiest.
Price Range: $10 – $20
Available Sizes: XS, S, L
Material: Cotton
These adorable knickers are made with soft cotton and feature five different prints for your little one to enjoy. I know how stubborn kids can sometimes be when it comes to putting on undies, so trust me when I say: design matters!
Pros
Comfortable cotton fibers.
Machine washable.
5 different pairs and designs.
Cons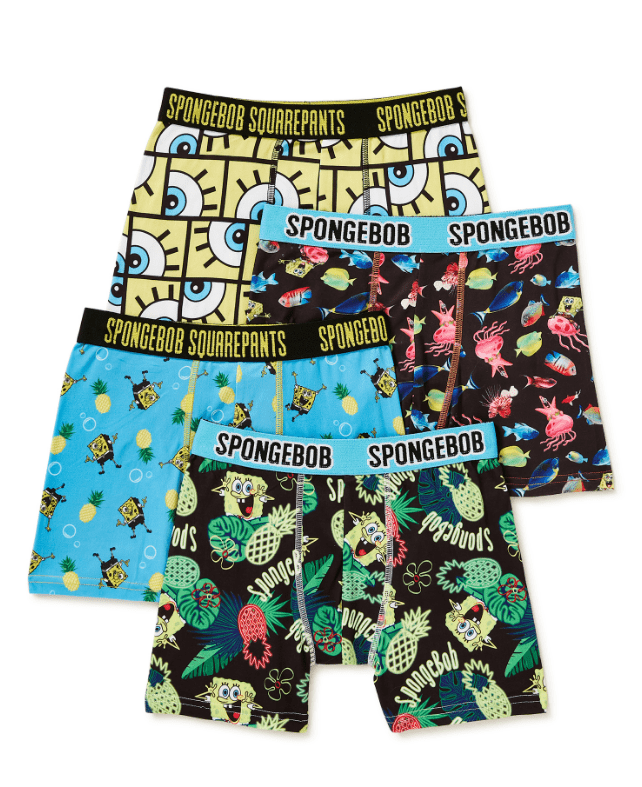 Best for boys
Time to give your son a pair of boxer briefs that showcases their love for the world's most famous sea sponge. And what's better than a pair of SpongeBob boxer briefs? Four of them! I always buy in bulk when I can, especially if it's something my kids use a lot.
Made with a combination of polyester and spandex, these are not your average synthetic briefs. The spandex material is super soft to the touch but not overly breathable.
Price Range: <$10
Available Sizes: 4, 6, 8, 10, 12, and 14
Material: polyester, spandex
I'm pretty sure kids will find these very comfortable and fall in love with the cool-looking happy sponge designs. You can choose between multiple sizes, which is always awesome in case your child grows very fast (and we all know they do) and you need larger pairs of underwear.
Pros
Machine washable.
Elastic waistband for a good fit.
Includes 4 pairs.
Cons
Not the most breathable fabric.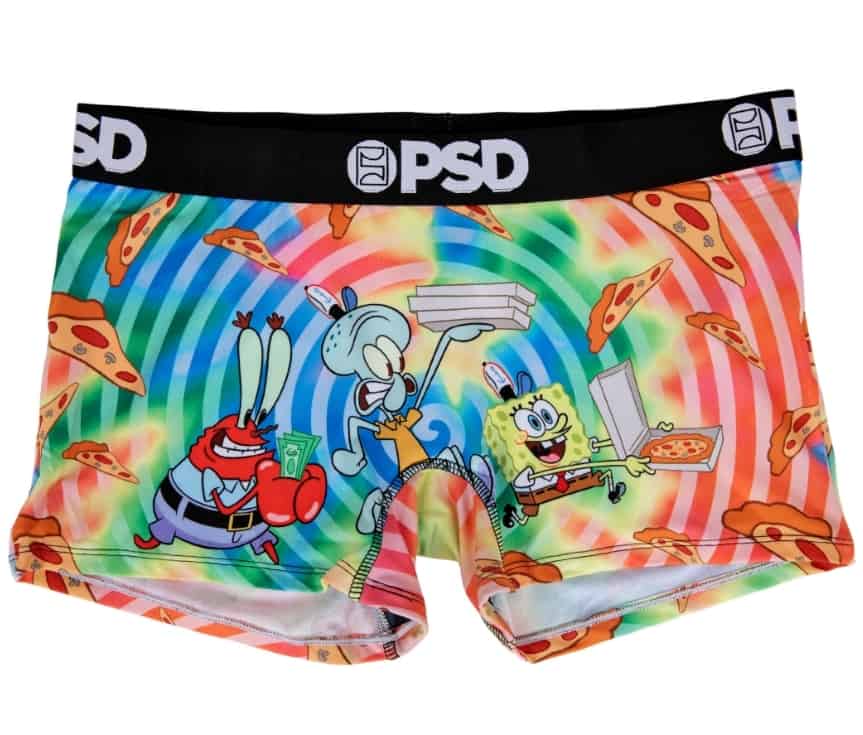 Most original design
Looking for officially licensed SpongeBob underwear? You can find them at handy dandy Walmart! The colorful design might feel a little trippy to us adults, but I have a feeling children will go bonkers over this design. I know mine would!
Price Range: $20 – $35
Available Sizes: XS, S, M, L, XL, and XXL
Material: polyester
You can see Squidward and SpongeBob running around with some pizzas while Mr. Krabs is counting the money with his well-known greedy and cheeky grin. These polyester boxers are available in multiple size options and are machine washable.
Pros
Very unique and colorful design.
Machine washable.
Moisture-wicking fibers.
Cons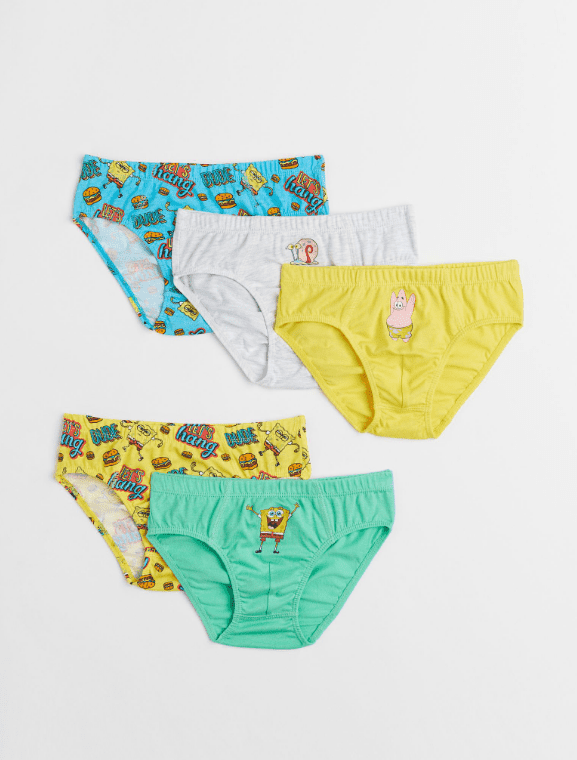 Best overall
This is one of my favorites when it comes to quality SpongeBob briefs for kids. Let's start off with the fact that it's made by a very respectable clothing brand (as I'm sure everyone has heard about H&M by now).
Then, I love that price tag. Granted, these are on sale, so the original price was a little higher, but who cares? It's a great deal that you can get your hands on.
Price Range: <$10
Available Sizes: 2T, 3/4T, 5T/6, 6X/7, 8/10
Material: Cotton
I also appreciate that these are made from cotton and come in a pack of five adorable pairs of underwear with some of your favorite underwater characters: SpongeBob, Patrick, and even Gary the Snail. Those are my kiddo's fav characters!
Pros
Very soft and comfortable material.
Includes 5 quality pairs.
Multiple color combo options.
Cons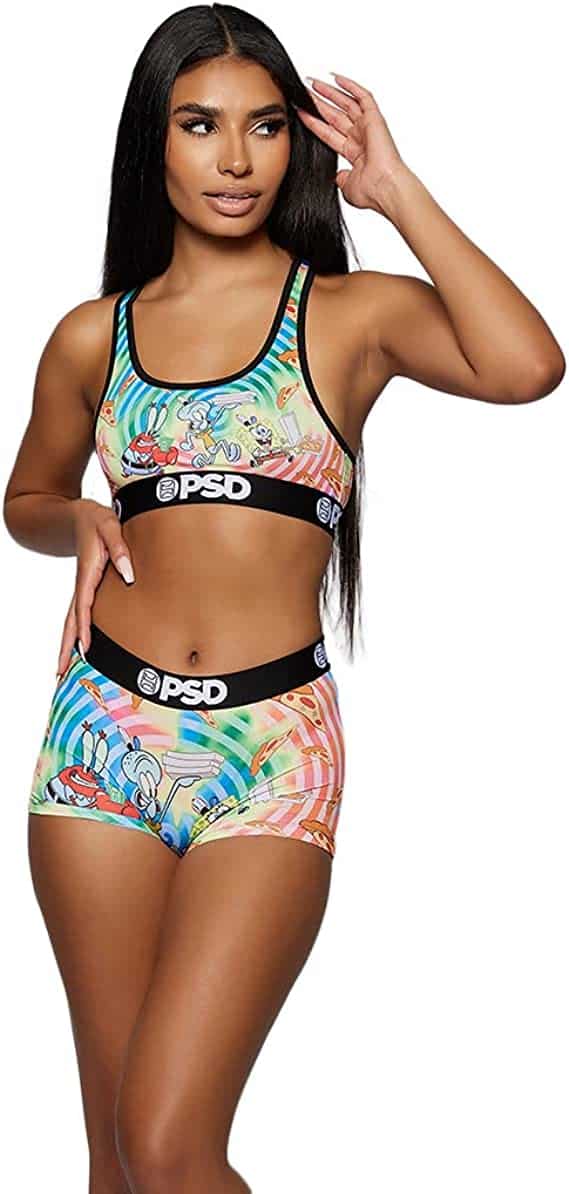 Best for Teen Girls
I just love this set! Get a matching boy short style underwear and comfy sports bra combo that your teen can wear as underwear or jammies on those hot summer nights. It's made of a microfiber blend fabric, so it's super breathable and doesn't cling to you too much.
Price Range: $20-30
Available Sizes: S-XL
Material: Microfiber blend
I adore the quirky psychedelic design and the nice, fitted bands around your torso. This looks so comfy; I might have to get a set for myself. It comes in sizes for teens and adults, so wahoo!
Pros
Doubles as pajamas
Soft and comfy
Great training bra
Cons
It doesn't offer support for more developed girls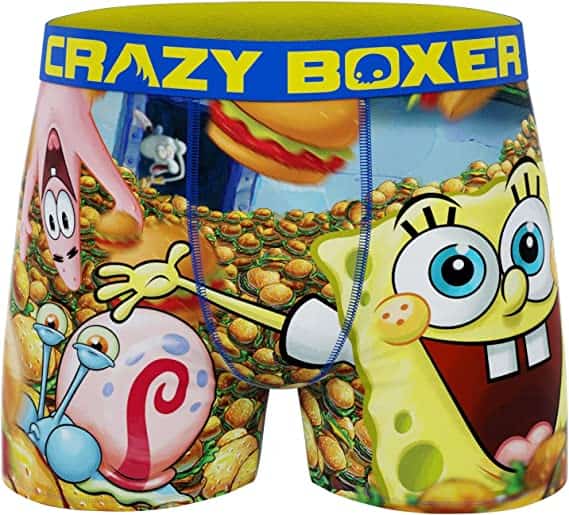 Best for teen boys
With a pre-teen climbing the ranks to teenage in my house, I know how picky teen boys can be about their underwear. It was to be roomy yet supportive and a soft material that doesn't bunch up in their pants. I came across these and immediately added them to my cart.
Price Range: $15-$20
Available Sizes: S-XL
Material: Polyester Spandex blend
I think my son will love these not just for the awesome SpongeBob design with all his fav characters but also because it checks all the boxes: soft, fitted, supportive.
Pros
Soft material
Cool design
Supportive
Cons
Only one design to choose from
FAQ
Question: Where can I buy SpongeBob underwear for kids?
Answer: Pretty much anywhere. Amazon, Walmart, Target, etc. Wherever underwear is sold, you'll likely find the themed underwear you need.
Question: Who is the best SpongeBob character?
Answer: A lot of kids watch SpongeBob for the main character, which happens to be full of life and charismatic. However, there are other popular characters in the show that children like, just as Patrick the Star or SpongeBob's neighbor, Squidward.
Question: Are there SpongeBob underwear for adults?
Answer: Yes, you can find SpongeBob underwear for adults as well. Amazon is a great place to look, but you could also find interesting pieces on Etsy or Walmart.
Question: How can I tell what size underwear my kid needs?
Answer: The best thing about buying children's clothing is that the label usually tells you what size they're for. You can also look for online charts that will translate popular sizes to more accurate numbers.
For instance, when it comes to underwear, XS pairs are usually for children between 34 and 43 pounds and a 22-inch waist. M underwear is for kids between 69 and 100 pounds and has a 25-inch waist.
Finding the best SpongeBob underwear for kids can be rewarding because you're going to find loads of adorable choices along the way. Remember to prioritize the comfort of your child above everything else and go for materials that are sensitive to their skin. I recommend the Boy's SpongeBob SquarePants 4pk Boxer Briefs because they're cute, soft, and well-made. But we've got even more awesome SpongeBob stuff on our site, so go check it out!
Looking for more interesting readings? Check out: