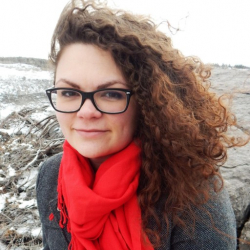 Latest posts by Candace Osmond
(see all)
Got a Spongebob fan in your life? Then why not put a smile on their face with a Spongebob cake? Whether they've got a birthday coming up, a congratulations party or you simply want to surprise them, they'll love receiving one of the 16 epic Spongebob cake ideas I have to show you today. In case you're unfamiliar with the hit show (or cake lingo), I'll give a little explanation of the characters and the most popular types of cakes. Ready? Off to Bikini Bottom we go!
Bottom Line Upfront
I grew up a Spongebob fan, and now my kids love it, too. So, there are a few cakes on this list that I'd choose for several reasons. But if I were picking for myself, I'd say the Gourmet Dessert Spongebob Cake by Flavor Cupcakery is the one I'd want.
Top 3 Picks
I'm going to show you 21 top-tier Spongebob cakes to wow the Spongebob fan you know. Before we get started, let's look at the best 3. For boys, girls, and adults, these charming and sometimes hilarious Spongebob cakes are sure to bring smiles all around.
Best Spongebob Cake Idea for Boys: Spongebob Birthday Celebration Cake by Antonia's Cakes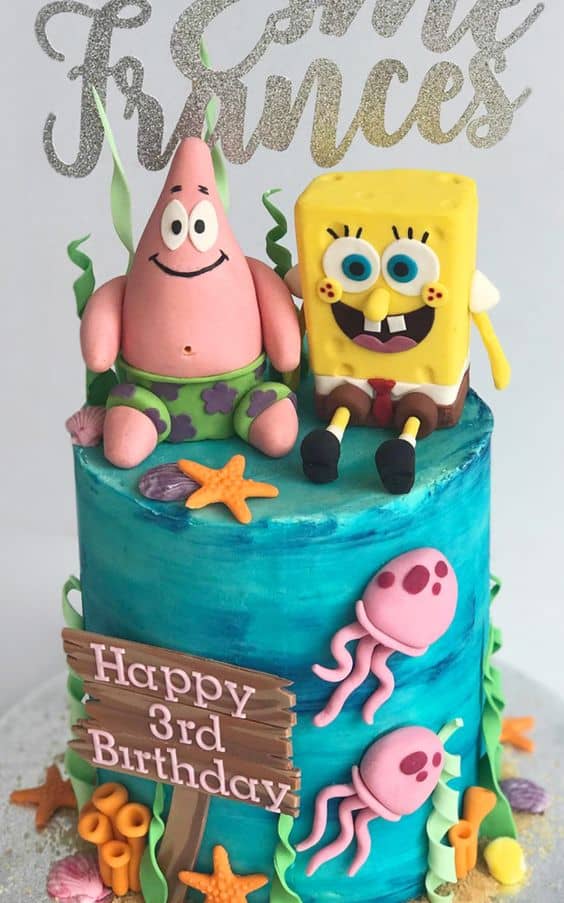 Best Spongebob Cake Idea for Girls: Spongebob Bikini Bottom Cake by The Bestest Ever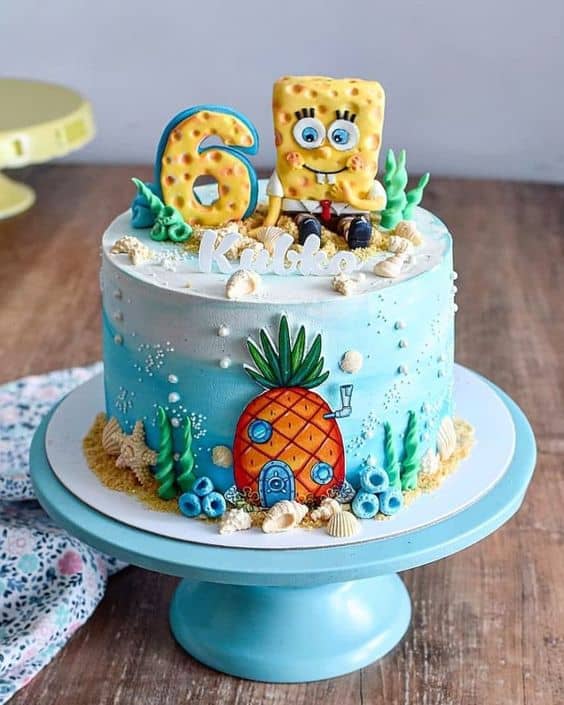 Best Spongebob Cake Idea for Adults: Gourmet Dessert Spongebob Cake by Flavor Cupcakery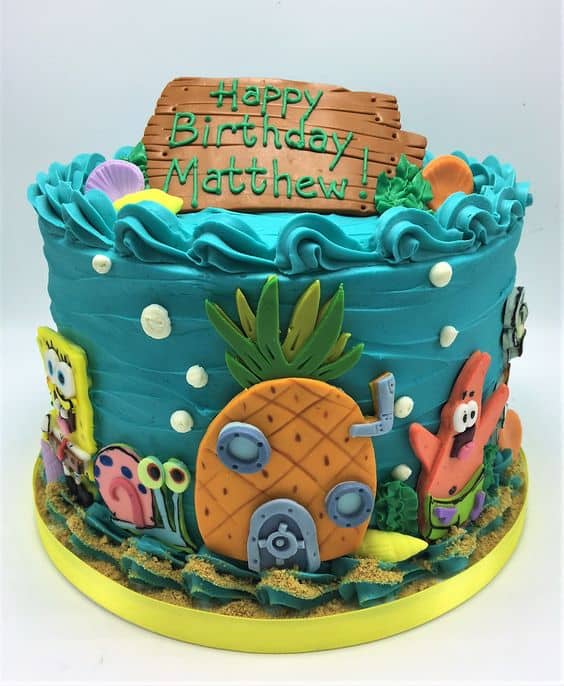 The Best Spongebob Cake Ideas
Let's get started right away! These are the best Spongebob cake ideas you can either whip up yourself or take to a professional for recreation. Some are silly, some are cute, but all of them feature Spongebob Squarepants' iconic crew members. Don't be fooled, either! Lots of us grew up with Spongebob, so it's not just for the kiddos.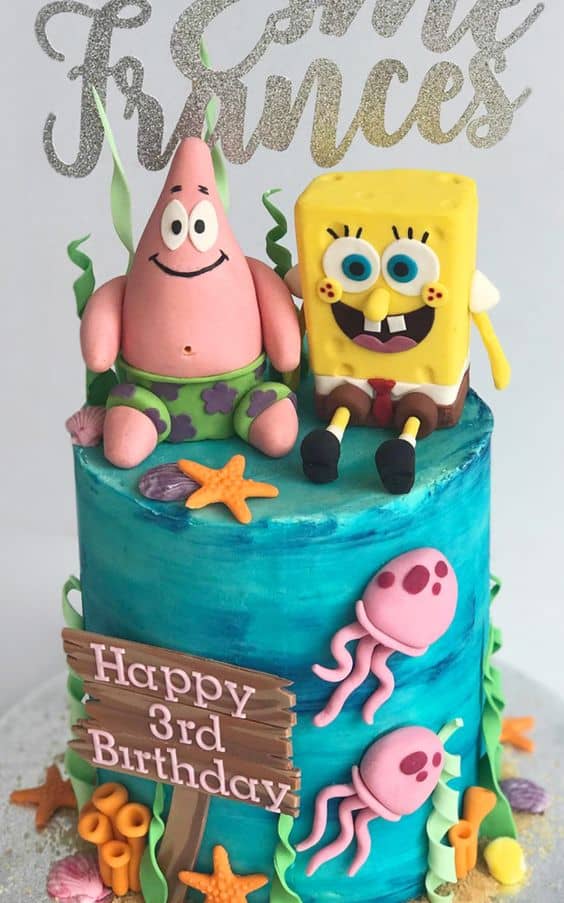 Best Spongebob Cake Idea for Boys
Best Friends Forever… Ding!
Remember Spongebob and Patrick's iconic "best friends forever" song? This cake shows off the two buddies sitting atop a blue ocean-themed cake. You can shape this duo out of modeling chocolate if you plan to make the cake yourself. All you need is buttercream frosting for the blue ocean background, and a bit of creativity to make the jellyfish and other sea creatures out of fondant.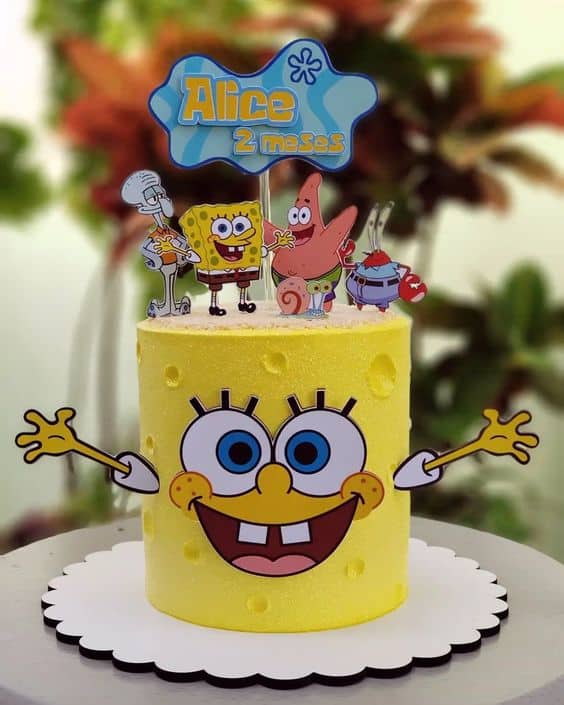 Best Two-Tiered DIY Cake
The World is Your Sea Sponge
This two-tiered cake is yellow just like Spongebob Squarepants! All the little details are impressive, aren't they? Here's a secret: this cake is pretty easy to make on your own. The details on Spongebob's face, his arms, plus the Spongebob characters on his head are all paper cut-outs. To make the indents that look like Spongebob's sponginess, all you need to do is make circular craters in the icing. Use a wooden stick to pierce through both layers of the cake to hold everything in place.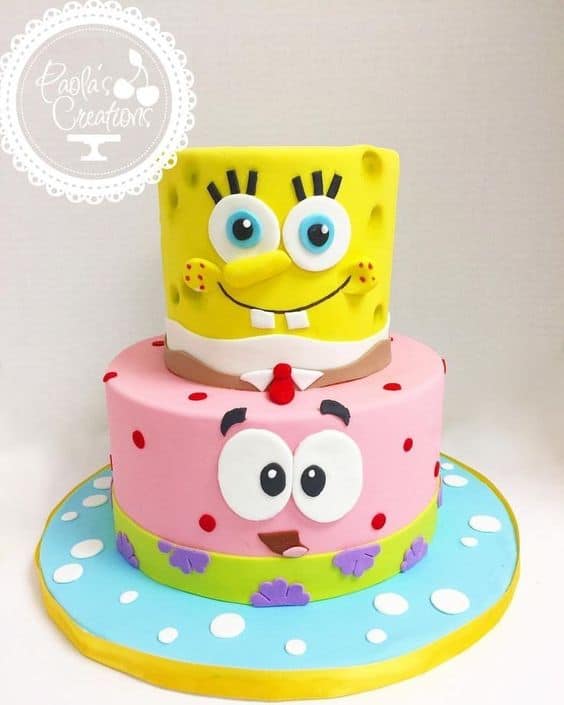 Best For: Cuteness
The Cutesy Duo
What an adorable take on Spongebob and Patrick! You'll need fondant to make all the details here. A smaller Spongebob cake is stacked on top of a larger Patrick cake, who makes up the bottom layer. You'll need patience if you want to make these best friends out of fondant yourself, but the results will be worth it (or you could just take this picture to a professional.)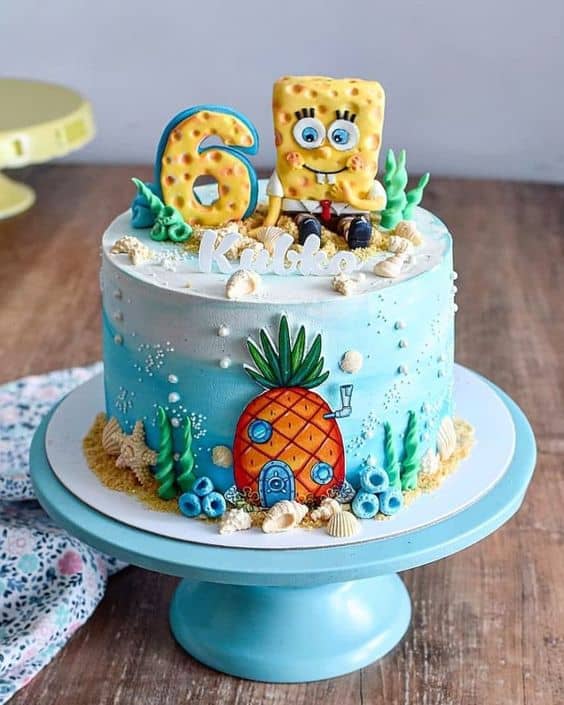 Best Spongebob Cake Idea for Girls
Down Here in the Deep Blue Sea
This cake has some of the most gorgeous buttercream frostings I've ever seen on a Spongebob cake. Blue and white frosting come together in an ombre all over both tiers. Use crushed graham crackers to make the sand you see on the bottom and top of the cake. If you lack the patience to make the Spongebob you see as the cake topper, you can always buy a Spongebob action figure to place on top instead.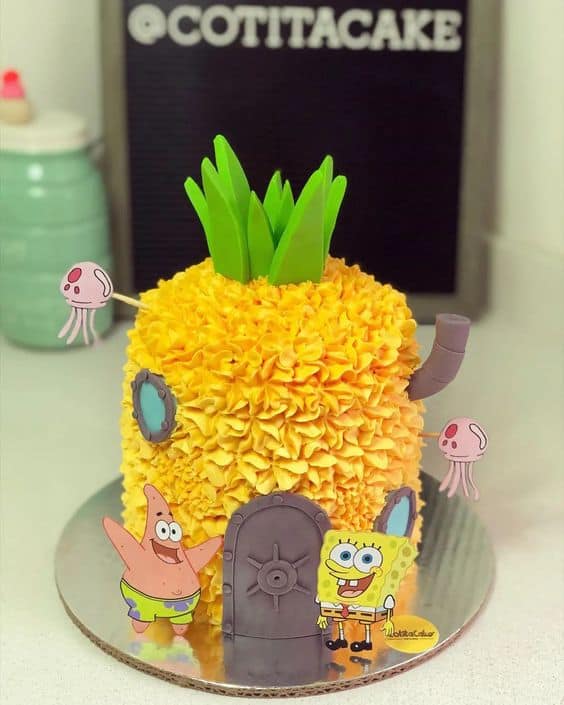 Best Piped Buttercream Frosting
So, Who Lives in a Pineapple Under the Sea?
Hilarious duo Spongebob and Patrick are ready for another day of chilling out at Spongebob's pineapple house. What will be in store? Jellyfishing? Coming up with another plan to annoy Squidward? Orangish-yellow buttercream frosting has been piped to give the pineapple texture. You can use paper cut-outs for Spongebob, Patrick, and the pink jellyfish. Fondant can do the rest. This is a cake for all occasions, or just because.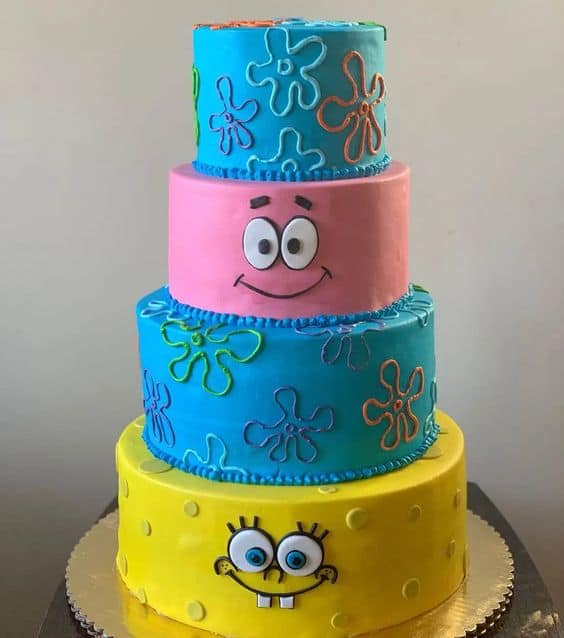 Best 4-Tiered Spongebob Cake
The Tower of Friendship
Whoa! This 4-tier cake is huge! If you need ot feed a lot of Squarepants fans, I'd recommend a cake this size. 1 tier has Spongebob's happy face, another one's got Patrick's, and the other two look like Bikini Bottom's "sky." Even though the details here are simple, it's impossible to mistake that this is a Spongebob Squarepants cake made with love. Make sure to use a wooden or plastic piece down the middle to stabilize this cake.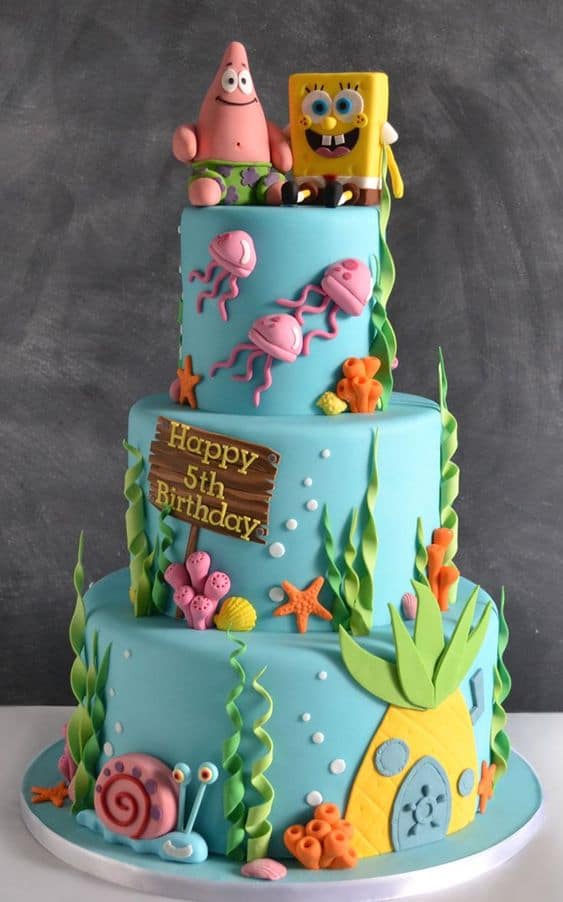 Best Fondant Decorations
Happy Happy Birthday
Spongebob and Patrick are here to wish you a happy happy birthday! The fondant decorations on this three-tier cake are absolutely stunning. The kelp decorations have been twisted to give them a spiralized effect. Gary, Spongebob's pet snail, is grinning wide next to Spongebob's pineapple house on the bottom layer. On top, the two buddies have been made from modeling chocolate.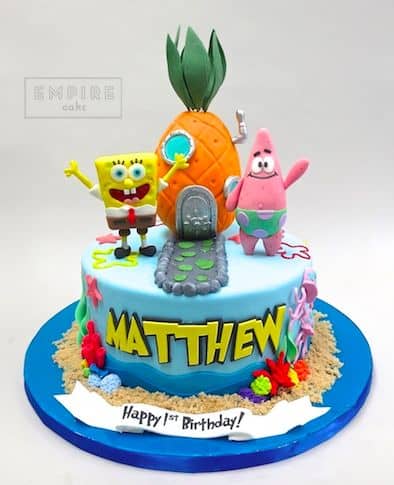 It's a Celebration!
Best Personalized Spongebob Cake Idea
Spongebob and Patrick want to wish your loved one a happy birthday atop this two-tiered cake. Putting the birthday boy or girl's name in funky lettering keeps the vibe cartoonish and fun. You'll need modeling chocolate to craft the pineapple, Spongebob, and Patrick figures. With a bitta elbow grease (and maybe a DIY video,) you can make your own version of this cake at home.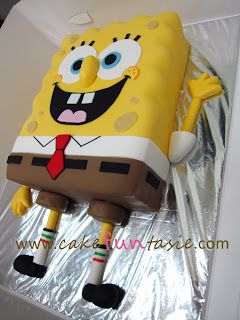 Best For: Best Spongebob Slab Cake Idea
The Happiest Sea Sponge Alive
Maybe you want a cake featuring solely Spongebob Squarepants. Well, with this cake, that's exactly what you'll get! This is a slab cake decorated with fondant and modeling chocolate. The entire cake is Spongebob, the happiest sea sponge there ever was. If you want, you can even customize more details to personalize the cake, like giving Spongebob his Krusty Krab spatula or a jelly-fishing net.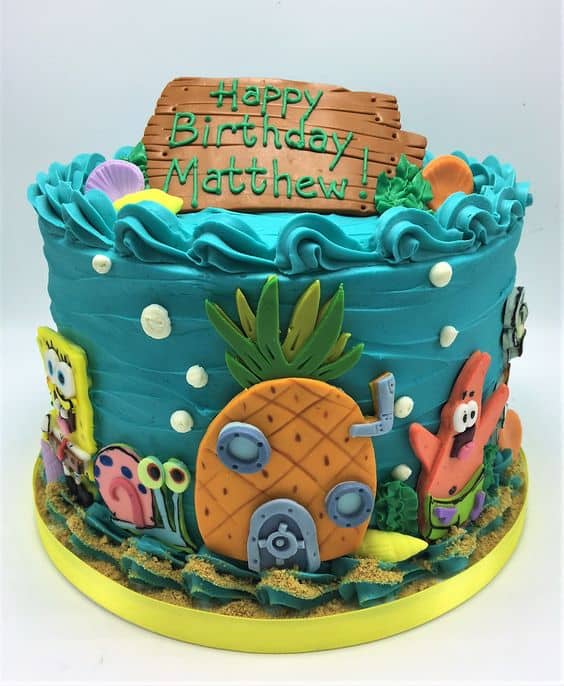 Best Spongebob Cake Idea for Adults
Bon Appetit!
Ah, this Spongebob cake is luxurious, isn't it? This is a cake I'd want for myself. The details of the waves have all been made with buttercream frosting. Fondant has been shaped to create Spongebob, Patrick, Gary, and Spongebob's pineapple house. The sandy graham crackers on the bottom waves add a nice touch and give the cake some extra texture. Adults are sure to love the classic design of their favorite childhood characters.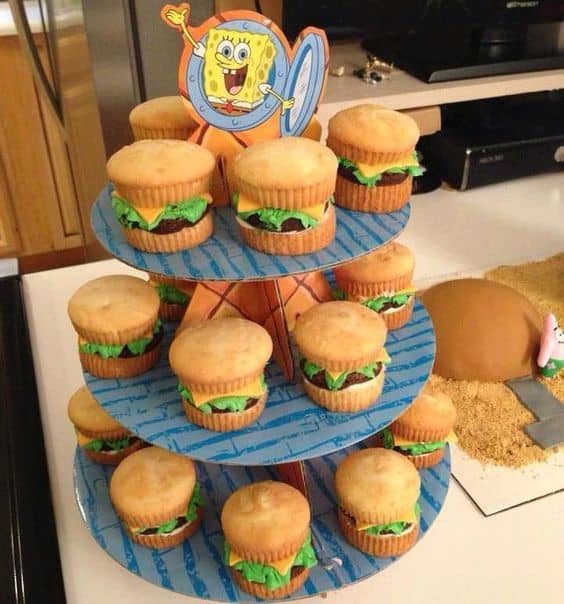 Best Spongebob Cupcake Idea
The Secret Krabby Patty Formula
Order up! These are some of the most unique cupcakes I've ever seen-the icing is inside the cupcakes instead of on the outside. By cutting plain yellow cupcakes in half, you make the Krabby patty buns. The inside burger, cheese, and lettuce have been made from icing and fondant. With a ton of mouths to feed, serve up these Krabby patties like Spongebob during a lunch rush.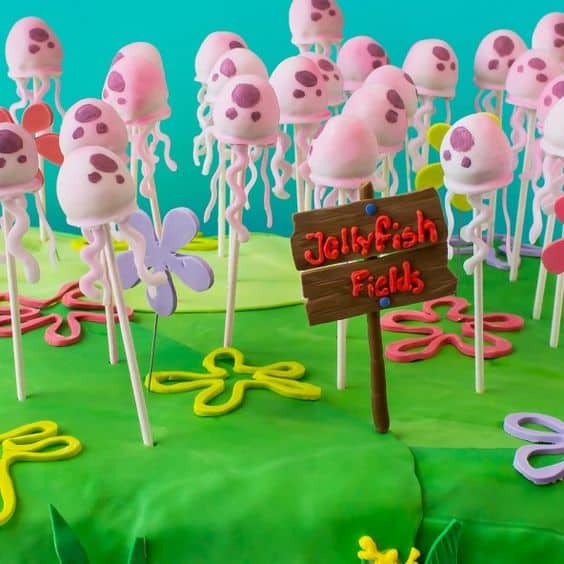 Best Spongebob Cake Pops
Jelly-fishing
Does anyone else remember the Krabby patties with blue jelly? Spongebob got the secret ingredient by doing one of his favorite things-jelly-fishing. These pink jellyfish cake pops look just like the little jellies from the show. All you need for the decorations are pink and purple fondant (plus light blue and dark blue fondant if you want to make one of the legendary blue jellyfish.)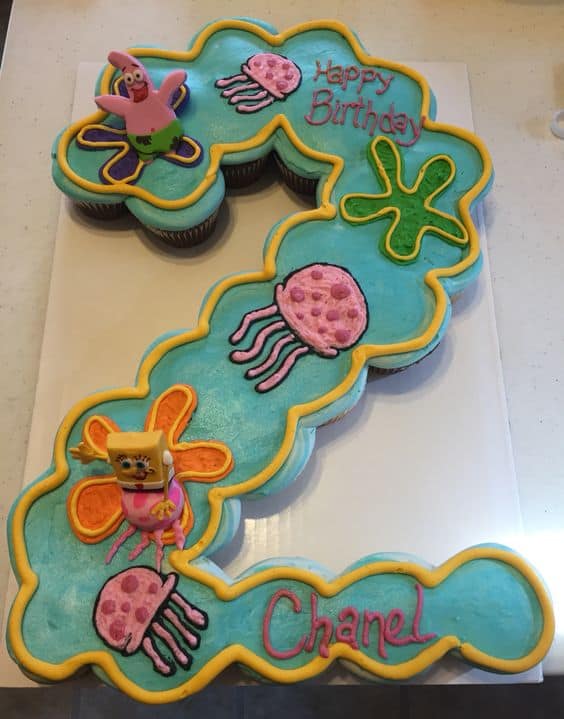 Best Spongebob Cupcake Cake
Spongebob and Patrick's Jellyfish Adventure
These cupcakes have all been placed together so the icing and fondant over top connect them into one cake. You can arrange the cupcakes like Woody's Mania did so that they form the number of the age of the birthday person. If you don't want to shape Spongebob and Patrick out of modeling chocolate, you can cheat and buy figurines of the two to stick on the cupcakes.
25 Years Later… Spongebob Squarepants Cake
Best For: Funniest Spongebob Cake
If a Spongebob fan you know is turning 25 (or any age above 20,) you can't miss this opportunity. "25 Years Later…" is written on this cake in frosting, which is a classic joke in the Spongebob series. This three-tiered cake has been decorated entirely with buttercream frosting and gel icing. In other words, it's easy to DIY.
Are You Ready, Kids? Spongebob Cake by Juan Baked
Best Details
Aye Aye, Captain!
If you want the details in this cake to look as precise as they do in the picture, I highly recommend taking this idea to a professional. The Krabby patty's shape is perfectly round and adorable. Spongebob has been made with extreme precision. Trust me, this one will turn out better if you take the picture to someone who does this for a living.
DIY Spongebob Cake by Kl Toppers
Best For: Easiness to Replicate
Who needs fancy-schmancy fondant and modeling chocolate for this cake? Not you! All you need is three tiers worth of cake, buttercream frosting, laminated Spongebob characters, some plastic nautical pieces, and a good attitude. When you pipe the blue buttercream, it doesn't have to be perfect, because the ocean's waves aren't perfectly symmetrical, either.
Most Popular Spongebob Characters You Might Find on a Cake
In case you didn't know who lives in a pineapple under the sea, it's totally Spongebob Squarepants. If you're not quite up on the Spongebob Squarepants lingo, I'll fill you in with a brief description of each popular character. When in doubt, you could try subtly asking the person you're buying the cake for who their favorite character is.
Spongebob– This is the main character of the Spongebob Squarepants show-the lovable yellow sea sponge with a positive attitude and a penchant for humor. Spongebob is a fry cook at a burger restaurant called, "The Krusty Krab." He has friends all over Bikini Bottom, and he's got a way of bringing everyone together.
Patrick– This is Spongebob's best friend and neighbor. He's known for his silliness, living under a rock, and partnering up with Spongebob for fun hijinks. Patrick is a pink starfish with Hawaiian print shorts.
Mr. Krabs– Who could forget Spongebob's strict yet hilarious boss? Mr. Krabs is the grumpy, money-hungry owner of The Krusty Krab. He's a money-hungry red crab that wears a manager outfit. Protector of the secret Krabby patty formula, he keeps his recipe safe from Plankton, who's his biggest competitor.
Squidward– This is Spongebob's grumpy neighbor and coworker at The Krusty Krab. Squidward is a cashier and clarinet player who gets annoyed with Spongebob and Patrick almost daily. He's a blue squid who's always sporting a brown shirt.
Sandy– Hi-yah! Sandy's a sassy squirrel from Texas who knows karate better than anyone else in Bikini Bottom. She's friends with Spongebob and Patrick, who like to visit her in her dome home protected from seawater. It looks like she's always wearing an astronaut suit so she can walk around in the water with everyone else.
Plankton– Who could forget Mr. Krabs' nemesis, Plankton? This green plankton is the owner of The Chum Bucket, a run-down burger restaurant that rarely gets a single customer. His computer wife, Karen, berates him but also helps in his schemes to steal the Krabby patty formula.
Cake Shapes to Consider
It's important to figure out what kind of cake shape you want before pulling out the mixing bowls or going to a baker. All of these cakes have their strong points, so I'll go into what each type of cake means so that you get the best one for your occasion.
Slab Cake – Also known as a sheet cake, a slab cake is a long, single-tiered rectangle. These cakes are easy to make at home, but professionals make them all the time, too. The flat surface makes it a breeze to decorate these cakes.
Two Tier – Have you seen the cakes where two layers of cake are stacked on top of each other? That's a two-tier cake! When making tiered cakes, it's best to have some sort of wooden stick that runs through both cakes so that the top cake doesn't jostle around.
Three Tier – This one's just like a two-tier cake, but instead of two stacked cakes, this one has three layers! Oftentimes, a larger cake will be on the bottom with a medium cake on top of that one and then a small cake on the very top.
Cupcakes – It can be a good idea to make or buy cupcakes when you want to have multiple cake flavor options. For example, if you want to have a variety of vanilla and chocolate cakes, cupcakes are the easiest way to have that.
Cakes in Cake Molds – You know how bundt cakes are always in that perfect circular shape? Well, you can buy cake molds that look like Spongebob, or a pineapple, or anything, really. This way, the cake you bake in the mold is made to the shape of the character or item you want.
FAQ
Get ready to have your most delicious questions about cakes answered here! Got another question about cakes or Spongebob cakes in particular? You know what to do!
Question: What are the Types of Cakes?
Answer: We could be here all day while I answer this question, so I'll keep it short.
• Vanilla cake
• Chocolate cake
• Carrot cake
• Red velvet cake
• Sponge cake
• Bundt cake
• Pound cake
• Angel food cake
• Biscuit cake
• Cheesecake
Question: What is the Most Delicious Cake in the World?
Answer: This is an opinion-based question, so there's no clear answer here. I will say that cakes turn out more delicious when you substitute regular milk with buttermilk. They'll be moister if you replace butter with vegetable oil, too, but you didn't hear that from me.
Question: Which Cake is Best for Birthdays?
Answer: If you're going for drama, try a tiered cake. If you'd like there to be several different cake flavor options, then I suggest cupcakes. Some just prefer classics, and in that case, you can't go wrong with a slab cake.
See You in Bikini Bottom!
It's time to swim on over to the grocery store or local baker so you can get your own epic Spongebob cake! Did one of the Spongebob cakes on my list inspire you to make a cake or have one made by a professional? Let me know your fav! Was it the Gourmet Dessert Spongebob Cake by Flavor Cupcakery that I love? For even more fun and creative cake ideas for birthdays, graduations, anniversaries, and more, please come check out our website!
Looking for more interesting readings? Check out: