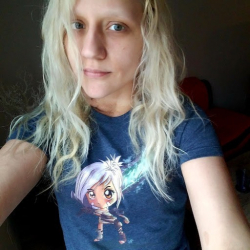 Latest posts by Emily Medlock
(see all)
Glove World! from SpongeBob Squarepants is one of the most famous fictional amusement parks in the world. Considering SpongeBob is consistently in the top five most popular cartoons of the 2000s, the theme park has surely gained a lot of traction.
If you're like me, you were a little frightened of the notorious Glove World! but you also wanted to visit it. As I got older, I realized there was a lot that I didn't know about Glove World!, and it delighted me to learn everything there was to know about this glove-themed park.
What is Glove World?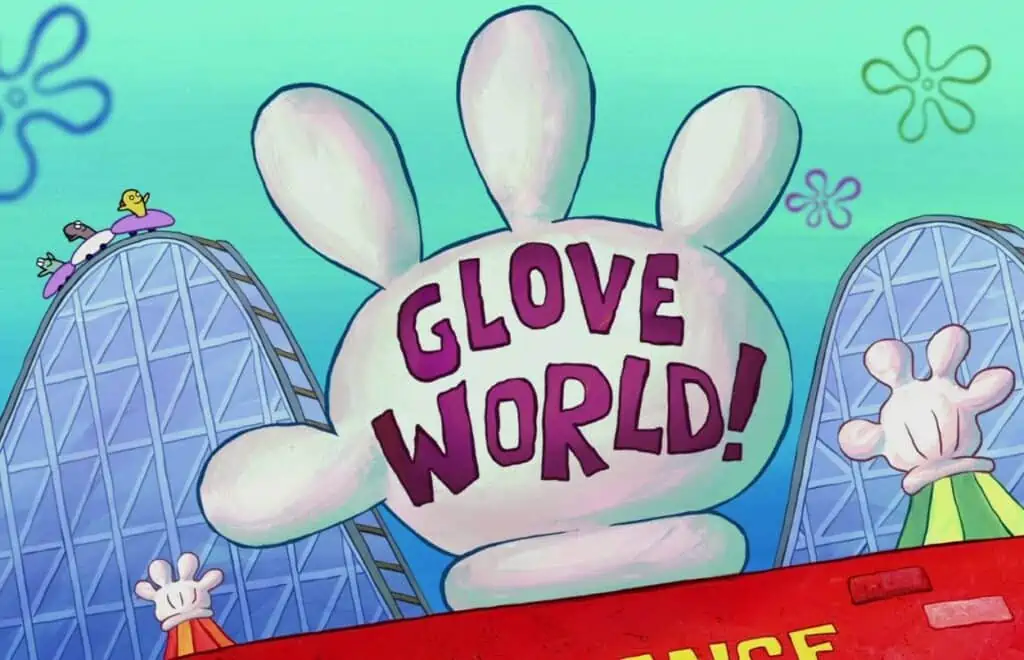 First Episode:

 "Rock Bottom"

Most Recent Episode:

 "Nickelodeon All-Star Brawl"

Founder/Owner:

 Hieronymus Glove

Company:

 Finger Fun Industries

Location:

 Bikini Bottom
Glove World! is a theme park – in the TV series SpongeBob SquarePants – located in Bikini Bottom. It is a glove-themed amusement park that is owned by Finger Fun Industries. The park has roller coasters, a souvenir shop, and various other theme park amenities. SpongeBob and Patrick visit the park many times throughout the series and will likely visit it again in the future.
SpongeBob Episodes About Glove World
Glove World! appears in eleven episodes of SpongeBob Squarepants. In some episodes, it is the focal point of the episode, while in others, it is simply passed by or seen in a montage. 
"Rock Bottom" – Season 1 (Episode 17)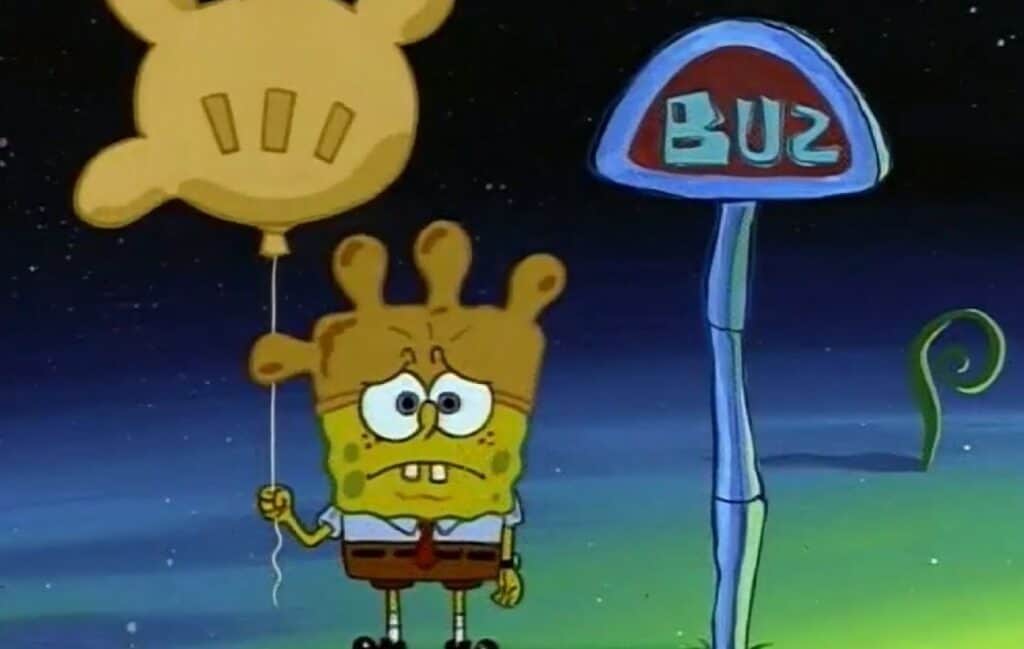 The first time we see or hear of Glove World! is in the series. In "Rock Bottom," we see Patrick and SpongeBob at Glove World! right off the bat. They are holding souvenirs and standing outside of Glove World!
While we don't see Patrick and SpongeBob at Glove World! in this episode, we do see them take the wrong bus from Glove World! and end up at Rock Bottom. Rock Bottom is a creepy town that SpongeBob escapes from via his Glove World! balloon.
"Roller Cowards" – Season 5 (Episode 86)
For four whole seasons, we hear nothing about Glove World! But at the beginning of this episode, we see Patrick show SpongeBob a commercial for Glove World! The commercial is for a new scary ride called Fiery Fist O' Pain.
That night, both SpongeBob and Patrick make plans to go on the ride the next morning, but they both have nightmares about the ride. They make it to Glove World! but after seeing the long line for the new ride, they decide to go on toddler rides instead. However, they are frightened of the toddler rides as well. In the end, they face their fears and ride Fiery Fist O' Pain.
"Tunnel of Glove" – Season 7 (Episode 149)
In season seven, Glove World is mentioned once in"The Abrasive Side," but we only get to see Glove World in "Tunnel of Glove." In the episode, Pearl and her friends go to Glove World! This episode is awkward as it pairs Pearl and SpongeBob together multiple times, coincidentally, even having them ride the Tunnel of Glove together.
The episode is quite comical, with Patrick spending the evening with a generator he thinks is SpongeBob and Pearl's friends completely convinced the "teen" whale is dating the 30-some-year-old sponge.
"Glove World R.I.P." – Season 8 (Episode 172)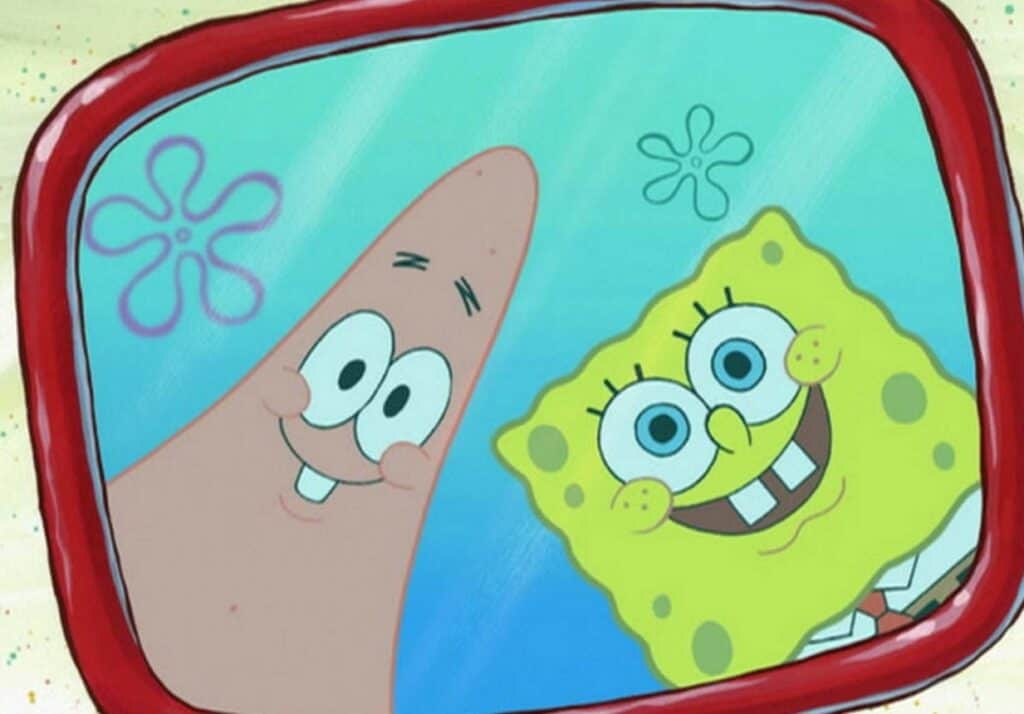 "Glove World R.I.P." is likely the second most famous Glove World! episode. This is the episode where it is announced that Glove World! is shutting down. SpongeBob and Patrick chain themselves to the walls of Glove World! in an attempt to prevent this from happening. They later find out that the owner is shutting down Glove World! to open Glove Universe. He even gives them a key so that they can visit Glove Universe right away. However, Patrick throws the nearby lake, trapping them at Glove World!
"Don't Wake Patrick" – Season 10 (Episode 215)
In "Don't Wake Patrick," Patrick sleepwalks to Glove World! and SpongeBob tries to wake him. Patrick walks on the track of the roller coaster, Neck Breaker. SpongeBob follows him by grabbing a cart and even gets Patrick aboard. SpongeBob then launched the two of them to Patrick's rock home.
"The Night Patty" – Season 11 (Episode 239)
In "The Night Patty," we see SpongeBob and Patrick leaving Glove World! to visit the Krusty Krab. However, it's late at night, when the customers and staff are different than what they are accustomed to. Squidabeth is running the cashier, and the restaurant doesn't serve Krabby Patties. Instead, they order the Great Pacific garbage patch. The meal contains a boo-ger, two Sucker Shakes, Howling Rings, and a packet of crawly fries.
The entire episode is filled with strange encounters, but it is revealed at the end of the episode that everything that happened was an illusion SpongeBob had. He had it because he had worked a shift in The Tidal Zone.
"Gary & Spot" – Season 12 (Episode 242)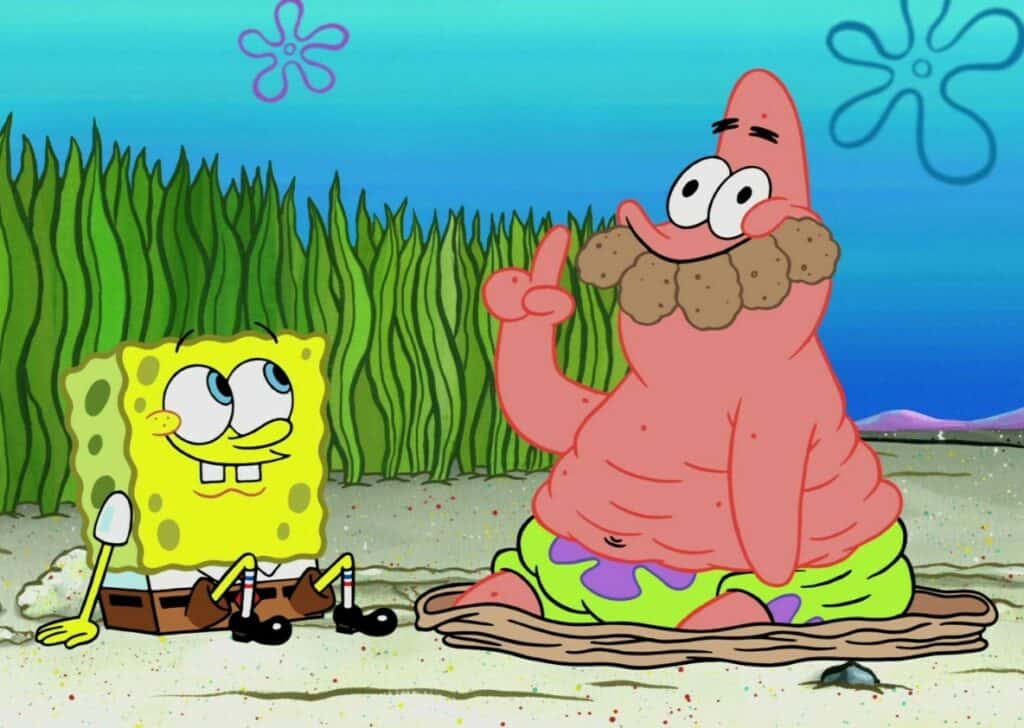 This episode of SpongeBob follows SpongeBob's pet snail, Gary. In the episode, Gary visits his friend Spot – Plankton's pet amoeba. The two of them soon end up rescuing their friends from the animal shelter. The animal control officer had been harassing them all night, and after they rescue their friends, they find out that the officer, Marvin, is simply lonely.
So the animals create a "girlfriend" for him out of slime. Marvin immediately falls in love with the slime lady, who is known as Alice Wilson. Marvin takes Alice on several dates, including one at Glove World!
"The Ballad of Filthy Muck"- Season 12 (Episode 243)
"The Ballad of Filthy Muck" is in the same episode as "Gary & Spot." In the episode, Patrick is so stinky that he eventually turns into what the townspeople call Filthy Muck. He makes his home at the dump. When SpongeBob goes to rescue Patrick, he gets pulled in and becomes muck too. Although it all gets cleared up when SpongeBob cleans the two of them, this doesn't happen until after Filthy Muck and SpongeBob have fun at Glove World! riding roller coasters.
"SpongeBob's Bad Habit" – Season 12 (Episode 256)
For the first time in seasons, Glove World! is crucial to an episode. In the episode, SpongeBob develops a bad habit of biting his nails after hearing Squidward complain about his job. Patrick eventually takes him to Glove World! in hopes of distracting him and helping him break the habit. They two get kicked out after SpongeBob bites the nails of a glove balloon.
After they get kicked out, they recruit Sandy for help. After they fail to help SpongeBob break the habit, Sandy sends him to a hypnotherapist. The therapist states that SpongeBob is biting his nails because he thinks he is Squidward. Whenever it is revealed that the therapist is Hans – who is a hand – SpongeBob bites his nails. The real Squidward walks in and is freaked out, causing him to bite his nails as well.
"Handemonium" – Season 12 (Episode 257)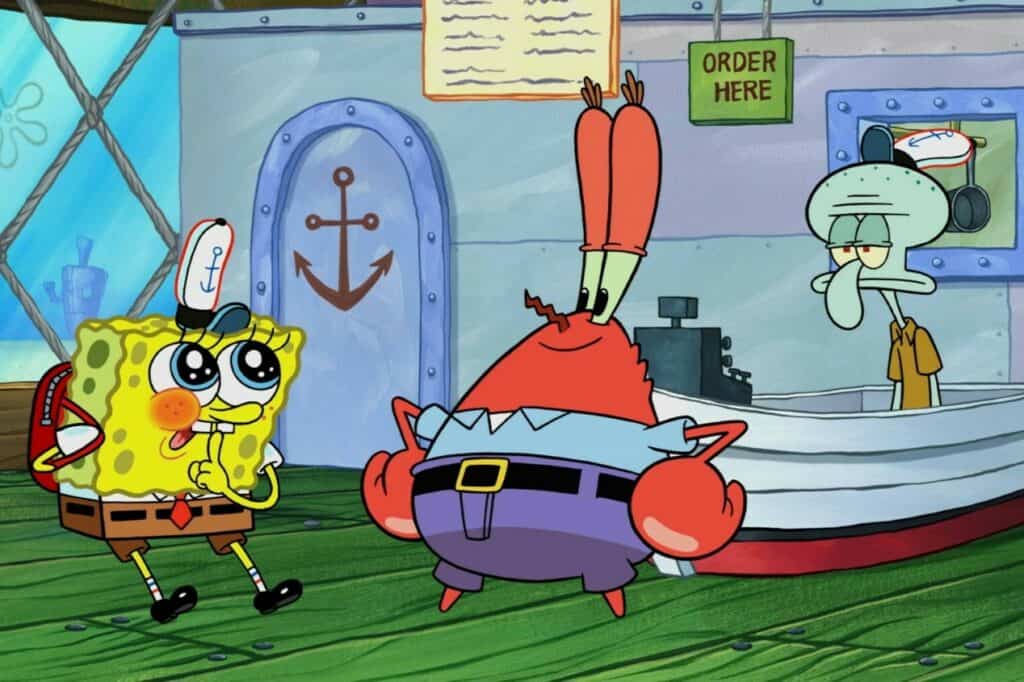 In "Handemonium," Plankton brings the Chum Bucket glove to life in order to win an arm-wrestling match against Mr. Krabs. He is successful in his plans, but the glove soon goes rogue and then on a rampage. When Plankton loses track of the glove, he recruits SpongeBob to help find the glove. However, SpongeBob says that the glove can only be defeated with love. So they dress like a glove to seduce the Chum Bucket glove. When their disguise is revealed, they recruit Hans, the hand. Hans suggests the glove is Glove World! so they go there to search for him. Hans and the Chum Bucket hand have a Godzilla vs. King Kong type fight, and eventually, Hans wins after the others distract the enemy.
"Escape from Beneath Glove World" – Season 12 (Episode 266)
In "Escape from Beneath Glove World," SpongeBob and Patrick are at Glove World! where they visit a baseball-themed ride. After the ride, they go to the Glove World Theater, where they see a play by the owner of Glove World!, Hieronymus Glove. When Patrick accidentally destroys Hieronymus Glove, the cops get involved. Thankfully, the glove they destroyed was a robot, but they still spend time in Glove World! jail.
After a toddler attempts to escape the jail, SpongeBob, and Patrick attempt to bring him back to serve their time. After chasing the kid through Sock World, the two meet the vengeful Hieronymus Glove robot who attempts to take Patrick's head. They are saved by the real Hieronymus Glove, who is trapped in ice – a reference to the conspiracy regarding Walt Disney.
An Inside Look at Glove World
Glove World is inspired by Disneyland. Each episode offers a deeper look into the theme park and how it resembles what Walk Disney created. This is what we've found throughout the series.
Glove World Attractions
The Mitten

 – The Mitten is a children's ride featuring a small car that goes up and down. It is a tiny roller coaster to prepare toddlers to ride on large ones when they are older. It was inspired by Tom King's own experience as a kid.

Fiery Fist O' Pain

 – this is the largest roller coaster in Glove World! and SpongeBob has a right to be scared of it. The ride warns riders that they may experience crying, screaming, projectile vomiting, amnesia, spine loss, embarrassing accidents, uncontrollable gas, and explosive diarrhea.

Tunnel of Glove

 – the Tunnel of Love is a river of love ride. However, the ride is later turned into the Tunnel of Terror, a horror ride rather than a romantic ride.

Glove Castle

 – Glove Castle is a playhouse in front of Glove Lake.

Hall of Mirrors

 – Hall of Mirrors is a funhouse full of mirrors. Unfortunately, the mirrors are defective, and they break.

Tilt-A-Hurl

 – this ride features a glove-shaped car and a glove-shaped spring that pushes the riders off a diving board. The ride isn't at all safe and injures players regularly.

Glove Drop

 – Glove Drop is a tall tower ride with an elevator that takes riders to the top. At the top, it crashes down to the ground, which is likely a mechanical problem. More than likely, the ride was meant to have a parachute.

Ferris Wheel

 – a common ride consisting of a Ferris wheel with glove-shaped seats. This is probably the most popular ride as it is often full when characters pass by it.

Merry-Go-Round

 – classic merry-go-round.

Swings

 – regular swings.
Glove World in Video Games
Glove World is mentioned in the 2007 game SpongeBob's Atlantis SquarePantis. But the theme park appears in five other SpongeBob/Nickelodeon games. Maybe you've played the games and missed the Glove World cameos.
Fiery Tracks of Fury

 – in this online browser game, SpongeBob and Patrick are trapped on the Fiery Fist O' Pain. Your goal is to help them survive by jumping over cracks and dodging the fists that smash the tracks.

SpongeBob and the Clash of Triton

 – in this PC game, SpongeBob visit Glove World! which is one of the main levels as it contains a boss, unlike many of the other levels.

SpongeBob Moves In!

 – this city-building mobile game features Glove World! as a small part of Bikini Bottom.

Which SpongeBob Are You? –

 this online quiz features Glove World! as one of the options to the question, "Where would you chill?"

Nickelodeon All-Star Brawl

 – this game was released in 2021 and is a Nickelodeon version of Super Smash Bros. Glove World! is one of the three SpongeBob SquarePants stages you can fight on.
FAQs
Question: Can I Get Glove World Merch in Real Life?
Answer: There are various Glove World merchandise options out there, but the LEGO set is probably the most famous. Glove World (3816) is a 2011 LEGO set featuring the gang with an ice cream vendor and the Ferris wheel.
Question: What Replaced Glove World in SpongeBob?
Answer: Glove Universe replaced Glove World! in SpongeBob. However, the gang still visits Glove World! rather than Glove Universe in the episodes following Glove World's supposed demise.
Question: Is Glove World Scary?
Answer: Glove World is not meant to be scary. However, there are multiple creepy episodes involving Glove World! which is likely why it is seen as a scary park at times.
Question: Who is the Mascot for Glove World?
Answer: Glovey Glove is the glove-shaped mascot of Glove World! who Patrick was once afraid of. He has a happy face and four fingers. Of course, Glovey Glove is actually an employee fish in a glove costume.
Another Funtastic Day At Glove World
As a child, Glove World may have fascinated you, or it may have scarred you for life. The amusement is there, nevertheless. It's always beautiful when a fictional place becomes part of our real lives. When I think of Glove World just as often as I think of Six Flags, it lets me know how important the shows, video games, and books I was exposed to were and how impactful what I consume is. I'll always think fondly of Glove World, as it was a theme park I visited – vicariously – through SpongeBob SquarePants.
For more interesting readings check out: