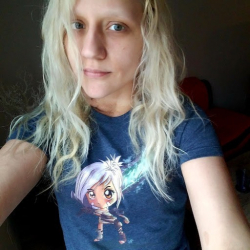 Latest posts by Emily Medlock
(see all)
A SpongeBob glasses merch guide will help you pick the perfect nerdy product for glasses and non-glasses wearers alike. As a glasses wearer, I'm always on the lookout for cute glasses.
But I also love wearing merch with my favorite characters in glasses. "Nerdy SpongeBob" is a common name for SpongeBob in his jellyfishing glasses, and he just might be my favorite depiction of the undersea sponge.
My Favorite Products Overview
What Do I Look for In SpongeBob Glasses Merch?
SpongeBob glasses merch is special to me, but I don't love every product. I have semi-strict criteria that I keep a lookout for when I shop for SpongeBob glasses merch.
Accuracy
Accuracy refers to how canon the product is. I am okay with knock-offs if the designers put effort into their SpongeBob gang. But if there are inconsistencies, then I will move on to something else.
Price
Price is important to me. I don't have an unlimited budget for SpongeBob glasses merch. When I shop, I start with a budget for the type of product I'm looking for, and if it doesn't fit under it, then I won't get it.
Quality
The quality of the product is one of my main priorities. If I find SpongeBob glasses merch that is a great price (and not on sale), I look into why it's a great price. Reviews are a good place to start.
Humor
While some products can be serious, and I love them, I want SpongeBob merch to be humorous. It doesn't need to be a meme, but something at least a little slapstick or whimsical is nice.
Style
Style is personal. But it's difficult for me to pick out products and recommend them if I hate the product, even if others love them. That doesn't mean everything I recommend is my style, but I do see the beauty in them all.
Official SpongeBob Glasses Merch
All of these products were created by Paramount and can be purchased on the SpongeBob official merch site. I know many people who only buy official merch, so I had to include this list.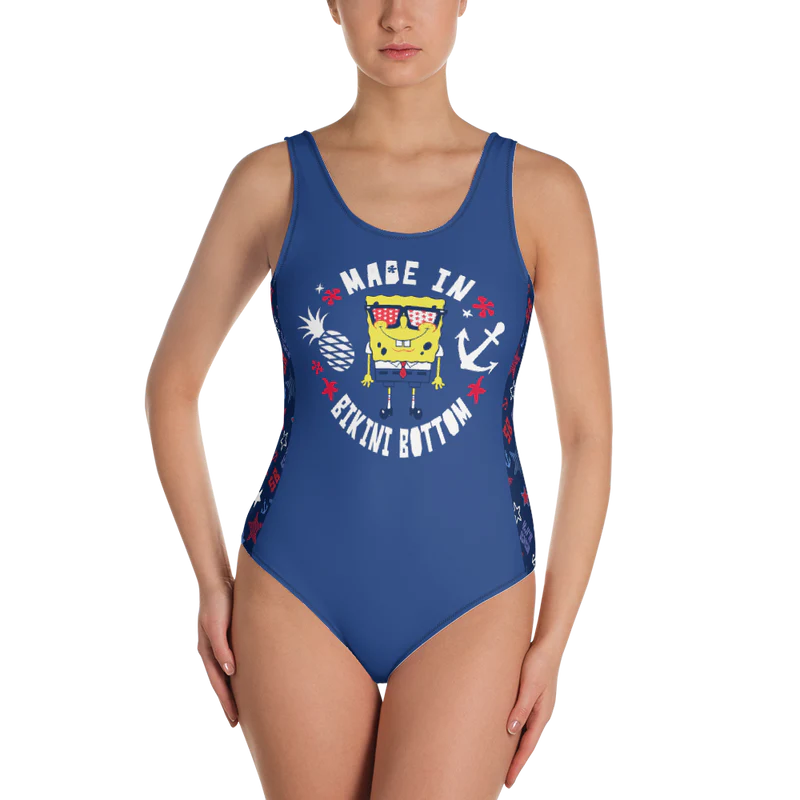 This may not be a "bikini bottom," but it's the next best thing. Cartoon character swimsuits can be so cute, and this SpongeBob one-piece is no exception. It's the fun in the sun glasses SpongeBob, not the nerdy SpongeBob.
I think a lot of people only know glasses SpongeBob as the nerdy version. I love that version, but it's nice to see a chill version like this.
Pros
Lots of sizes
Unique
Modest
Cons
Expensive
One color
No size guide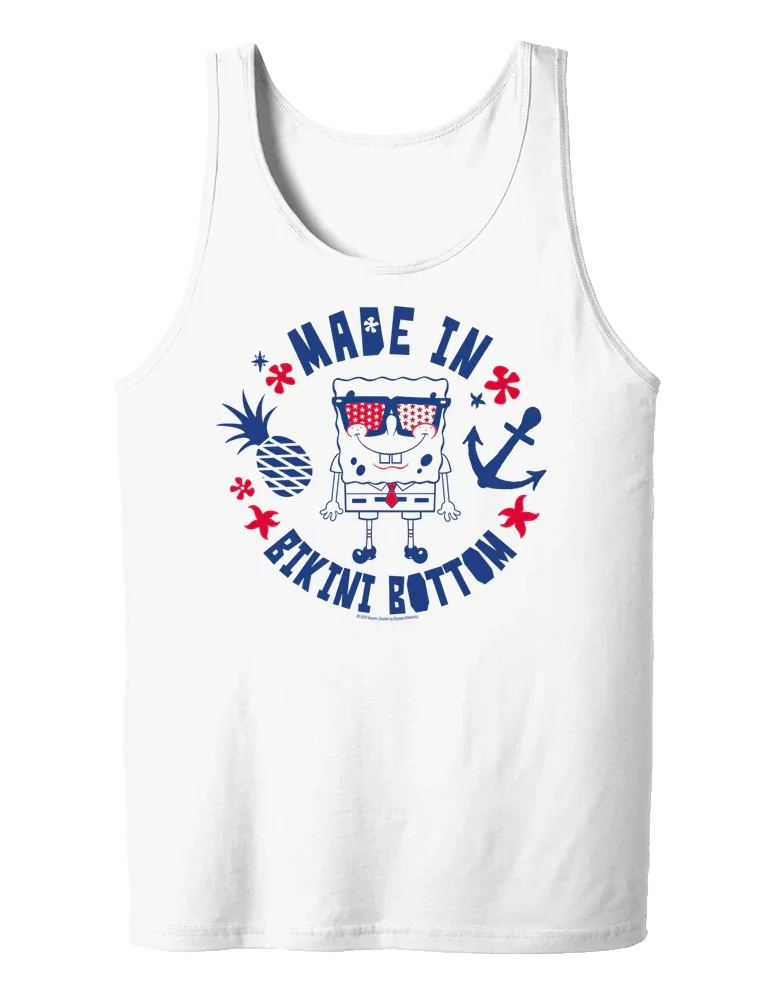 A Bikini Bottom tank top is something I'd wear all year long. This one has the same picture as before only it's a more versatile gift because most people like to have a tank top or two on hand.
The summers have been hot, and t-shirts have become less and less popular. I know I only wore tank tops this summer, and I will be on the lookout for more next spring.
Pros
Lots of sizes
Beach vibes
Cons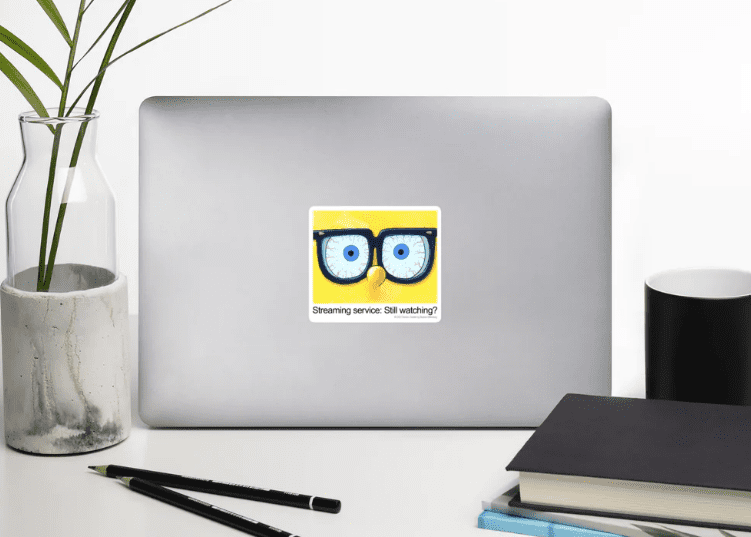 I'd immediately stick this on my PC tower and call it a day. I have a thing for stickers because it's like a tattoo for your products. I get to show the things I love, even if I'm the only one that sees them.
I love this sticker in particular because the Netflix "still watching" meme is the focus. Meme products always get me, especially when it's a classic that anyone can relate to.
Pros
Cons
Not everyone likes stickers
One size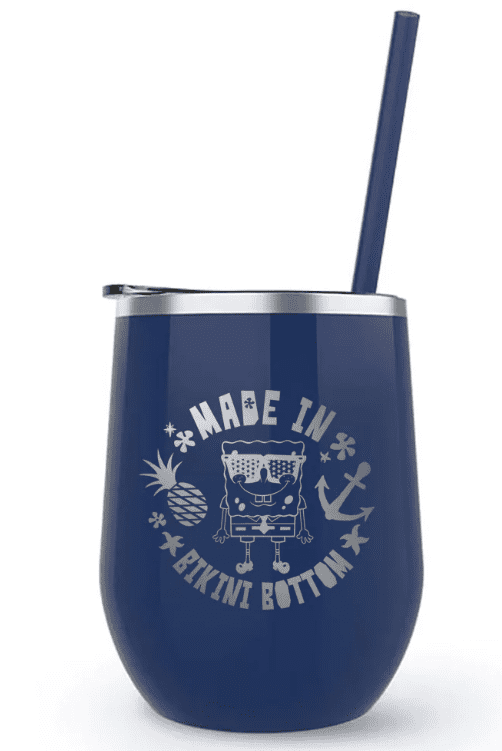 A gift for the beach bum who hates getting clothes. When I was younger, I was under the impression that tumblers were for those who drank alcohol in the afternoons.
Now, I use them for everything from water to slushies. The summer theme of this tumbler is appropriate and fun. This is a great substitute for a coffee cup for the person who doesn't drink coffee.
Pros
Three colors
Unique gift
Theme fits product
Cons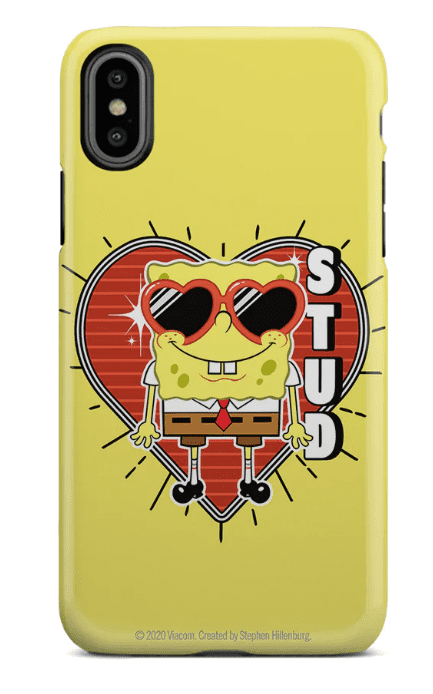 While geeky SpongeBob with glasses is my favorite, stud SpongeBob with glasses is my second favorite. I always find it annoying whenever there's a phone case I like, but it's only available for iPhone.
This case is available for most Androids and iPhones, so no matter what type of phone you have, you can probably find one that fits. I love the yellow color on this one, and would use it even without the image.
Pros
Unique
All phone types
Yellow (personal pro)
Cons
May get old because it's not a classic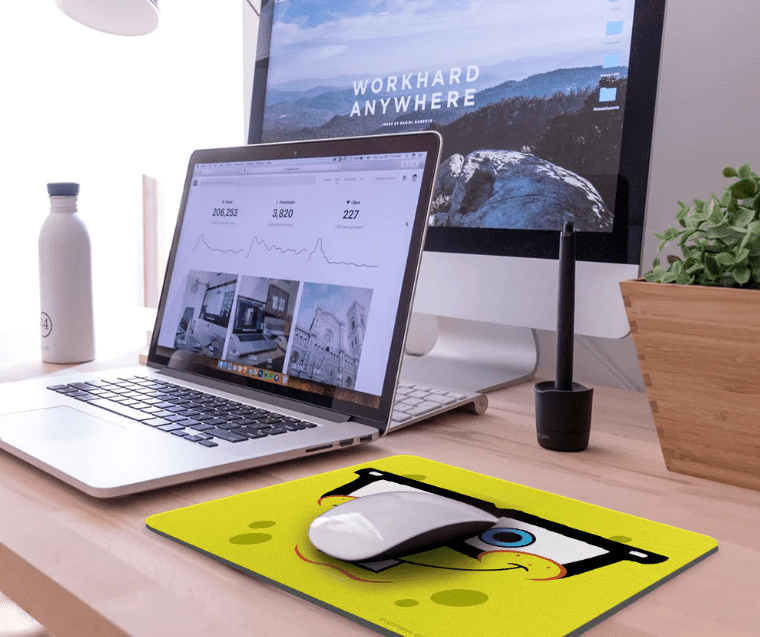 Everyone needs a new mousepad every once in a while. I like to get a new one every year or two to refresh my desktop space. Though if I find one I latch onto, it's hard to let go of.
I can't tell if the quality of this one is on point, but the picture is cute. It's affordable, too, so even if it doesn't work out, at least you can use it for decoration.
Pros
Simple and sleek
Affordable
Cons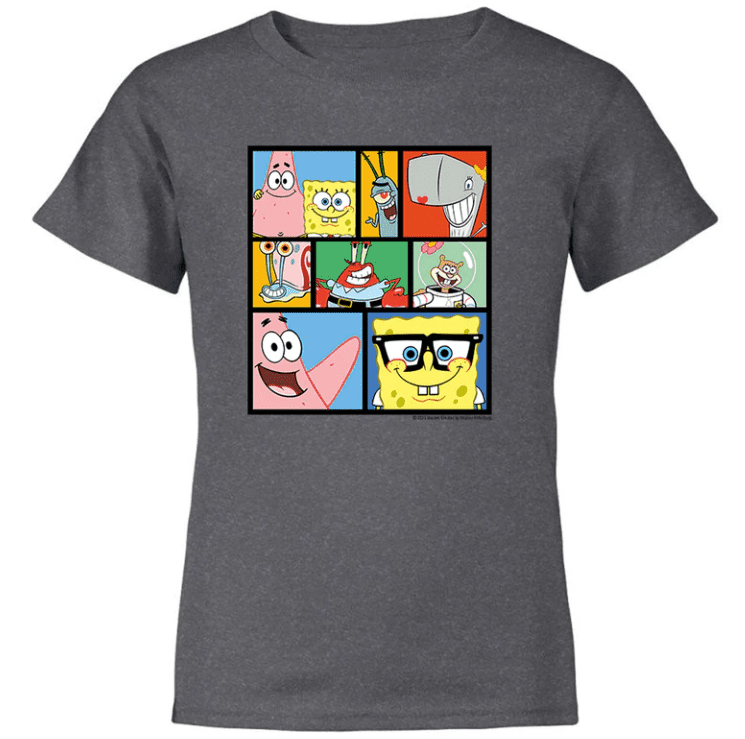 Not only do we get glasses SpongeBob here, but we also get to see a shirt featuring all of his friends. While I love summertime vibe shirts, I prefer shirts that go with any season.
I miss seeing Squidward on this shirt, but it's nice to see the others who rarely appear on merch.
Pros
Versatile
Classy
Many characters
Cons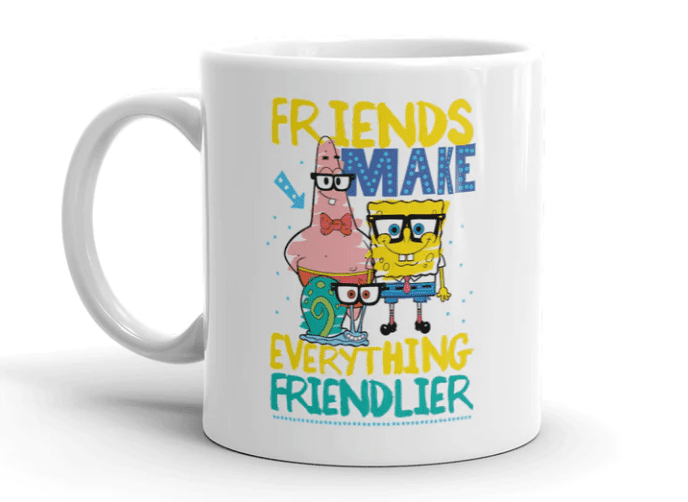 This may be the best SpongeBob mug I've ever seen. I love the look, the art, and the phrase. Yes, friends make everything friendlier. We also get to see alternate colors, which is always exciting.
Although the phrase is my favorite, the coloring out of the lines and the wrong color make this feel homey. This is the perfect gift for a close friend.
Pros
Unique
Colorful
Still classy
Two sizes
Cons
May be too unique for some
Not for acquaintances
Other SpongeBob Glasses Merch
Not everyone likes to buy official merch. Some people like to find something unique that others may not think to look for. This SpongeBob glasses merch can not be found on the official merch site.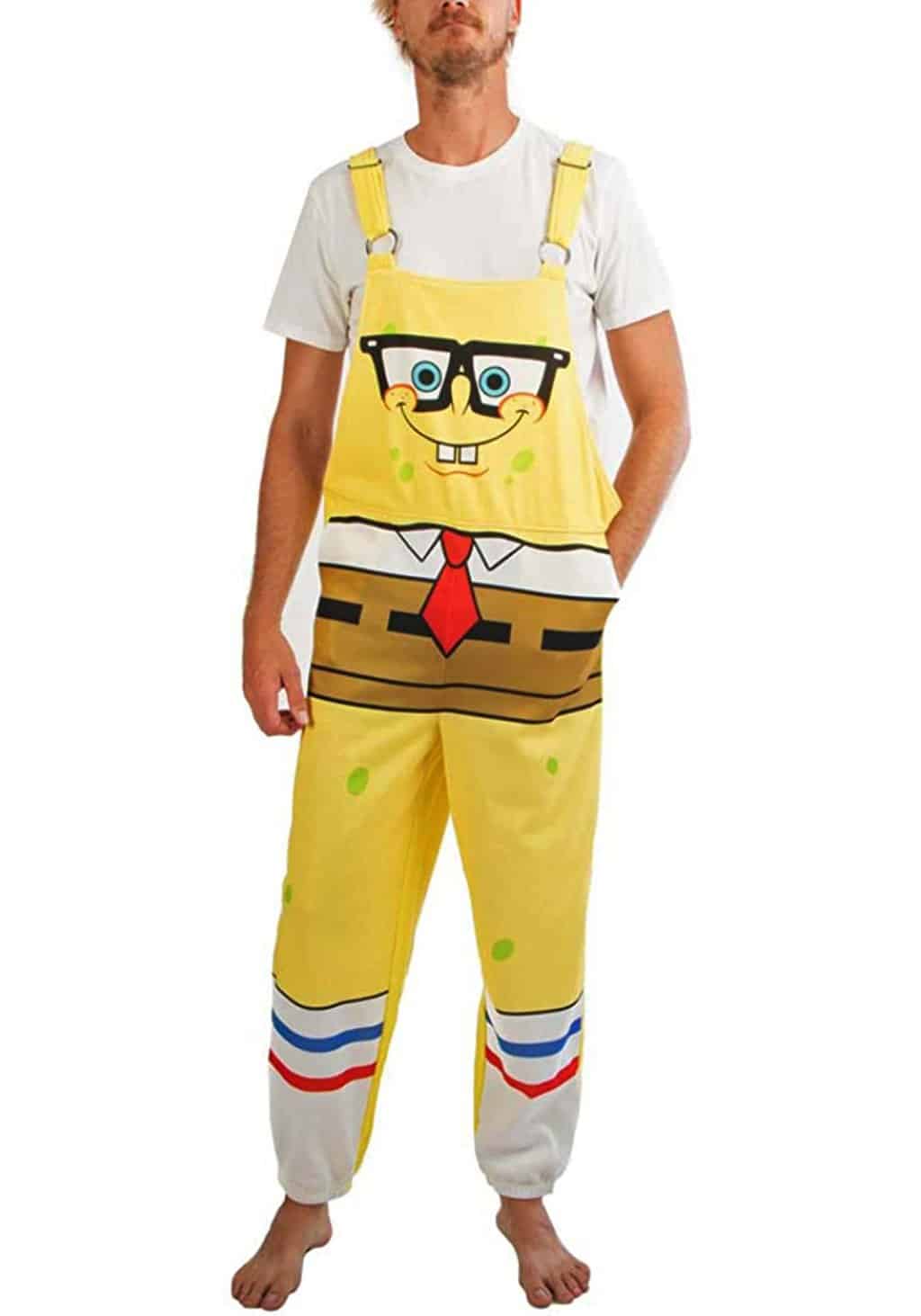 I love Bioworld, and these jammeralls are next level. I admit that I do not have a pair of jammeralls yet, but I need some. I'm actually one of those people who wears cute overalls when I find a pair that doesn't look silly.
Since I also like to wear pajamas, these jammeralls are perfect. They aren't for everyone, so if you're buying them as a gift, you should dig to find out if the person will like them.
Pros
Cons
Not for everyone
Not cheap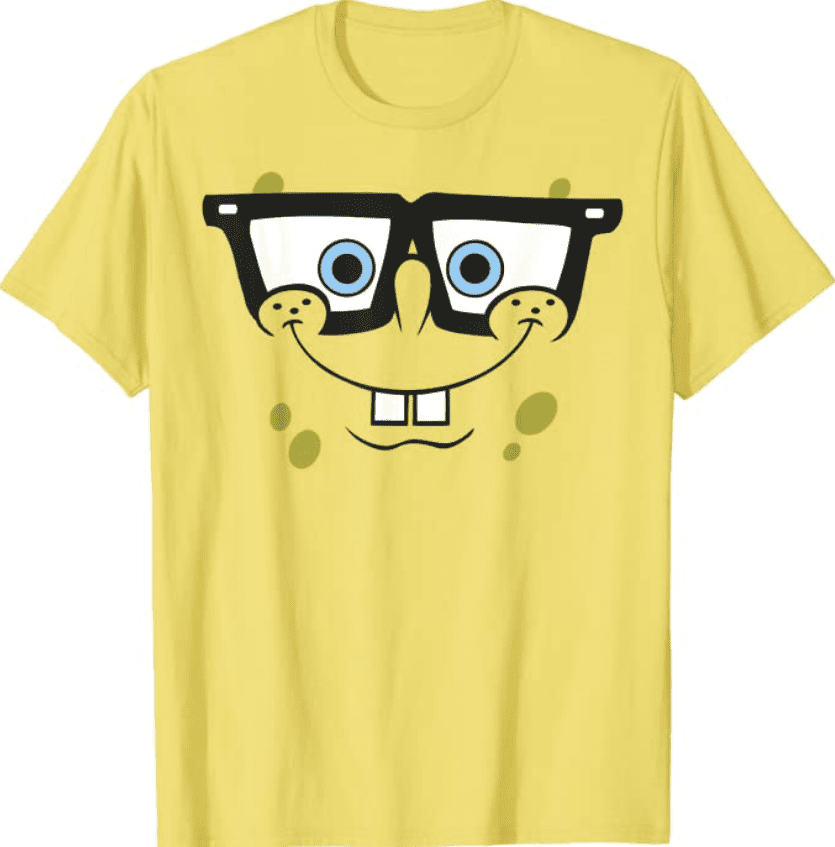 Love SpongeBob's glasses look, but don't know what to get? This SpongeBob with glasses t-shirt is the perfect option. I am all for unique finds, but there's something about this classic.
I have always been the person to wear "established in" t-shirts with the company name on the front. This gives me a similar feel because it's simple and classy.
Pros
Classy
Versatile
All sizes
Cons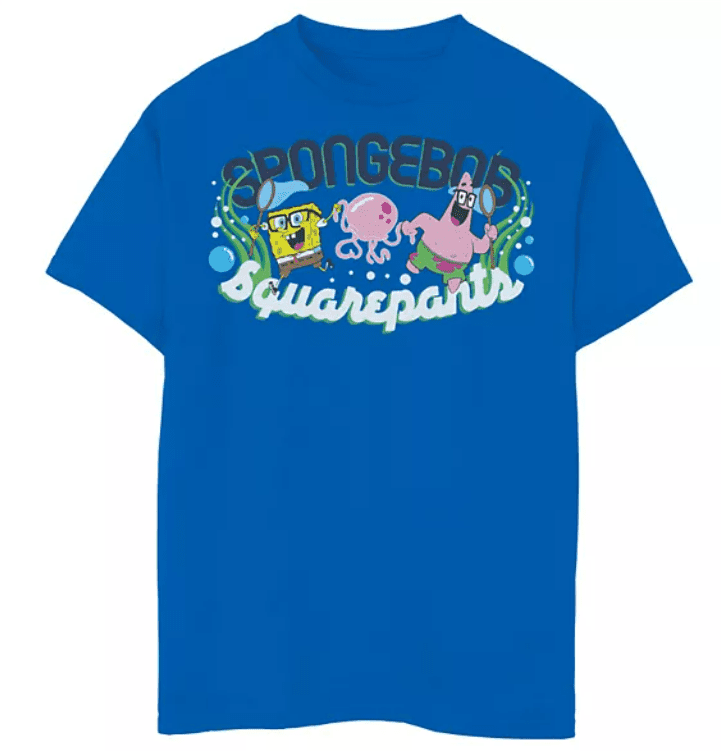 SpongeBob always wears his glasses while jellyfishing. That's where the look came from. Kids who love SpongeBob will know this, so they will get the reference and enjoy the shirt.
It only comes in blue, so if your kid doesn't like bright blue, I would get a different shirt.
Pros
Cons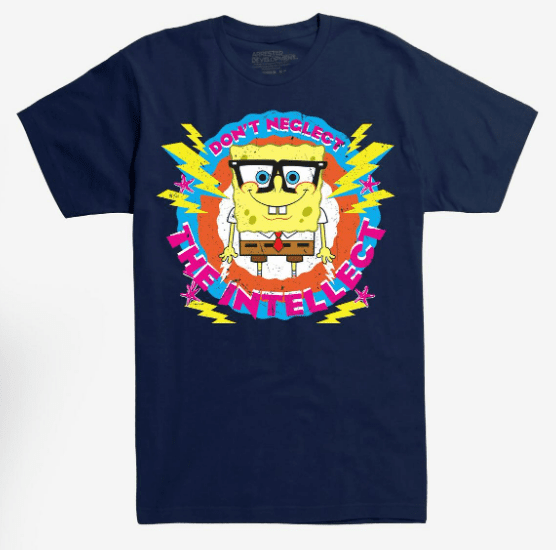 This shirt has so many layers, and I don't mean layers of cotton. We have the nerdy SpongeBob who was tagged with that title against his will. He's making fun of the trope with a snappy comeback.
SpongeBob isn't known for his brains, but he does have wit and a sense of humor. Beauty or brains? How about both?
Pros
Promotes intelligence
Funny
Colorful
Cons
May be out of stock next season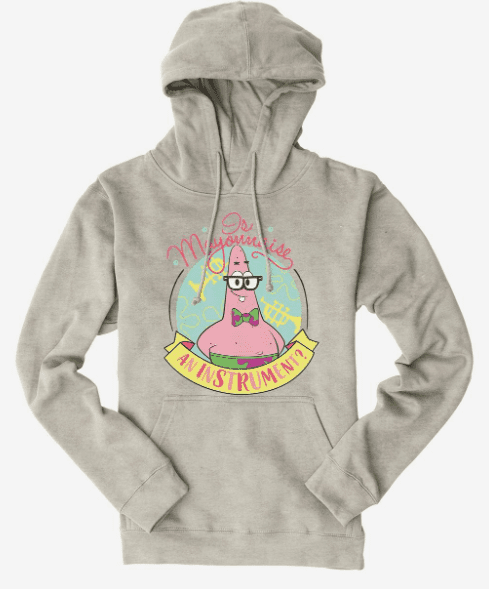 Is mayonnaise an instrument? If you're a SpongeBob fan, you probably remember this line. Patrick looks adorable on this hoodie that comes in so many colors that I couldn't even pick one.
Pros
So many colors
Large sizes
Unique
Adorable
Cons
May be out of stock next season
Actual SpongeBob Glasses and Accessories
If you're here because you want to find cute glasses that are a SpongeBob theme, then you can find them here. Even if you just get a SpongeBob accessory for the glasses you have.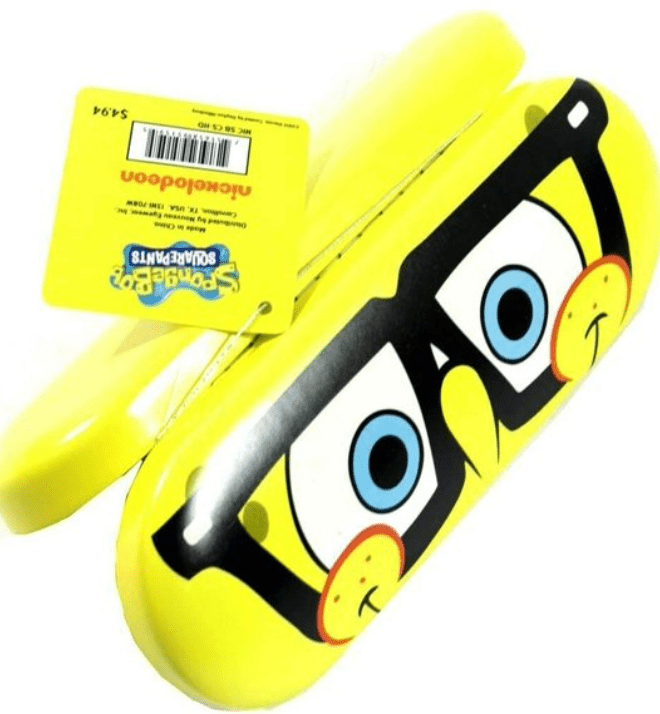 This is the classic licensed SpongeBob glasses case. I almost always pick the classic because it always works and seems to be the best quality. This one is made by Nickelodeon too.
Pros
Cons
Snaps closed hard
Possibly long shipping

Kids love picking out character merch. These SpongeBob glasses aren't noticeable SpongeBob-themed unless you take the glass off. Some kids will love that aspect, so they can whip out the surprise.
Pros
Light frames
Only frames with SpongeBob's face
Cons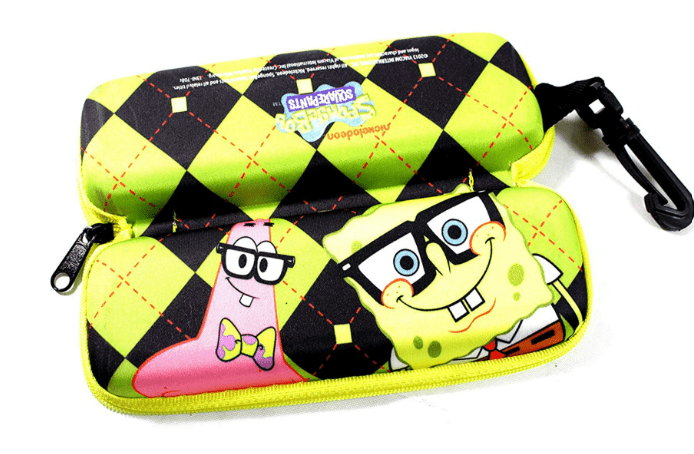 This cute case is for those who want something different. The zipper makes it safer for kids to store their glasses, and the cute theme is hard to resist. I love Patrick in a bow tie so much.
Pros
Double the fun with Patrick
Zips
Cons
May be too detailed
Colors slightly off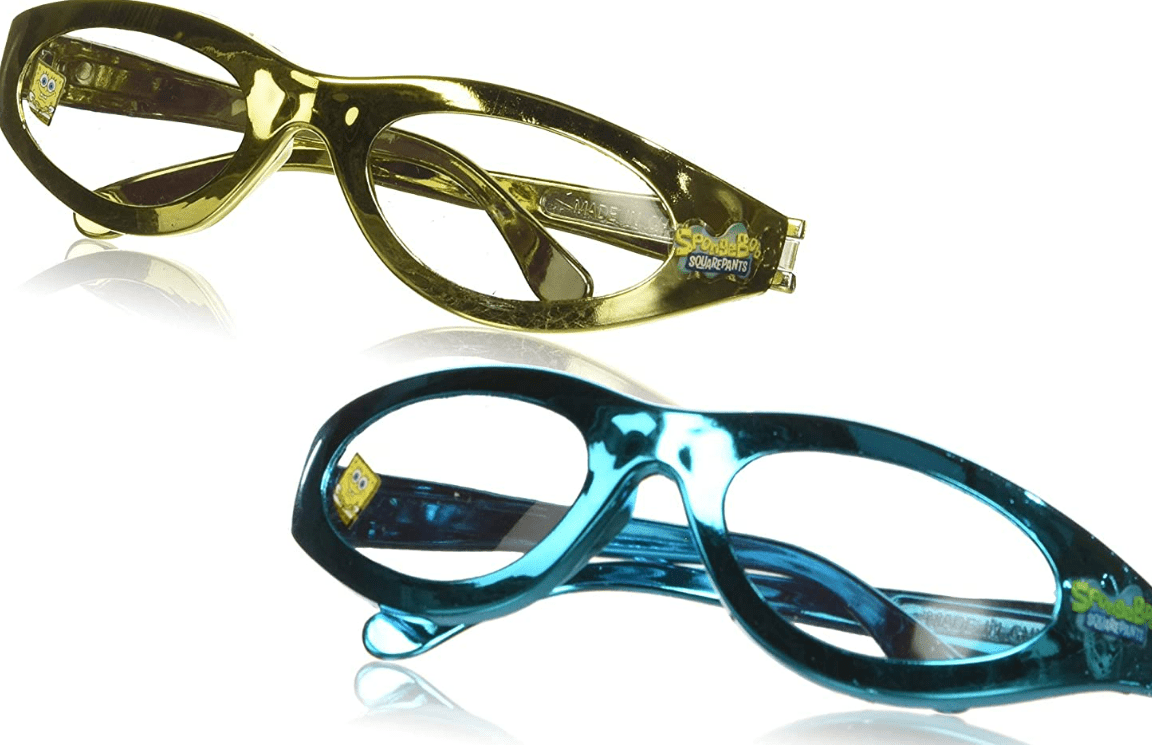 This is your product if you want a cheap pack of six glasses. They are not great quality, but for a couple of bucks per pair, you can throw a fun party for cheap. Don't forget the other SpongeBob decorations.
Pros
Cheap
Easy to find
Fun for kids
Cons

These glasses are so cute. Piracy is a common theme in SpongeBob, so the glasses' theme fits. Unless you look inside the glasses frame, then you won't notice they are SpongeBob; they just look like pirate glasses.
Pros
SpongeBob has an eyepatch
Pirate theme
Good quality
Awesome color scheme
Cons
Expensive when you add lenses

Not everyone wants bright yellow glasses, so here's a good product for those who prefer a more sophisticated take. It takes a detective to find the sponge on these adorable frames.
Pros
Cute
Subtle
Unique
Two colors
Cons
A bit small
Only one size
Not for SpongeBob superfans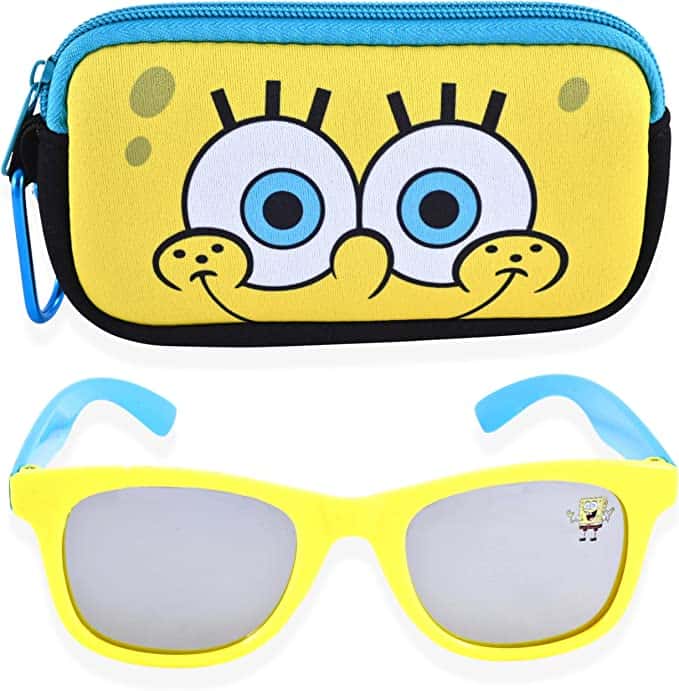 A cute set of SpongeBob Glasses with a case is the perfect gift for that summertime baby. Kids love wearing glasses, and SpongeBob is a favorite for kids of all ages. So even if you don't know the kid, they'll probably like SpongeBob.
Pros
Case and glasses
Two choices
Cute color schemes
Polarized
Licensed
Cons
Mid-priced
Too small for older kids
FAQs
Question: Is There a SpongeBob Glasses Plush?
Answer: Yes, there is, but it's difficult to find. You may have to go on an auction site or get lucky at a store near you. The plushes sold out fast, but they're not too expensive to find used.
Question: Does SpongeBob Wear Glasses?
Answer: SpongeBob usually only wears glasses to jellyfish. However, there are a few occasions when he wears glasses to read and do other things. But he doesn't wear them daily.
Question: Where Can I Get the Spongebob Glasses?
Answer: If you want to buy glasses that look just like SpongeBob, you can find some at most glasses stores. The simple black frames are easy to find but don't be afraid to ask an associate for a match.
Why SpongeBob Glasses Merch?
SpongeBob wearing glasses is perfect for kids who feel uncomfortable with their glasses. I know that seeing characters like me when I was younger gave me the confidence I needed.
This can work for adults too. If you're in the market for glasses that are inspired by SpongeBob, then you can unleash your inner child and be the one to inspire kids out there who need a confidence boost.
Looking for more interesting merch? Check out: