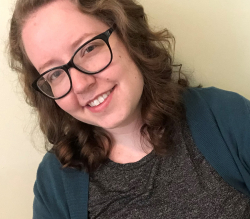 Latest posts by Hannah Haefele
(see all)
I've always loved the ocean, despite growing up in the middle of the US. So when I learned about some SpongeBob window decor ideas, I had to look into them.
Some of the decorations are great for your windows since you can add stickers. However, you can also create your own windows, which is great for a room without any real windows.
That way, you can feel like you're looking outside, even in an enclosed kitchen or office.
Bottom Line Up Front: SpongeBob window decor ideas include porthole paintings of various Bikini Bottom locations. The ideas also include curtains and other physical decorations for your windows.
SpongeBob Window Decor Ideas
If you love SpongeBob SquarePants, windows can make for great decor. And this goes two ways, including adding SpongeBob-themed decorations to your existing windows.
But you can also make your own "windows" that look like the portholes in the SpongeBob universe. I tried to include a few ideas for both types of decor so that you have multiple options.
In my search, I also included stuff you can make as well as stuff you can buy. I included seasonal and year-round decorations as well.
Here are some of the best SpongeBob window decor ideas to try.
#01 Painted Bikini Bottom Porthole Magnet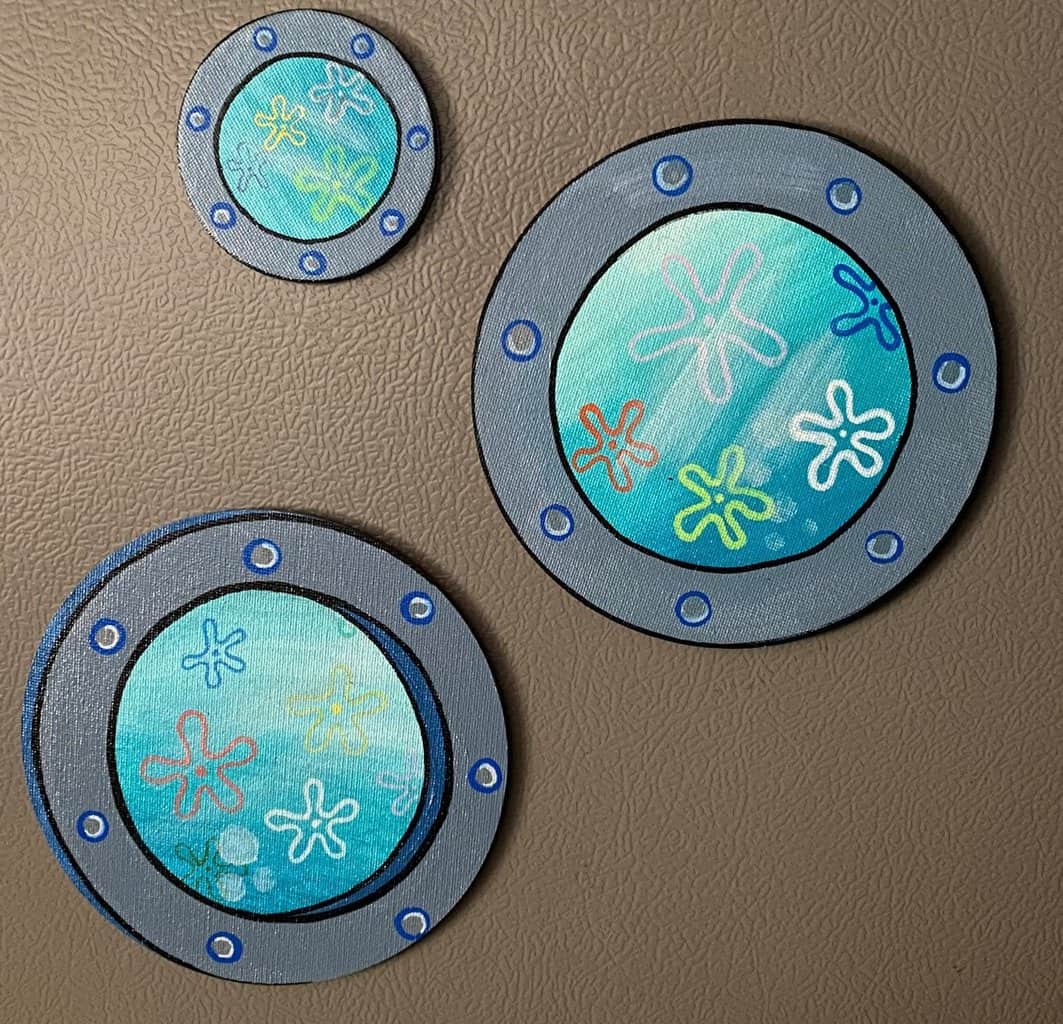 The Painted Bikini Bottom Porthole Magnet is an excellent option that's ready to go. I like that you can choose between a couple of sizes, and you can place it on the fridge.
However, you could also place the magnet on any other magnet board. That makes it a great choice for a school locker, or you could attach it to your wall.
Then, you can act like you're looking out into the city of Bikini Bottom. These designs are pretty simple since they only include flowers and a jellyfish, but that can be nice.
#02 SpongeBob Looking In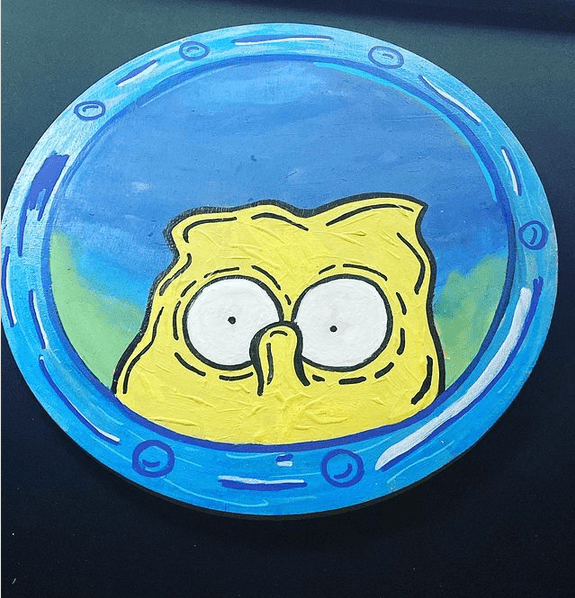 If you want to get creative, you can paint a porthole window on your wall or on a canvas to hang on the wall. I laughed when I saw this one with SpongeBob's facial expression.
This would be a funny decoration to put up in your bathroom because of SpongeBob's eyes. But it could also work in your bedroom or another area of the house.
I love that this is a pretty simple design, so it's good for amateur painters. You just need yellow, white, black, and a few shades of blue and green to bring this design to life.
#03 Christmas in Bikini Bottom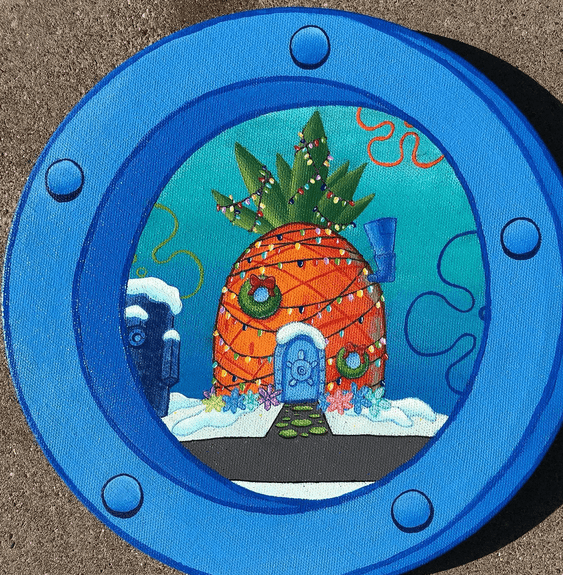 More advanced painters could create a Christmas-themed SpongeBob window decoration. This example requires a lot of colors and some fine lines, so I wouldn't attempt it as a beginner.
But if you can do it, you can paint the famous pineapple house. You can paint a few cloud flowers around it and add snow and Christmas lights on and around the house.
Depending on how close up you paint it, you may need to add a bit of Squidward's house. That does make it a bit flexible, but you could also paint other houses, like Patrick's rock, which would be a lot easier.
#04 For Valentine's Day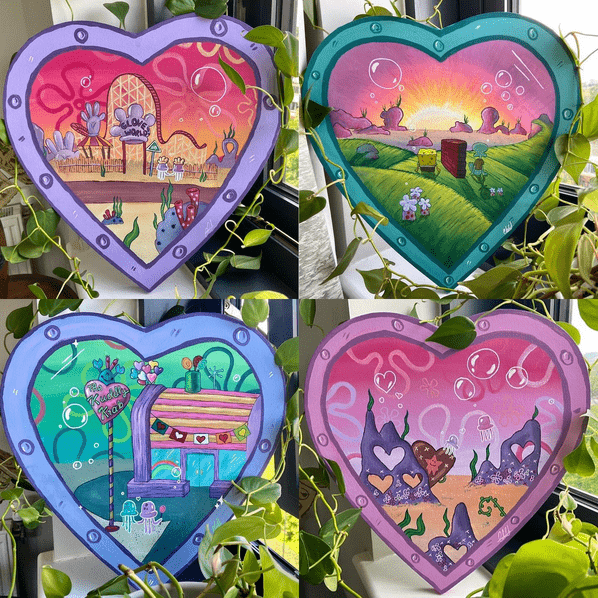 Another holiday-themed SpongeBob window decoration is for Valentine's Day. I saw a collection of a few heart-shaped porthole window paintings that feature different parts of Bikini Bottom.
My favorite is probably the one that shows SpongeBob and Squidward relaxing together on either side of a brick wall. But there's also the Krusty Krab and Glove World as options.
You don't even have to stick to just those locations. If you want to paint some other setting from Bikini Bottom, you can do so and make the sides of the window sill pink and in the shape of a heart.
#05 Shipwreck in Bikini Bottom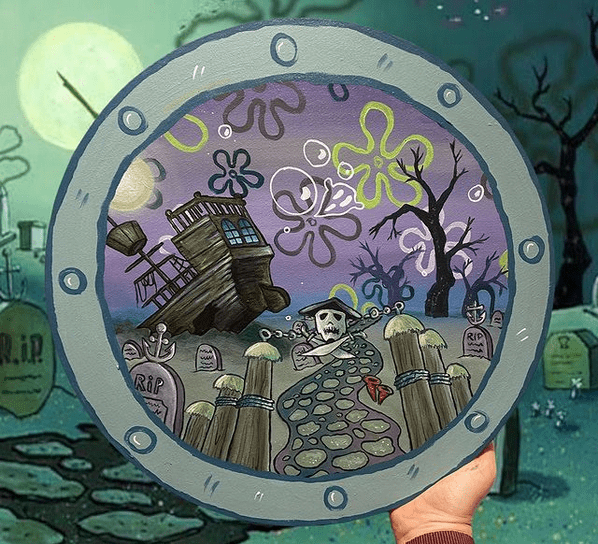 If you're a big fan of Halloween, consider painting a porthole window showing a shipwreck. You can make it look like a graveyard by adding a few headstones.
Place a skull in the center and add a pirate hat to embrace the nautical theme. I love how this idea works well in the fall, but you could also make it work in a more gothic room throughout the year.
It also doesn't require as many bright colors as some of the other designs. That can make it easier on the eyes, especially if you want to paint a large porthole.
#06 SpongeBob Plush Hanging on the Window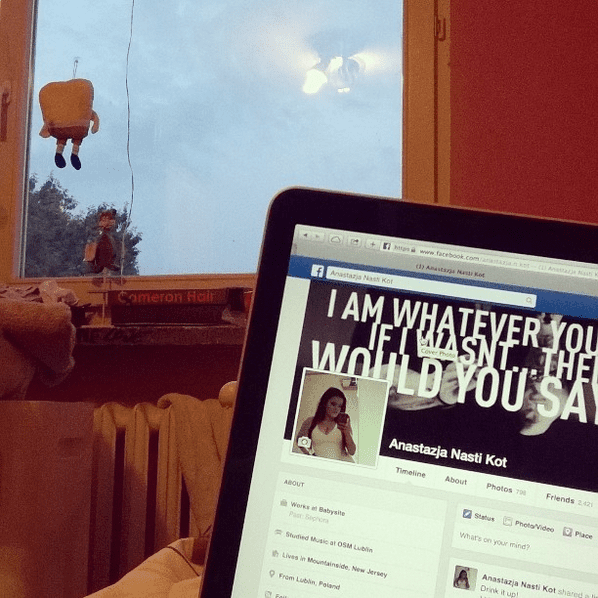 Maybe you have a SpongeBob plush with a small hook on it. You could hang that plush against your window so that the character looks outside.
I love how simple this idea is, and it can be great for ground-level rooms. That way, people who walk by will see the sponge in the window.
If you have multiple plushes of SpongeBob SquarePants characters, you can add them as well. Then, you'll show off the entire crew to people who pass by your home.
#07 SpongeBob in the Window Sill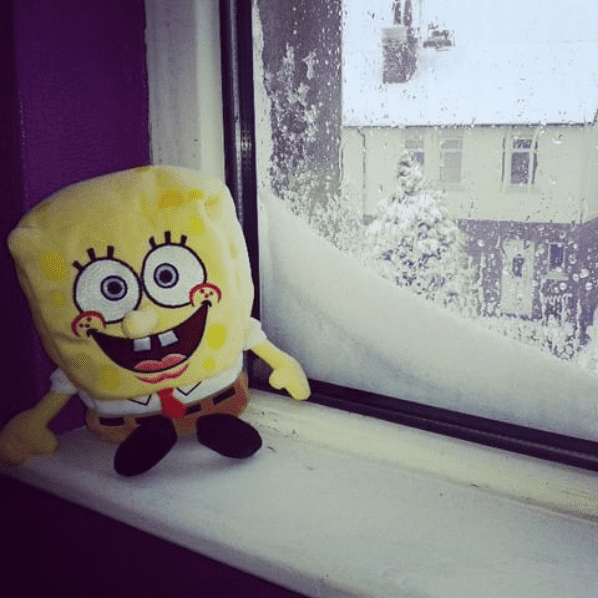 A similar idea is to simply place SpongeBob on your window sill. You could have him look outside or into your room depending on the vibe you prefer.
I like how this one works with any plush, so you don't need to attach a hook. Also, you can easily move the character around, and you can add SpongeBob's friends as well.
The plushes are also a nice touch if you don't have the best insulation around a window. It won't be perfect, but SpongeBob may be able to absorb some of the cold to keep you warm during the winter.
#08 SpongeBob Window Curtains
Another decor idea for a physical window is to get SpongeBob curtains. I found a set that features SpongeBob, Patrick, and Gary on a dark blue background.
You can choose the right size based on the height of your windows, and the curtains work in various rooms of the house. I love that the curtains can block the sun if you need to take a nap during the day.
The curtains are pretty easy to hang, but they're probably not the best if you have pets. I remember the dogs and cats I had growing up would always mess up any curtains we had.
#09 SpongeBob SquarePants Window Valance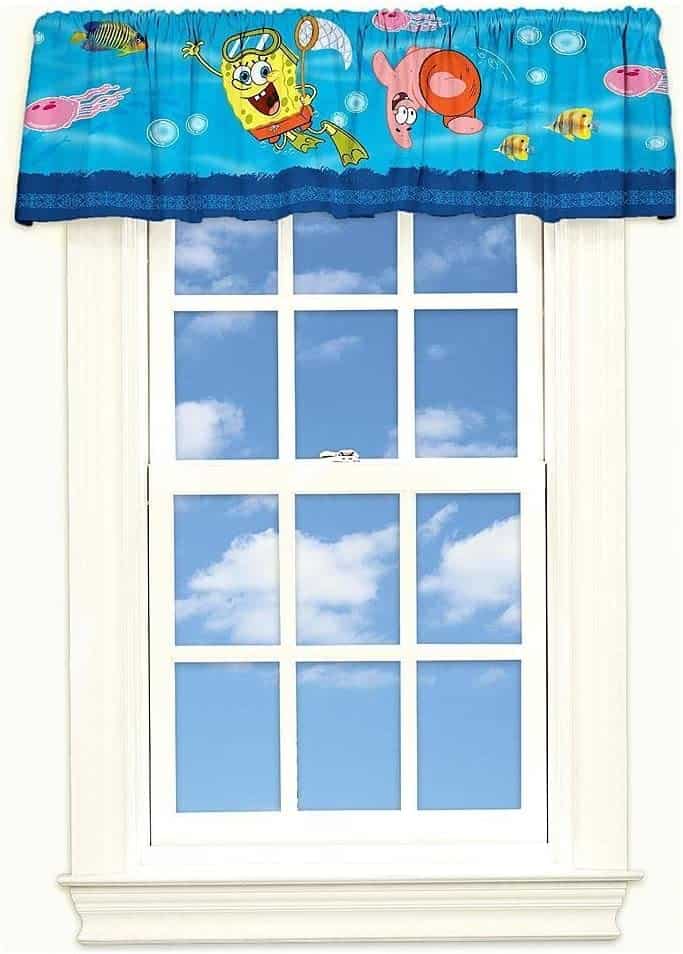 The SpongeBob SquarePants Window Valance is a great alternative to curtains. It goes near the top of your window and looks like a curtain but very short.
I think that would be a better choice for people who can't use curtains due to pets or other reasons. This valance has a light blue background and shows SpongeBob and Patrick swimming.
You can easily install the valance at the top of a window, and you can use it over blinds or another curtain. Or you can simply add it to a window that doesn't have other decorations.
#10 Yellow Blackout Curtains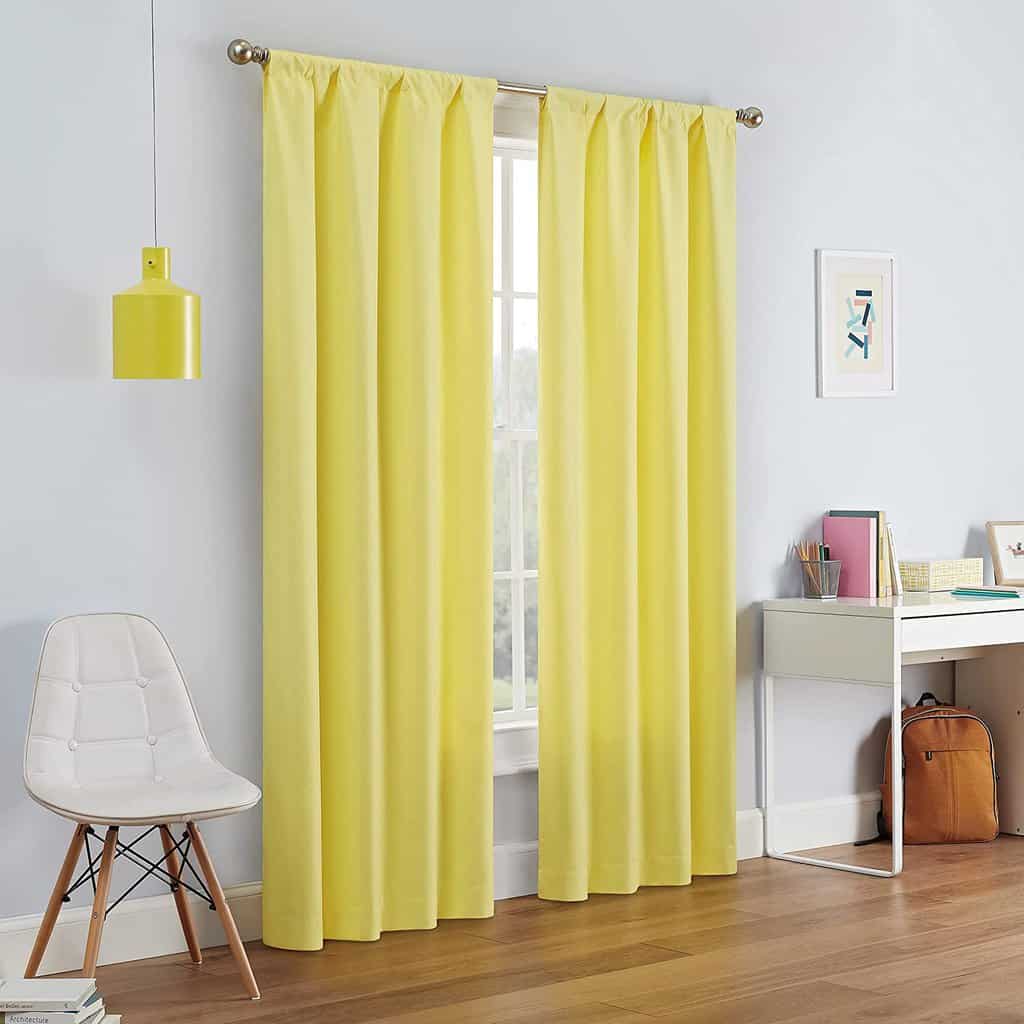 As much as I love SpongeBob, I can understand wanting something more subtle. I'd recommend a set of yellow blackout curtains so that you can keep things simple.
The yellow is a bit more muted than SpongeBob, but it's a good compromise. If you have multiple windows you want to cover, you could get a blue set to represent water or a pink set to represent Patrick or Gary.
You could use these different curtains throughout your house to quietly show off your love for the show. Plus, you can choose colors that match the decorations in each respective room.
#11 Bubble Buddy Window Sticker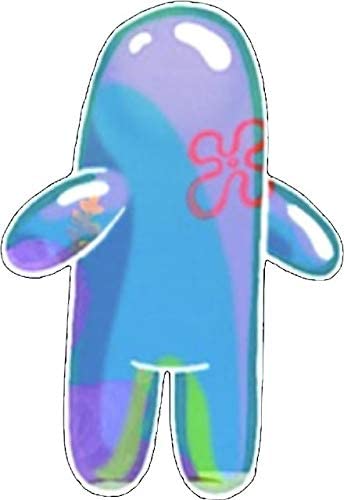 Bubble Buddy is one of SpongeBob's best friends, so it makes sense to have a Bubble Buddy Window Sticker. I like how it's simple but that SpongeBob fans will recognize it.
What's more, you could use the decoration alone or with a SpongeBob sticker or plush. This particular sticker works well on the windows in your home as well as your car windows.
That makes it a great option for college students who can't put things on their dorm windows. You could decorate the windows of your vehicle instead.
#12 SpongeBob Hitting Glass Vinyl Sticker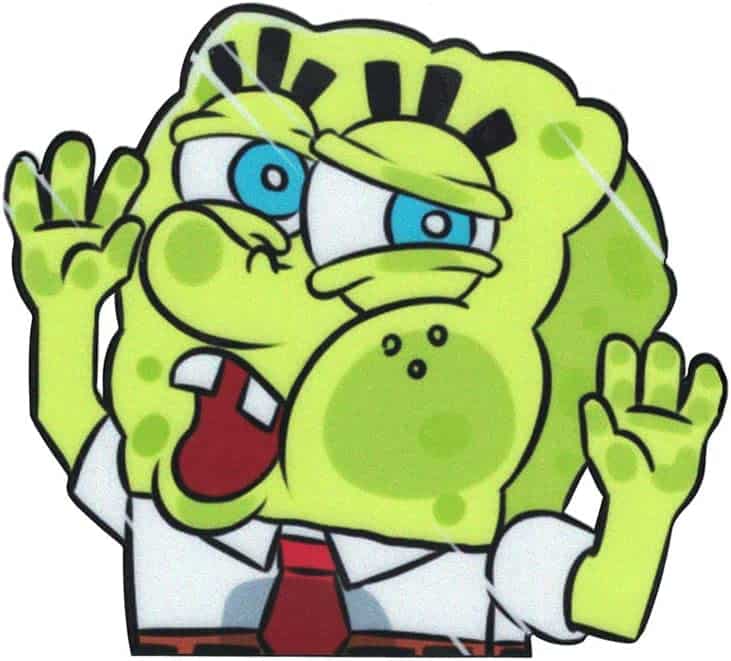 Another fun window sticker idea is of SpongeBob hitting the glass. You can place this on the window in your room or car, and you could put it next to the Bubble Buddy sticker.
The specific sticker I found is a bit green for my liking, but it's still a good idea. I know there are a lot of places where you can design stickers that a print-on-demand company will produce for you.
So if you're a good designer, you could use one of those companies to make the sticker you want. Then, you can place it wherever makes the most sense.
#13 SpongeBob Car Window Note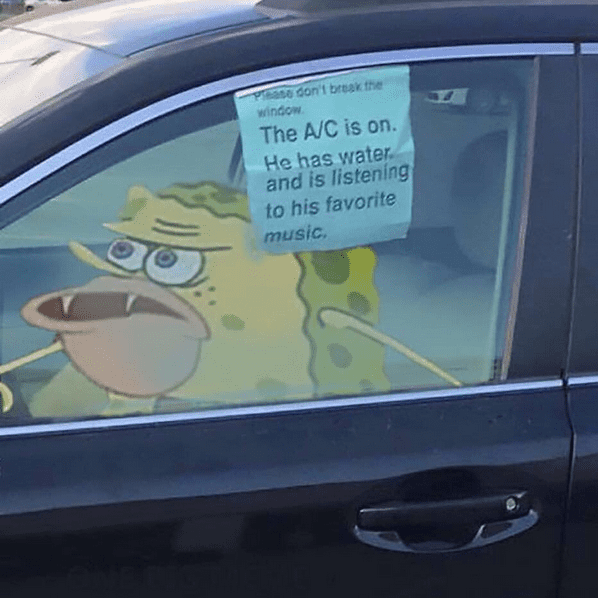 I saw this SpongeBob car window decal with a note and thought of all of the dog owners out there. If you ever need to leave your dog in the car for a minute, you can set up this decoration.
The note mentions that the car is cool, and the decoration is caveman SpongeBob. Now, I wouldn't use the note if it's not cool in your car, but it can help warn others that your dog will be safe.
This decoration isn't the most practical, and you shouldn't use it all of the time. But it's definitely a funny one to break out when you need to run a quick errand and leave your dog in your car (safely, of course).
How to Choose Between SpongeBob Window Decor Ideas
Going through all of the SpongeBob window decor ideas can be overwhelming. If you suffer from analysis paralysis, you should consider how to choose an idea or two.
After all, all of the decorations could clash with each other. But some look good on their own or with some of the other ideas from the list.
Consider the following factors when deciding which SpongeBob window decorations to use.
Fake or Real
First, you should decide if you want to use a fake or real window. When I lived in an apartment, for example, my place didn't have a window in the kitchen, so a fake porthole window could have looked good.
If you have a room without windows, painting a fake one or two may work out well. On the other hand, if you have a window in a room, you have more decor options.
You'll have to decide if you want to decorate the window itself or add curtains. Then, you can narrow your search for the best options.
Window Size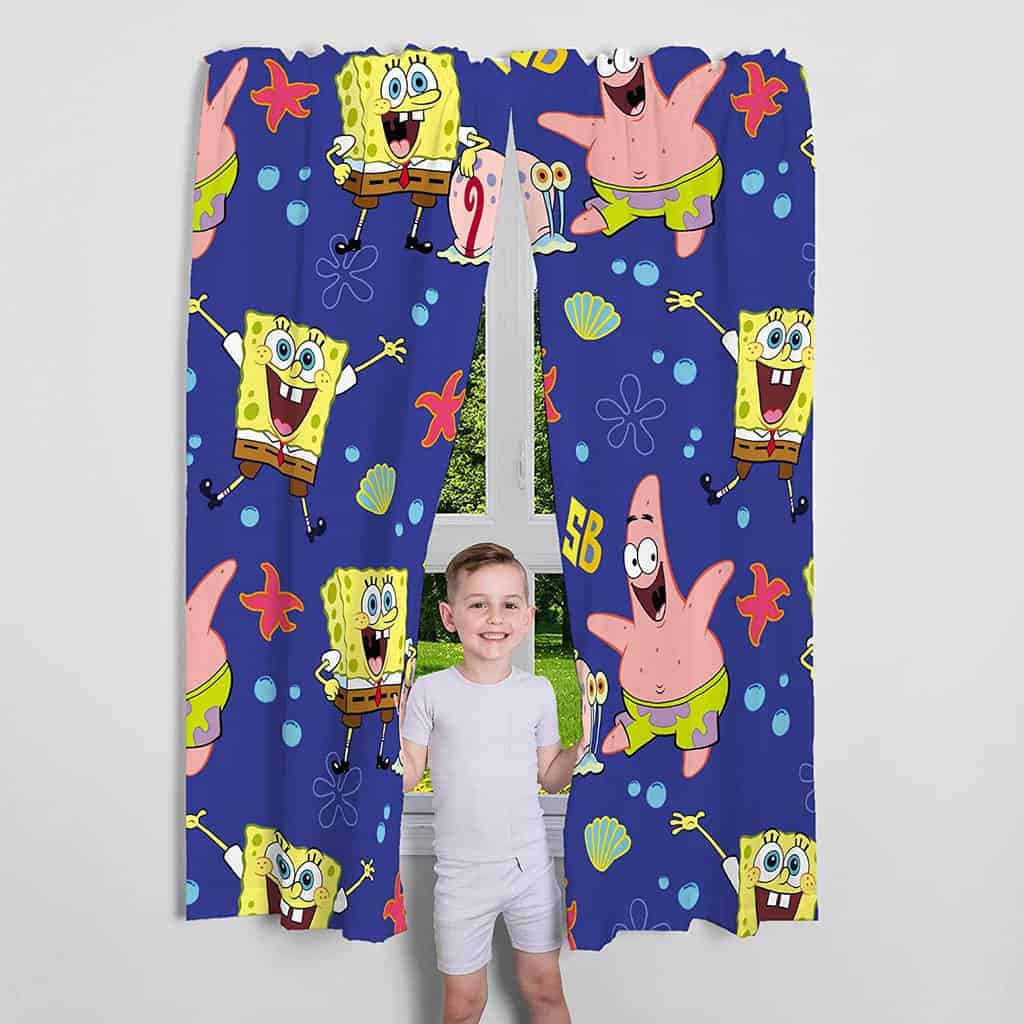 Whether you go the fake or real route, you should consider the size of your current or ideal window. If you're installing curtains, consider how tall and wide a window is to get the right size.
When it comes to fake windows, consider how big you want to make them. You could paint and hang portholes of different sizes, so experiment with what you think looks the best.
If you aren't sure of the right size, go bigger than you think and use a simple design. Then, you could cut off the edges and repaint the porthole to be the ideal size.
Handmade or Store-Bought
Next, decide if you want a handmade or store-bought option. Both can work out well, and some decorations are more common from the store, such as curtains.
If you want a handmade window decoration, you now get to decide who will make it. You could get crafty and paint the windows you want, or you could commission an artist to do so.
Paying an artist will usually be expensive. However, it's well worth it for a unique decoration, and you don't have to worry about getting all of the details right.
Other Decorations
I'd also consider the other decorations and the overall color scheme in the room you want to decorate. My bedroom has a lot of green, blue, and pink, so a fake porthole window with the flowers could look great.
However, I know the yellow blackout curtains would clash with my current setup. Your window decorations don't have to match the rest of the room, but you should consider if you want them to.
If you want to add a SpongeBob decoration to your car, matching may not be as important. I've seen a lot of cars with bumper stickers in a variety of colors and designs, but the house is a different story.
The Season
Maybe you like to decorate for seasons or holidays, such as Christmas. In that case, consider some seasonal SpongeBob window decor ideas.
You could paint a porthole window that makes it look like it's snowing out. That's a great idea for anywhere but especially if you live somewhere that never gets snow but want to feel like it could snow.
While I included ideas for Christmas, Halloween, and Valentine's Day, those are just a start. You could design your own porthole painting for just about any occasion.
Your Budget
Of course, you should set and stick to a budget. Some SpongeBob window decor ideas could get expensive, especially if you choose to hire an artist.
Even if you get cheap decorations, getting multiple of them will add up. So make sure you can afford all of the window decorations you want.
Then, you and your loved ones can enjoy the decorations, and your bank account will thank you.
FAQs About SpongeBob Window Decor Ideas
Question: Where can you use SpongeBob window decor?
Answer: You can use SpongeBob window decor almost anywhere. When it comes to porthole window paintings, they can look good in almost any room of your home.
There are also some decorations that are suitable for your car window. So if you can't place anything on the walls or windows in your home, you can always use your car.
Question: Can you make SpongeBob window decor?
Answer: Making SpongeBob window decor is pretty easy. All you need is a canvas and some paint, and you can create a porthole in the size and shape you want.
Then, you can cut the canvas to the final size and hang the window on the wall. You can also print stickers to place on your existing windows.
Question: Is SpongeBob window decor expensive?
Answer: SpongeBob window decor is usually pretty cheap. You can get craft supplies to lower the cost, or you can find some stickers for a few dollars.
Now, if you commission an artist for a unique painting, that can cost a lot.
Question: Where can you buy SpongeBob window decor?
Answer: You can buy SpongeBob window decor on Amazon and Etsy. I'm sure other places sell them, so you could also find stuff in person or at other online shops.
Final Note on SpongeBob Window Decor Ideas
If you want to feel like you live in Bikini Bottom, you should consider a few SpongeBob window decor ideas. Some are for porthole designs that make it look like you're under the sea.
Other ideas work well on your current windows and let you show off SpongeBob or other characters. I'd recommend starting with stickers or a basic porthole painting and expanding your decorations from there.
Looking for more interesting readings? Check out: