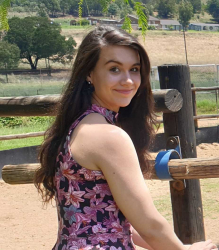 Latest posts by Christine Kent
(see all)
Were you totally obsessed with SpongeBob growing up and had every SpongeBob accessory you could possibly think of? Who said you can't still be obsessed with him as an adult and incorporate him into your daily life? And I have just the way for you to do so! SpongeBob nails! Today I present you with the cutest SpongeBob nail Ideas that will be sure to bring back those fun childhood memories. 
Bottom Line Up Front
Do you love getting creative with your nail looks and always want something unique to reel in those compliments? I got you, girl! Today I present you with different SpongeBob nail ideas that are unique and stylish. My favorite SpongeBob nail look has to be Pastel colored SpongeBob nails. I just love the colors used and that the look isn't over the top and allows me to basically wear any outfit with it. Let us have a look at my other top picks.
Top Picks 
Selection Criteria
These SpongeBob nail ideas mentioned in this article are based on the following criteria:
Colorful Nails that are great for events or parties

Neutral nails that are great for formal or office wear

Nails that are cute and unique

Nails that will attract a lot of attention 
How fun are these SpongeBob nails? Now you can enjoy your new nail set with SpongeBob and his closest friends. All of the nails are in a beautiful coral blue color that shimmers. The little fingernails are designed with white, pink, and blue flowery details. The one ring finger has a cute little SpongeBob design with his little pink scarf. While the other ring finger is designed with a pink jellyfish outlined with white to make it look like it is standing out. The middle fingernails are designed with SpongeBob's best friends.
This is a cute nail set for Valentine's day, as you can feel the love being reflected in this nail set. On the one hand, Gary is designed with cute little red hearts coming out of his eyes. On the other hand, Patrick is created on the middle finger with big pretty love eyes. His background has flowery details to it. The remaining fingers have floral details on them. And the amazing thing is that the designs on these nails are all hand-painted. How cool is that! So if you want this nail set, you will want to go to an experienced and qualified nail tech. 
Because there are so many colors active in this nail set, most outfits will match this nail look. Just take note that because there is so much detail to this SpongeBob nail look, it might come at a high price, but I think it is totally worth it!
I absolutely love this pastel SpongeBob nail set as it is the perfect nail set to get for the summer season. The nail set is well-balanced with 2 pink nails, two greenish-blue nails, and one yellow nail. 
The little fingernails are in beautiful pale pink, and so are the ring fingernails, except for the ring finger on the right hand that has our silly Patrick on it. The middle fingernails are in a baby yellow color. The right hand's middle finger is designed with my favorite character SpongeBob. The index and thumbnails are this beautiful greenish-blue color, and the right hand's index finger has the sad Squidward on top. I love the contrast of this nail look.
 The right hand has the characters designed on the nails, while the left-hand side has the same color shades but just without the characters. This allows the nail set not to be too much and over the top. Outfits that will look cute with this SpongeBob nail look are a white playsuit with pastel-colored sandals and gold jewelry. The perfect summer look!
Are you already searching for a nail look for next year's Valentine's day? Or maybe some cute unique nails for your birthday? This Plankton meme-inspired nail set will be perfect! The nails are done with an ombre effect on each nail, a nude pink that fades into a lavender purple. The index fingers and the little pinkie fingers have the same design with a nude pink that fades into a translucent tip with little red and purple hearts. The right hand's ring and middle fingernails are designed with beautifully white, red, and purple flower details.
 And the left hand's ring and middle fingernails are my favorites as it looks like Plankton is holding the purple heart with the white outlines on the ring finger. It is a great nail set to wow your friends as you can just put your ring finger and middle finger together and show them that Plankton is holding a heart. Again this nail look is hand-painted, and you will need to visit a nail salon to achieve this cute look. An outfit that will look great with this nail set is a purple sundress with some chunky white heels and a little red bag. 
This nail set gives me summer vibes or being on the beach while the sunsets. The colors used in this nail set just complement each other perfectly. All the nails are a light orange that fades into a hot pink at the tip of the nails. The nails have flowery designs in pink, purple and orange, and yellow. And one of the middle fingers of each hand, there is SpongeBob nail art hand-painted on it. The left middle fingernail has SpongeBob on, and Gary sits on his head. Both of them are smiling while they are looking at each other. The right hand's middle finger has a purple jellyfish that is outlined in white to give it more depth. This nail look will look amazing with any orange, pink, or even white beachwear. 
Okay, so I find this SpongeBob french stiletto set adorable, but I would never be able to wear it. Firstly it is way too long, and I will poke my or my husband's eye out, and I just don't see myself getting anything done with them. But they are great if you are attending a special event that includes animation or looking for a unique set for your birthday. Let us take a closer look at them. All the nails are a nude pink color that fades into a yellow french tip with different silly SpongeBob faces on top of each yellow french tip. Each nail is also decorated with yellow rhinestones. These nails are cute, but it is a bit too out there for me. Outfits that will look good with this nail look are white jeans with a baby yellow tank top and a torn light blue jean jacket. Fabulous! Oh, and don't forget to add some gold jewelry. 
If you're a fan of SpongeBob and short nails, this nail look will be perfect! The nails have a beautiful light blue nail color as the background with some white flowery detail added to it. The cool thing is that each of the nails has one of the main characters. We start with Mr. Krabs, that is added on the little fingernail, and of course, he has the most prized possession in his claw. Jip money! Then we move on to the ring finger, SpongeBob giving a goofy smirk. The middle fingernail is Patrick, who is smiling from ear to ear. The index finger is Squidward, his sad and depressed self. And then lastly, the thumb finger is a beautiful blue color with the added white flowery details. 
Because this nail look is so detailed and complex, you will need to visit a nail tech for this one. This SpongeBob nail set will look perfect with neutral-colored outfits. 
So you want a SpongeBob nail set but want something that is subtle and will look professional when you wear it to the office? Well, girl, this set could not be more perfect for you! The nail look is short and nude, which is basically the definition of professional nails. The thumb and ring fingernail has Squidward and Mr. Krabs on. It is a look that is easy to achieve at home if you like to get creative and try new designs. Because this nail look is neutral and subtle, it will go with most of your outfits. 
This look is cute and stylish and will definitely attract attention. The index fingernail starts with a pale pink that fades into a yellow. Some rhinestones are added to the nail bed of this fingernail. The middle fingers' nails are yellow with a sticker of SpongeBob on top of it. The ring fingernail is all white with the name SpongeBob SquarePants sticker added to it. The little fingernail is a pale pink with a bit of yellow just on the tip of the nail. Now for the right hand, the index finger is a pale pink with yellow patches here and there.
The ring fingernail is the same as the index finger on the left hand. In contrast, the middle finger is white and has a sticker of SpongeBob riding on a jellyfish. And lastly, the little fingernail is light pink. 
If you can do acrylic or gel nails, this nail set is easy to achieve at home as you just add stickers as the art. 
Outfits that will look cute with a nail look are a pale pink summer dress with a baby yellow cardigan hanging around your shoulders and chunky white heels. 
"I fell in love with an emo girl, I'm in love with an emo girl, I fell in love with an emo girl, All I want is an emo girl."
If you are on TikTok, then I'm sure you will know why I'm referencing this song. I absolutely love these emo-pink SpongeBob nails. This nail set is when a goth person meets a girly girl and has a baby. The nails represent the baby. It is the perfect combination of goth and girly in a look and has so much added detail to it. The index finger has a pink and black checkered design. The middle finger has an emo version of SpongeBob painted on it with a hot pink background. The ring finger is hot pink with added rhinestones and a pretty black bow. And lastly, the little fingernail is hot pink with a white skull, a checkered black, and white heart, and some rhinestones added to it. This is the perfect nail set to get for your birthday. Any pinks, neutrals, or black-colored outfit will go great with this look. 
Do you work in an office with a strict dress code but still want your nails to look stylish and professional? I got you! These SpongeBob flowery nails are the perfect set to get. Let's start with the little fingernails; they are a nude pink that fades into a white french tip with a little blue flower. Then the ring fingernails are a nude pink that fades into a pale pink french tip with hot pink flower detail. The middle fingernails are a nude pink that fades into a white french tip with green flowery detail. And lastly, the index finger is a nude pink that fades into a pastel orange with orange floral detail. This set was made for busy boss babes! Because this nail set is so subtle most of your outfits will match this look. 
You will love this nail look if you love pink, glitter, and SpongeBob. It is the ideal length and looks super cute! Except for the ring fingernails, all nails are hot pink with a glossy, glittery topcoat. The left ring fingernail has a smiling Patrick design with a lime green line detail at the tip of the nail. The right ring fingernail has SpongeBob in his cute little suit and tie detail with his buck teeth that we all know him for. This nail look will look great paired with hot pink, nudes, pale pink, and white outfits. 
Here is another SpongeBob nail set that you can rock on Valentine's day! This nail look is hand-painted and has so much amazing detail to it. All the characters look exactly like they do in the series. And they are all radiating a lot of love except for Squidward, but we know him like that, don't we? The little finger and index fingernails are a nude pink that fades into a light purple with some sequence nail art added and some white flowery and heart details. And on the middle and ring fingernails, we have our beloved characters hand-painted with some added heart details. Let us start with the right hand's middle finger. It has the little evil green guy, which we know as Plankton, and he is holding a big red heart. There are also white flowery and heart details in the background of Plankton. 
Then we move on to the ring finger. The nail has white heart detail in the background. Little Gary is hand-painted on the nail with added red heart details with his big adorable eyes. We have SpongeBob in his cute little outfit with a pink flowery facemask for the left hand's middle finger. 
 Lastly, the ring finger's detail represents the sad and depressed Squidward doing his cashier job. There are also some added shades of pink in the background to add more color to the nail. And the tip of the nail; is white to represent the little white boat that he works from. The look is quite natural. So you can incorporate many different colored outfits with this nail look. 
I just had to end the ideas with the famous Krabby patty-inspired nails. What would SpongeBob be without the Krabby Patties that he makes with so much love? He would probably be sad and depressed. So let me go into deeper details on this incredible SpongeBob nail look. Let us start with the thumbnail. The thumb's nail represents Bikini Bottom with the corral blue color and the pink jellyfish outlined with white to stand out more.
 SpongeBob and Patrick love to go jellyfishing and ride on them. The nail also has some white circle details representing the water bubbles and an orange line that I see as a worm. There is also an added shimmer to the blue nail. Then we move on to the index fingernail with an adorable Krabby patty. And the rest of the nail is a nude pink that fades into what looks like the print of Patrick's shorts. We have a light pink shimmery nail on the middle finger with SpongeBob and Gary on it. 
And on the ring finger, we have Patrick again smiling from ear to ear with a beautiful light blue background and what looks like 2 bright stars shining behind him. Lastly, we have the little finger in that beautiful, shimmering coral blue color with an added pink flower detail, an orange center, some bubbles, and some orange and blue squiggly lines. Because this nail look is quite over the top, you will want to tone it down with neutral outfits.  
Okay, so there are many of us who feel like there are simply not enough hours in our day, and getting our nails done can seem like something that just doesn't fit into our busy schedules. If this sounds like you, I have the perfect tip on how you can still rock your SpongeBob nails without spending 2-3 hours doing it yourself or visiting your nail tech. Here is some press on pastel rainbow SpongeBob nails with his close friends. Now your nails can still look perfect, just in much less time. Jip, I got you, boss babes! See these cute nails below!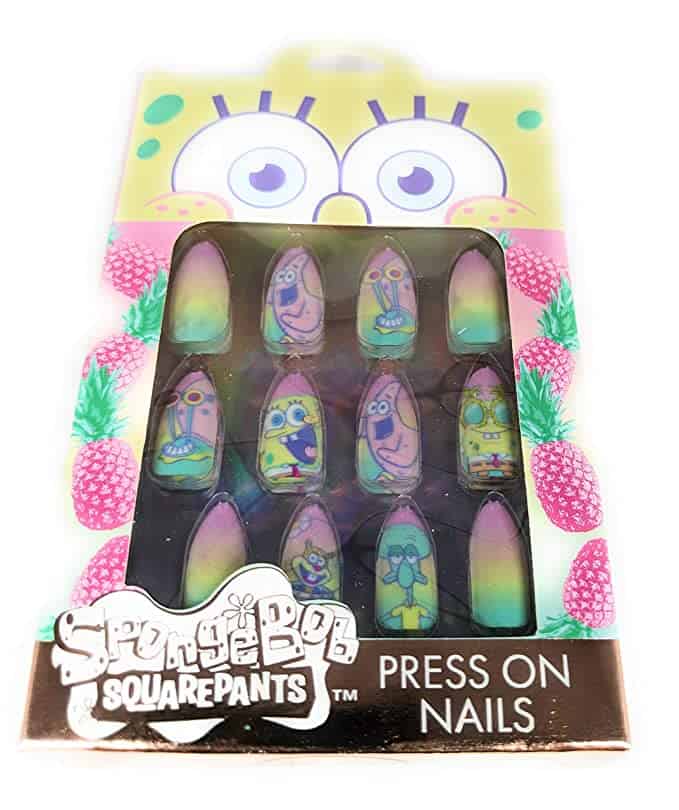 Fun Facts SpongeBob Nail Section
So I don't know if you guys are aware that there is an episode of SpongeBob about his nails. Jip, he goes through this stage where he can't stop biting his nails. He even starts biting his toenails, and then things get worse when he even starts biting other fishes' nails. So if you suffer from this same problem, just like SpongeBob, I have some tips that can help you stop this habit! But first, have a look at this episode of SpongeBob where he bites his nails. Maybe this will totally convince you to quit the habit. 
https://www.youtube.com/watch?v=9KBIddUmHDU 
I hope you enjoyed the video and have convinced yourself to stop, but if you need more motivation, here are some tips to help you. 
Tips on How to Stop Biting your Fingernails
Keep Your Nails Short.
When your nails are already short, you are less likely to want to bite them. 
Try to Identify What is Causing you To Do This.
Do you do it when you are feeling stressed and anxious? Or is it at times when you are bored and have nothing to do? Identify when you are doing this.
Try Keeping Your Hands Busy.
Try keeping your mind off of biting your nails by keeping your hands busy, like playing with a pen or even a fidget toy. 
Get Your Nails Done.
You are less likely to bite your nails when you get your nails done and pay that hefty price. And oh yeah, your nails look good when getting a manicure, so why will you want to ruin them? 
Frequently Asked Questions
Question: Are SpongeBob Nails in Style?
Answer: Absolutely! SpongeBob has been with us since May 1999. That's 23 years. And still, SpongeBob products are being made. So if SpongeBob products can still be popular after 23 years, then girl SpongeBob nails will be too, and you don't ever have to worry about it going out of style. So rock your SpongeBob nails!
Question: Are SpongeBob Nails Expensive?
Answer: This will all depend firstly on what you see as expensive. But overall, yes, they can be costly because a lot of finer detail and a lot of time goes into the SpongeBob nail look. And you need to get a qualified and highly talented nail tech to pull this nail look off. 
Question: Are SpongeBob Nails Unprofessional?
Answer: It depends on the look you are going for. Suppose you are going for a neutral-colored nail with some added Spongebob art on one or two fingernails. In that case, it will still look professional. But if you work in a workplace with a strict dress code, I won't advise you to go for a SpongeBob look with a lot of color and detail and would be considered over the top. Neutral is always the best option when you need to consider professionalism.
Conclusion 
You have reached the end of the SpongeBob nail ideas. I hope you enjoyed seeing the different variations of SpongeBob and his friends on the nails and got some ideas for your next nail look. What was your favorite SpongeBob nail idea? Let me know in the comments below. If you are still unsure of what set to get, go through the ideas again and ask yourself the following questions. What will fit my personality or my outfits the best? And what look am I going for? Will it be cute and trendy? Or professional and stylish? Choosing your next nail look is never easy, but it can be with the ideas mentioned in this article. Have some fun and go get SpongeBob nails!
Looking for more interesting readings? Check out: