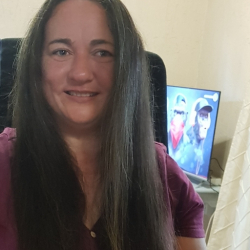 Latest posts by Caroline Lambert
(see all)
Who lives in a sweatshirt, under the sea? That made you laugh, didn't it? Spongebob sweatshirt ideas are the perfect way for die-hard fans like me to flaunt my passion for Bikini Bottom. Spongebob merch is also more age-flexible than you think. I'm much older than you think, and I share my love with my two children.
I know every character like my kids, and we share a love for numerous episodes. Spongebob Squarepants lore is the talk of our home when that song hits the television. Any parent will know how satisfying it is to share a fandom with their kids. It allows me to enjoy sourcing Spongebob sweatshirt ideas for the whole family.
Bottom Line Up Front
I'm Spongebob-crazed, so I have a treat for you if your love for the Bikini Bottom gang flourishes like mine. My ultimate Spongebob sweatshirt idea comes with a catch: you'll look like Squarepants. But, don't worry; I also have ten ideas for men, women, girls, and boys that don't make you look like Squarepants.
Most of them are mature enough to suit men and women. The ideas I share for girls and boys are adorable. My reasons for picking the top ideas are simple enough. First, the sweatshirts must be hoodies because nothing's more comfortable. Secondly, I want pictures or words depicting Spongebob and his friends.
Let's get to the "Bottom" of this Bikini tale.
My Ultimate Favorite Spongebob Sweatshirt Idea
Honestly, you're a Spongebob fan, or you're not. My favorite Spongebob sweatshirt idea is the Nickelodeon Spongebob Fleece Hoodie. I'd never feel more like a Spongebob fan other than wearing this sweatshirt. It doesn't only have a Spongebob picture on it. The entire hoodie looks like a yellow sponge.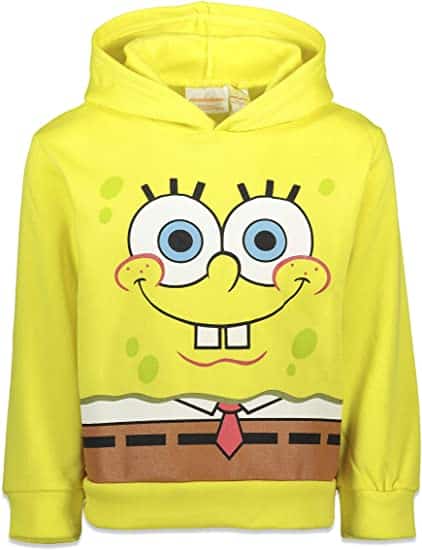 Additionally, it's a hoodie, my favorite type of sweatshirt. It gets better because the Spongebob hoodie fits children and adults. I can pick Patrick or Squidward hoodies if I'm not a yellow fan. The ribbed sleeves and waist make it an ideal fit when you buy the correct size. I can't find fault with this Spongebob sweatshirt idea.
Tips for Spongebob Sweatshirt Fashionistas
I have two tips for Spongebob sweatshirts. Firstly, never allow anyone to judge your love for the show and characters, no matter your age or gender. It's also not only parents who love Spongebob, Patrick, Squidward, and Sandy sweatshirts. They're a fashion statement for the fandom. Wear them with pride.
Secondly, buying Bikini Bottom sweatshirts online can be challenging if you don't check the size charts. Adult sizes are easy to determine. You know whether you're a large or extra-small hoodie person. However, children's size charts can be tricky. I'll add the sizes to the sweatshirt ideas, but this chart explains them well.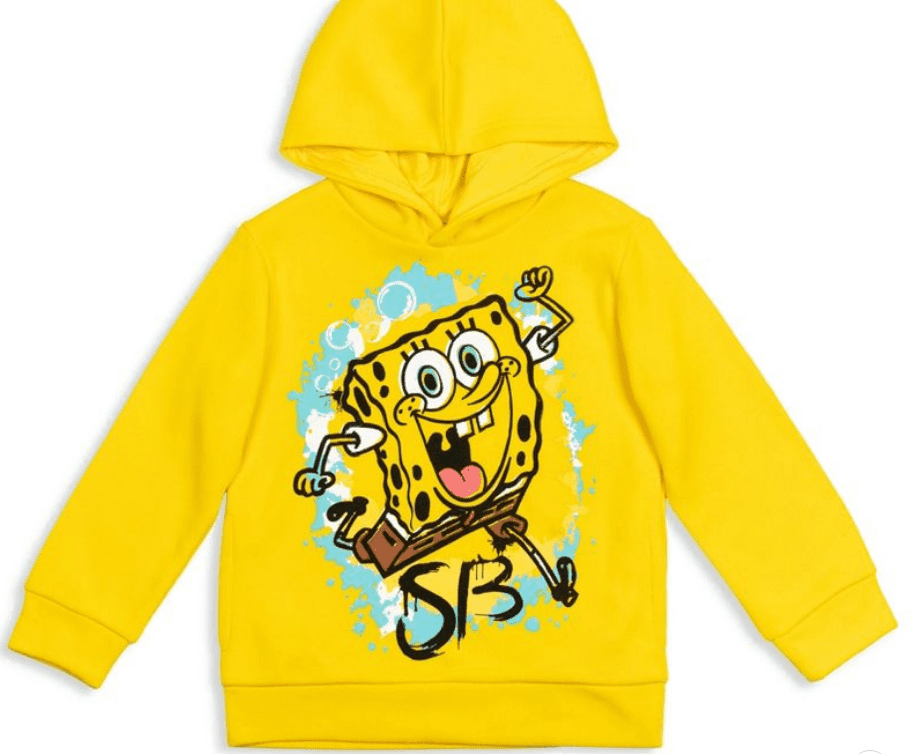 The boy's hoodie sizes will work the same for girls. Measure your child's length and width before picking a Spongebob hoodie to brighten their days.
How I Picked the Best Spongebob Sweatshirt Ideas
I used an uncomplicated system to pick the best Spongebob sweatshirt ideas. I want hooded sweatshirts because they're more fabulous than regular ones. They also have to depict Spongebob or his best friends in words or pictures. So I'll consider images depicting any Bikini Bottom characters or logos.
Furthermore, I'll include a variety that appeals to women, men, and children.
Top Spongebob Sweatshirt Ideas for Girls
If your little girl's anything like my daughter, she goes wild when that theme song hits the television. There are some gorgeous, comfortable, and warm sweatshirt ideas for toddlers through to teenagers.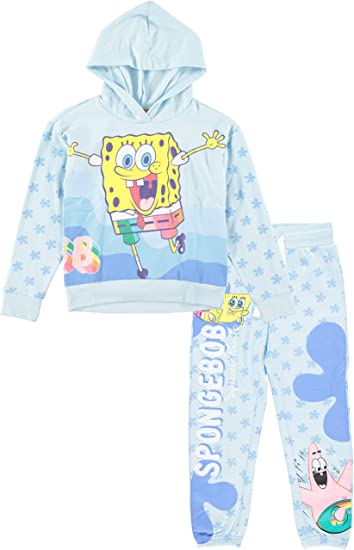 The Spongebob and Patrick sweatshirt idea with sweatpants is my favorite pick for little girls. The underwater flower pattern makes it look like pajamas, but this is a go-out kind of pack. Spongebob and Patrick look like they're in their elements, enjoying every moment of their days. Imagine how positive a girl feels.
Sizes: 4 – 16
Colors: Blue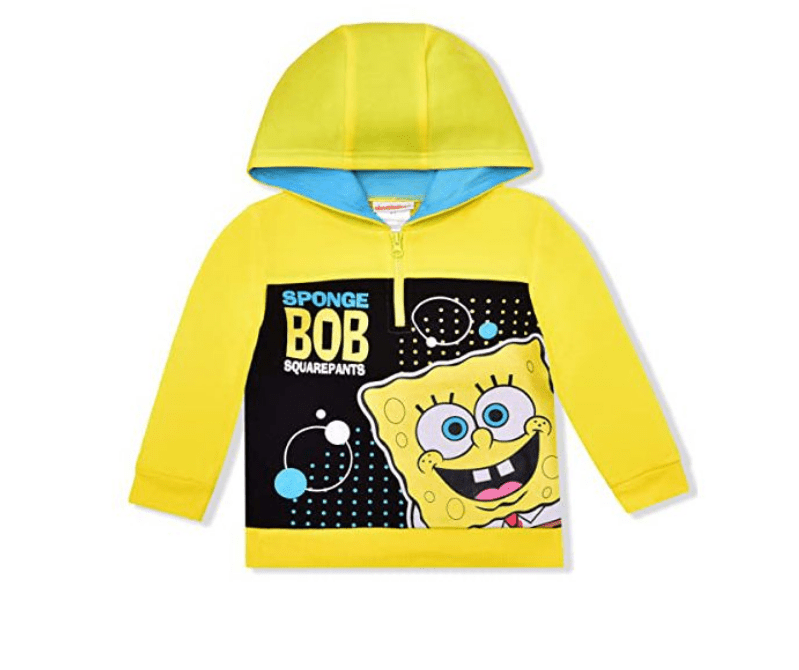 Toddlers go wild for Spongebob, and my daughter went through a phase where Bikini Bottom showed on our television every day. She'd watch the gang repeatedly, and I nearly grew tired of the theme song. My daughter had a similar Spongebob sweatshirt as a toddler. It's adorable and bright.
Sizes: 4 – 7
Colors: Yellow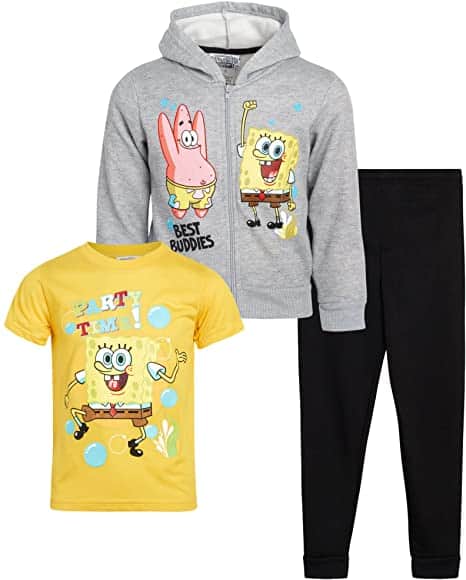 Girls don't have to wear pink, just like boys don't have to wear blue. This Spongebob and Patrick sweatshirt with pants and t-shirt would suit boys and girls. The shirt is a bright yellow, which works for all genders. The pants are black and the sweatshirt gray, unisex colors. The best buds duo is on the hoodie front for fans to enjoy.
Sizes: 2 – 6
Colors: Gray, yellow, and black
Girls would love this peeking sweatshirt with Bikini Bottom characters more than boys. The vibrant orange colors are strikingly gorgeous, and they'd look fabulous on younger girls. Additionally, the Spongebob and friends sweatshirt comes with a bonus t-shirt with a happy, dancing Squarepants doing his thing.
Sizes: 4 – 20
Colors: Orange and yellow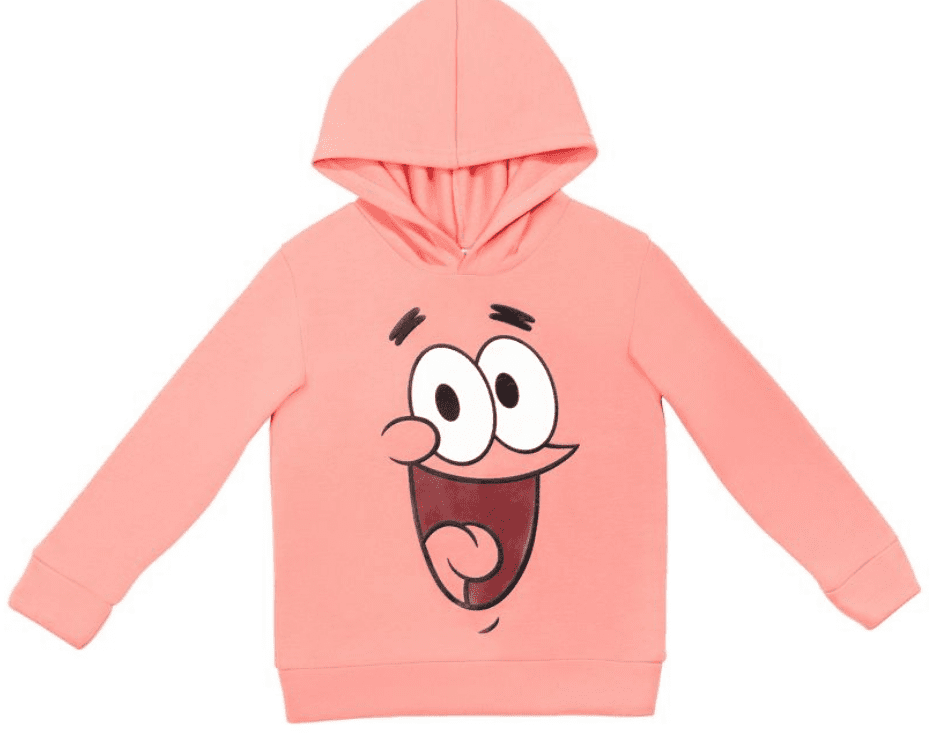 Modern boys also love pink hoodies, but this Patrick sweatshirt idea is ideal for little girls. It's bright pink with a goofy face that resembles the lazy star that lives under a rock. The Patrick hoodie idea also looks so welcoming. If I see this hoodie, I'd think a little girl is the friendliest and funniest kid on the block.
Sizes: 6 – 20
Colors: Pink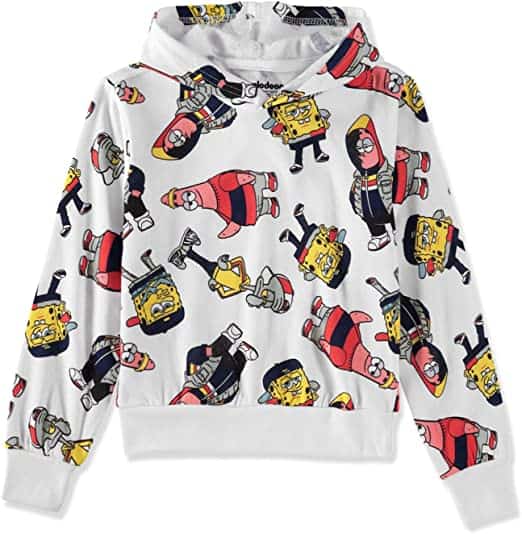 Do you have a young fan who also loves sports and exercise? Why don't you consider the Spongebob and Squidward sweatshirt idea with funky prints of workout costumes? My daughter wasn't super sporty. She's more musically inclined, but my son loves Spongebob's workout hoodie idea. It looks better on girls, though.
Sizes: 4 – 16
Colors: White
My little girl loves sweatpants and sweatshirts in winter. Unfortunately, she takes after me too much. I love the Spongebob sweatshirt and pants combo for girls more than boys. The pants undoubtedly look better on girls. The pack also has Spongebob's inviting smile, and the hoodie's an ideal size to cover the biggest of heads.
Sizes: 3 – 8
Colors: Yellow (sweatshirt) and black (pants)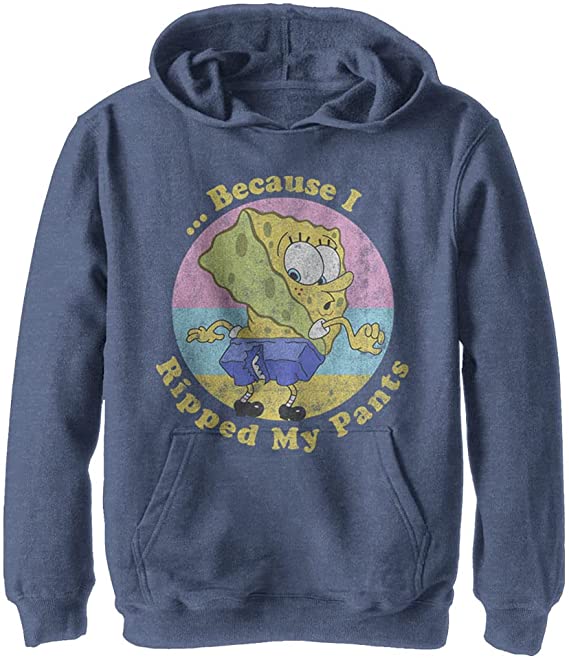 My daughter already has a sense of humor, and I hope she doesn't lose it right before her teenage years. The ripped pants version of Spongebob hoodies can rip you in half with laughter. A laugh is worth the purchase. The color isn't too blue for girls. It's a heather shade that looks grayish-blue. It's for girls over 12.
Sizes: S – XL
Colors: Blue heather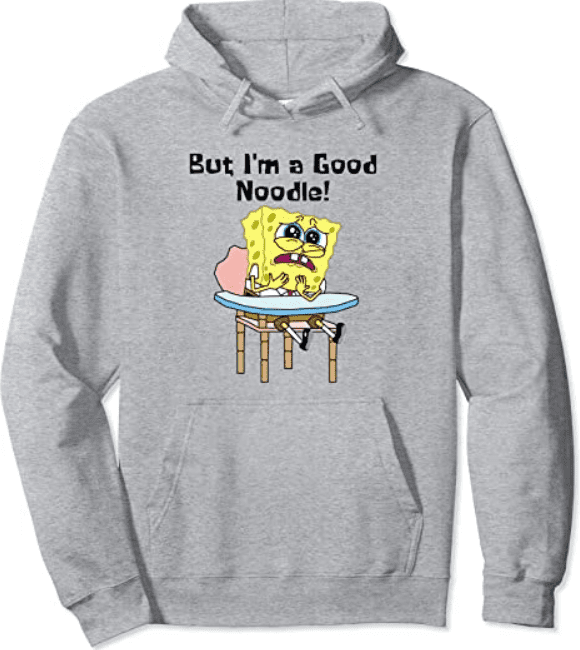 I'd wear this sweatshirt any day. However, it suits an older girl who wants everyone to know she has the power of puppy-dog eyes. My daughter's already practicing her puppy-dog eyes, and I hope I'm not in for a long one. This sweater would fit girls over 12, and Spongebob's "good noodle" claim is funky and sweet.
Sizes: S – XXL
Colors: Gray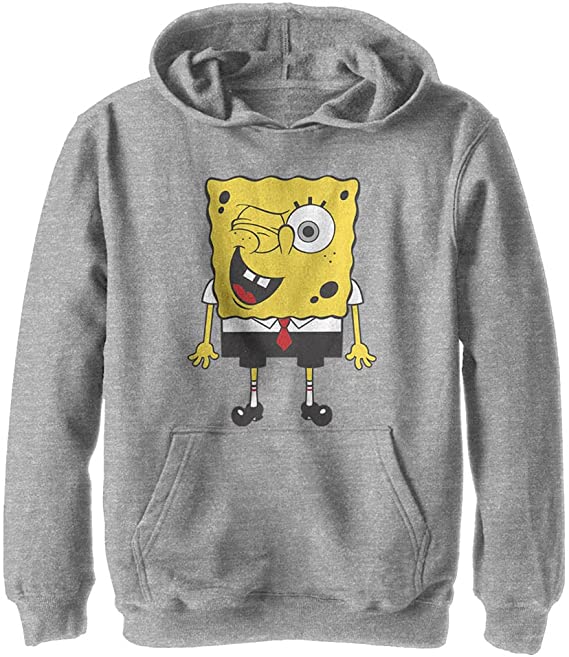 Teenage girls don't have as much trouble admitting that they love Spongebob. Still, they'll want Bikini Bottom sweatshirt ideas that resonate better with older kids. Spongebob's cheeky wink makes this sweatshirt look more suitable for a teenage girl who wants a bit of sass without too much color and funk.
Sizes: S – XL
Colors: Gray
Top Spongebob Sweatshirt Ideas for Boys
Younger boys also love Spongebob and the gang. Teenage boys have trouble admitting to the fandom, but specific sweatshirts will appeal to them. Let's see which ten Spongebob sweatshirt ideas I picked for boys, from toddlers to teenagers.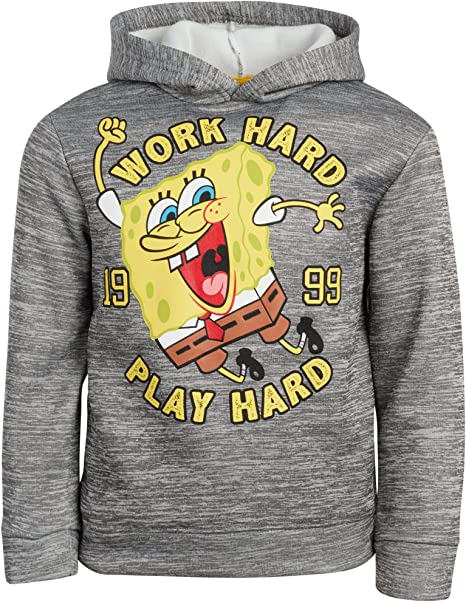 Spongebob looks fantastic on any color background, but the classics look the best, even for kids. The gray background with a funky yellow Spongebob dancing to the tune of his rhythm wins my attention. I like the message shared on this Spongebob hoodie idea. It would look excellent on girls and boys.
Sizes: 2 – 7
Colors: Gray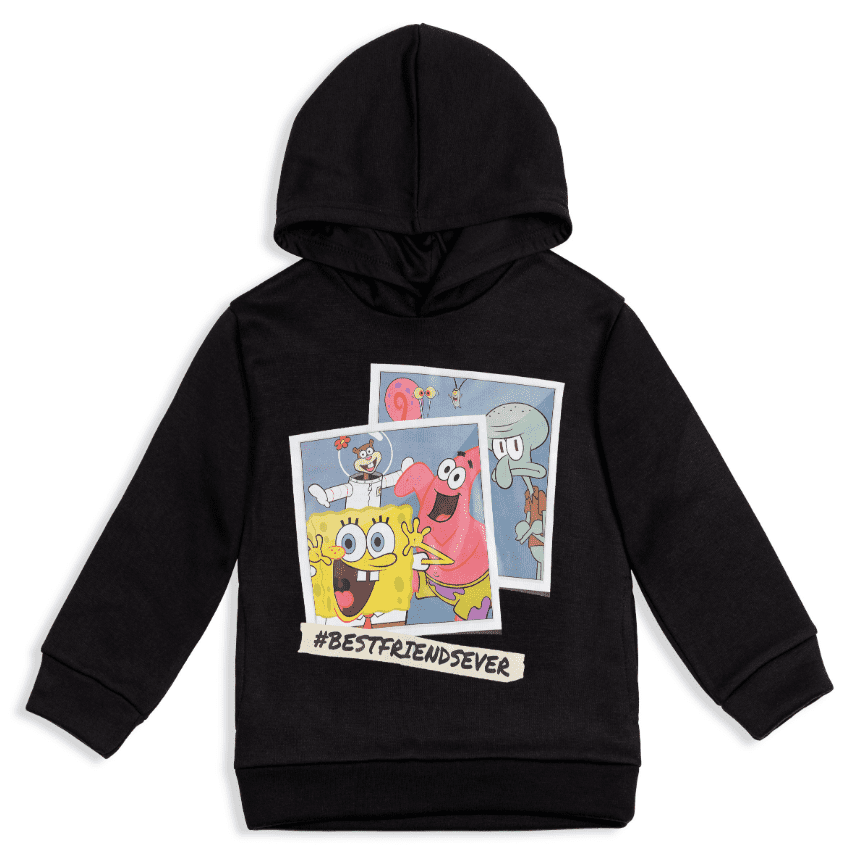 Some boys love the Bikini Bottom gang, but they're shy about wearing bright yellow hoodies. This Spongebob hoodie has a neutral background, and black is a popular color with boys (and girls). The sweatshirt also includes the three Bikini Bottom besties with Squidward in the scene. It's also available in gray.
Sizes: 4 – 20
Colors: Black and gray
Kids look incredible with bright colors. It helps them shine like the sun, and this Spongebob Squarepants hoodie idea will do just that. I'm sure your son will radiate from the earth to the moon. I love the Spongebob picture because it shows him in the most favorable light. He's always a ray of sunshine.
Sizes: 4 – 20
Colors: Yellow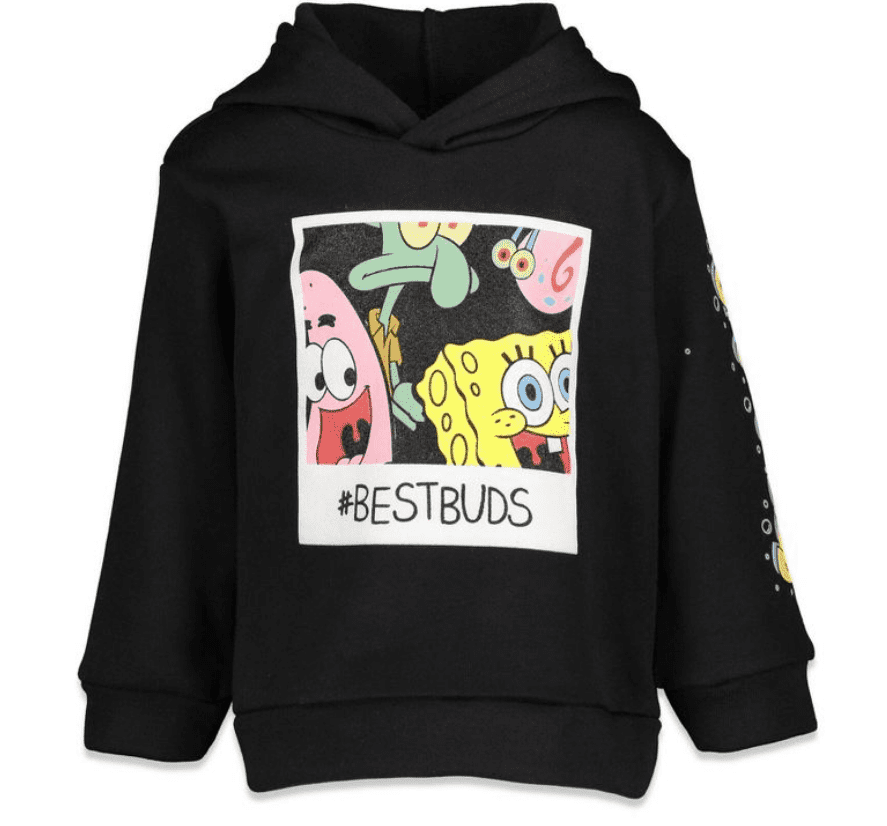 I'm not sure Spongebob and Squidward are besties, but Patrick and Gary look fantastic on the hoodie. Boys will love the Spongebob and Squidward sweatshirt idea. Everyone enjoys how Spongebob annoys Squidward. It makes for endless laughs on the show. I also like the bubbles running up the sleeve.
Sizes: 6 – 16
Colors: Black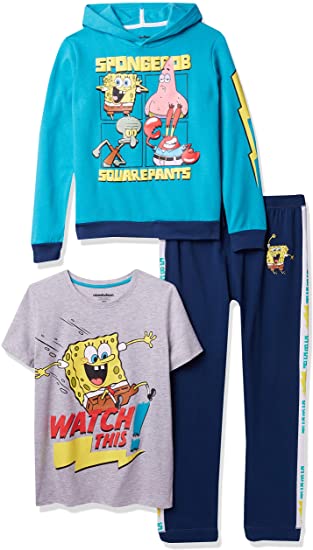 This Spongebob and Friends sweatshirt idea comes as a pack. Boys get a sweatshirt, sweatpants, and a shirt with a bold Spongebob doing some weird stunt. The sweatpants aren't too colorful, but the sweatshirt has four of the best characters, including Spongebob, Mr. Krabs, Patrick, and Squidward.
Sizes: 4 – 20
Colors: Light blue, dark blue, and gray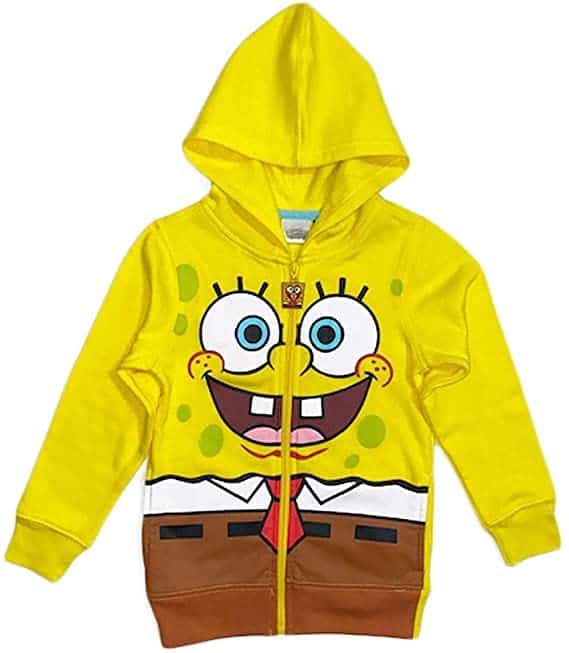 Tween boys will love this Spongebob hoodie because it makes them look like they're wearing the character as a costume. In addition, it comes complete with the Squarepants bottoms famous in the show. It doesn't fit a broad age group, but it's the ideal choice for tween fans. I also love the zipper for open-wear.
Sizes: 8 – 9
Colors: Yellow and brown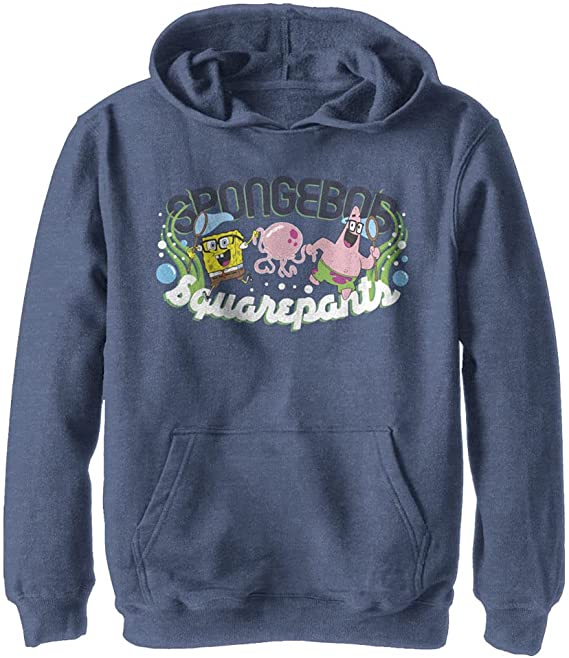 What do Patrick and Spongebob love doing besides causing trouble? They love catching jellyfish. The picture depicts the goofy duo's favorite pastime, and they look like they're having a ball. This Spongebob sweatshirt idea is excellent for kids, but it would only fit boys over 12. It doesn't come in smaller children's sizes.
Sizes: S – XL
Colors: Navy blue heather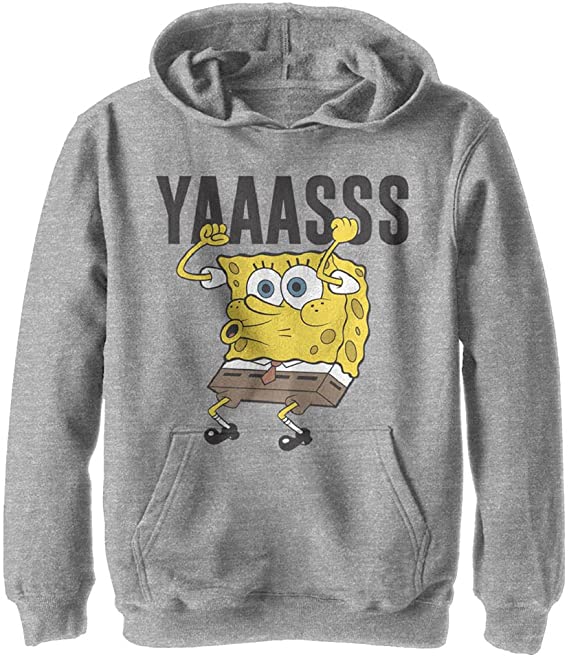 Spongebob is a well-known optimist, but he also exudes a different type of confidence. Sometimes, he looks like he can achieve anything. Well, his enthusiasm quickly fails when he goes to boating school. Imagine Spongebob yelling "Yass" when he finally passes. This sweatshirt would also better fit boys over 12.
Sizes: S – XL
Colors: Gray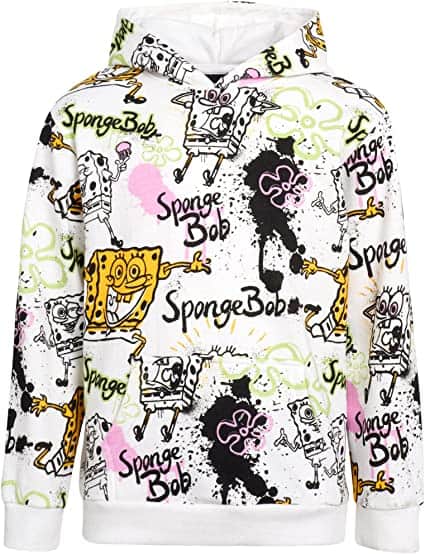 Teenagers are the most brutal Spongebob fans to please because they'll outright deny being fans. It's a phase they're going through. They think it's embarrassing to love Spongebob Squarepants. My son's reaching this age group, and I hope he doesn't forget his passions. This sweatshirt idea will work for fussy teenagers anyway.
Sizes: 8 – 16
Colors: White or bleached brown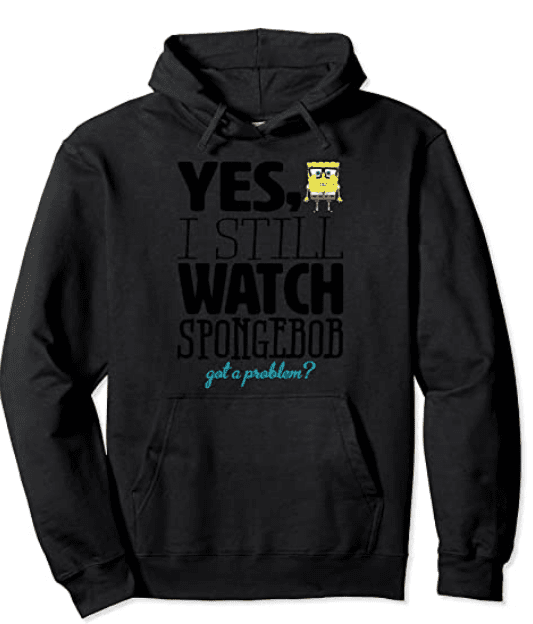 This Spongebob hoodie idea is perfect for teenage boys who couldn't care less about what other people think. They love Spongebob, and they'll happily wear a sweatshirt claiming how they still watch the Bikini Bottom gang. I love the touch of attitude at the bottom, where it asks if anyone has a problem. It's brilliant.
Sizes: S – XXL
Colors: Black, royal blue, gray, navy blue, and dark heather
Top Spongebob Sweatshirt Ideas for Women
I'm a woman who loves Spongebob as much as my kids do, so I'll wear any of my sweatshirt ideas. Some are sassier than others, and a few have some colorful details. So, here are my top ten ideas for women.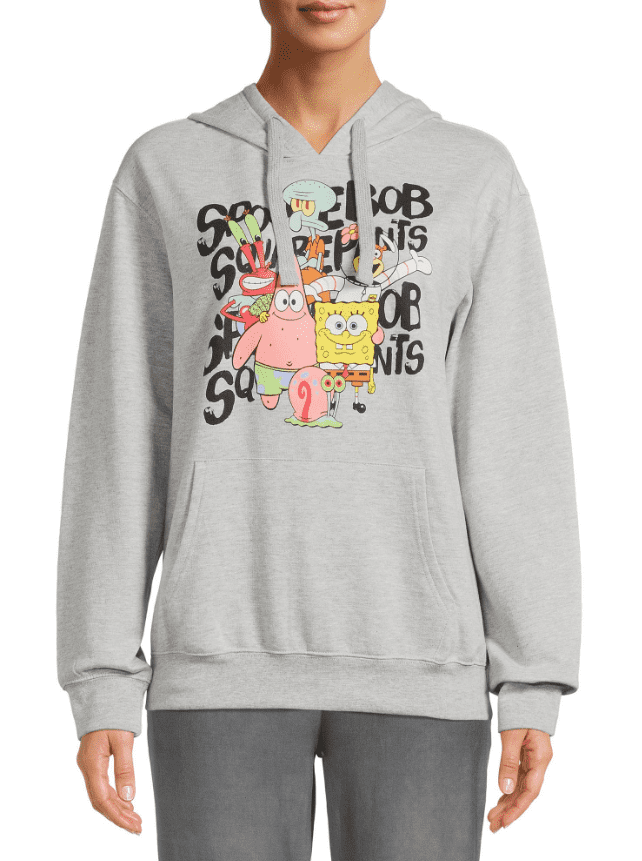 Imagine how this gray pullover sweatshirt would look on a mom with kids who love Spongebob. It's also a mature design with a neutral background color, ideal for older women. Not everyone wants a bright yellow sweatshirt like me. The entire Bikini Bottom gang shows up on this sweatshirt hoodie, and it looks fab.
Sizes: XS – XXXL
Colors: Gray and blue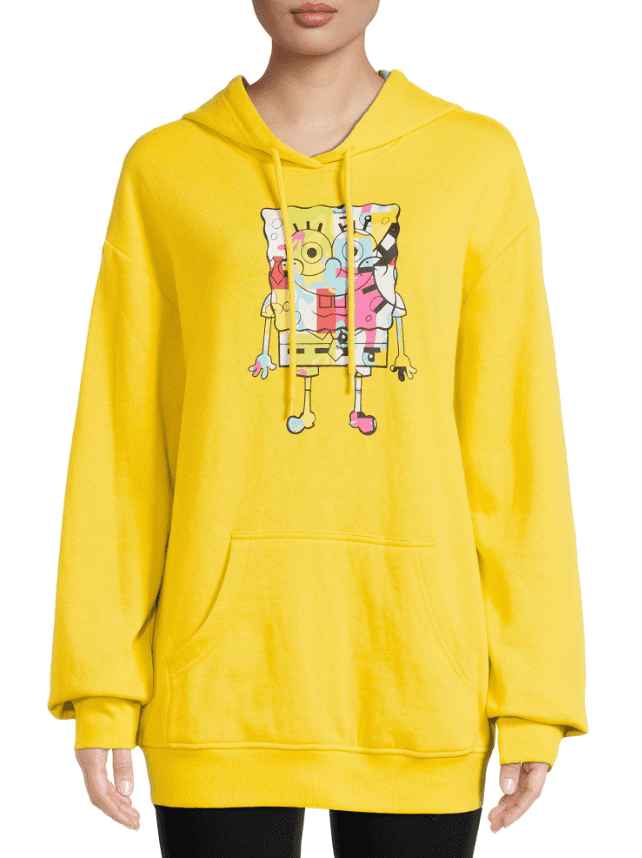 This Spongebob hoodie idea is unusual because the sweatshirt has bright yellow colors. Spongebob flaunts a painter's pallet of pastel colors. Of course, you'd have to be an extreme Spongebob fan or want to impress your kids like crazy. However, a woman can pull this yellow-tinged sweatshirt off without a doubt.
Sizes: XS – XXXL
Colors: Bright yellow
Honestly, I love this hoodie enough to wear it, even if I wasn't a Spongebob fan. Tie-dye patterns over a white sweatshirt are next-level impressive. Add the Bikini Bottom gang to the front of the sweatshirt, and my heart melts. Spongebob, a ray of sunshine, has serious friends on his left and jolly friends on his right. It's perfect.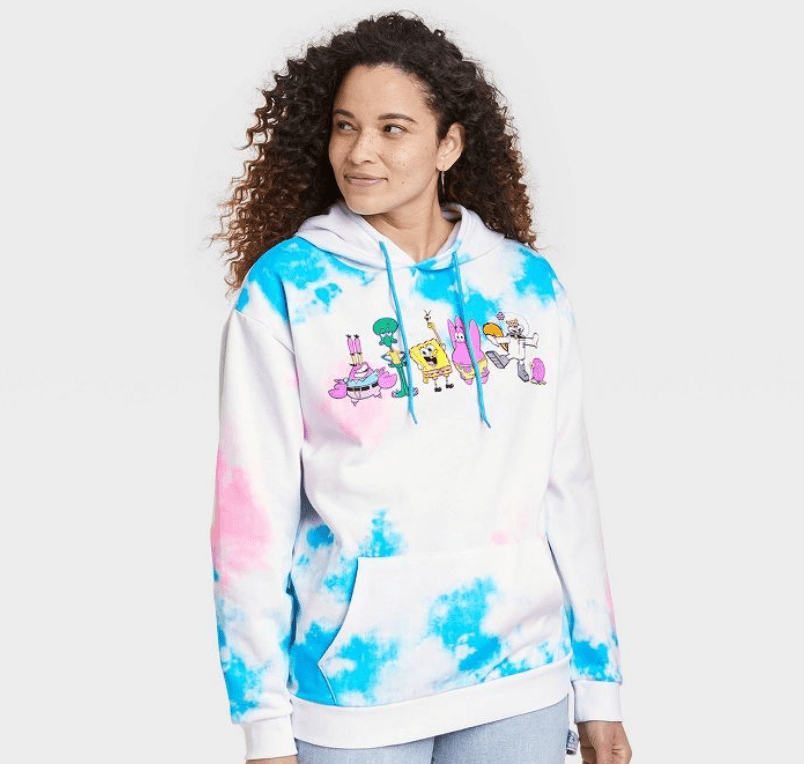 Sizes: XS – XXL
Colors: White and tie-dye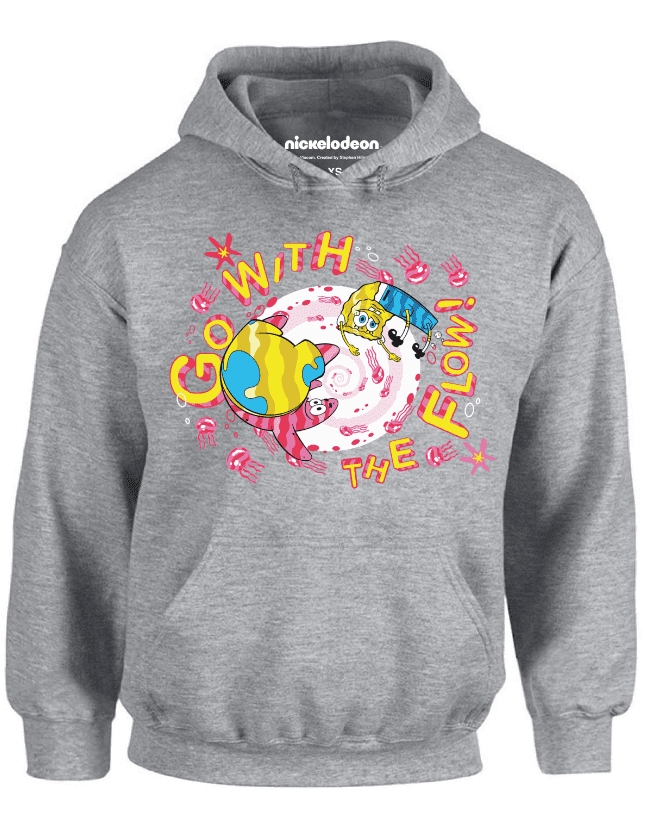 Spongebob Squarepants and Patrick Star know how to go with the flow, making this hoodie an excellent choice for women who say, "Who cares?" No one can judge your love for Spongebob and his friends, even if you're a mature woman without kids. My passion came before my children, which says enough. It's also a unisex hoodie.
Sizes: S – XXXXXL
Colors: Blue, gray, and yellow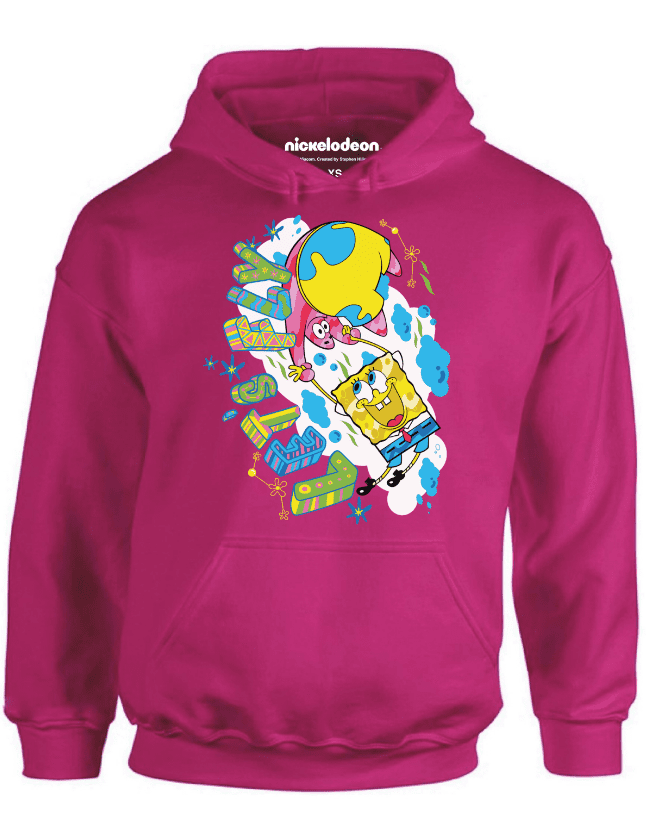 There isn't a relationship quite like the one between Patrick and Spongebob. This hoodie represents the beautiful part of their friendship. Rainbows, friendship, and underwater flowers are everything life's about to the two characters from Bikini Bottom. This sweatshirt is a bold statement, especially the pink one.
Sizes: S – XXXXXL
Colors: Black and pink (more like purple)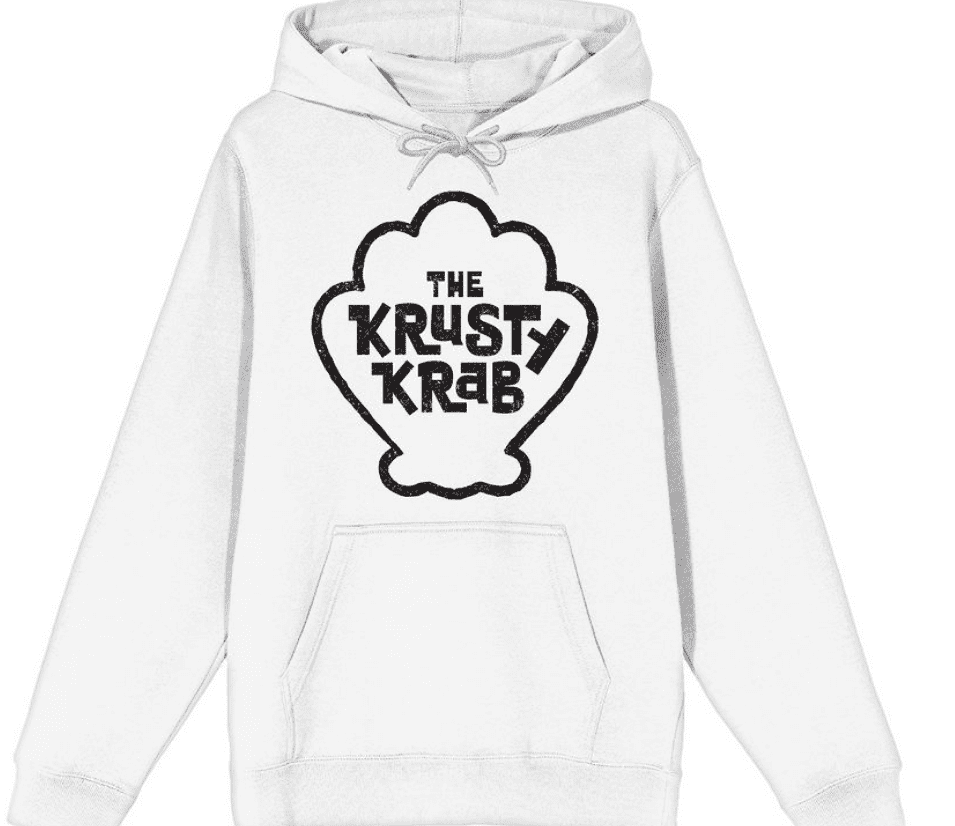 Are you a mom who also feels like you're constantly flipping patties for your kids? Well, welcome to the club. Sometimes, I wish parenthood was as simple as working at the Krusty Krab. I would advise against wearing this beautiful white Spongebob hoodie while flipping burgers. You'll instantly mess it up with grease.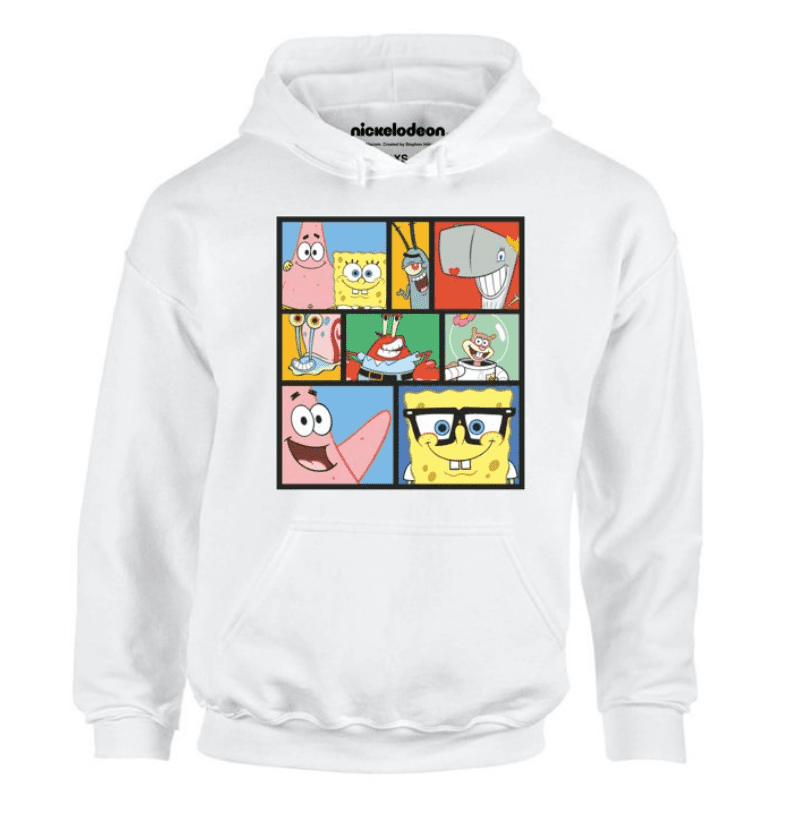 I'm a fan of the white background because I love white hoodies. Sure, they're a nightmare to keep clean, and I'd never allow my kids to wear them. However, they look fantastic on women. I love this hoodie because it has pictures of Spongebob with more Bikini Bottom members than usual, including Mr. Krabs and Sally.
Sizes: S – XXXXXL
Colors: White and pink (this one also looks more purple to me)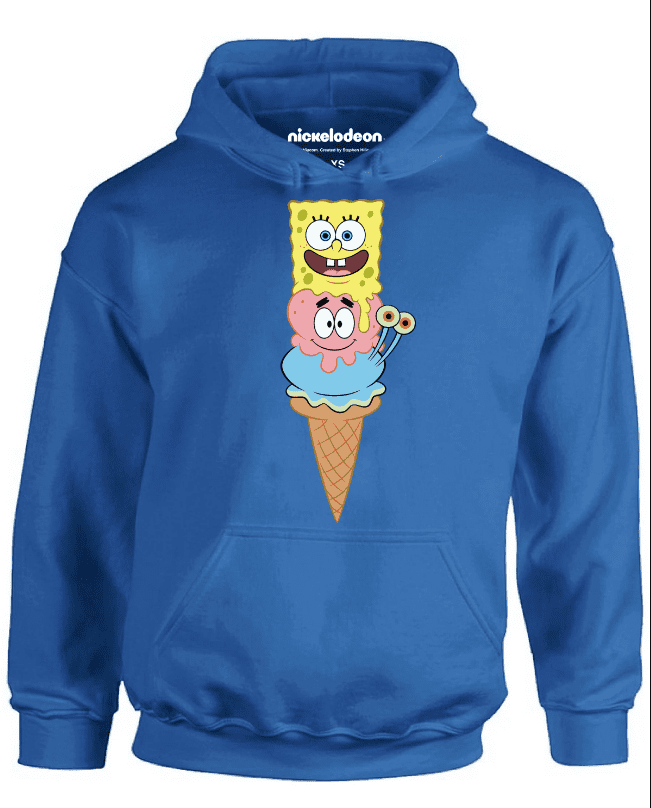 How well do you handle the energies of Spongebob and Patrick? Imagine holding the flavors of their personalities on an ice cream cone. Wow, I'd be pretty impressed because they're such colorful characters. This Spongebob and Patrick sweatshirt idea is fabulous enough to strike up conversations.
Sizes: S – XXXXXL
Colors: Blue, yellow, and pink (or purple)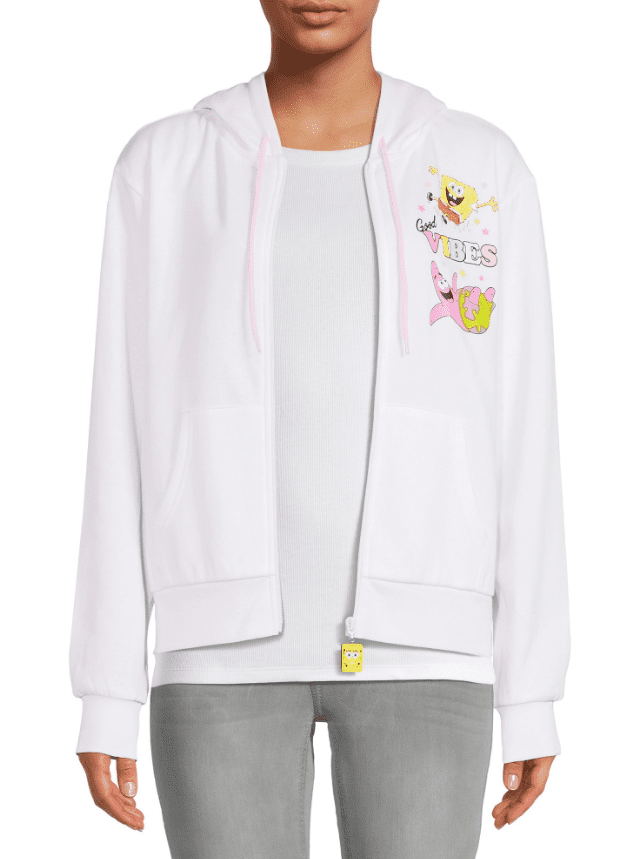 Maybe I'm going overboard with the white Spongebob hoodies for women, but it's my favorite color next to black. This Spongebob zipper sweatshirt also allows women to wear it open over a beautiful top, whether it's a Spongebob top or something else. Anyway, the Patrick and Spongebob vibes image on the front is minimal.
Sizes: S – XXXL
Colors: Pure white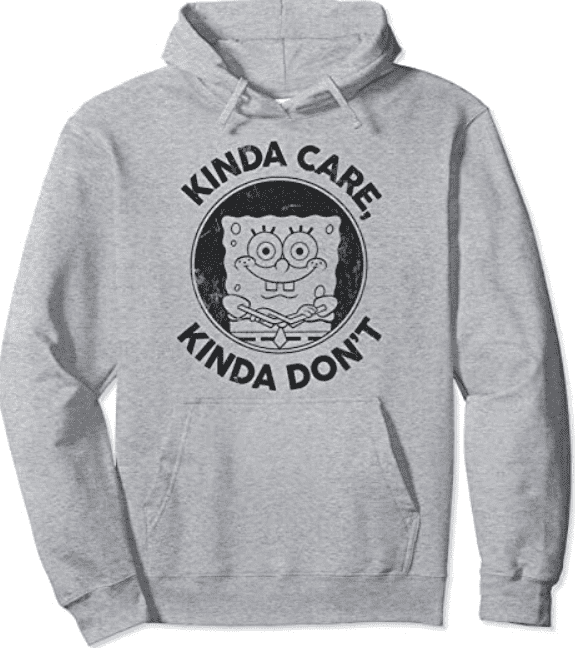 This one's a special dedication to moms who need a suitable sweatshirt to wear while their kids make ridiculous excuses. My son would make the lamest excuses about why he needed the newest iPhone. You've guessed my answer already. I give my kids everything, but sometimes, it becomes overbearing.
Sizes: S  – XXL
Colors: Gray
Top Spongebob Sweatshirt Ideas for Men
Guys, let's be honest. Some men love Spongebob, whether they're dads or not. It's okay. My first rule is that you never be ashamed of your fandom. It's yours and doesn't bother anyone. Let's see which hoodies work for men.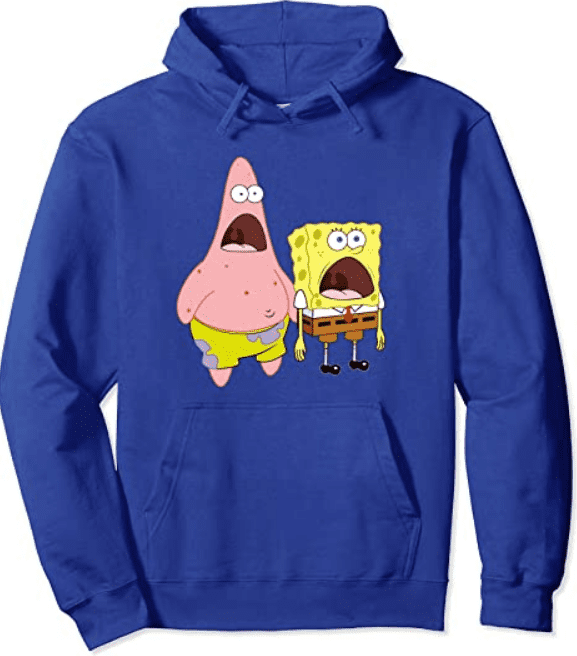 Have you seen how wide Spongebob and Patrick's mouths stretch when they're surprised? I'm not sure about the message this Spongebob and Patrick sweatshirt idea will send, but it's entertaining. Imagine how they'd look like this in the jellyfish fields. They wouldn't want the jellyfish swimming into their mouths, though.
Sizes: S – XXL
Colors: Light gray, royal blue, dark gray, and navy blue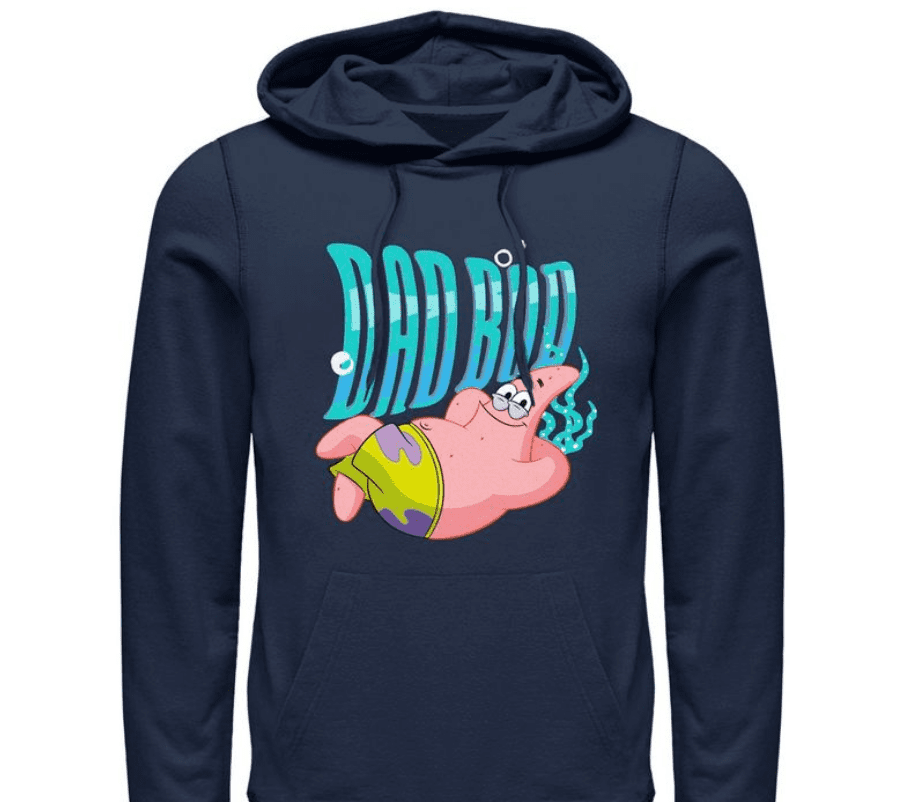 Patrick Star is the closest thing you'll find to a "dad bod" on the show. He has rounded features and couldn't care about what anyone thinks. So, the Patrick sweatshirt idea is perfect for dads tired of hiding their mature personas. And yes, you can be grown and love Spongebob simultaneously, especially as a dad.
Sizes: L –  XXL
Colors: Navy blue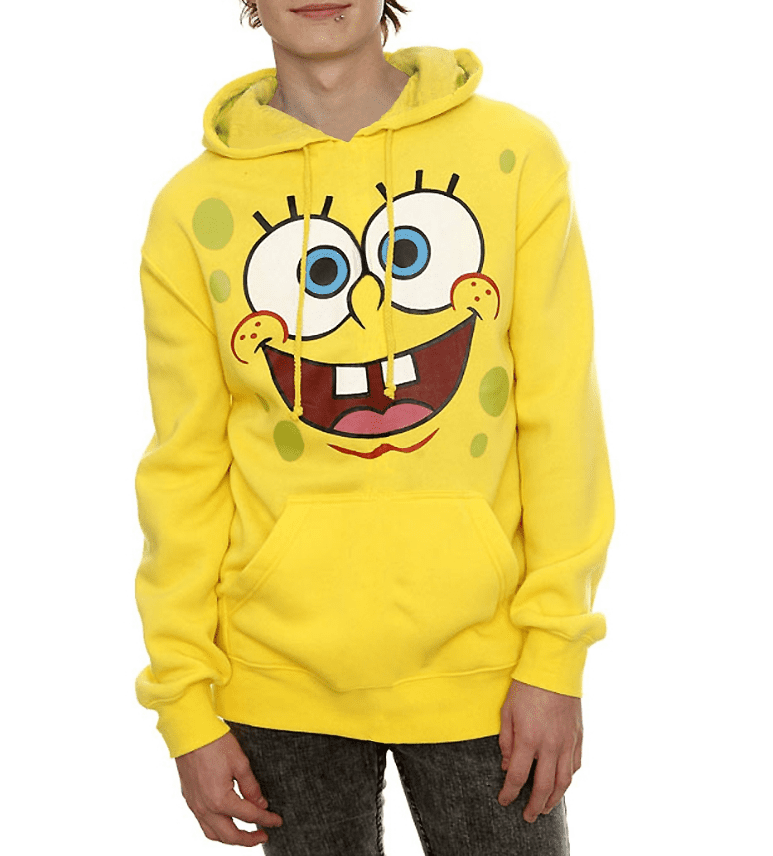 Spongebob has one of the goofiest smiles around. This hoodie sweatshirt idea is fabulous for men who aren't afraid to show their love for the goofball underwater sponge. The emphasis on Spongebob's face is magical, and his eyes look like they're looking into a joyful day. The sponge is a care-free optimist.
Sizes: S – XXL
Colors: Bright yellow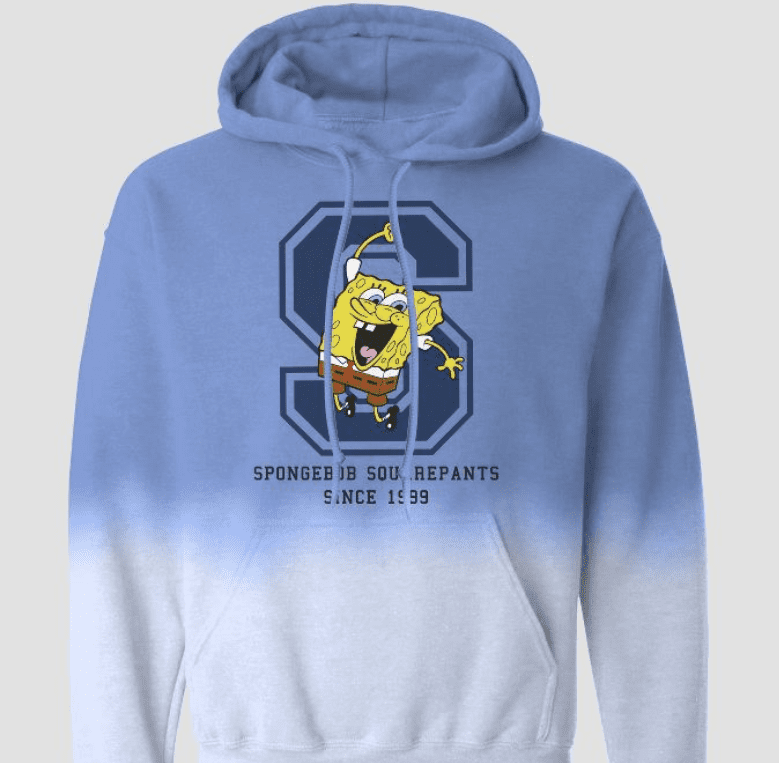 There's nothing like giving a man a college hoodie with Spongebob to make him feel better about loving Bikini Bottom and the underwater characters. I'd never be ashamed of loving Spongebob. However, it might appeal more to men if the sweatshirts didn't look rosy and childish. This sweatshirt is the ideal man's choice.
Sizes: S – XXL
Colors: Blue that fades into white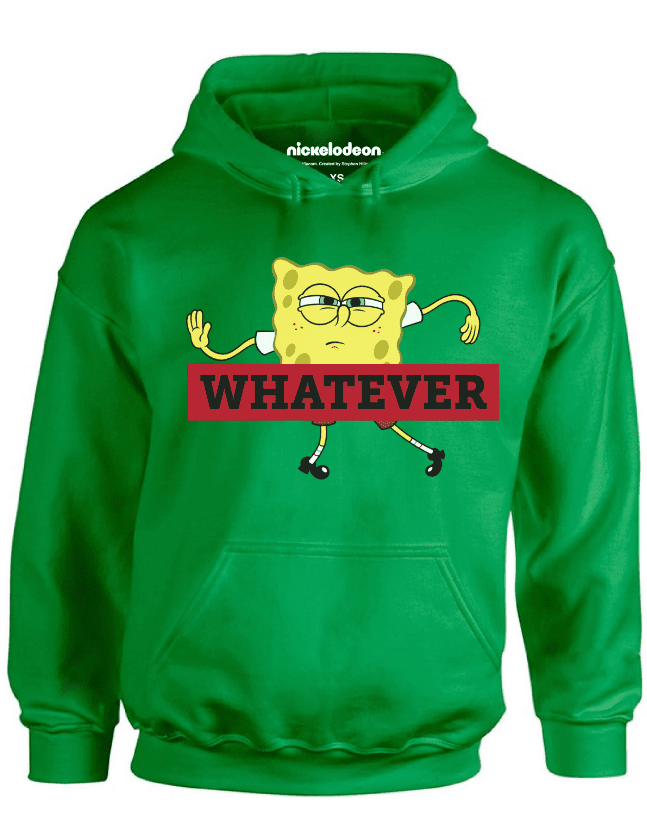 Spongebob doesn't have much attitude, but this sweatshirt says otherwise. I love it! It's an absolute slap in the face. I can see men wearing this hoodie when they couldn't care less about what people think regarding their Spongebob passion. Anyone's allowed to love Spongebob and his friends, so wear it with attitude.
Sizes: S – XXXXXL
Colors: Green and gray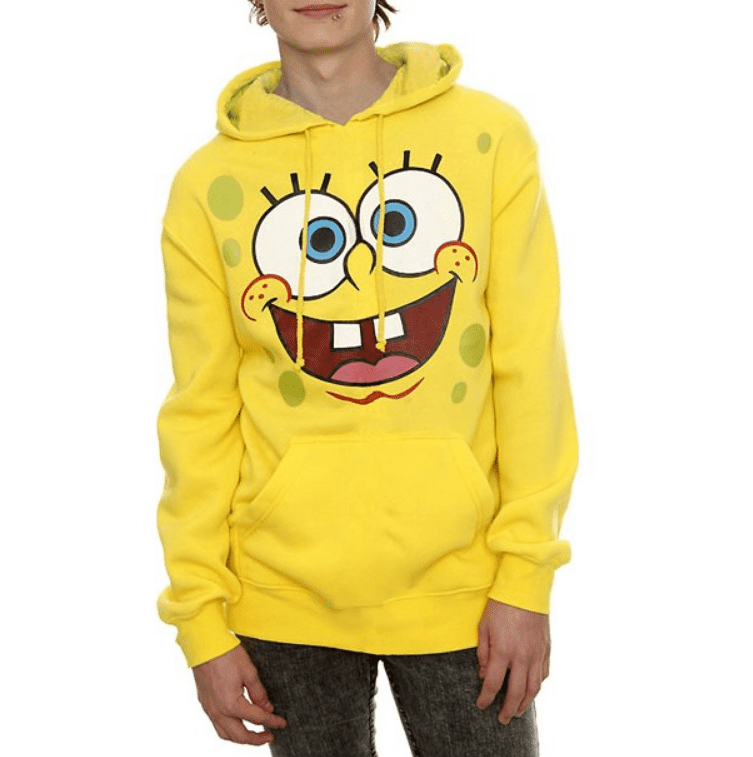 I can repeatedly hear Spongebob saying, "I'm ready," when I look at his goofy smile on this zipper hoodie with a similar design to the last one. It's not as bright as the goofy smile version, but it has the same facial emphasis. Men can break the massive eyes and quirky teeth by opening the zipper. It's an eccentric, bold option for men.
Sizes: S – M
Colors: Yellow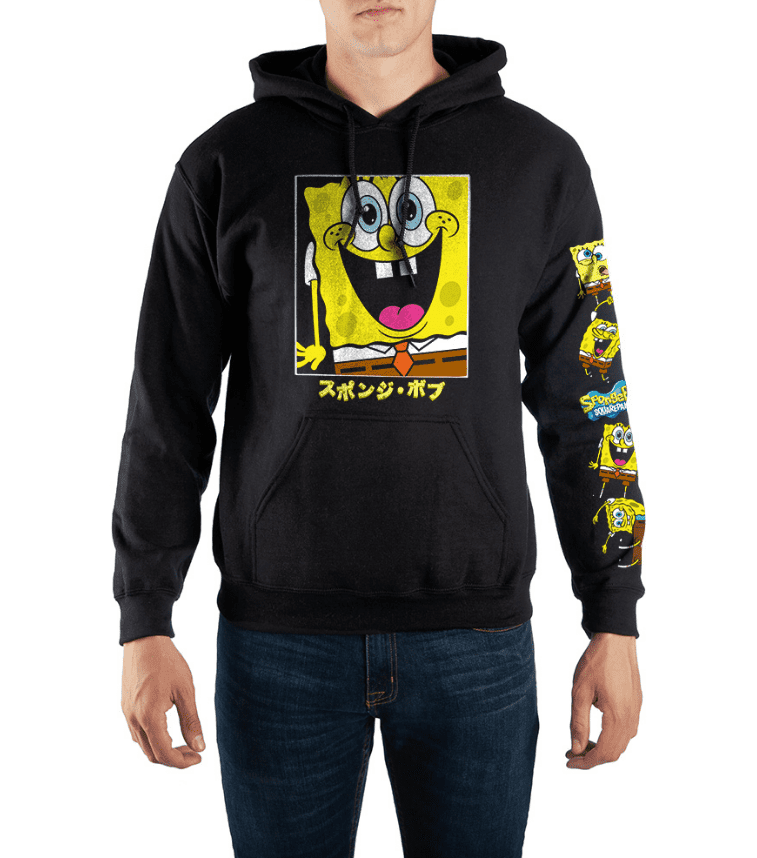 There's nothing wrong with a man who loves Spongebob, even if he's merely a dad supporting his children's passions. However, this Spongebob hoodie idea is more manly than most because it has a solid black background, emphasizing the character's photobooth-styled pictures.
Sizes: S – XXXL
Colors: Black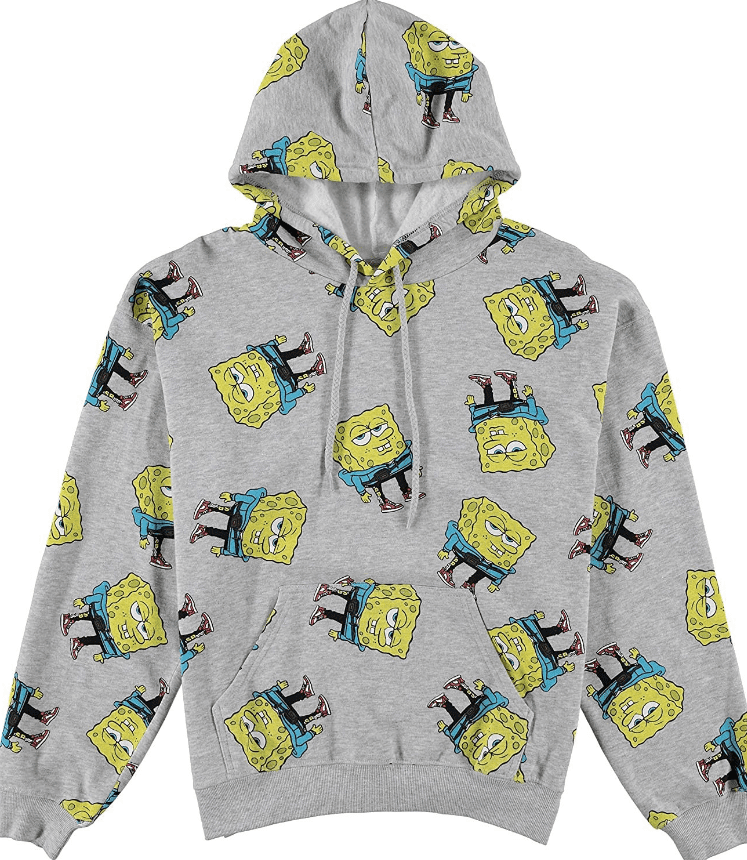 Gray is another fabulous color for men, but that's not why I picked this Spongebob hoodie idea. I see the irony of Spongebob wearing hoodies on the sweatshirt. It's ironic and humorous, yet, Spongebob wears a serious face like he means business. This Bikini Bottom hoodie undoubtedly suits men better than women.
Sizes: M – XXL
Colors: Gray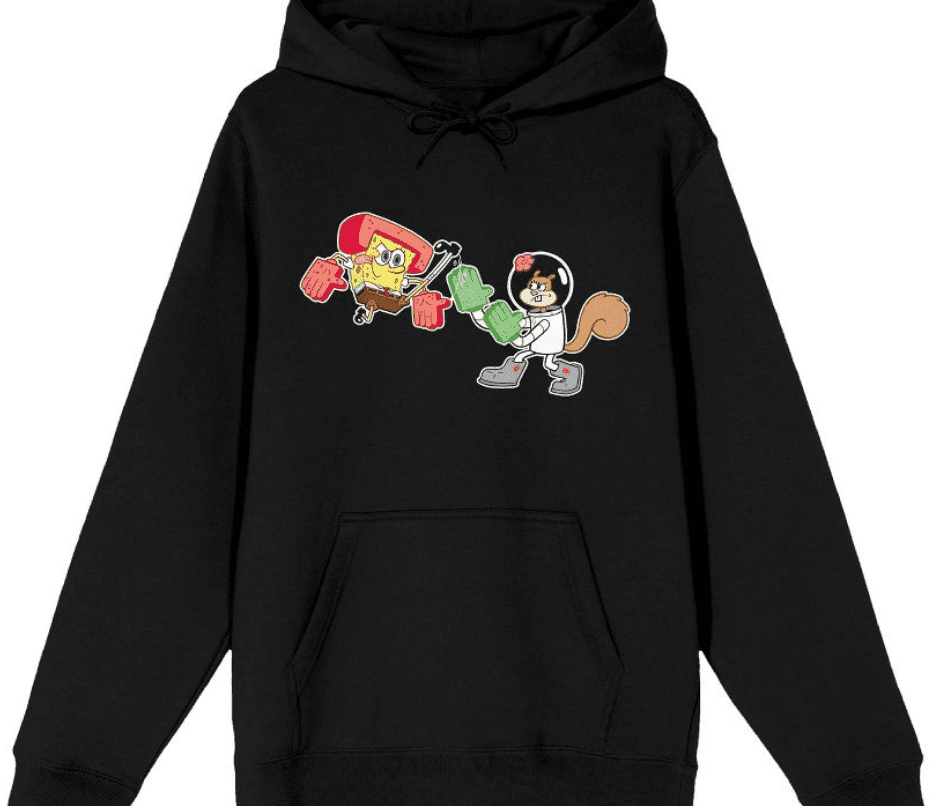 Spongebob and Sandy often have fun with their martial arts practices. Let's face it; Sandy is a formidable opponent for Spongebob. Anyway, the duo looks incredible against a black background. There's nothing like a bit of action to feel like a man. This Spongebob and Sandy sweatshirt idea would appeal to men and women.
Sizes: S – XXXL
Colors: Black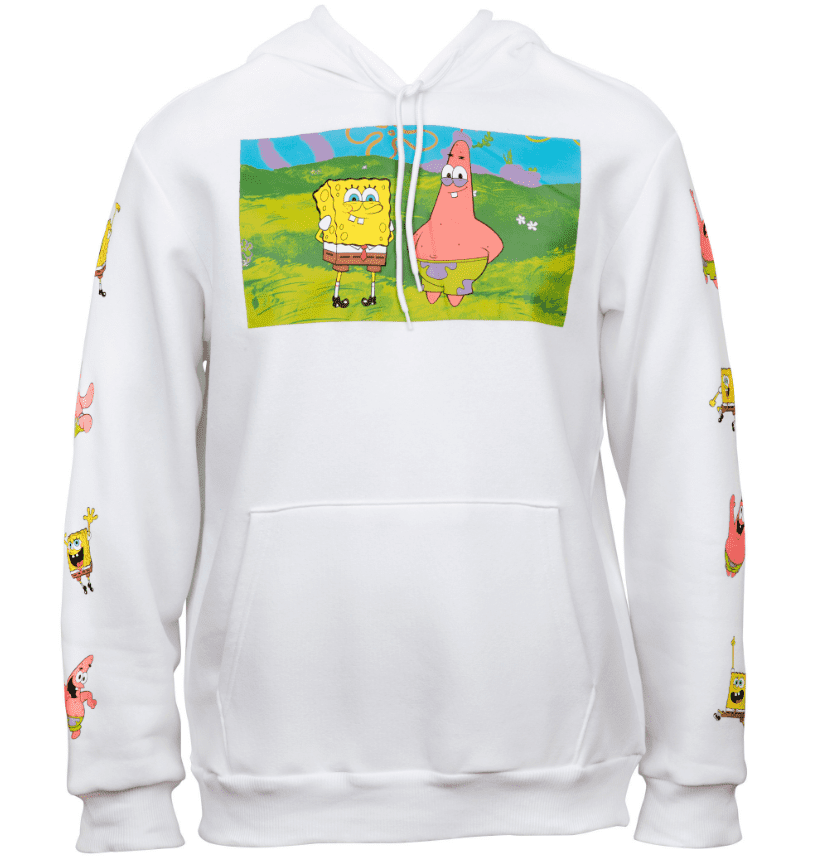 I can't explain the amount of mischief I see on Spongebob and Patrick's faces on the main hoodie image. Are you fun-loving, mischievous, and game for anything? Well, this Spongebob sweatshirt idea will bring your inner truths to light. It's also one of my favorite colors on men, and it's an excellent unisex choice.
Sizes: S – XL
Colors: White
Top Q&A
Question: How Popular Are Spongebob Sweatshirts?
Answer: Consider how famous Spongebob and the gang are, and you'll have an answer. Spongebob sweatshirts come in all types, including hoodies and taped-neck sweatshirts. You'll also find every Bikini Bottom character, some including Squidward, Patrick, and Mr. Krabs. They also come in all sizes for all ages.
Spongebob Sweatshirt Ideas: Conclusion
Spongebob sweatshirt ideas work for all ages and genders. You merely have to be a fan. There's an idea for moms who want peace and quiet. There's one for men with a dad body. There are packs for boys and girls, and there's a Spongebob sweatshirt idea for die-hard fans like me.
And you'll be stumped to realize how many Spongebob sweatshirt ideas I found. I narrowed the options down to my favorite type: hoodies. There are many more Spongebob hoodies with attitudes suitable for teenage boys. There are also many more available for men who love humor.
I poured my heart into over 40 ideas so that every child and adult fan will find the Spongebob hoodie they love. How bold do you want to be? How bright do you want to look? What message do you want on your hoodie? It's all in your hands now.
For more Bikini Bottom merch: