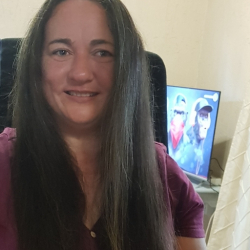 Latest posts by Caroline Lambert
(see all)
Can a sweet, goofy, hilarious cartoon character have a dark side? It's hard to fathom that Spongebob Squarepants is anything but a yellow goofball from Bikini Bottom. However, the meme world is harsh, turning every sweet thought into another joke. So, what is gangster Spongebob?
I've loved Spongebob and his antics since they began in 1999. I follow the lore, watch every episode, and buy Spongbob merch for my kids and me. The characters are unlike other shows because each has value to the story. However, some fans go further, making memes, video games, and YouTube videos.
Looking at the results of how other fans see Spongebob and his friends creates new depth for fans like me. So, would you also like to get to know gangster Spongebob? In that case, welcome to my complete guide.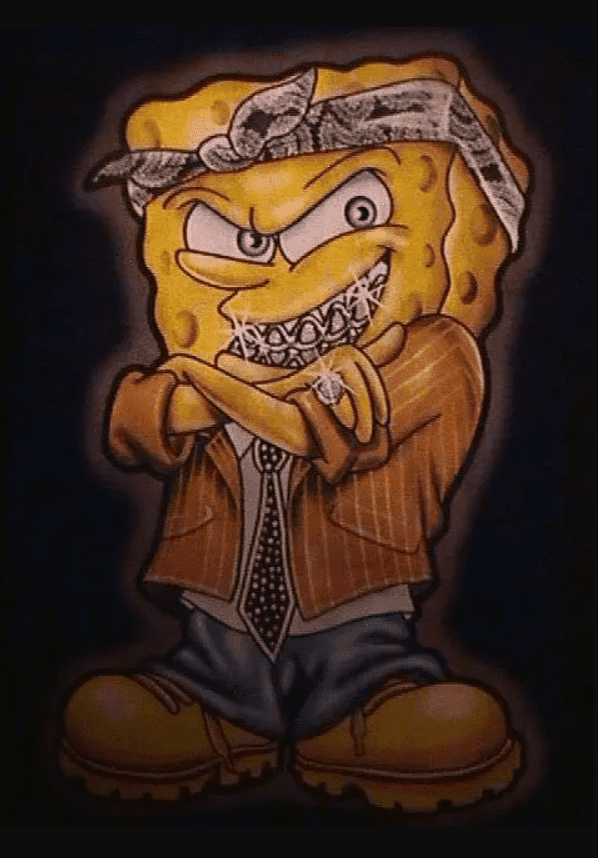 Gangster Spongebob: Bottom Line Up Front
Gangster Spongebob is much older than you'll believe and isn't going anywhere soon. He has more memes than most of Spongebob's personalities. In addition, I've selected various videos, parodies, GIFs, and picture memes safe enough to enjoy with kids. Unfortunately, some of his memes aren't suitable for children.
A vast selection of good content exists anyway. However, I won't include any content unsuitable for young fans. But first, I'll share quick information about gangster Spongebob's mini-series without oversharing. My children love Spongebob. So, I wouldn't taint their ideas of Bikini Bottom with undesirable content.
So, let me share some quick facts before telling you everything you should know about gangster Spongebob memes as a fan or content creator. Then, I'll dive into my family-friendly selection of gangster Spongebob memes. Meanwhile, prepare yourself for a few laughs before watching my favorite choices.
Quick Facts about Gangster Spongebob
Gangster Spongebob originated in 2007 in video form.
Patrick Star also has a gangster variation for memes and merch.
There are rules to creating gangster Spongebob memes.
You can use a simple meme generator to create original laughs.
Gangster Spongebob has an entire video series. Still, read about them before sharing them with kids.
Gangster Spongebob has more variety in memes than most of his meme personalities.
A Complete Guide to Gangster Spongebob
Gangster Spongebob isn't a new meme. It's been around for over a decade, and the laughs are worth every video or picture. However, let's learn where gangster Spongebob originated, how you can collect merch, and the safest way to create even funnier memes. Then, we'll hop into the goofball's meme timeline.
Where Did Gangster Spongebob Originate?
Gangster Spongebob is older than you think. The first content creator to turn poor Spongebob into a meme was a YouTuber called Little Viper in 2007. The first Gangster Spongebob video meme included a version that looked Italian and another that looked like a pimp. Meanwhile, the video quality is terrible.
However, 2007 didn't have excellent video content or quality. In addition, it didn't take meme artists and content creators long to lock the money with Gangster Spongebob, pun intended. The second appearance of Gangster Spongebob popped up and became iconic. Spongebob looks like a greedy leprechaun in the meme.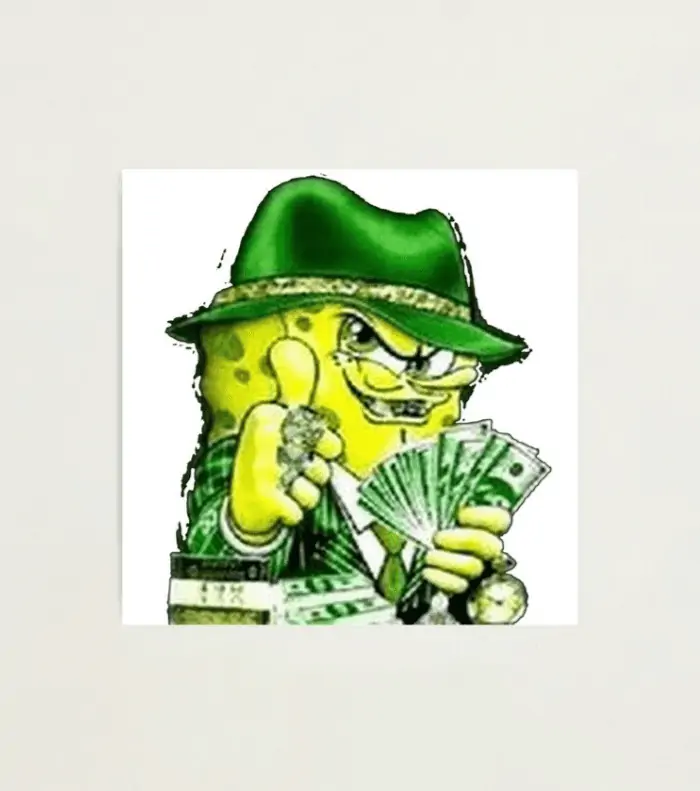 The first image gangster Spongebob meme was so famous that you can purchase it. It's not Spongebob's best look because he looks like an Irish gangster who adopted a leprechaun outfit and personality. Meanwhile, the 2008 image was a double-icon with another, better-looking gangster Spongebob meme image.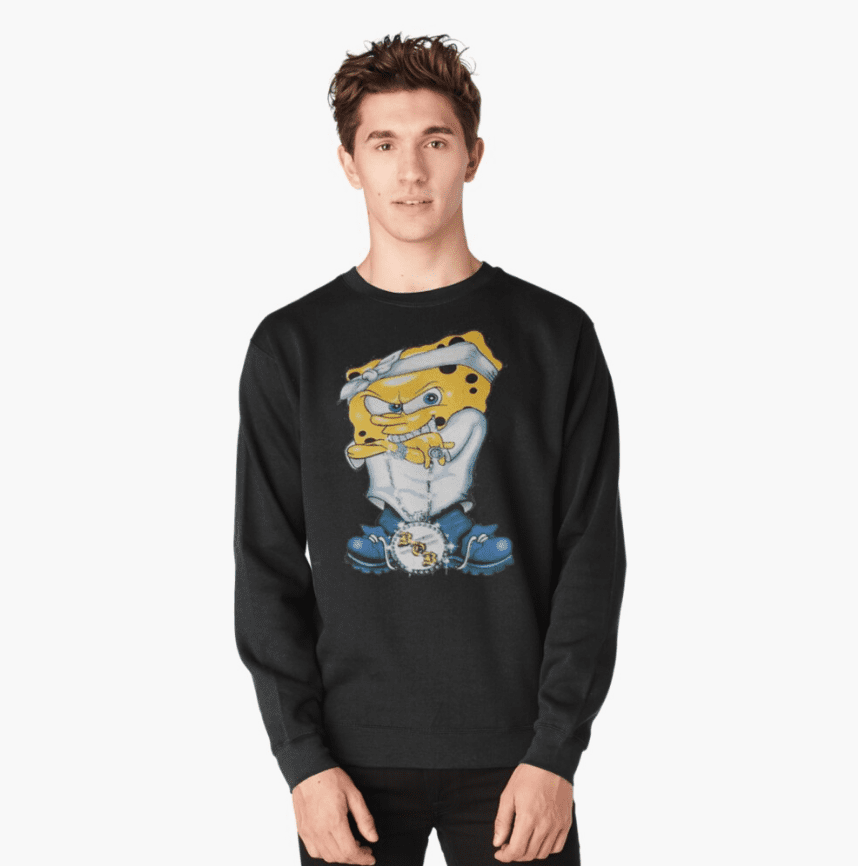 The second iconic meme also has plenty of merch available, including sweatshirts. However, gangster Spongebob must have a white headband and green/blue shoes to be an iconic replica of the original memes. The gangster memes grew, and Patrick also became a star of gangs. Now, you'll find these meme types:
Animated parodies
GIFs
Original content series
Picture memes
Video memes
Advice for Spongebob Meme Collectors
Gangster Spongebob and Patrick have loads of merch. However, if you match the original meme images to your desired merch, you should look for similar details. So, gangster Spongebob's first meme image typically comes in a replica form, with most merch matching it well. However, the second image often has variations.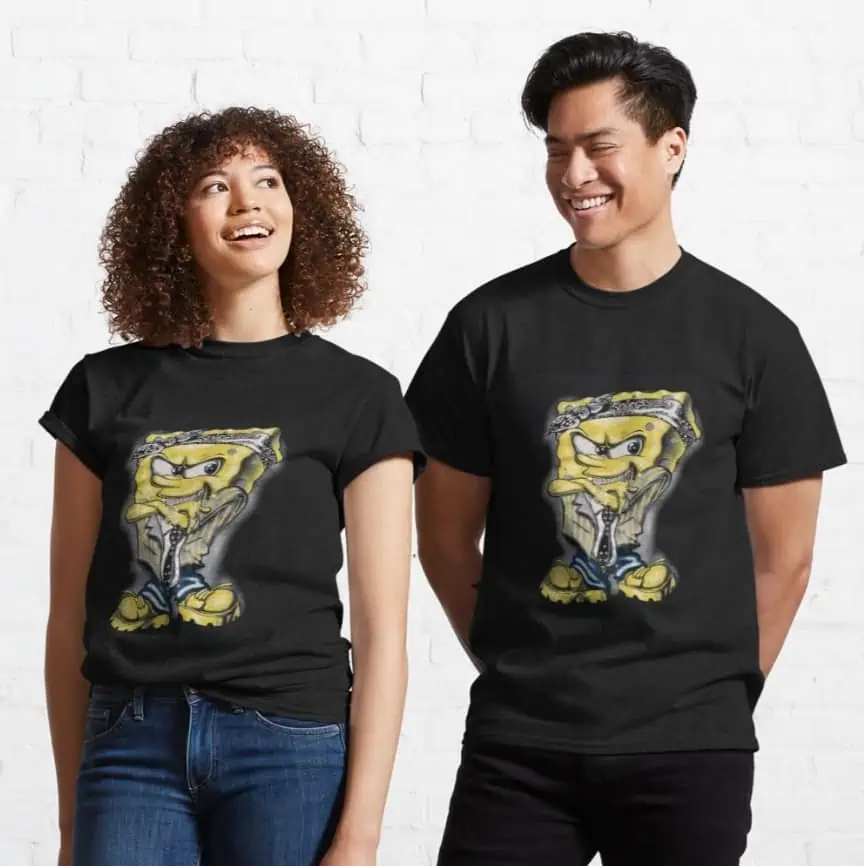 For example, the gangster Spongebob 2 t-shirt changes his classically white shirt for a jacket. In addition, Spongebob wears a tie and has less bling on his hands. Meanwhile, the gangster Spongebob essential t-shirt changes his headband to red. Furthermore, he looks the same, but slight changes make the merch unoriginal.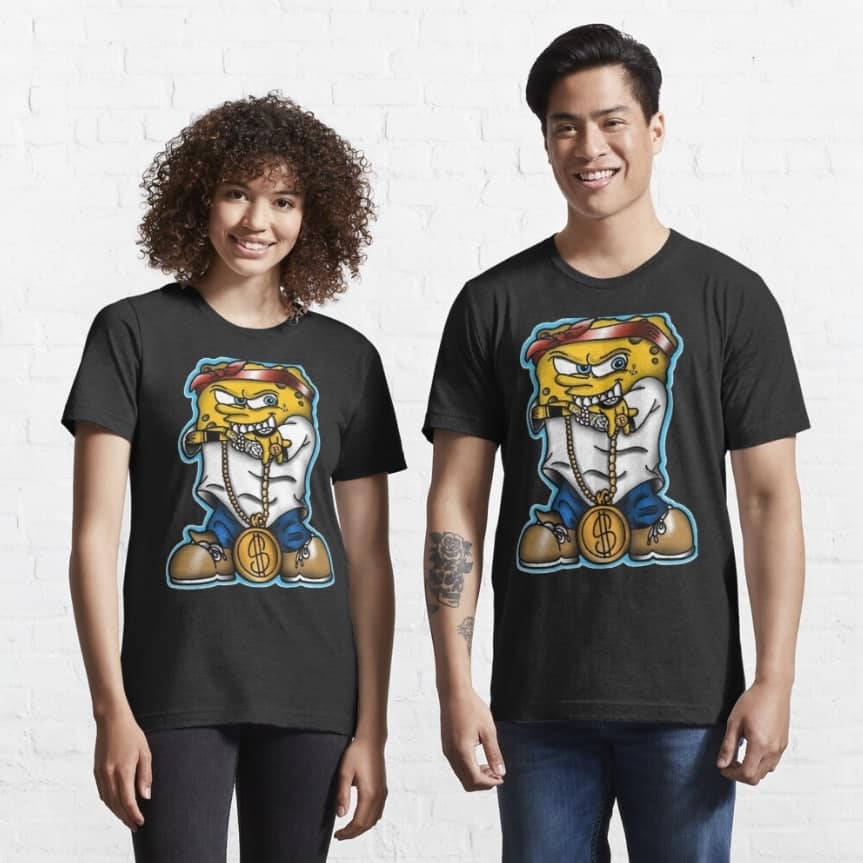 So, I advise that you look at the finer details if you're collecting merch with the authentic style of the original memes for gangster Spongebob and Patrick. So, gangster Patrick's most iconic meme image includes him wearing denim with a black bandana. He also has a tattoo on his belly saying, "Thug Life."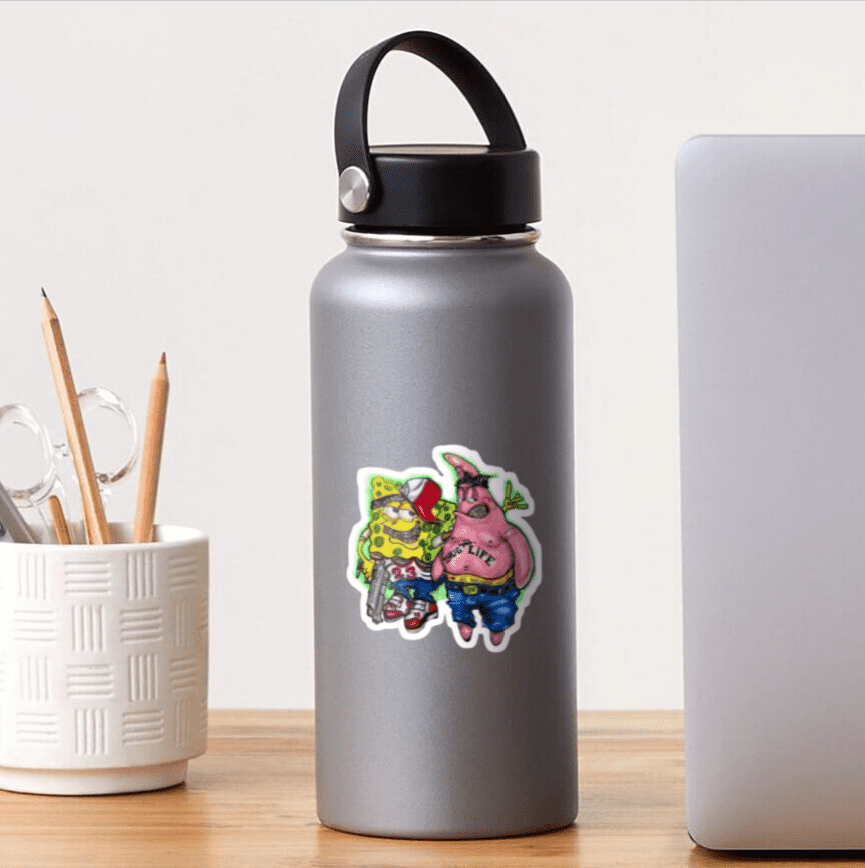 Quick Tip for Fellow Content Creators
Originality is the secret to using gangster Spongebob meme images without copyright infringement. The copyright rules are pretty strict. However, you can bypass it by being as original as possible when creating new memes. It also explains why some merch manufacturers change details to avoid copyright infringement.
I'm a content creator who also enjoys watching original jokes. So, be safe using gangster Spongebob memes without copying the idea behind them. First, change a small detail on the image before using it. Then, use an original joke or meme using different fonts and styles.
Bonus Tip: Image Flip is the best Spongebob meme generator online. You can choose templates or upload an image you've already changed slightly. The text editor is simple to use, and you'll have original gangster Spongebob memes in no time.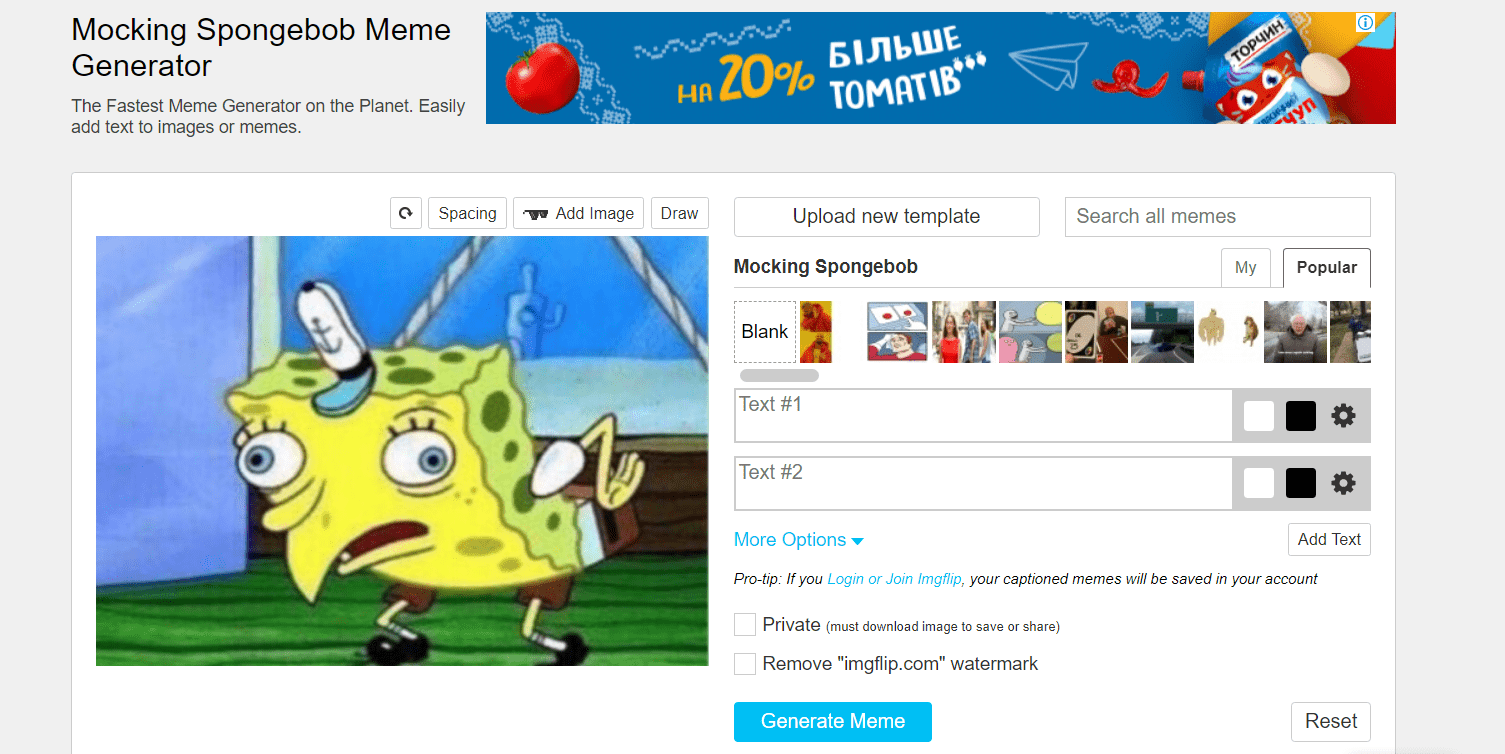 The Gangster Spongebob Series by Roben Sikk
Before diving into the entertaining new Spongebob series by Roben Sikk, understand that he followed the rules of original content. The characters look nothing like the Spongebob Squarepants show. They don't sound or behave similarly. Meanwhile, the YouTube series is pretty violent and unsuitable for kids.
Nonetheless, Roben Sikk, a video content marvel, created the first gangster Spongebob episode in March 2021. The episode is called Rise and Fall because it introduces gangster Spongebob and Patrick in a new light. The duo is pretty gangster, even blasting other characters' heads off. However, it's funny for adults.
Roben Sikk created a few follow-up episodes. Roben is a master YouTuber who turned gangster Spongebob famous. Meanwhile, the man took memes to a new level. However, the videos contain some profanity and violence. So, I don't recommend them for kids under 13. Still, adult Spongebob fans will gag with laughter.
How I Selected Some Favorite Gangster Spongebob Memes
There's no better way to see gangster Spongebob memes other than watching the latest editions. So, I'll include the best gangster Spongebob memes that made me laugh. There are too many to fit all. Hence, I have the ones that hit my funny bone. In addition, gangster Spongebob videos and picture memes are vast.
So, I'll only include the memes with a PG-13 safety rating. I have two kids. So, I'll only share what I'd allow them to watch under supervision once they're 13. Finally, I'll share top gangster Spongebob memes from the last three years to modernize my picks.
A Modern Gangster Spongebob Meme Fest
Gangster Spongebob is funny but also raps a good tune in some memes. Meanwhile, he has attitude in many gangster memes, which is expected from a hood member. So, let's see which gangster Spongebob memes had me in a stitch and why.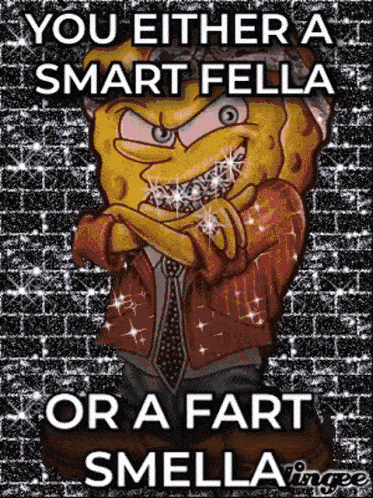 The Fart Smella Spongebob GIF is hilarious compared to the smelled it, dealt it versions. Unfortunately, gangster Spongebob isn't wearing his original clothes from the second meme image. However, the GIF's bling undoubtedly adds more to the gangster design. Meanwhile, Spongebob's message is clear.
The mobster claims to be smart compared to the guys who rather smell farts. Admittedly, you have to own street smarts to be a hood king. On the other hand, the hood king's buyers are likely fart smellers instead of intelligent fellas. My son gagged when he saw this meme on my screen.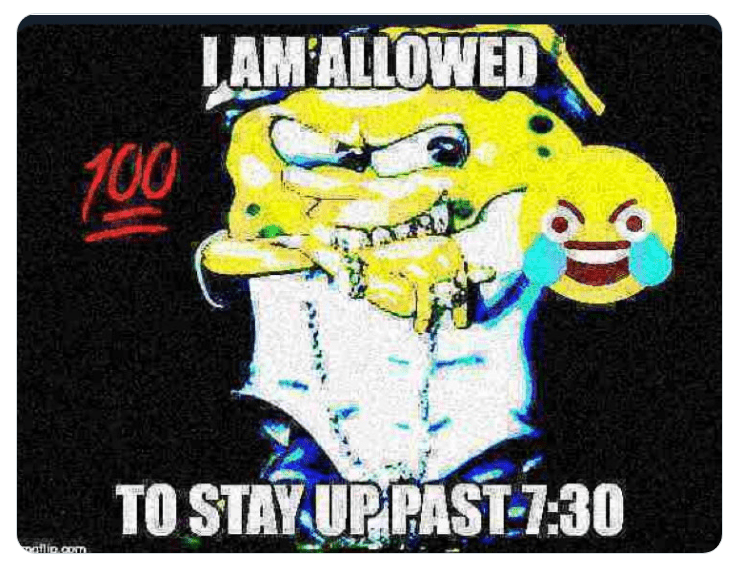 Gangster Spongebob makes my son laugh for a reason. He'd love to hit me with this meme whenever I send him to bed early on a school night. Admittedly, his bedtime is later than 7h30, but he'll love this meme. Unfortunately, I'm not impressed with the image quality or emoji.
However, the meme is something to which most kids and parents can relate. My daughter believes she's an absolute hood queen when she refuses bedtime. So, children adopt this type of personality when ignoring their parents. They think they're gangsters who run the show. As a result, it's frustratingly cute.
Gangster Spongebob Owns Bikini Bottom Meme
Gangster Spongebob adopted a story in which he and Patrick take over Bikini Bottom. However, the cops show up to end the hooded kingdom. It's one of the most famous memes in videos and pictures. Meanwhile, you'll find countless endings that follow this video meme, but I warn you to watch them before allowing your kids.
The beginning of gangster Spongebob and Patrick's story is simple. Spongebob wishes to make Bikini Bottom a better place, but the power goes to his head. Patrick tries to convince him otherwise. However, the duo ended in a shootout with the cops, leading to many different endings on YouTube and TikTok.
Gangster Spongebob 2: A New Day Meme
Gangster Spongebob's New Day meme is a follow-up of the initial story where the friends become kingpins. However, it follows the story where the cops take Patrick and Spongebob into custody. So, you'll see the famous Sponge time cards showing five years later. However, the friends find a nightmare outside prison.
Squidward tells them how Bikini Bottom changed. For example, Eugene Krabs became the governor and ruled the city with money. So, Spongebob and Patrick fight back by handing out their hood-earned cash. As a result, gangsters Patrick and Spongebob show that hood kings aren't always evil.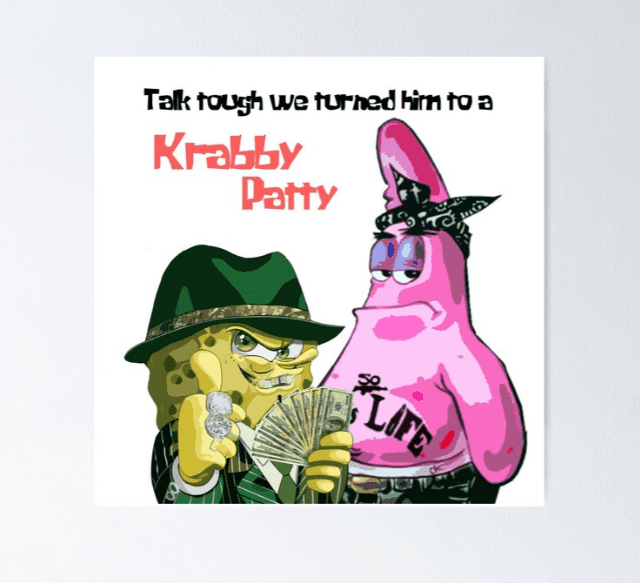 The Krabby Patty meme is pretty dark because it shows what the gangsters are willing to do to anyone who crosses them. However, it's hilarious that Krabby Patty's are fellow Bottomites chopped into ground meat. Only gangster Spongebob can seem so mean and evil.
Meanwhile, you could say these patties would make the nasty patty guide list. Fortunately, the secret ingredient in Krabby Patties has nothing to do with fellow Bottomites. So, this gangster Spongebob meme is funny. I'd hang it in my office because I like making visitors nervous with weird merch.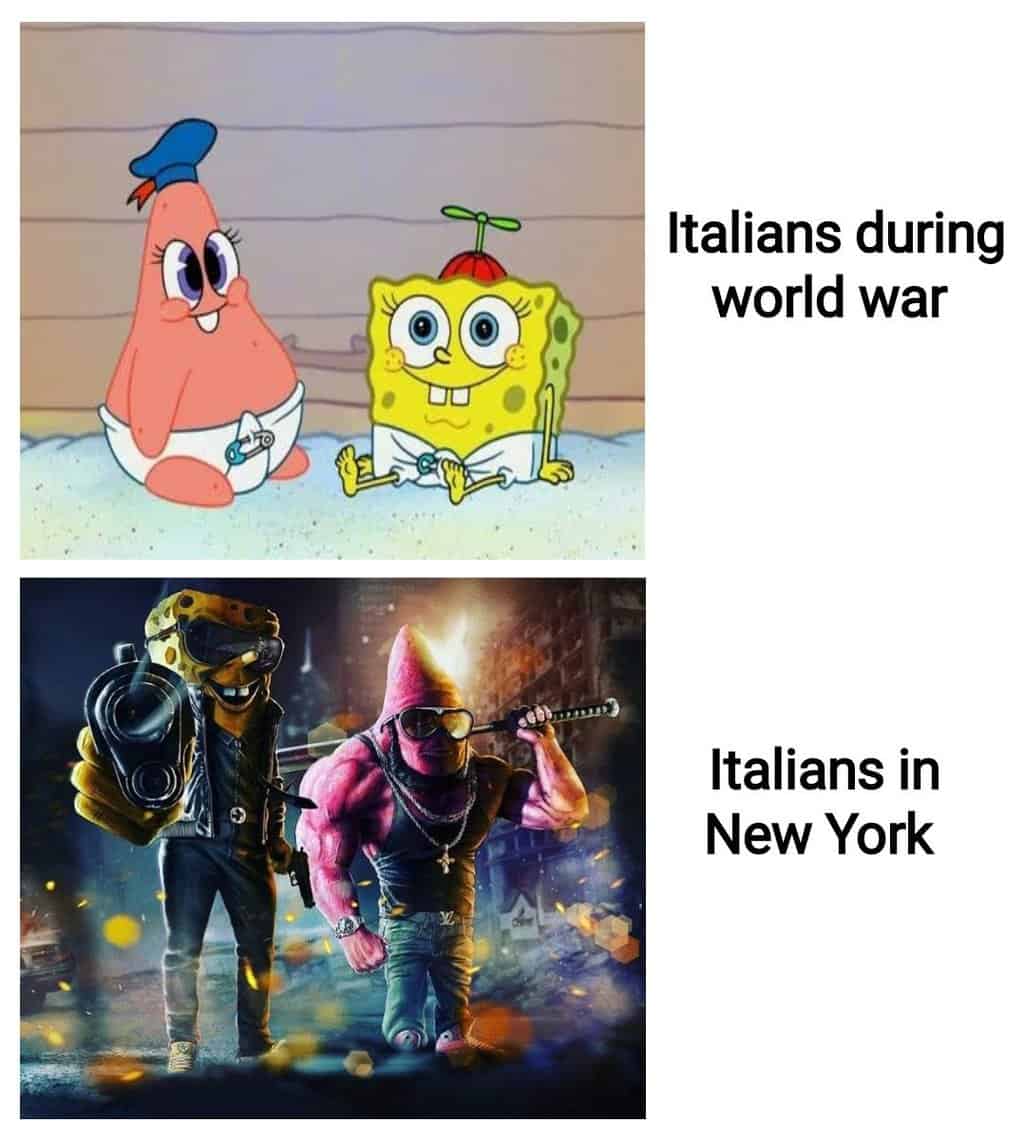 I don't want to get involved in generalizations and opinions. However, the Italians in New York meme is perfect in many ways. For example, I'm South African. So, people typically think we wear safari hats and walk among lions in the streets. Fortunately, the lion part is nearly untrue, apart from a few escaped cats.
I have a sense of humor and laugh at South African generalizations. However, we don't have a general style because we have 11 official cultures in our country. So, generalizing any nation is uncool. Still, the meme is excellent and will make many fans gag. In addition, it will make Italians with a sense of humor laugh.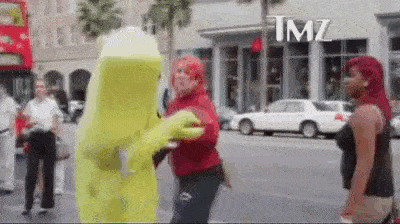 The hood-punching gangster Spongebob GIF is disturbing because I hope it's an act. Unfortunately, I don't know if it's an act or not. However, it's hilarious if it's a pretend situation for a funny GIF. Imagine encountering Spongebob with a gangster attitude, turning the poor guy into a punching bag.
Meanwhile, the ladies in the GIF undoubtedly have hood roots because they can pack a punch. Spongebob nearly stands no chance against the fierce queens of Queens, pun intended. Also, the GIF seems random, but it made me laugh loud enough to attract my son's attention back to my laptop.
Gangster Spongebob: We Did It, Patrick Funny Ending Meme
Do you remember how I mentioned Spongebob's gangster showdown has multiple endings? Sadly, many of them aren't suitable for family viewing. However, the funny ending meme stirs my giggle juices. It's my number one pick from the many endings I watched to find family-friendly options.
So, we all know Squidward would love to end Spongebob and Patrick because they annoy him. As a result, one YouTuber chooses to end the gangster kingdom for good by allowing grumpy Squidward to nuke the friends as the shootout begins. I didn't see it coming. Still, it had me rolling on the floor.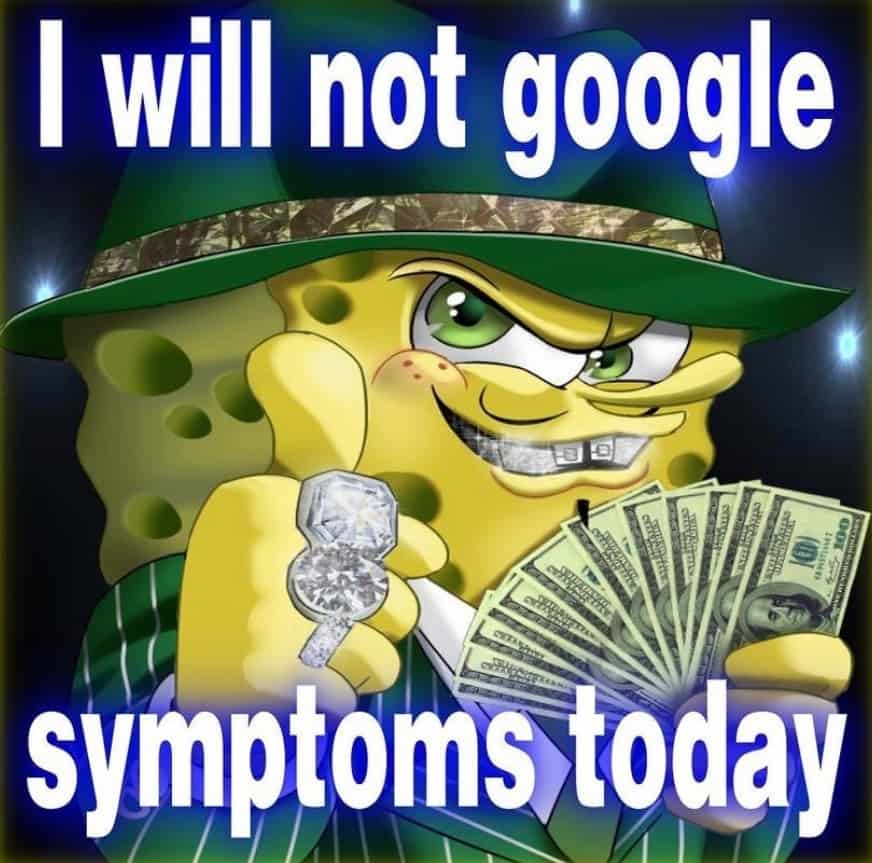 I wish I could send this to a few hypochondriac friends who always feel like they're dying because they used Google to diagnose themselves. This picture gangster Spongebob meme is one of my favorites because Google turns the world into hypochondriacs. Everyone's dying of cancer when they google a sore throat.
In addition, the quality is excellent on this meme. It also utilizes the original meme image with clear text in a larger font. The message is funny, relatable, and straightforward. You have a right to feel like a genuine gangster if you can stop using Google for sore throats and heat rashes.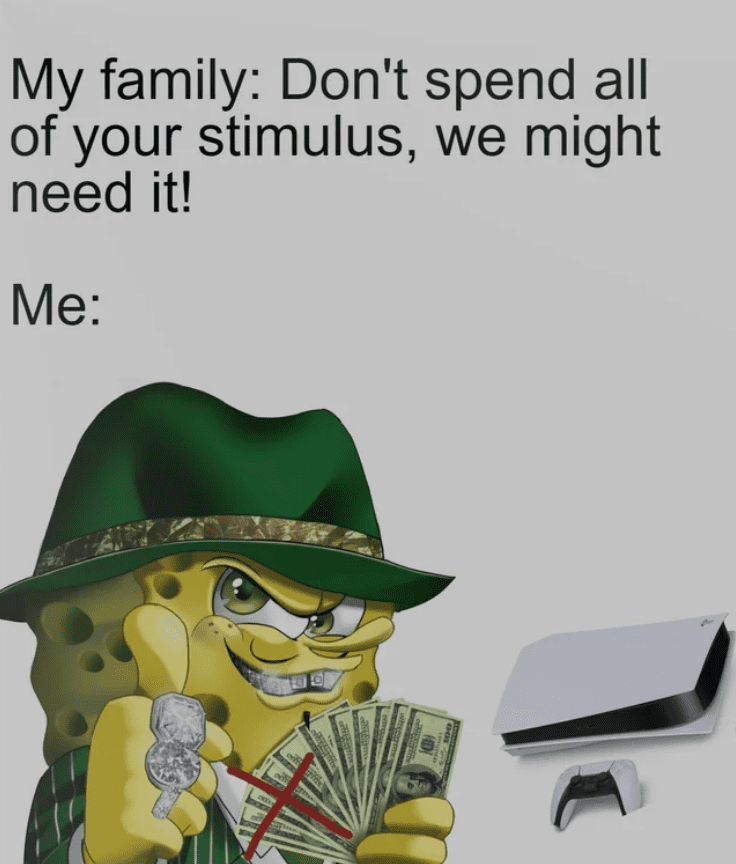 I found another gangster Spongebob meme to which I can relate. My son keeps asking for a PlayStation 5. However, it's above my budget this Christmas. Meanwhile, I have a brother who would pawn his soul for a new gaming console. He owns two of each PlayStation console, including number five.
So, this gangster Spongebob meme undoubtedly makes me think of him first. He would spend his stimulus check, and his wife would likely send him packing. Still, the meme is amusing because it shows the underlying gamer passion you see everywhere today.
Jellyfishing at Night: Don't Mess with Me 2 Meme
Gangster Spongebob's Jellyfishing parody was a massive hit for YouTuber, Your Boy Sponge. So, the content genius created another one. Don't worry about profanity or anything like that because I've listened to it multiple times to ensure it's family-friendly. Indeed, Spongebob is a clean rapper in the video meme.
Meanwhile, Spongebob sounds hilariously gangster with his rap tune. In addition, Spongebob's jellyfish passion shines bright, which is correct regarding the show. My favorite part of this gangster Spongebob video meme is when he pulls out the automatic rifle. He looks more gangster in his regular clothes than in other pictures.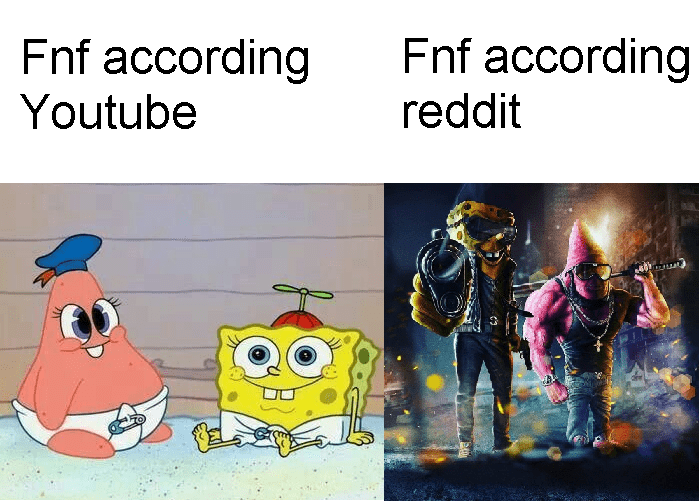 I love it when two fandoms collide. For example, Friday Night Funkin fans used gangster Spongebob's meme images to create this brilliant yet debatable laugh. FNF fans will undoubtedly relate to the second image where Spongebob and Patrick look like rockstar hood kings.
Meanwhile, I've seen how YouTubers can tear apart a game by streaming the least favorite parts. So, the meme is spot-on, but it's also adorably funny because it shows how Reddit fans can make anything sound fantastic. I'm a writer. So, trust me, I can make anything sound better than a video will show.
Gangster Spongebob: Snitch Tendencies Rap Meme
YouTuber, Your Boy Sponge also took the follow-up video meme after Spongebob's prison release to create another quirky and funny parody. It tells how Spongebob got into trouble with an added snitch twist. Meanwhile, I listened to it multiple times to ensure it was safe for kids to hear.
One line seems inappropriate, but kids won't catch on quickly. It contains no profanity or easy-to-understand adult jokes. However, the video is of excellent quality, with a catchy tune to show Spongebob as a genuine gangster. So, please determine for yourself if your children should hear it. I find it safe enough.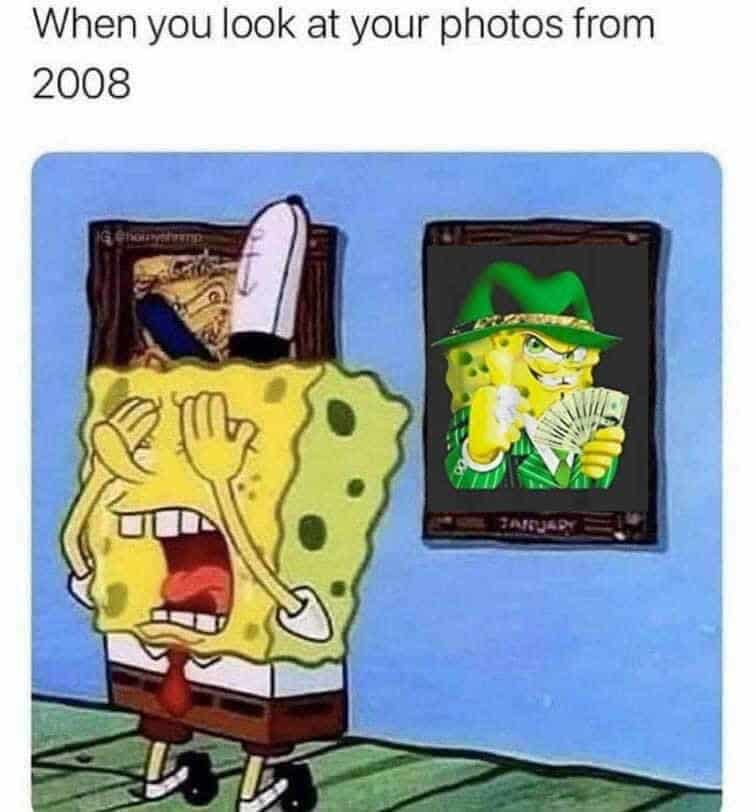 I've looked back on photos, wishing I could erase the memories. Do you ever look back and regret pictures from your past? It happens to anyone, even Spongebob. The gangster Spongebob regret meme is too relatable. In addition, the content creator did an excellent job of making me giggle.
So, this meme shows Spongebob after his gangster showdown, prison release, and parodies. Instead, it has the poor Bottomite on his knees for feeling ashamed of his acts. The picture says more than a thousand words. Meanwhile, the creator got the initial meme photo dates right with the year 2008.
Gangster Spongebob Gangster's Paradise Parody Meme
Fandom mashups are top-notch. So, gangster Spongebob collides with the ultra-famous Gangster's Paradise song in this video meme. It isn't the funniest meme unless you consider how Patrick sings the chorus. He sounds like he swallowed a bunch of helium balloons before the show.
In addition, the YouTuber animated the characters in a new way to avoid copyright issues. The video is adorable, and I loved the song in the 1990s. The song was everywhere, showing Spongebob with a gangster attribute long before his first meme. However, the YouTuber only posted the video in 2022.
FAQs
Question: Who Is Gangster Spongebob?
Answer: Gangster Spongebob is a meme as old as 2007. Many memes followed, including merch and gangster Patrick. However, gangster Spongebob often refers to an adult-humor video series on YouTube. Roben Sikk's initial video isn't suitable for kids because of profanity and violence. Still, it's funny for adult fans.
Question: What Is the Gangster Spongebob Parody?
Answer: Gangster Spongebob is a massive hit, and content creators have loads of fun turning his fame worldwide. So, YouTuber Your Boy Sponge created a catchy parody for Spongebob feeling annoyed because he wants to hunt jellyfish. It's a rap song, but it isn't filled with profanity. Instead, it shows a gangster Spongebob. Check the video here!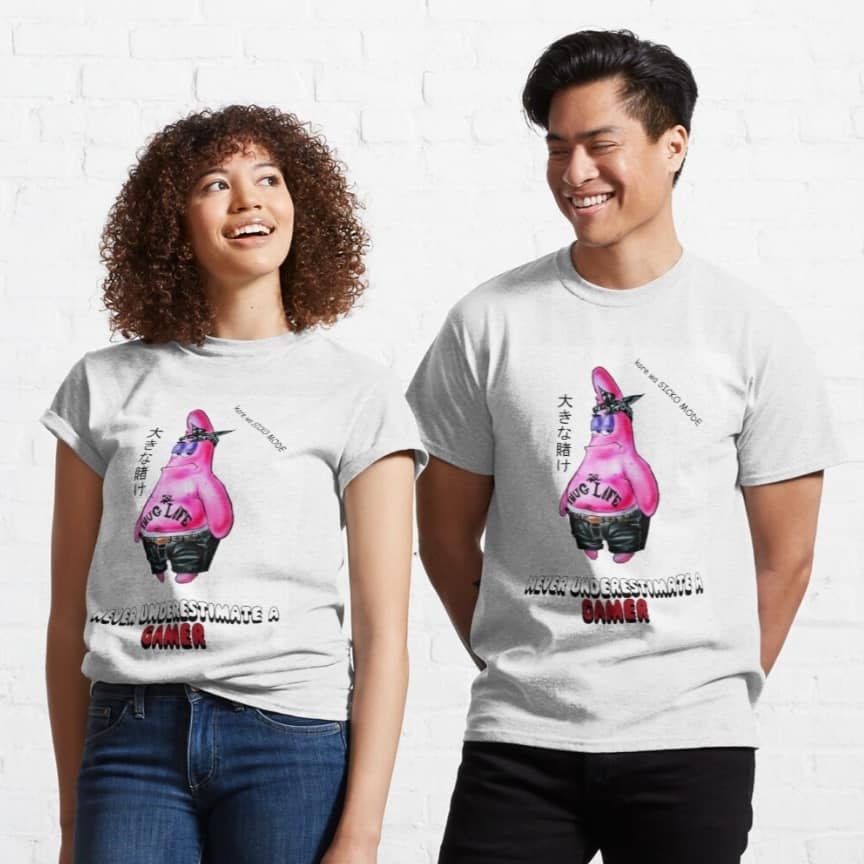 What Is Gangster Spongebob? Conclusion
So, what is gangster Spongebob? Quite simply, he's a meme, mini-series, and merch kingdom. Gangster Spongebob owns Bikini Bottom, even taking it back from Eugene by sharing all his illicit money from his hooded days. Speaking of which, gangster Spongebob's hoodies are fantastic. So, buy yourself one.
Meanwhile, you know the rules for content creation and should use the generator to help you create quality pictures. I shared everything about gangster Spongebob, merely avoiding the memes unsuitable for kids. So, broaden your fandom by watching the funniest gangster Spongebob memes.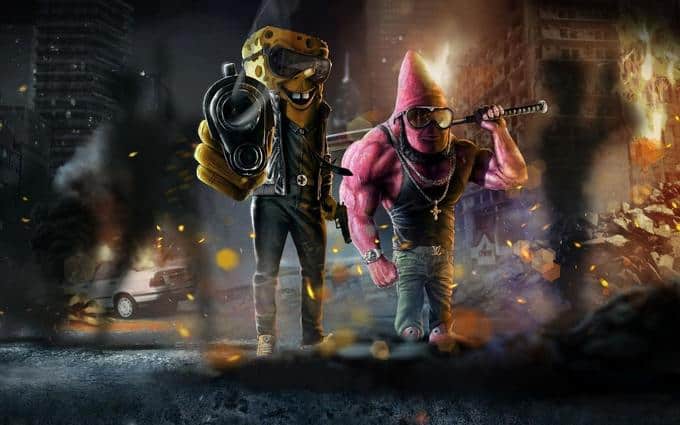 For more interesting Spongebob personalities