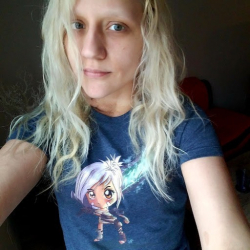 Latest posts by Emily Medlock
(see all)
This SpongeBob Vans guide will take you through the times SpongeBob and Vans collaborated. SpongeBob is well-loved by millions of earthlings, so it was a great choice for Vans.
As a '90s kid who may or may not be stuck in her emo phase, I appreciate Vans. While I've always been a Converse fan, I still love Vans. I remember when the Converse One Stars were trending in the early 2000s, and I bought some instead of buying new Vans.
But, of course, although I'm not an elitist, I believe there's something special about buying on-brand. Vans has done a ton of collaborations over the years, but their collab with Bikini Bottom is hard to beat.
SpongeBob and Vans: A Love Story
SpongeBob and Vans waited over twenty years for their first collaboration. Then, in 2019, dreams came true with their first collection. I love every pair they released, though I am quite fond of three.
The Vans X SpongeBob OG Classic Slip-Ons LX with SpongeBob coming apart is fantastic. Right in front of it are the Vans X SpongeBob Era. Finally, the Spongebob Flowers from Sandy Liang is by far my favorite pair.
Now, I must say that because there are no Vans and SpongeBob collaborations in circulation right now, none of the Vans on my lists are available on the site. None of them are readily available, but that doesn't mean you can't find a way.
Every SpongeBob x Vans Collaboration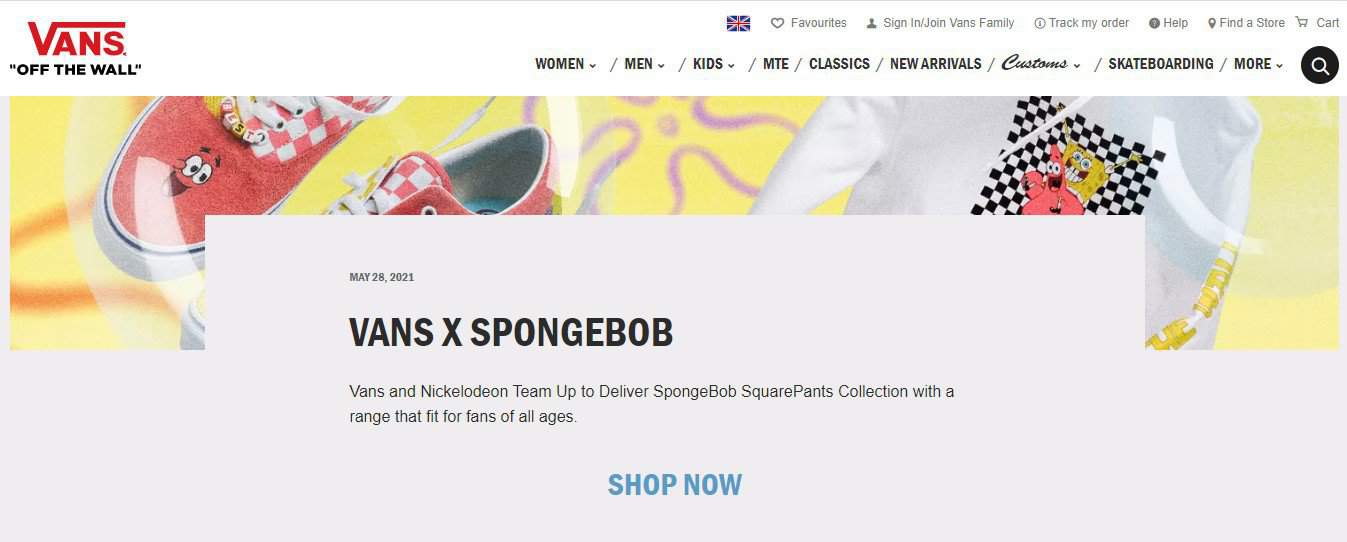 So far, SpongeBob and Vans have only had two official collaborations. While you can buy custom SpongeBob Vans from private sellers, if you want something official, look for one of these two collections
2018 Collection
Vault by Vans partnered with Nickelodeon to deliver this collection in 2018. There were six different shoes in the collection, including kids' sizes. The collection includes t-shirts and deck boards as well.
My favorite part of this collection is the smushed Plankton on the soles. That's the difference between the two collections. The 2018 collection has a smushed Plankton, and the 2021 has a bubbled Plankton.
2021 Collection
The 2021 Spongebob Vans collab featured two full collections. The first was the Old Skool collection, followed by the Sandy Liang collection. The first collection features nine sneakers and six other pieces.
The second collection only has two pairs of sneakers, a hat, a t-shirt, and a hoodie. But it is so well-designed. Not to mention, I'm in love with one of the sneakers.
Every SpongeBob Vans From 2018
Vans X SpongeBob OG Authentic LX (aloha blue)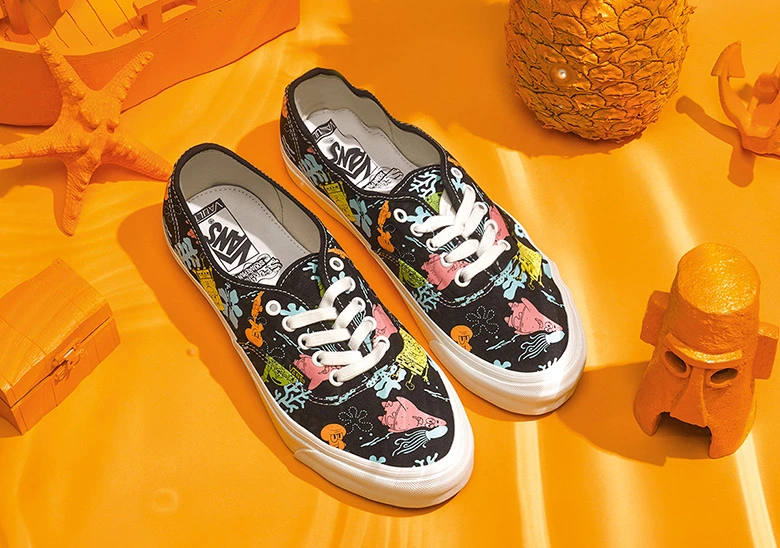 This pair is simple yet stunning. The classic shape and style make it a great fit for anyone. I love the detail that went into making each character a mood. Take a look at those faces.
Vans X SpongeBob OG Authentic LX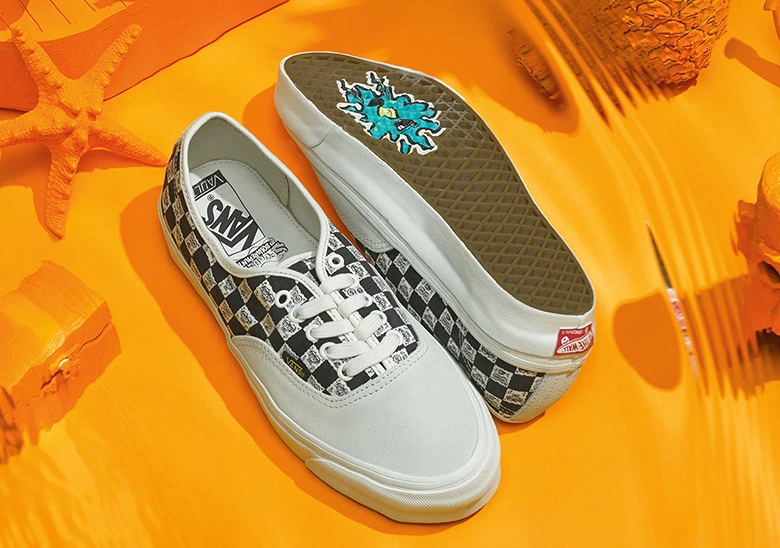 Who doesn't love pure black and white themes? It's a classic that never goes out of style. This checkerboard pattern doesn't just have SpongeBob thrown in; the white squares are SpongeBobs.
Vans X SpongeBob OG Classic Slip-Ons LX (yellow)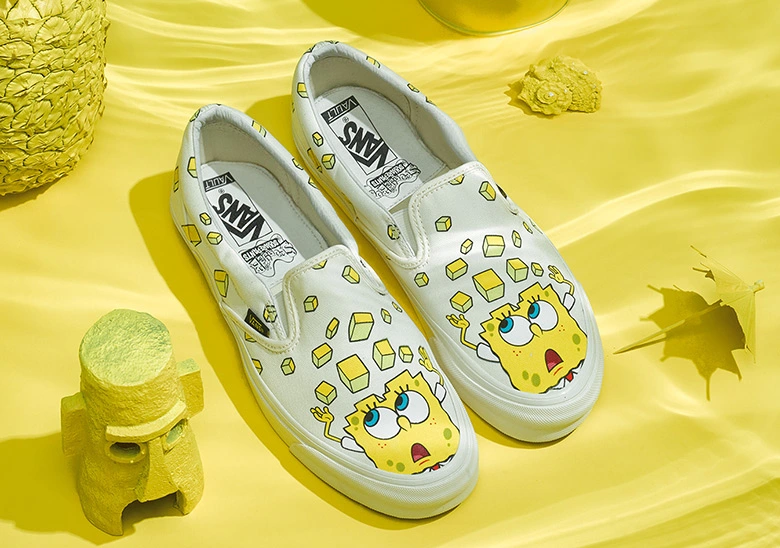 This pair is fantastic because it's simple yet tells a story. SpongeBob is literally losing it in this depiction. While we normally see the goofy side of SpongeBob, I low-key love to see his anxieties shared because it is so relatable.
Vans X SpongeBob OG Classic Slip-Ons LX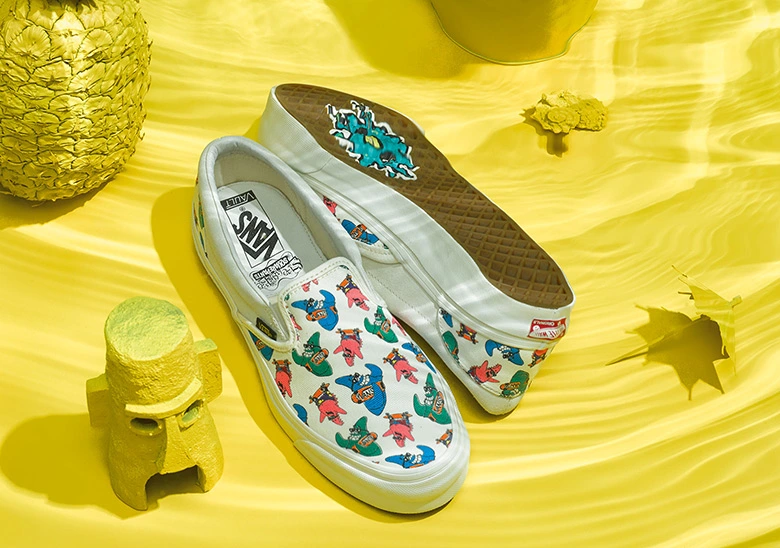 SpongeBob doesn't appear on these shoes, but Patrick does in every color. I love that this collection gives Patrick the attention that he deserves with brand new Patrick art.
Vans X SpongeBob OG SK8-HI LX (checkered)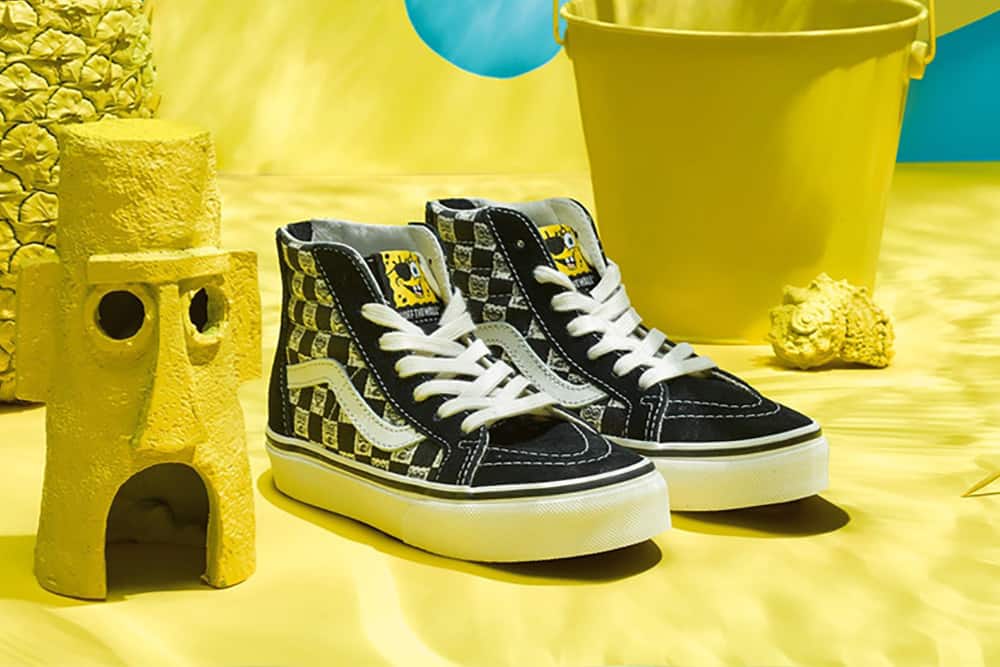 These hi-tops make me want to say, "are you ready, kids?" because SpongeBob has an eyepatch and is as festive as possible. But the best part is the varying facial expressions of SpongeBob on the body.
Vans X SpongeBob OG SK8-HI LX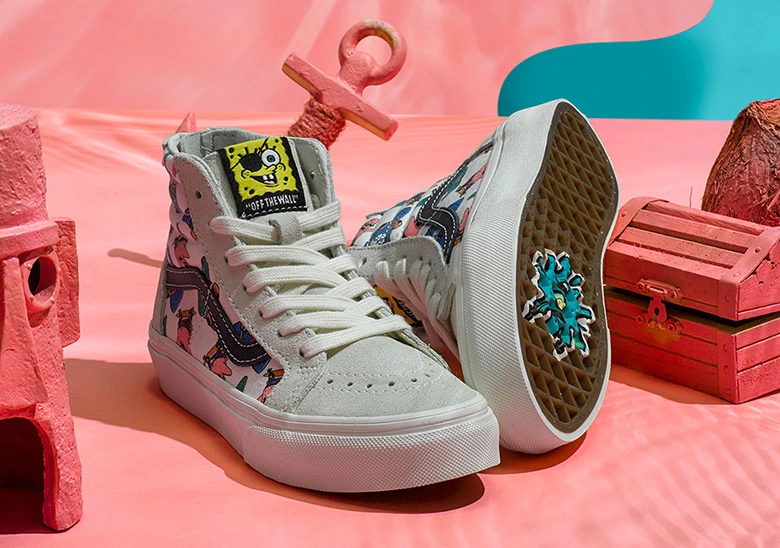 This pair is similar to the other hi-tops in the collection, only with important distinctions. First of all, they're white. Secondly, Patrick is featured on the side, and we all have a friend that's a Patrick fan.
Other Gear from This Collection
Every SpongeBob Vans From the 2021 Old Skool Collection
In 2021, SpongeBob and Vans went crazy making Vans. They made around a dozen pairs, some of them so limited that they almost slipped through the cracks.
Vans X SpongeBob Old Skool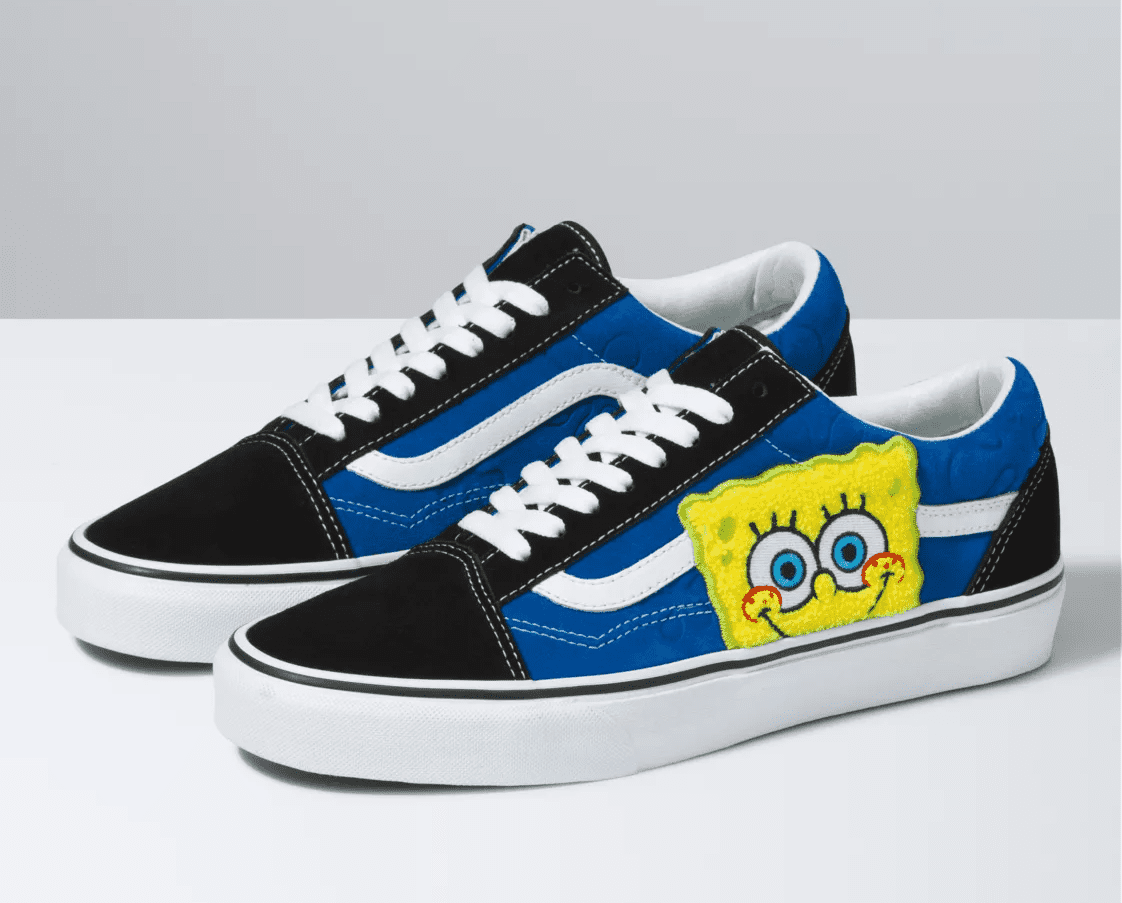 The first Old Skool pair from this collection is a classic. It features standard Vans stripes and neutral colors. On the side of the shoe is SpongeBob peeking out mischievously.
I love this pair because they're obviously SpongeBob shoes, but they're classy enough that even non-fans can appreciate them.
Vans X SpongeBob Authentic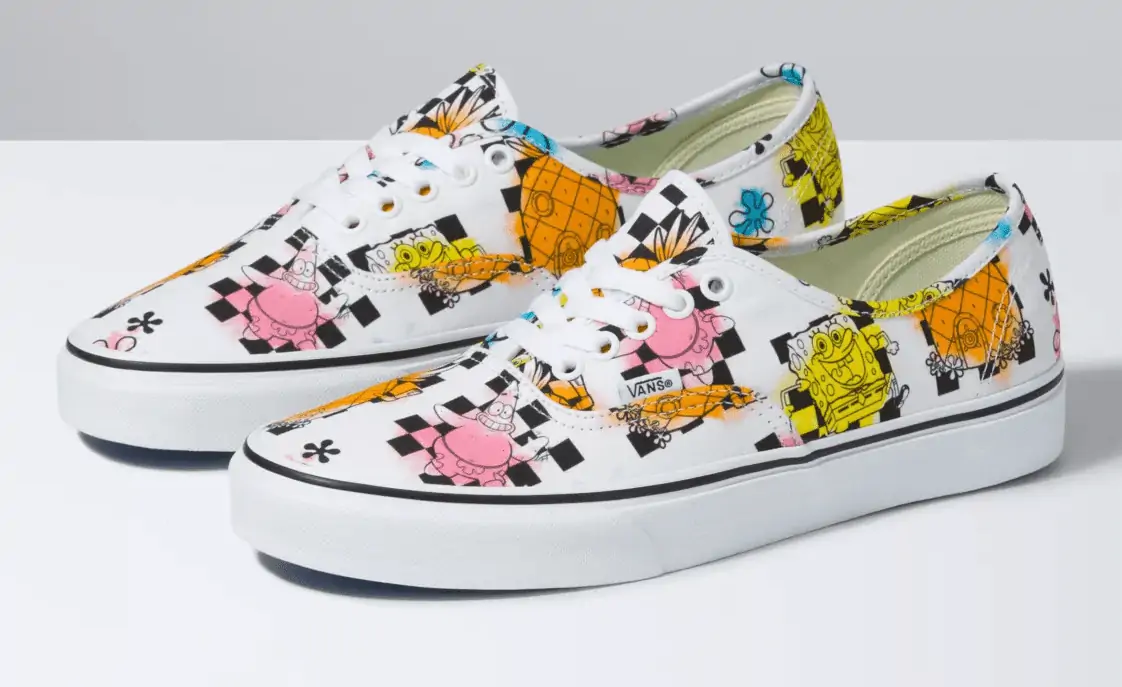 The SpongeBob Authentic shoes look airbrushed. They feature SpongeBob and Patrick with a Vans checkered backdrop. However, the base is white, and the checkered sections are only directly behind the characters.
I love these because I like white shoes. They get dirty fast, but there's something about the worn look that I love. This may be the early 2000s trend of worn sneakers, but
Vans X SpongeBob Classic Slip-On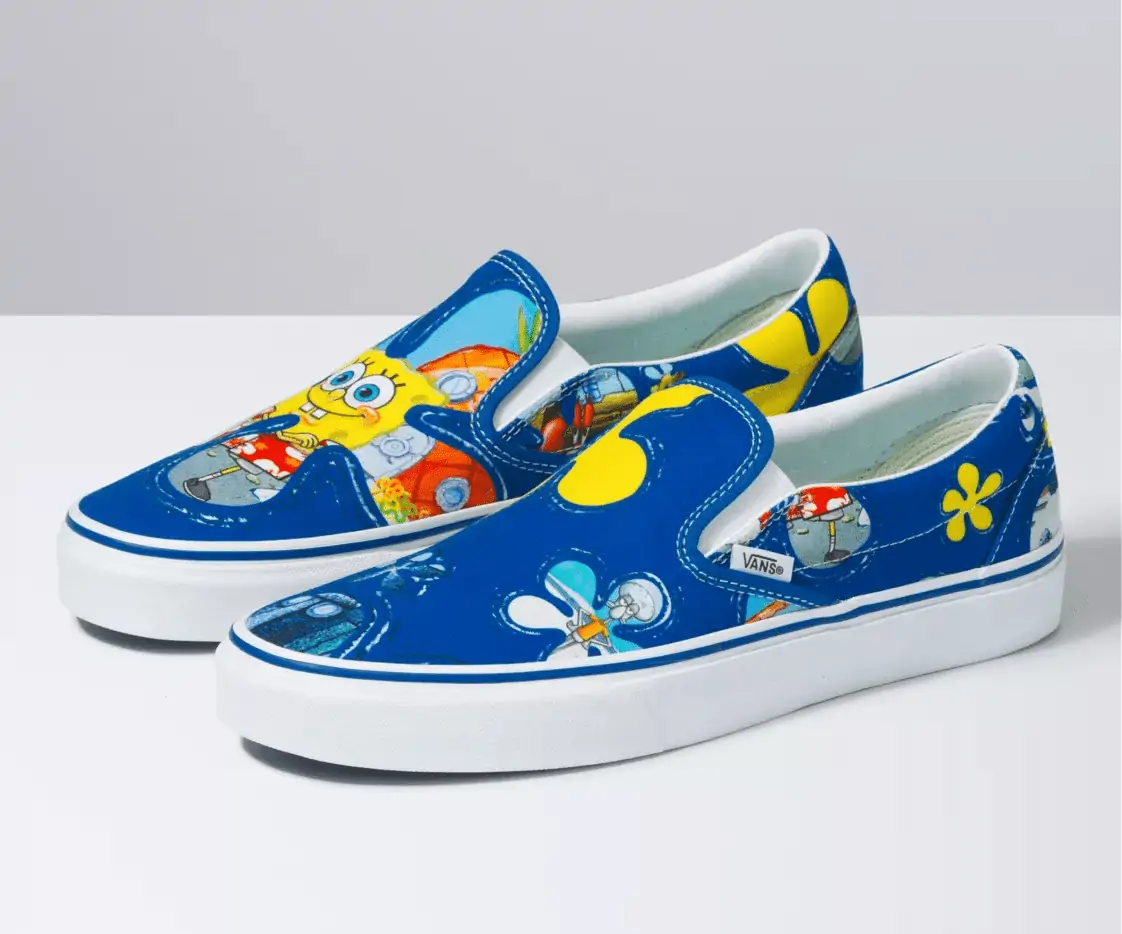 The slip-ons are so nice for a quick trip to the store. I love slip-on Vans, preferring them to the rivaling slip-on Crocs. This particular pair has one shoe featuring SpongeBob and the other a neutral summertime shoe with SpongeBob Easter eggs.
Vans X SpongeBob Era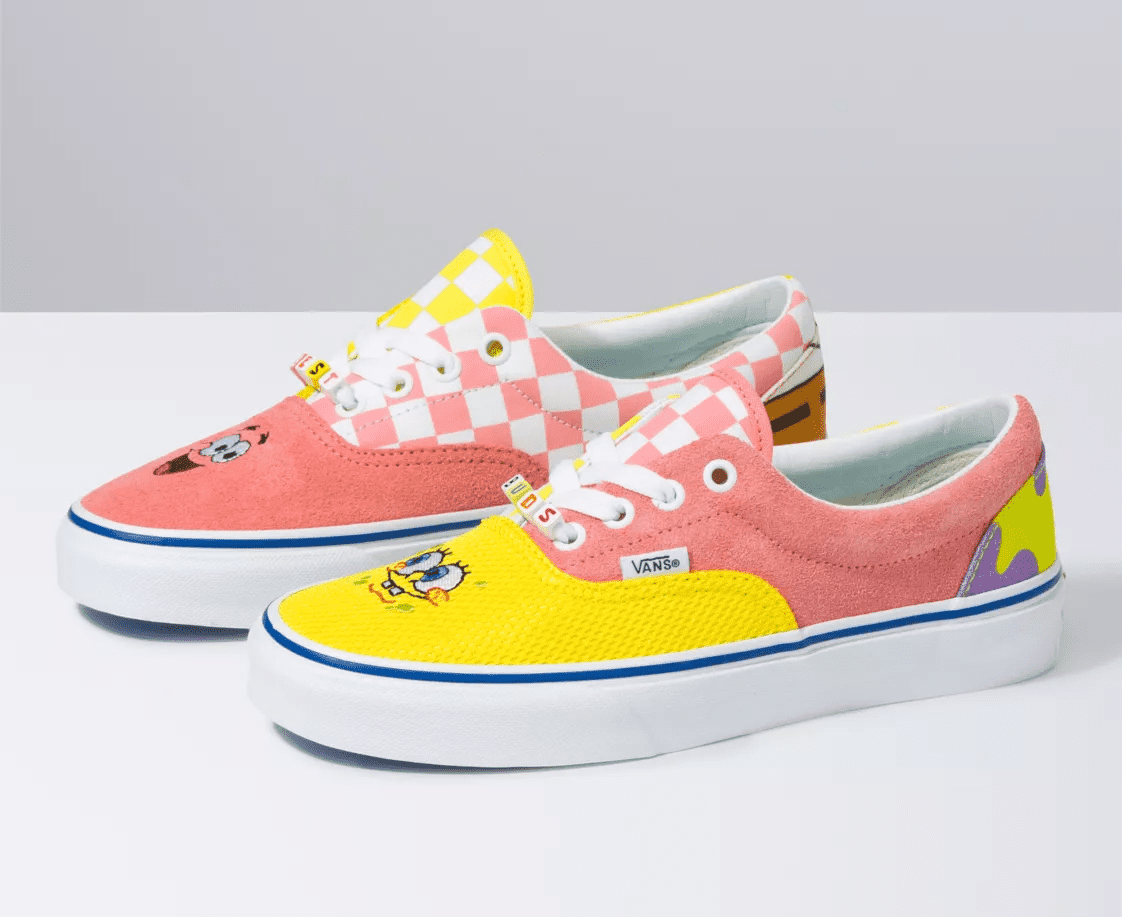 The SpongeBob Era shoes feature SpongeBob and Patrick on mixed-textured shoes. From mixed textured to patterns, these shoes have it all. The beaded laces read Best on one shoe and Buds on the other shoe.
This is my favorite pair of shoes from this collection. I love that the SpongeBob shoe has Patrick's shorts on the back, and Patrick's shoe has SpongeBob shorts on the back. Whoever designed this is a genius.
Vans X SpongeBob Sk8-Hi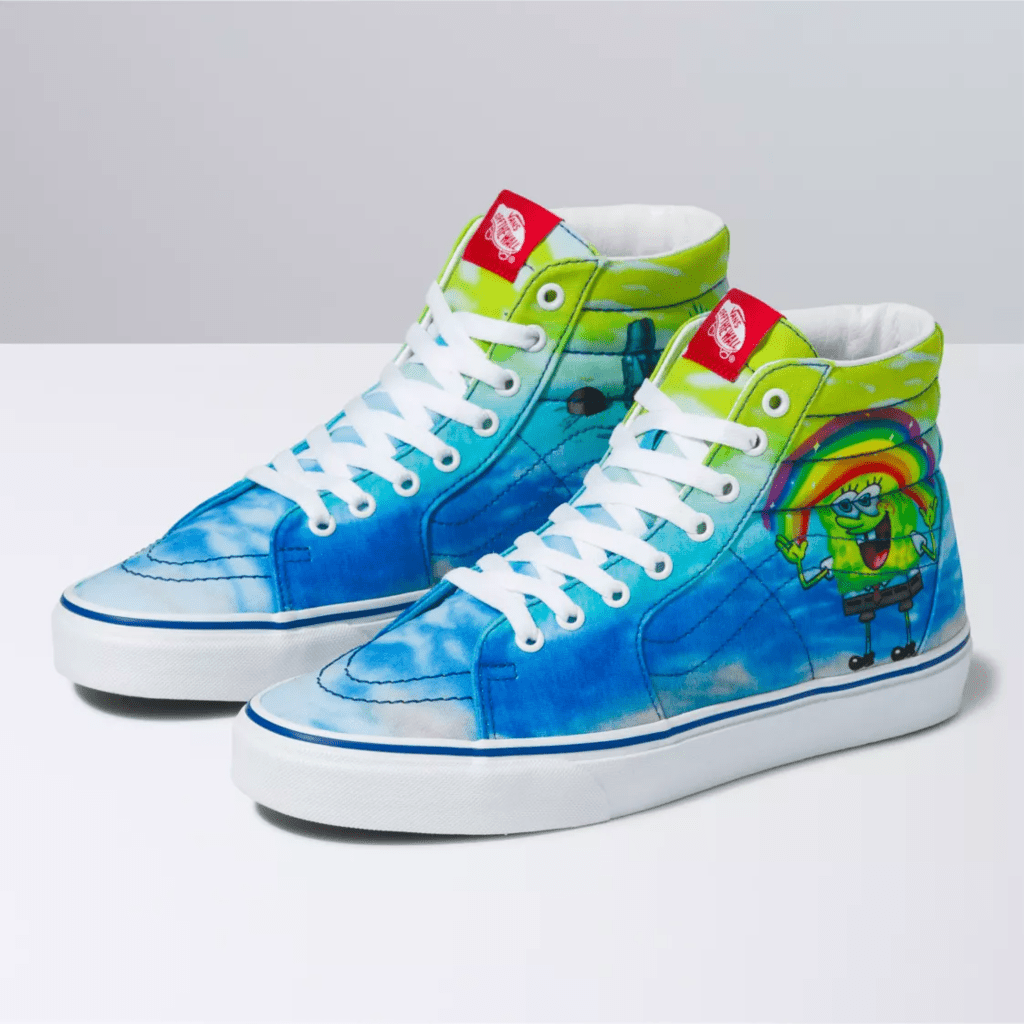 Even though I believe hi-tops make my legs look short, I still love them. The classic "imagination" rainbow is featured on these shoes and SpongeBob's neighborhood.
The ocean pattern on this one gets me. Even without the images, the pattern would make me love these shoes. Since this is the only hi-top in the collection, it is special.
Vans X SpongeBob Old Skool (checkered)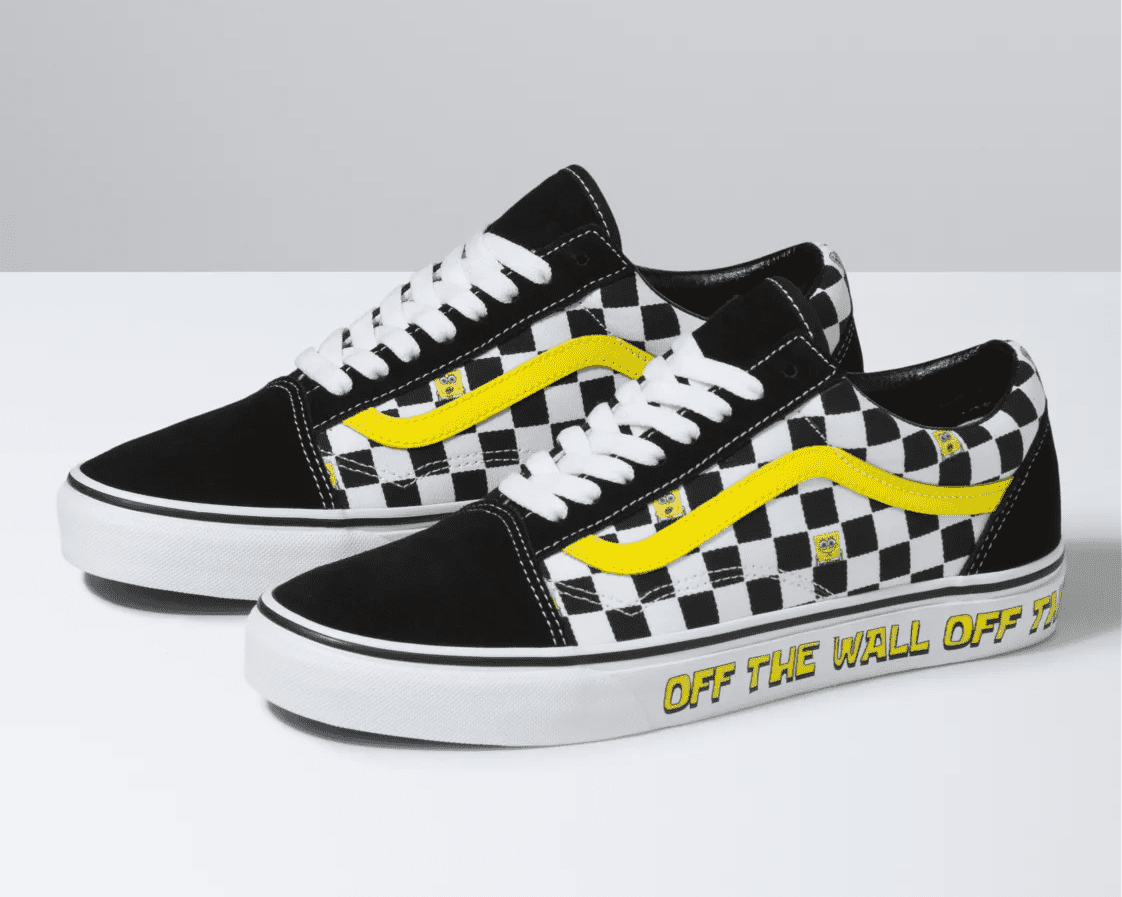 This pair is a lot like the other Old Skool pair. Only this time, the selective coloring and writing on the side of the soles make it unique.
I love this pair because they are the most like classic Vans and have the least SpongeBob influence. As much as I love the sponge, I like having something neutral to wear to various events.
Vans X SpongeBob ComfyCush Authentic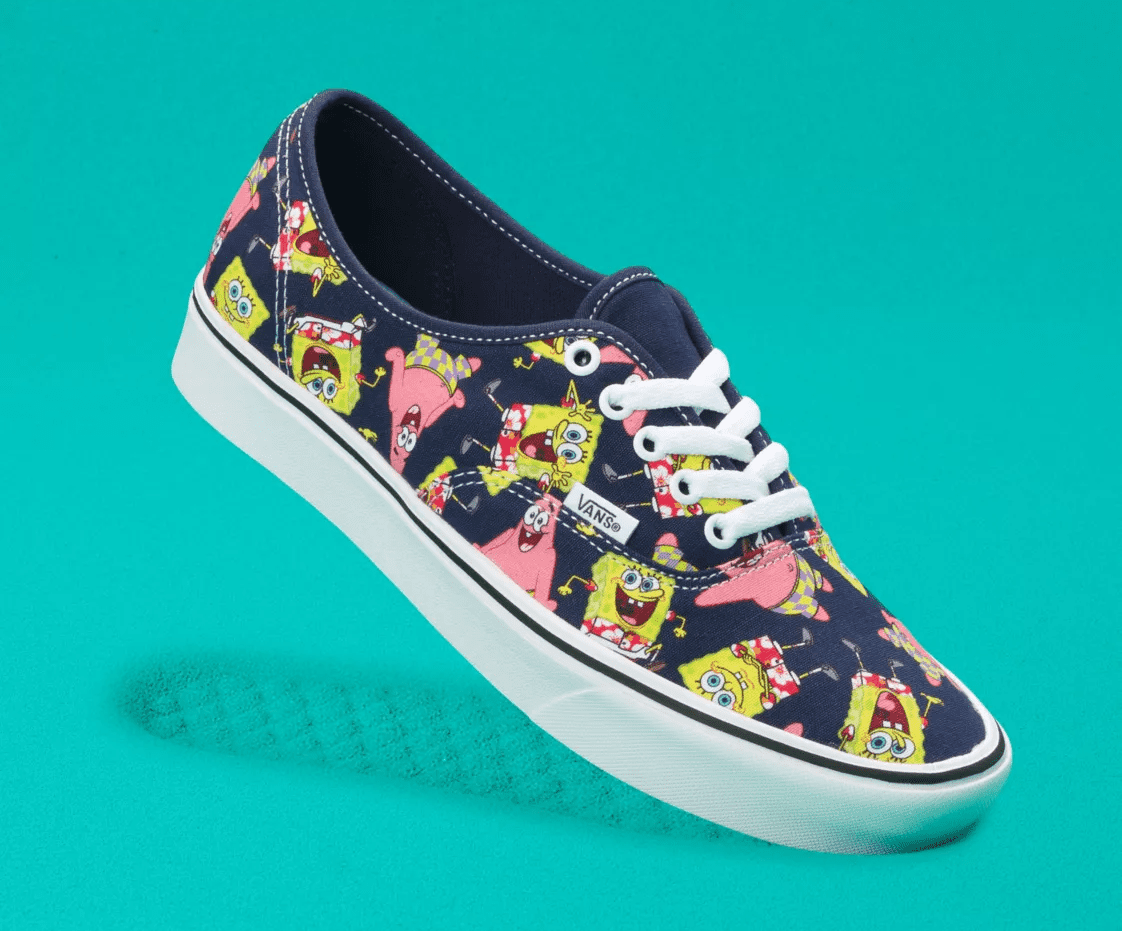 No other shoe captures SpongeBob and Patrick's personalities as well as these. The simple navy background is the perfect backdrop to the goofy faces that the two best buds are wearing.
While these aren't my top choice, I still like them. Navy is such a good color that pairs well with everything. The character colors are bright, but they aren't obnoxious, and I call that a win.
Vans X SpongeBob Bikini Bubble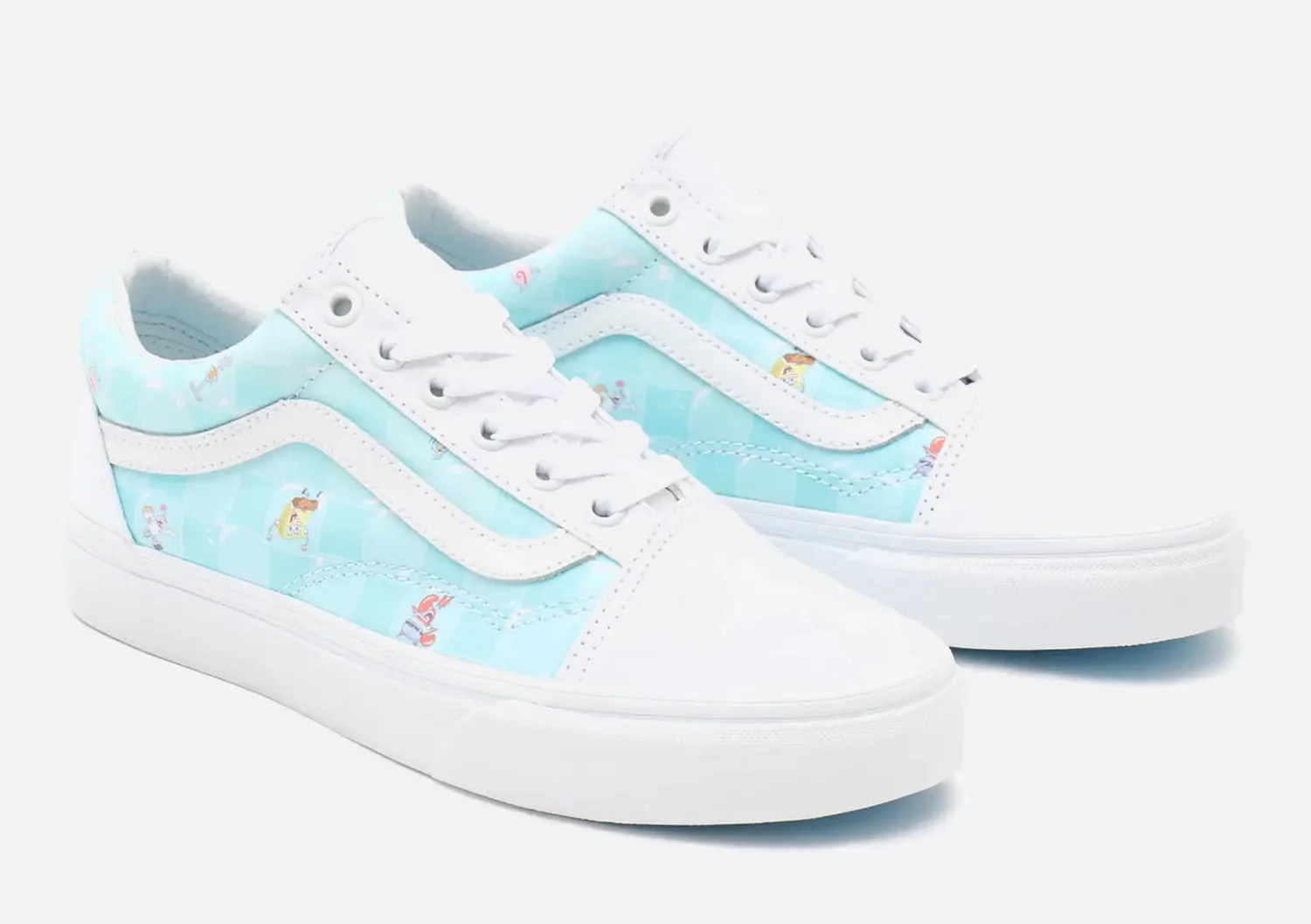 These were one of two surprise pairs of Vans from 2021. They are absolutely stunning. I love that they are classics yet have the characters spread out across the body of the shoe. So, you have to look closely to see them.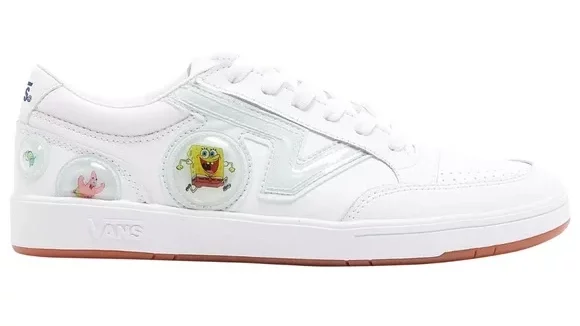 These aren't technically part of the Off the Wall collection, but they were released around the same time. I love these because they may look like the least interesting at first glance, but the opposite is true.
This pair has 3D bubbles with SpongeBob characters inside. This is the kind of stuff I live for and wear just to show the details to friends. Touch the bubble, I would say, touch it.
Other Gear from This Collection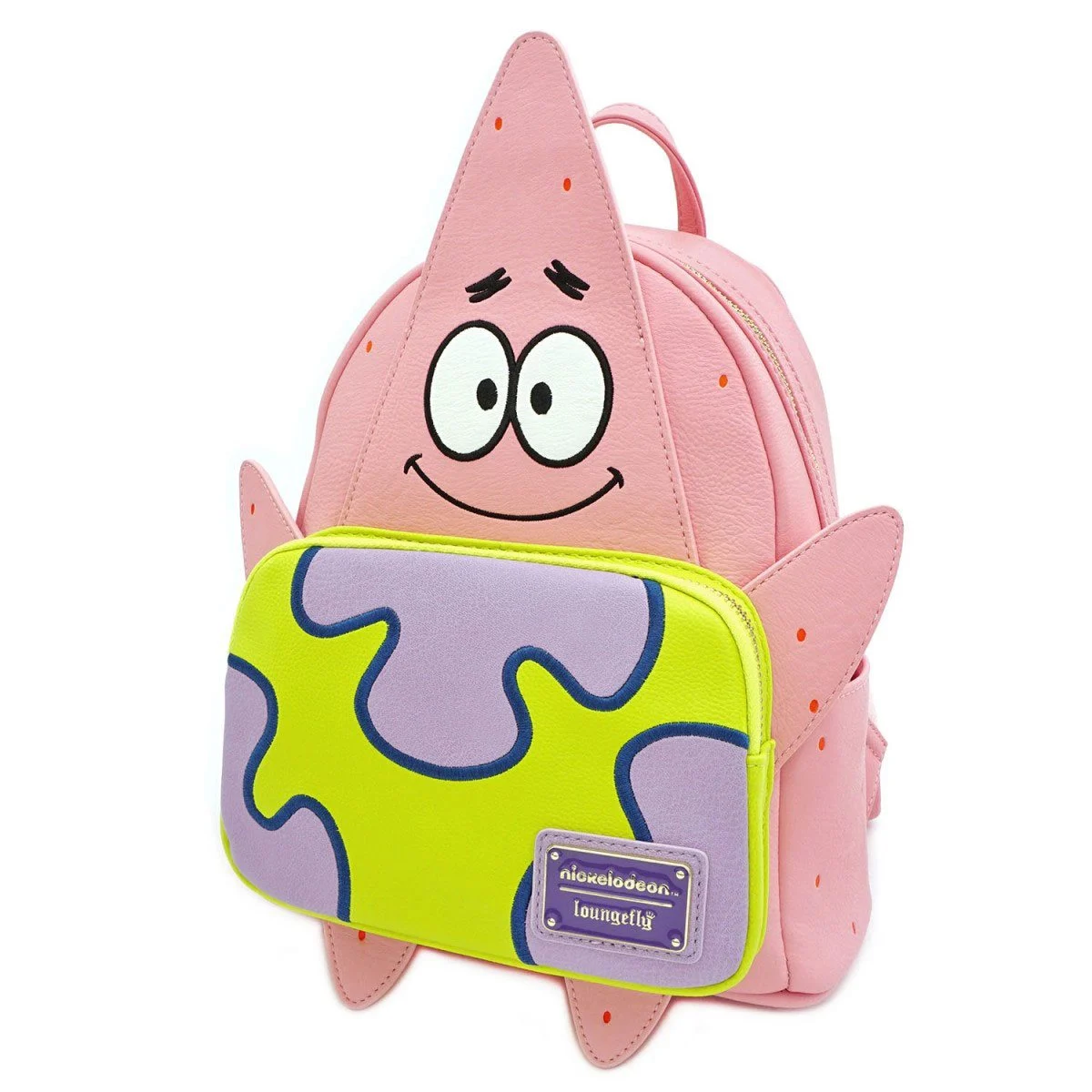 Every SpongeBob Vans From 2021 Sandy Liang Collection
You may notice Sandy featured in this collection because she shares a name with the designer. There are only two pairs of shoes, but it's obvious that a talented and experienced designer made them.
Vans x Spongebob Patchwork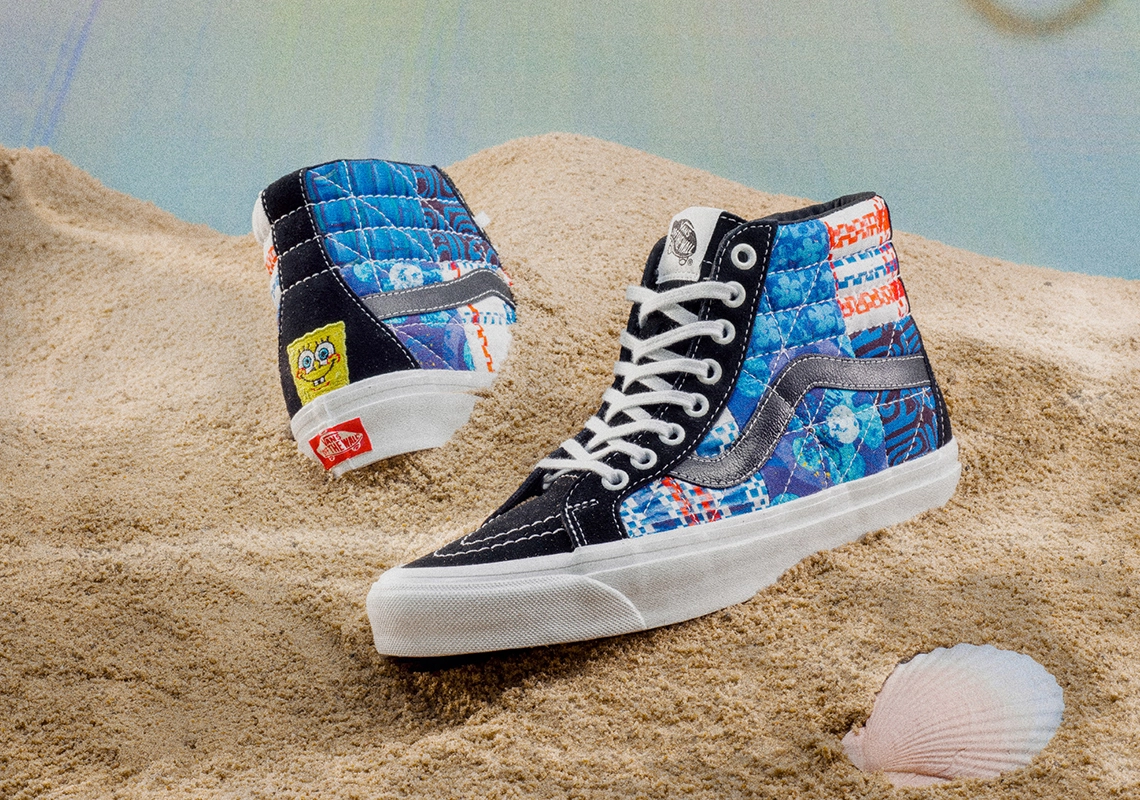 This pair is bright and colorful. It features a patchwork design and Chinese influences. Looking closely, you can see the incredible detail and talent in designing this shoe.
Though the color scheme isn't my favorite, it looks amazing. I love the leather details and embroidered SpongeBob on the back. I also know some people who do love this color scheme.
Vans x Spongebob Flowers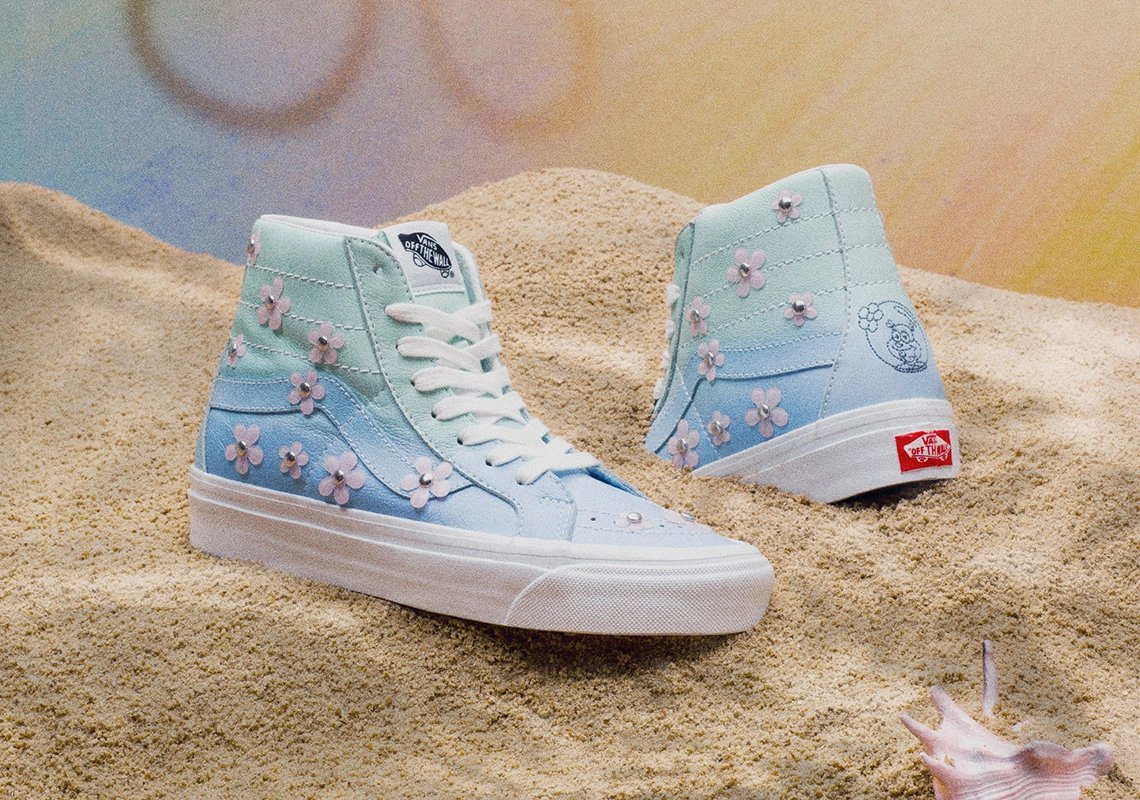 The Bikini Bottom flowers are iconic, and they've never been more beautiful than they are on these shoes. A simple Sandy outline sewn into the back lets us know the inspiration for this pair.
Out of every SpongeBob shoe ever made, these are my favorites. The color choices, the 3D flowers, and the subtle nod to Sandy blew my mind. Needless to say, I'm in love.
Other Gear from This Collection
Other SpongeBob Shoe Collabs
I am severely disappointed that SpongeBob x Converse isn't a thing yet. The converse is my favorite shoe brand, and I love to collect them. So far, SpongeBob has only partnered with three major shoe brands.
SpongeBob x Nike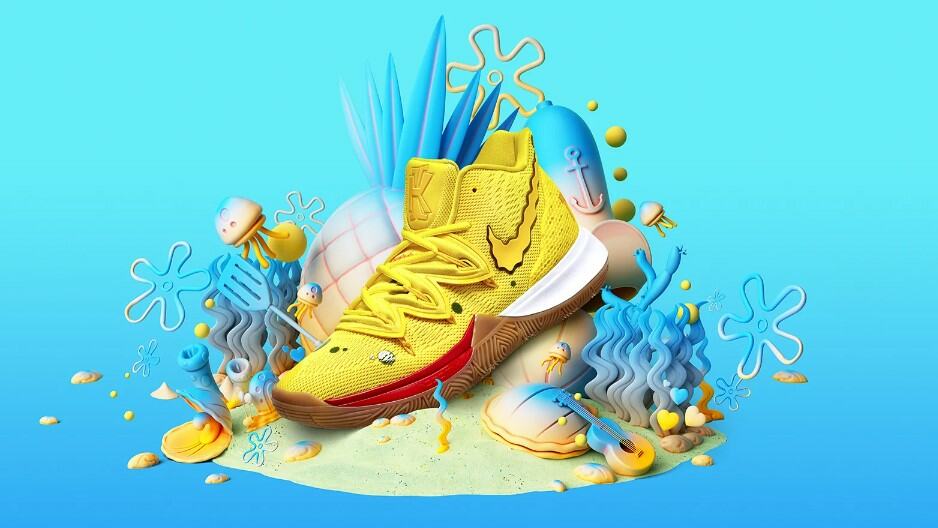 In 2019, Nickelodeon and Nike partnered to bring us a unique collection. A specific character inspired each shoe. Indie artists did the same thing with DBZ, and I'm awaiting their release.
Until that day, I will have to settle for the SpongeBob x Nike collection. I love the designs on it because they don't look childish. They look "SpongeBob-inspired."
SpongeBob x Heelys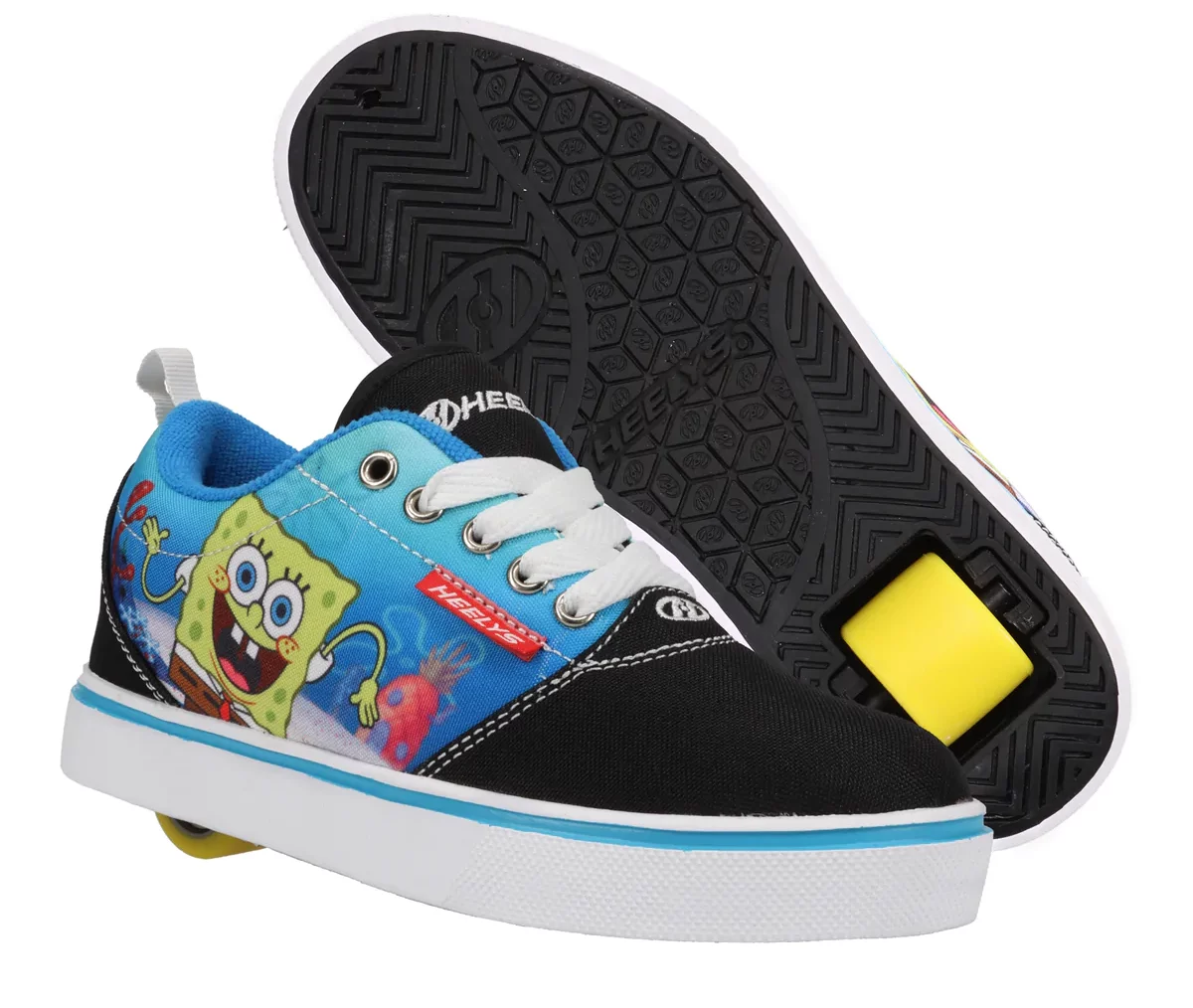 Every kid should have a pair of Heelys. In 2020, SpongeBob collaborated with Heelys' to bring kids their favorite sea sponge to the brand everywhere. The Good Vibes Only pair is my favorite.
The only thing about this collab that makes me sad is that there are no adult sizes. I believe that Heelys for adults should be normalized. Then, we'd see adult sizes in collections like these.
FAQs
Question: Where Do You Buy SpongeBob Vans?
Answer: You can get SpongeBob Vans on auction sites like eBay or keep an eye out on stores like Zappos and Zumiez, where they have limited stock available. This changes weekly.
Question: How Much Do SpongeBob Vans Cost?
Answer: SpongeBob Vans cost anywhere from $40 to over $100 new. Now that they aren't available on the Vans site anymore, their price has gone up. The prices now vary depending on where you buy them.
Question: Will SpongeBob Vans Come Back?
Answer: Vans don't usually reprint their collections; that's how they keep them special. But they may come out with a new SpongeBob collection sometime in the next few years.
The Past, Present, and Future of SpongeBob Vans
It took Vans nearly 20 years to collab with SpongeBob, but I don't think they're going to wait that long again. The series is ongoing, so there's a good chance that there will be a demand for them again soon.
After all, they collaborated in 2019 and again just two years later. This may be a coincidence, or it may be a pattern. But even if they never partner again, at least we have some great shoes from the collaborations thus far.
Looking for more interesting readings? Check out: