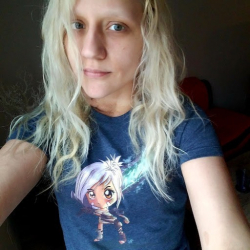 Latest posts by Emily Medlock
(see all)
A David Hasselhoff SpongeBob guide may be what you're looking for if you want to learn about the actor's SpongeBob character. The Hoff has been a household name since the 1980s, so it's no surprise that Hasselhoff's appearance impacted the big screen in 2004.
I remember seeing The SpongeBob SquarePants Movie coming out, and I was ecstatic. First, Avril Lavigne sang the theme song, and then The Hoff would make an appearance.
It's no wonder the world was on the edge of its seat; I know I was. While it may have let a lot of people down, David Hasselhoff's appearance is one of the things that most people agree was a good move.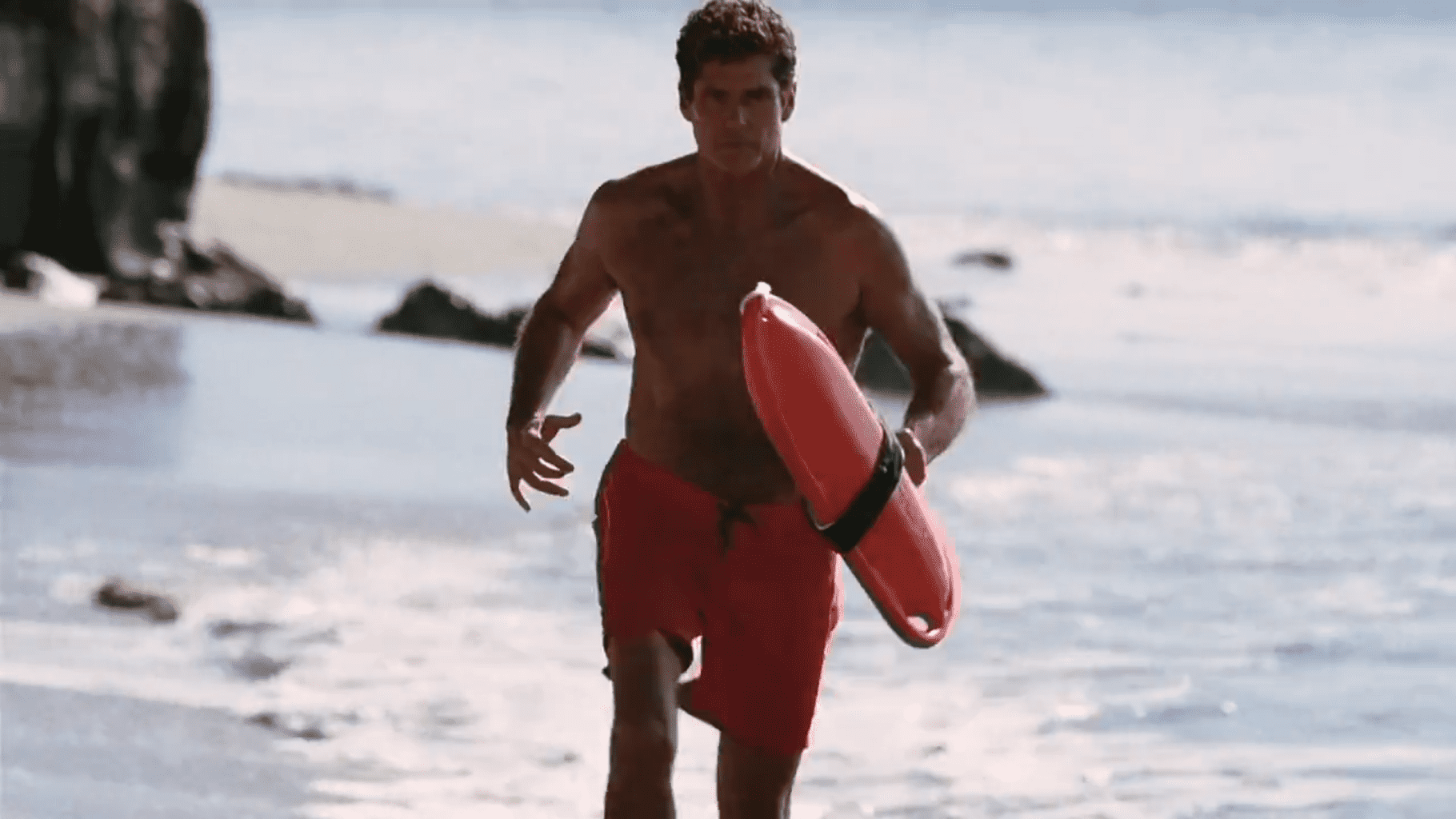 David Hasselhoff SpongeBob Overview
Because David Hasselhoff plays himself in the SpongeBob franchise, there's not much to say about his character. He appeared as a key character at the end of The SpongeBob SquarePants Movie, then again in the season 12 episode, "SpongeBob's Big Birthday Blowout."
He was supposed to be in The SpongeBob Movie: Sponge on the Run but didn't appear in the movie. This doesn't mean he won't appear in future SpongeBob movies or episodes. So be on the lookout for David Hasselhoff in Bikini Bottom.
Why David Hasselhoff?
David Hasselhoff was the obvious choice to play the Chad of the SpongeBob SquarePants movie. He has been much-loved since starring as Mitch Buchannon in the 1990s Baywatch series.
David Hasselhoff is the ultimate version of his Baywatch character in the Spongebob universe. Not only did he star as Mitch in the show, but he was the one who brought it back after one season, making it an 11-season series.
Mitch is known for taking his lifeguard career very seriously. David Hasselhoff's determination to save SpongeBob and Patrick was a nod to his character. But even those who have never seen Baywatch can appreciate David's role in the movie.
David Hasselhoff in the SpongeBob SquarePants Movie
David Hasselhoff's biggest SpongeBob role was in the SpongeBob SquarePants movie. When SpongeBob and Patrick release the magical bag of winds, they meet David Hasselhoff on the beach.
Hasselhoff takes them back to Bikini Bottom. SpongeBob and Patrick ride between Hasselhoff's pecks to keep them safe. When they ride off, Dennis (the villain) rises up as a giant boot comes down to crush the protagonists.
While the chaos commences, Hasselhoff gets stabbed in the butt but appears to be fine. While he does succeed in getting SpongeBob and Patrick back to safety, he gets burnt to a crisp by King Neptune.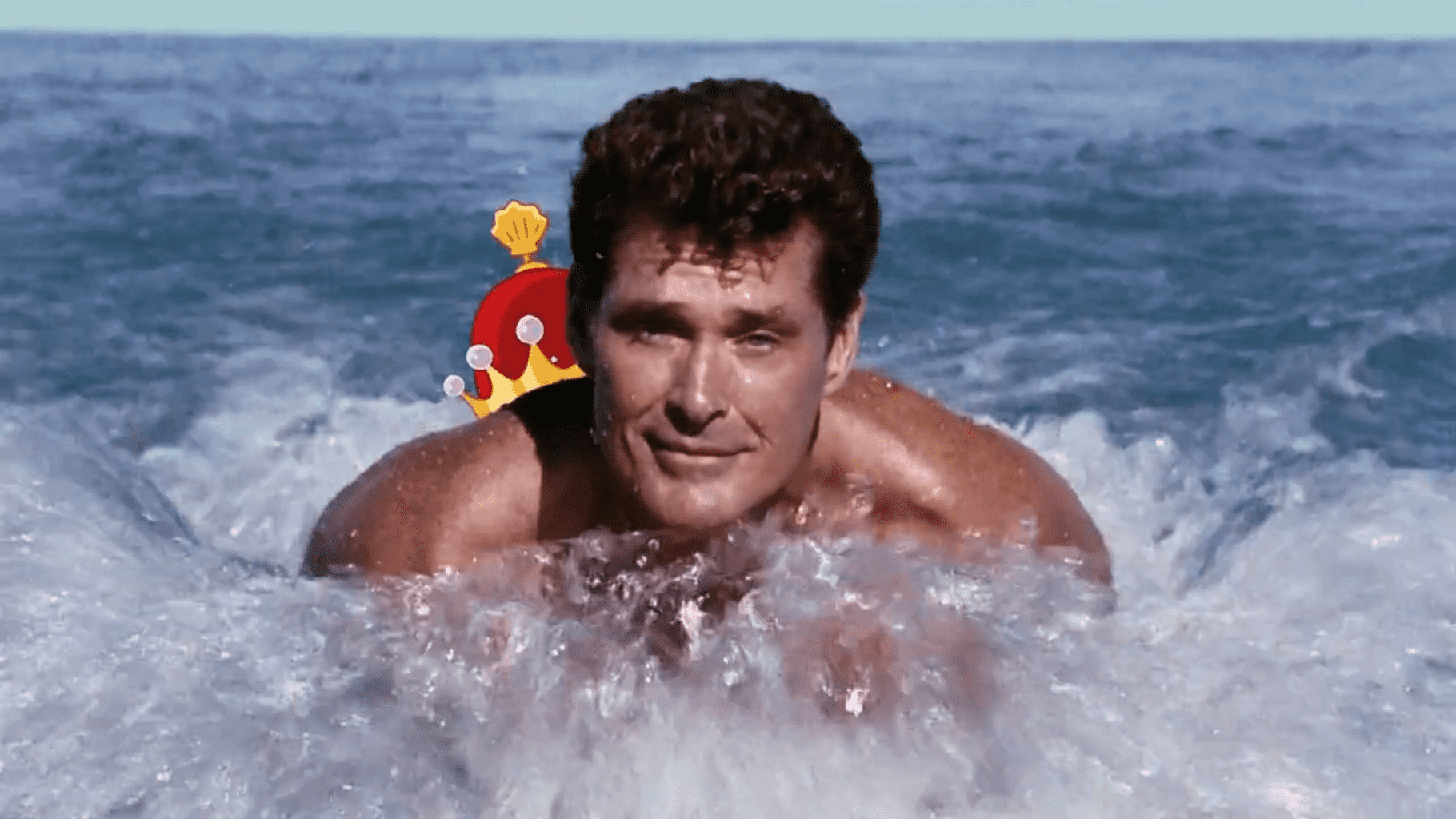 David Hasselhoff in Other Media/Series
Even though Hasselhoff gets burnt and appears to be dead in the SpongeBob SquarePants movie, he makes it back for another appearance later on. This insinuates that he is, in fact, still alive.
"SpongeBob's Big Birthday Blowout"
David Hasselhoff appears kayaking when the narrator knocks him over with a submarine. His reply of, "Tartar sauce!" is one of his only lines in the episode. But that's not his last appearance.
He is later seen on the beach just as the submarine appears again. This time, he watches it as a tour bus runs over his feet. Patchy and Potty then get into a fight with Hasselhoff when the latter accuses Patchy of running over his feet.
Hasselhoff decides that the beach is dangerous, so he jumps into a volcano instead. It appears he was right because he survived the volcano, proven when he shows up at SpongeBob's birthday party.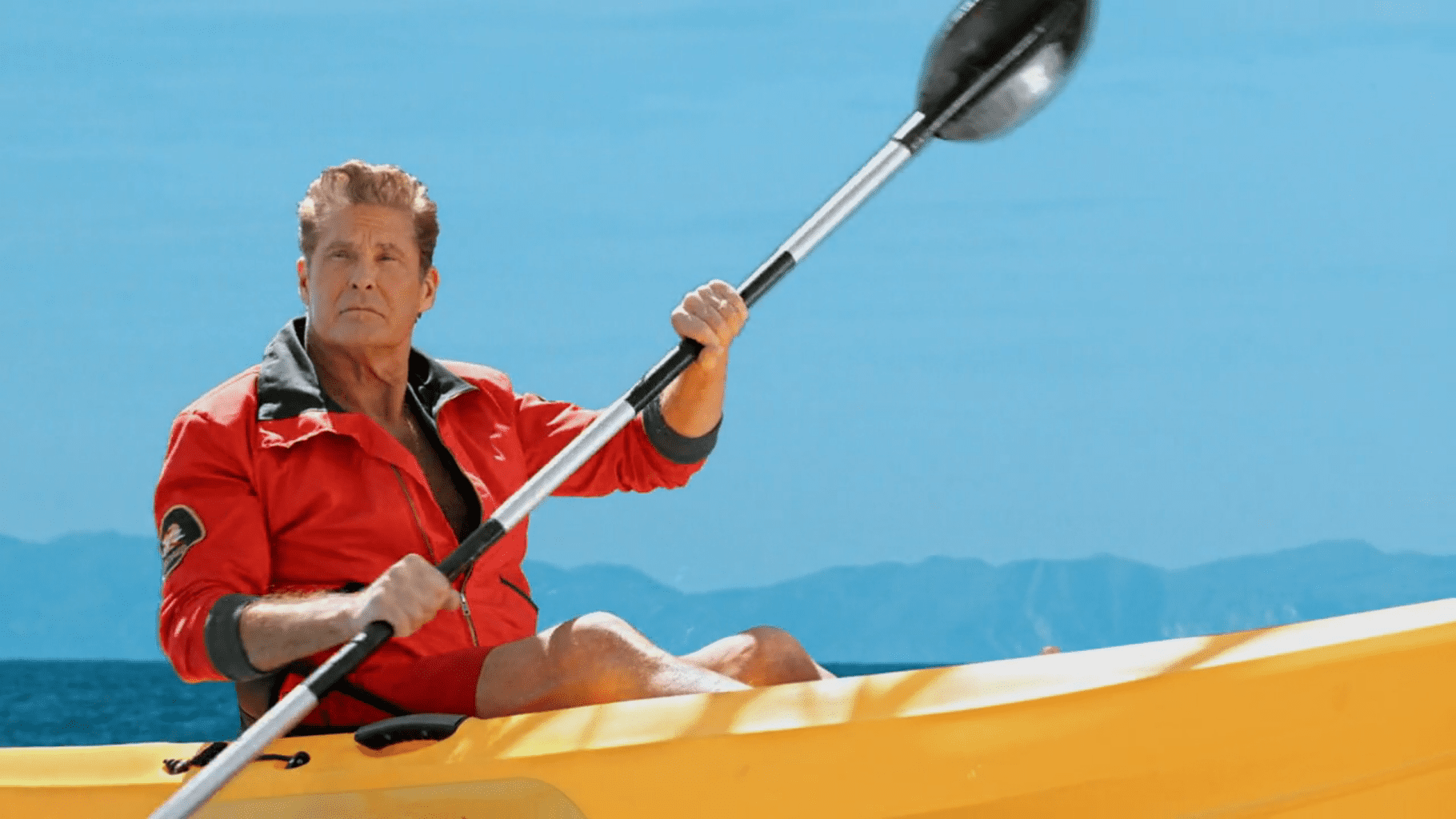 The SpongeBob SquarePants Movie (video game)
David Hasselhoff helps SpongeBob and Patrick get back to Bikini Bottom just as he does in the movie. Later on, Hasselhoff appears on the stage for the "Dennis Strikes Back!" boss.
What's strange is that David Hasselhoff's name is never stated in the game. Instead, a bad word sound is made whenever his name would be said. The reason for this isn't clear.
Hasselhoff appeared in every SpongeBob SquarePants movie branch that I've seen. From comics to toys, he's there, letting us know that he was more than just a forgettable minor character. 
Road Trip in 3-D! The Absorbing Tale Behind The SpongeBob SquarePants Movie
Road Trip in 3-D! The Absorbing Tale Behind The SpongeBob SquarePants Movie is a special that shows behind-the-scenes information and interviews about the movie. Many of the cast members are interviewed, including David Hasselhoff.
The best part of the special is that we get to see a large David Hasselhoff prop that Hasselhoff shows off. This prop was used by the production team and later sold for millions.
Inside the Pineapple with David Hasselhoff
Another behind-the-scenes special is Inside the Pineapple with David Hasselhoff. This isn't just another interview with cast members, but interviews with David Hasselhoff specifically.
Square Roots: The Story of SpongeBob SquarePants
The documentary about SpongeBob is the most controversial special ever made about the series. Hasselhoff appears in the special in an interview as the many controversial subjects are brought up.
David Hasselhoff The SpongeBob Movie: Sponge on the Run
David Hasselhoff appeared in The SpongeBob Movie: Sponge on the Run poster. However, he did not appear in it. The reason for this is unknown by the internet, and even I can't figure it out.
There are a dozen reasons that he didn't appear. It could have been because the character was written out of the original script or because he turned down the offer because it didn't pay enough.
This doesn't mean he won't appear in future shows or movies, but it was sad to see that he didn't make it to Sponge on the Run. The poster was amazing.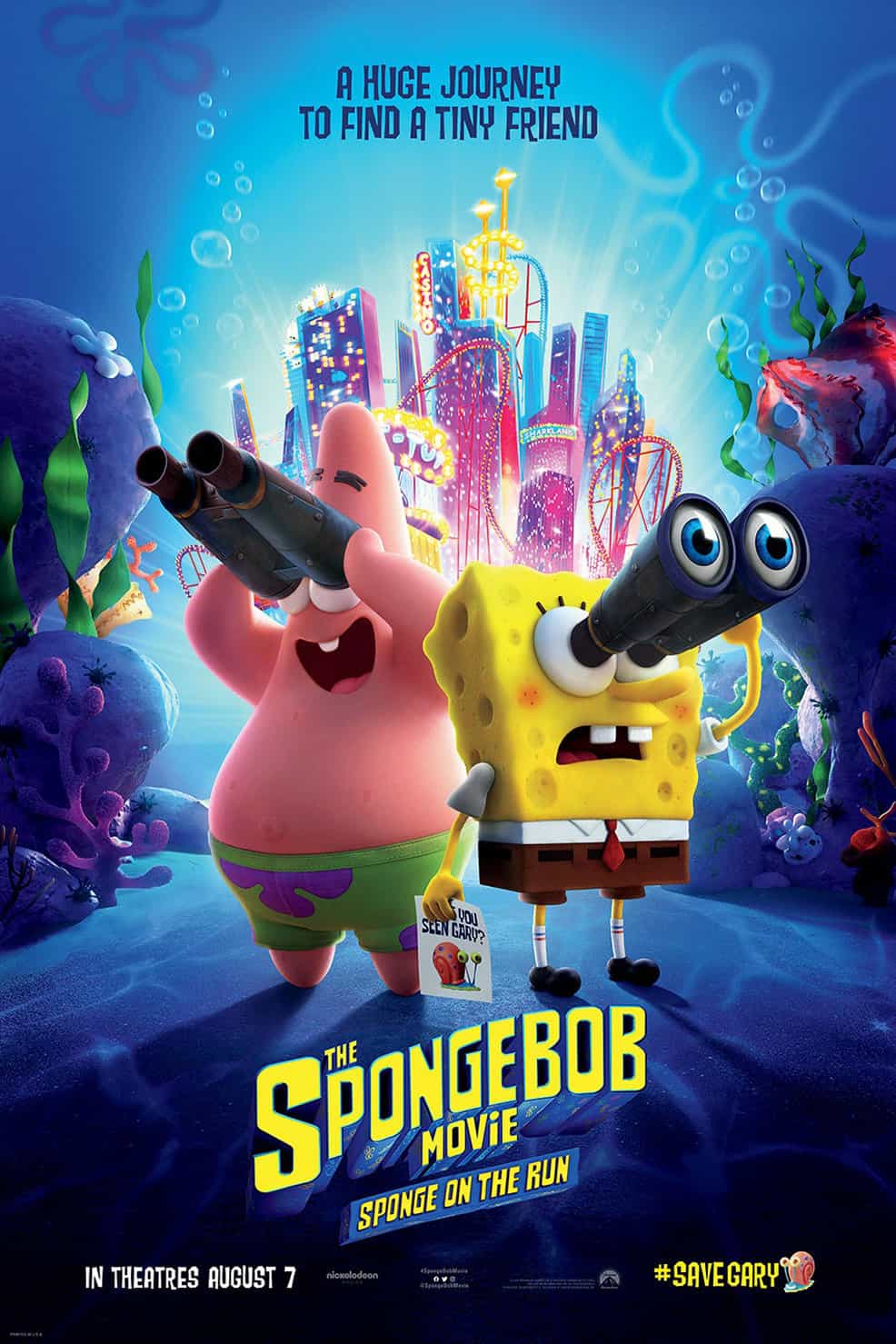 David Hasselhoff Real Life Vs. On SpongeBob
David Hasselhoff may play himself in the SpongeBob franchise, but his character is still a cinematic version of himself. In real life, David Hasselhoff is an ESFP, but in the movie, I find that he leans towards ESFJ.
This may be my opinion because I can see it either way. However, he isn't really playing himself anyway unless David Hasselhoff can swim through the ocean like a motorboat while holding a starfish and a sponge between his pecks.
Other Cameos from Celebrities on SpongeBob
SpongeBob has had its fair share of character guests that were played by huge celebrities like Betty White, Keanu Reeves, and David Bowie. However, sometimes, the guests don't have a character at all. Sometimes, they play themselves.
Note: this is not a complete list of celebrity guests who played themselves; these are just my favorites. For a full list, check out the Wikipedia page. 
Pantera
One of my favorite guest appearances in SpongeBob was Pantera. Although they didn't appear visually, their song "Prehibernation" introduced thousands of kids to the band when it played. The song is part of the song "Death Rattle."
While many roll their eyes at kids claiming to love Pantera only after watching this, I love that they are being introduced to legends like Pantera and David Hasselhoff. Let their legends live on.
Davy Jones
Davy Jones is a hilarious character in SpongeBob because he plays himself in the series but is also a character in the series. He's a singer who is often mentioned in the series as the owner of Davy Jones Locker.
The resting place is where all bad sea creatures go, making it SpongeBob's version of Hell. In "SpongeBob SquarePants vs. The Big One," he makes a live-action appearance singing "Daydream Believer." 
Rosario Dawson
Rosario Dawson appeared in the episode "Truth or Square" with a small cameo. But she is also mentioned when Patchy calls her, and she hangs up on him due to his bad breath.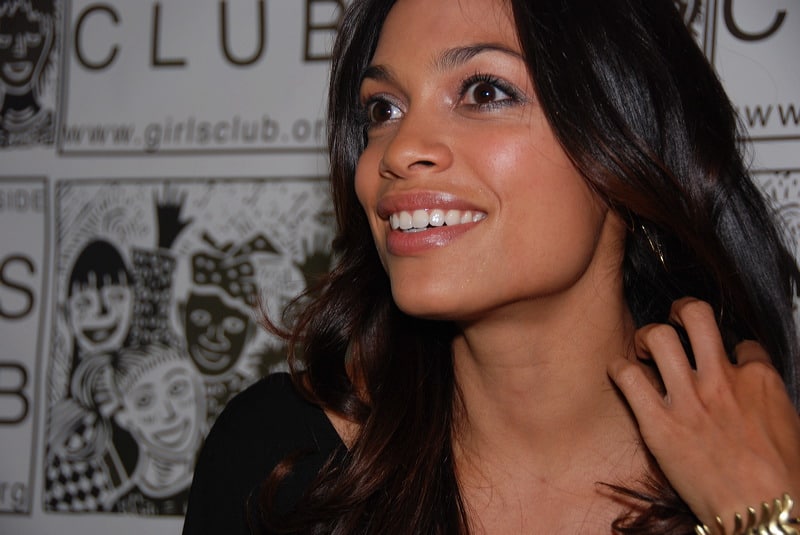 Eddie Deezen
Eddie Deezen, known for his 80s nerd character performances, appears in the episode "Truth or Square." When Patchy is looking through the Rolodex, he says, "Hey, look what have we found," but a security guard escorts him out.
Will Ferrell
In "Truth or Square," Patchy calls Will Ferrell to invite him to SpongeBob's TV special. Will Ferrell says he's the President of the SpongeBob Fan Club, and he's also throwing a TV special.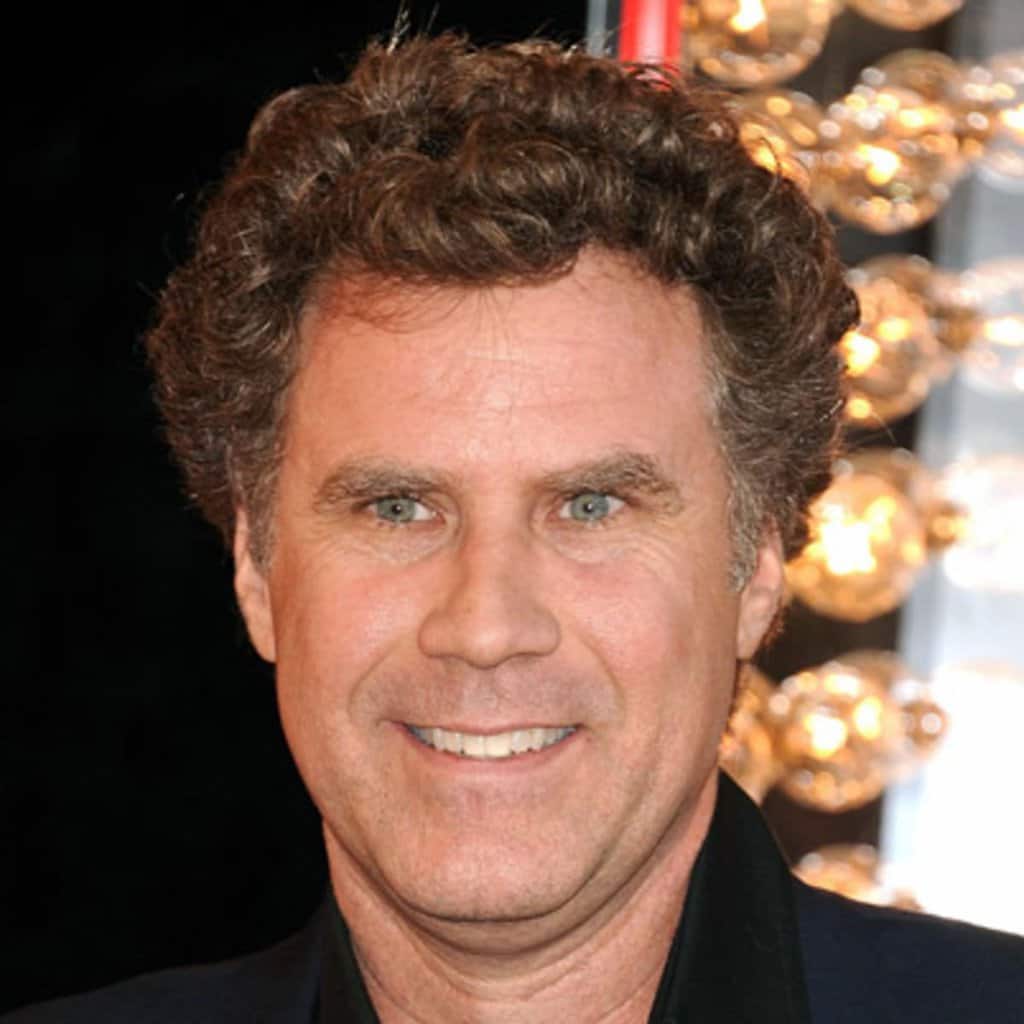 Tina Fey
Tina Fey is another celebrity that Patchy calls. She answers and says that she doesn't know any pirates anymore, so he must have the wrong number. She argues about SpongeBob appearing as himself rather than Tom Kenny.
Ricky Gervais
Ricky Gervais doesn't appear in SpongeBob, but he does narrate the beginning and ending montage of the episode "Truth or Square." He even takes over for the original narrator for the episode.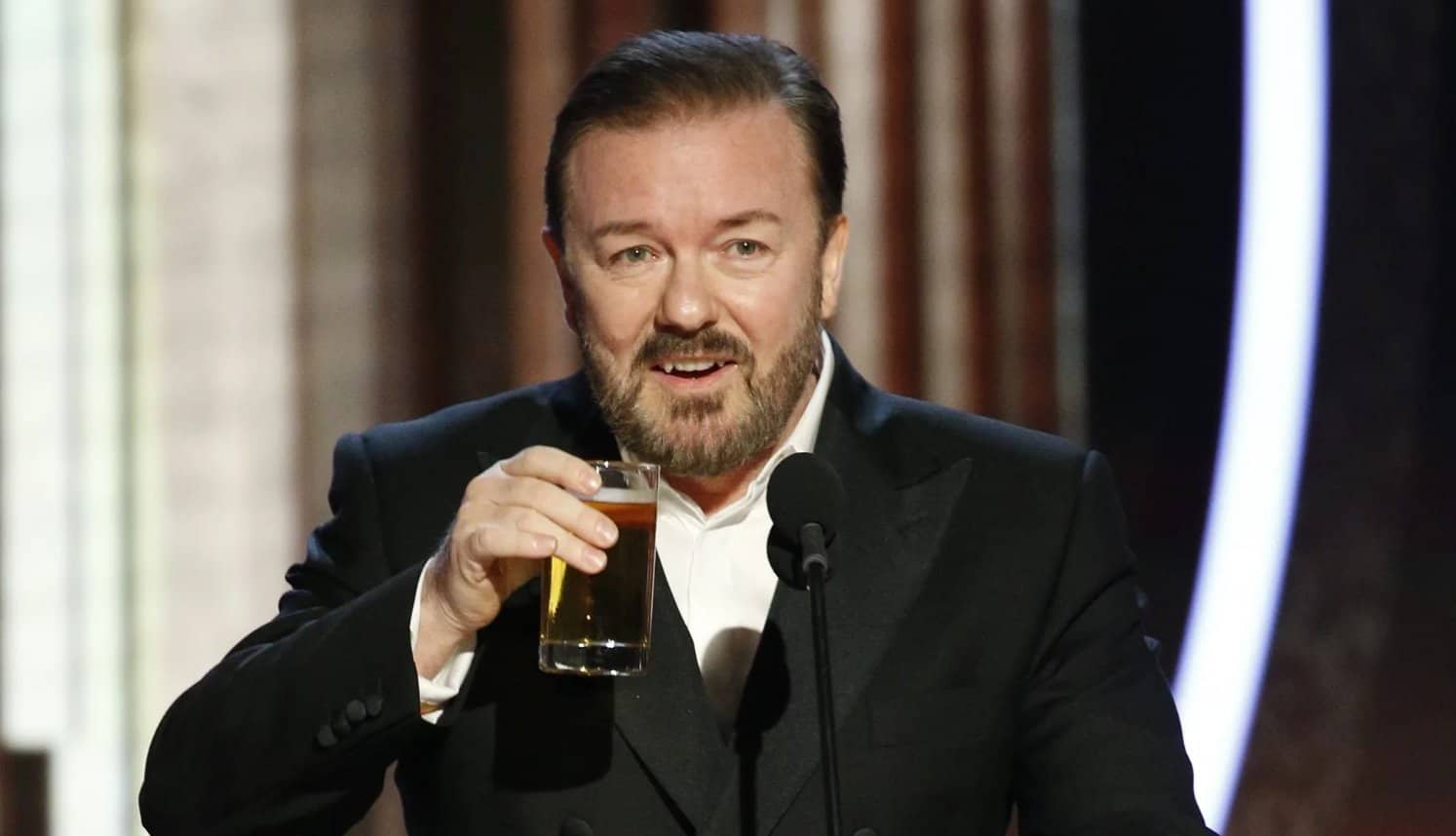 LeBron James
LeBron James is another celebrity Patchy invites to the special. He says he loves SpongeBob but that he has a game, so he can't make it. Patchy tries to get him to skip it and break his contract.
Pink
Pink makes an incredible appearance on SpongeBob when she sang "We've Got Scurvy" for the episode "Truth or Square." This means she's one of the few celebrities with more than a few lines on the show.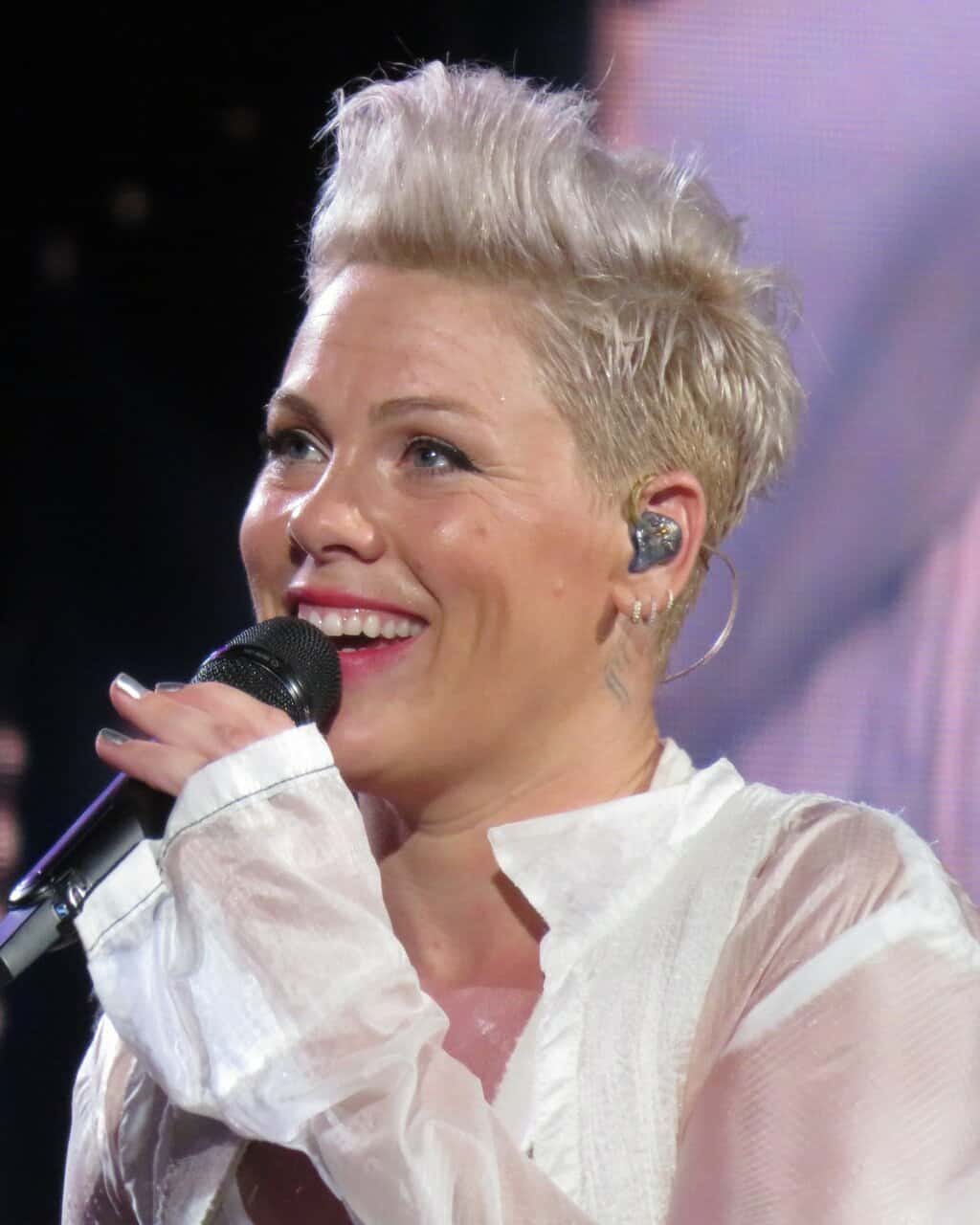 Robin Williams
Robin Willians appears whenever Patchy welcomes him to the TV special. He has an extended scene as he is brought through the studio before he calls a friend to say he is afraid of Patchy.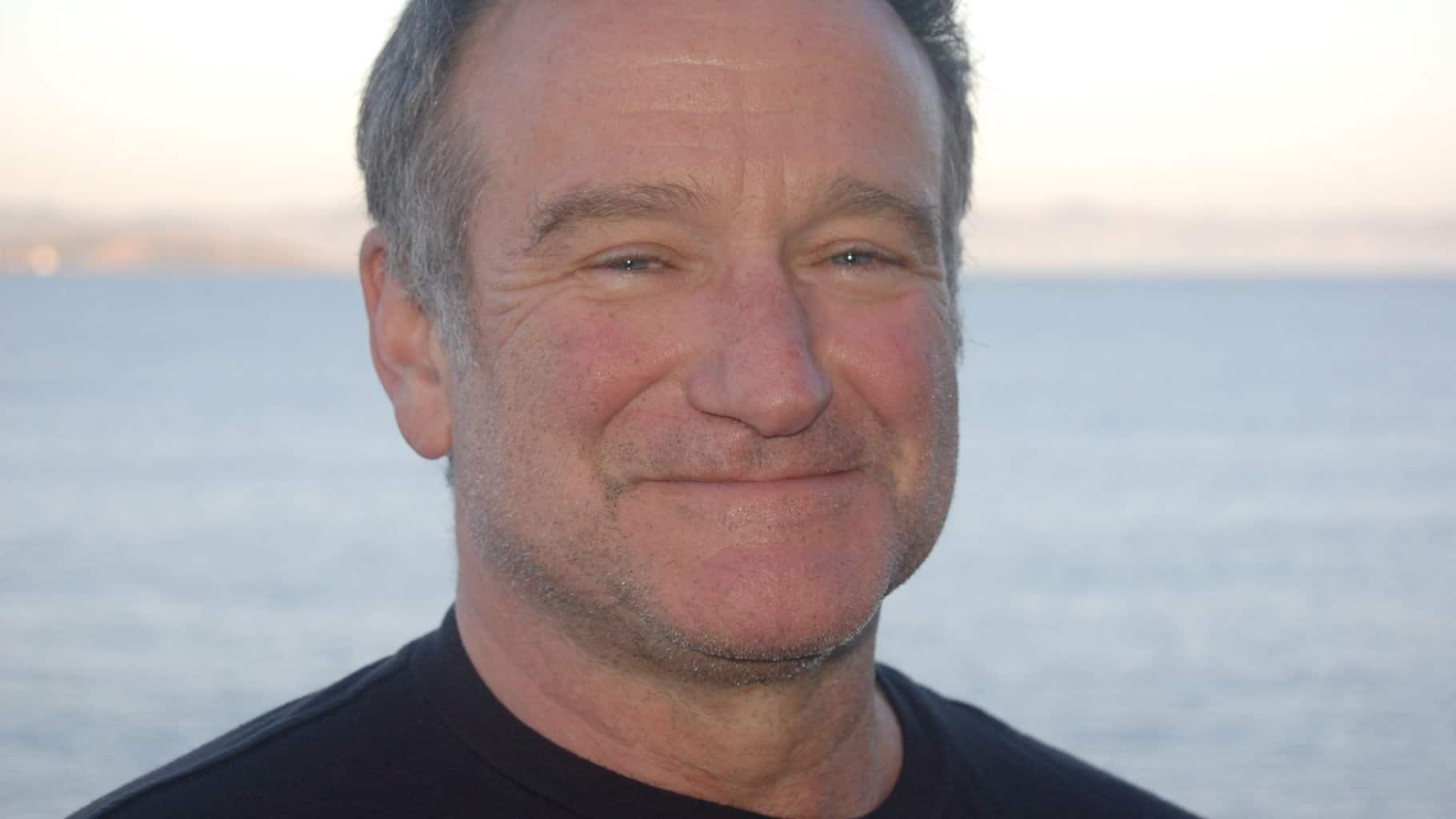 Tiffany Haddish
Tiffany Haddish doesn't exactly play herself, but she plays Tiffany Haddock, which is the cartoon version of herself. This character is the best character on the show, and all she did was be herself. 
Kel Mitchell
Kel was in "SpongeBob's Big Birthday Blowout" as himself – or rather, as an entertainer named Beanie McBean. He lives on Surface World and is meant to be Kel playing a character on the show.
Jojo Siwa 
Jojo Siwa rang in I Heart SpongeBob week whenever she appeared in "SpongeBob's Big Birthday Blowout." As a huge SpongeBob fan herself, she was sure to fall in love with the role.
Gilbert Gottfried
Gilbert Gottfriend appeared in four episodes of SpongeBob. He played Sal and Shecky only after he played himself in "SpongeBob's Big Birthday Blowout" along with other celebrities.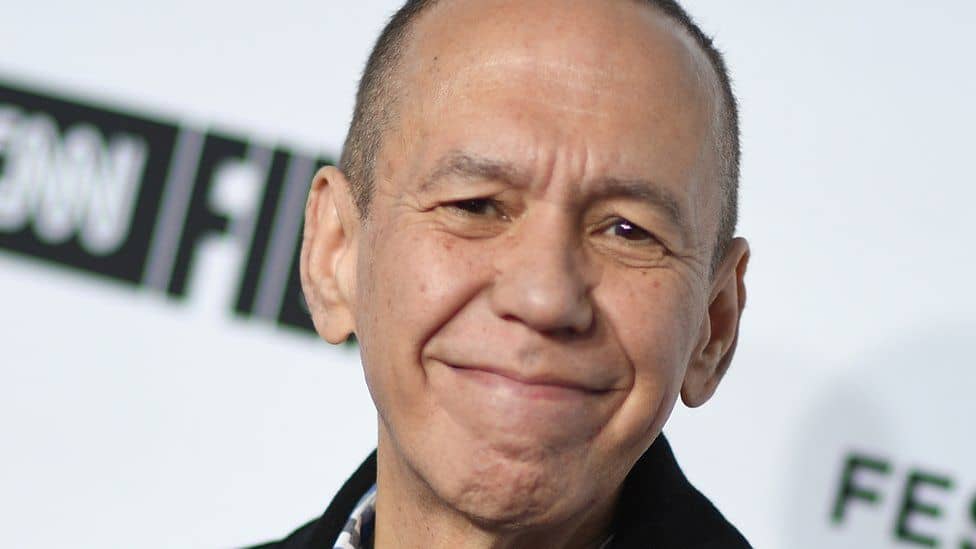 FAQ
Question: Was David Hasselhoff in SpongeBob Real?
Answer: There's a theory that David Hasselhoff was an illusion that Patrick and SpongeBob saw in the movie. Of course, this is not confirmed by the producers, but there's always a theory to have fun with.
Question: How Much Did the Giant David Hasselhoff Prop Sell For?
Answer: When David Hasselhoff was going through a rough time, he put the Giant David Hasselhoff prop for sale for $100,000. It broke headlines whenever it sold for $1.5 million instead.
Question: How Much Did David Hasselhoff Make for SpongeBob?
Answer: David Hasselhoff's salary for SpongeBob hasn't been shared with the public. But because it was before his divorce from Pamela Bach, which was hard on him financially, it's safe to assume he was far from underpaid.
Question: Why Didn't David Hasselhoff Return in Sponge on the Run?
Answer: The reason why David Hasselhoff didn't return for Sponge on the Run is never shared. Perhaps we will know soon because the answer may let us know if he will ever return to the SpongeBob universe.
Question: Why Does David Hasselhoff Play Himself?
Answer: David Hasselhoff plays himself because he's one of the celebrities who are a character when they are their natural selves. This is a huge plus but can end in a typecasting situation.

David Hasselhoff in the Future of SpongeBob
David Hasselhoff didn't appear as planned in Sponge on the Run. That doesn't mean he'll never return, but there isn't any public talk of him being removed from the universe or his return.
I hope he returns because I loved watching him in the movie, even though he was only there for a short time. When the show is as comedic as it is, small additions like The Hoff's rescue can add so much.
While many celebrities have guest starred in SpongeBob, no other celeb made as big of an impact on me as David Hasselhoff did. Who could forget his role? Here's to hoping we'll see him return to the series one day.
Looking for more interesting readings? Check out: